The Kumospace integration for Slack helps you stay connected to your team when using Slack.

With the app, users can:
See who on their team is online in Kumospace at a glance from your Slack list.

Automatically sync their status to keep your team up to date easily on what you're up to.
Receive Kumospace notifications through Slack when they are away or focusing on Kumospace.
Install the integration for Slack
The Primary Owner of your Slack workspace is required to install the integration for Slack. Visit your Slack Workspace Settings page to review your workspace's owners and admins.




To Install the integration for Slack, click the Add to Slack button above and click Allow.
Syncing your Kumospace status
Once your Kumospace account is synced, your Slack status will display to your workspace whenever you are inside your team's Kumospace. When inside the Space, your Slack status will display 🧩 In Kumospace
Your Slack status will also display your current Kumospace status and any status text you have set within the Space.
This will display as: 🧩 In Kumospace - Away: Lunch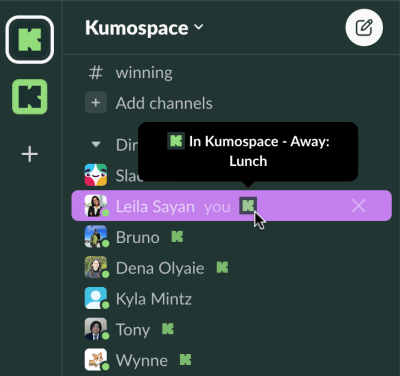 To replace the 🧩 emoji to the Kumospace Logo:
To replace the puzzle emoji and add the Kumospace Logo as your Slack status icon, add this image as a custom Slack emoji.
Read this help article to learn how to add custom Slack emojis to your Slack. Be sure to name the emoji :kumospace:
Once the emoji is added, Slack status' will now appear as

In Kumospace - Available
Notifications
If someone messages or nudges you in Kumospace while you are away or focusing, you will be notified through Slack.

Notifications will be sent as a Message through Slack.
To view Kumospace notifications within Slack:
Locate the Apps section on Slack's sidebar.
Click the Kumospace App
Select the Messages tab at the top