Answers to common Broadcast and Present issues.
We designed Kumospace to be the most fun place on the internet to hang out with friends and colleagues. The guide below is designed to help you troubleshoot common broadcast and present issues so that you can get back to the fun ASAP!
For the best experience with Kumospace, please use Google Chrome. To download Chrome, click here.
The Broadcast or Present feature is not working
If nothing happens when you click Broadcast or Present, the issue may be that you need to give Google Chrome permission to record the contents of your screen.
If you see a pop-up like the one below, follow the prompt and click on System Preferences to grant permission to Google Chrome. Then, restart your browser.
If you do not see the prompt, you can also do this manually:
On a Mac OS, go to System Preferences > Security & Privacy > Privacy > Screen recording.
Click on the checkbox to allow Google Chrome to record the contents of your screen.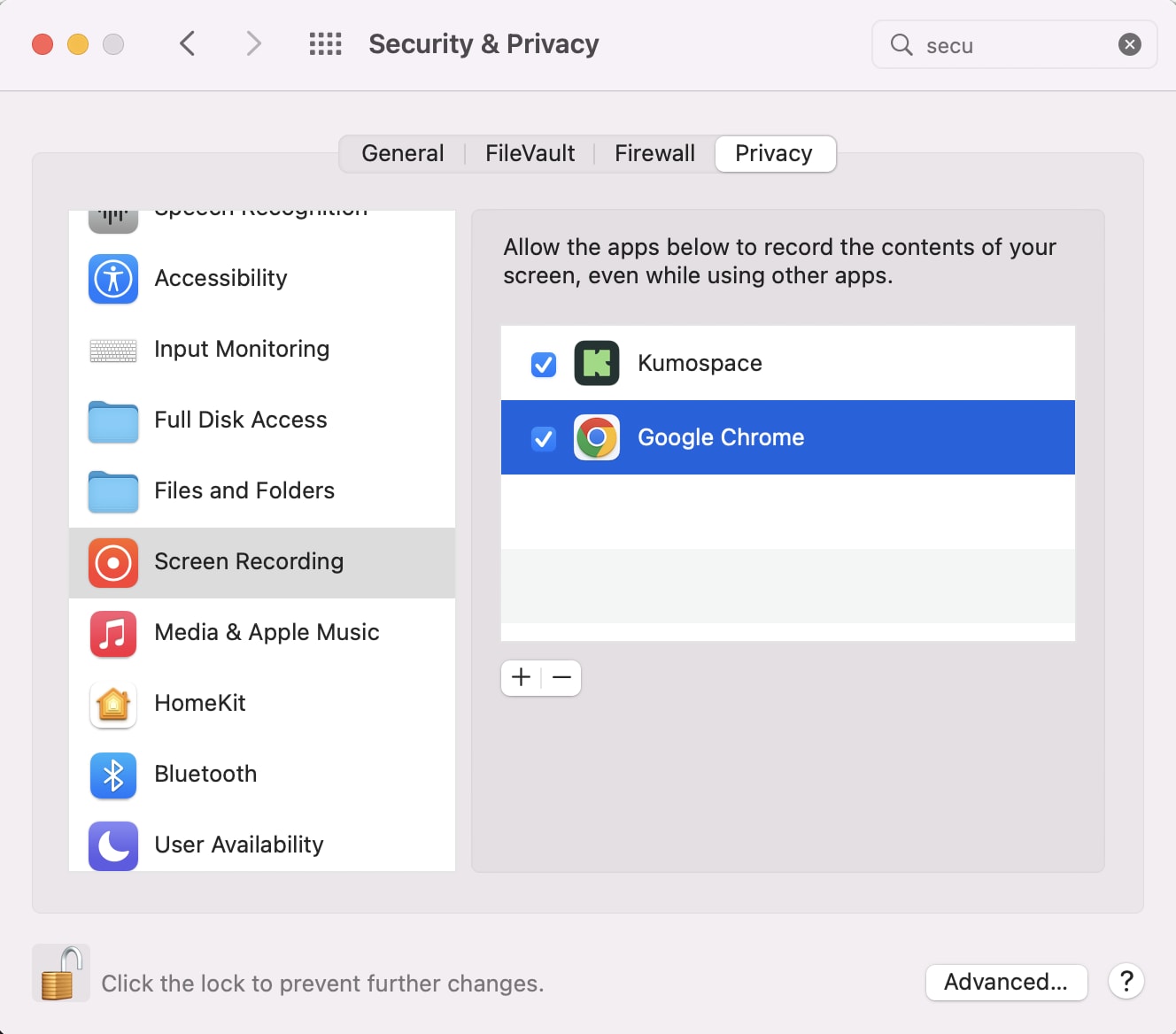 Once you've done that, return to Kumospace and see if it fixes the problem.
The Broadcast or Present feature is not working on a Windows 10 computer
On some Windows 10 computers, the Broadcast and Present feature fails to load. If you are using a Windows 10 computer and clicking the Broadcast or Present buttons and nothing happens:
Go to the bottom left of the screen and click the

Camera

button.
Once you've done that, click again on either the

Broadcast

or

Present

buttons and see if it fixes the problem.

Some of your guests can't see or hear your Broadcast or Present
If your Broadcast or Present are working normally, yet some of your guests cannot see or hear it, it's very likely that they've run into an issue with firewalls.
If you are on a work or school network, you may run into issues with your organization's internet firewalls. These sometimes block access to certain websites that are used by Kumospace, which can diminish performance. We recommend contacting your system administrator or organization's IT department to ask that the following URLs be whitelisted:
*.kumospace.com
*.googleapis.com
*.firebaseapp.com
*.daily.co
*.agora.io
*.sd-rtn.com
Why am I unable to share my audio when Presenting
When Sharing audio when presenting, we recommend using a Windows devices. This will allow you to share your audio when presenting your entire screen, a select window or browser tab, a secondary camera, or local file.
At this time, Mac devices can only support sharing audio when presenting a Chrome tab. Read this help article to learn how to share audio with a Chrome tab.