We designed Kumospace to be the most fun place on the internet to hang out with friends and colleagues. The guide below is designed to help you troubleshoot common audio issues so that you can get back to the fun ASAP!
For the best experience with Kumospace, please use Google Chrome. To download Chrome, click here.
Microphone Issues
My microphone doesn't work
This may be because camera and microphone permissions have been turned off in Google Chrome. If this is the case, you will see a yellow banner at the bottom of your Kumospace. Click on Update your permissions and a window will pop up to prompt you to give Google Chrome access to your camera and microphone.
How do I manually grant Kumospace access to my microphone?
You can also manually change the settings.
At the top right of your Chrome browser, click the 3 dots, and click Settings.

Under "Privacy and security," click Site settings.

Click Microphone.
Review your blocked and allowed sites.

To allow a site that you already blocked: Under "Blocked," select https://www.kumospace.com and change the Microphone permission to "Allow."
My microphone still doesn't work after giving permission
Try clicking the Microphone button at the bottom of the window to mute and unmute. You can also use the Keyboard Shortcut "2" on your keyboard for this.

If this doesn't solve the problem, click on the Settings button, and ensure that the correct microphone is selected.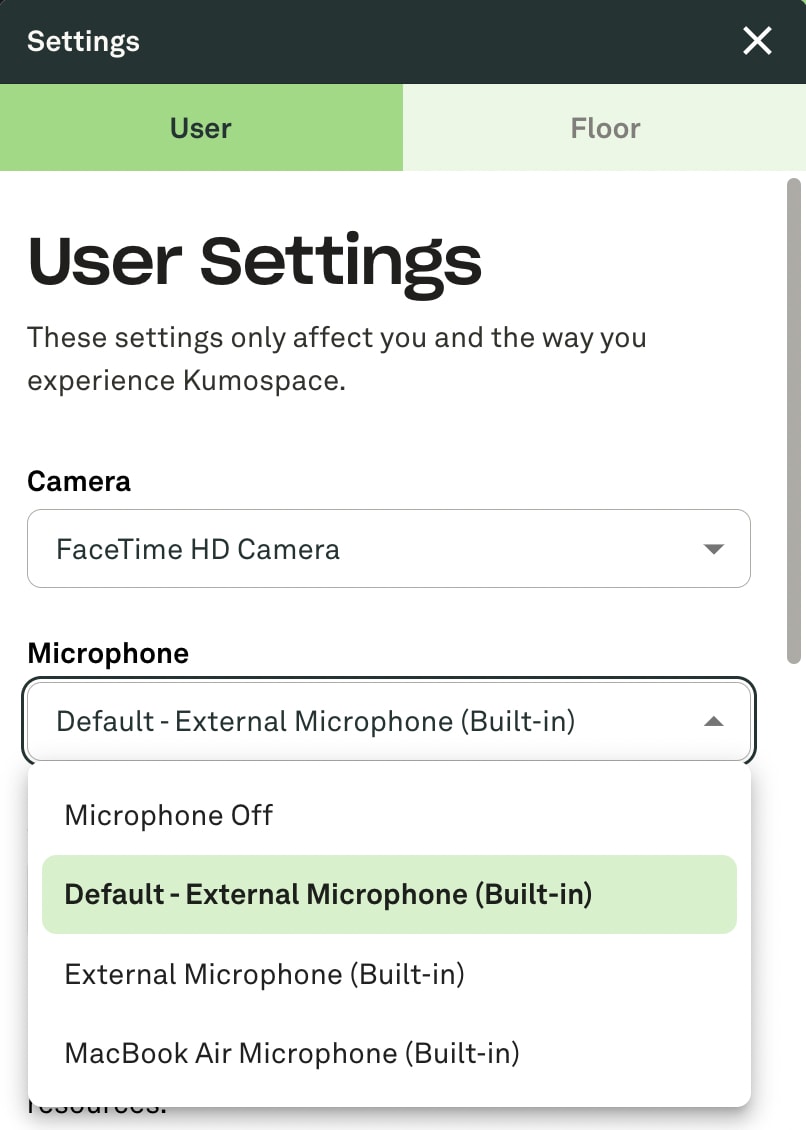 Remember to reload the page and make sure you've granted Kumospace access to your device's microphone so that the relevant microphone will appear in the dropdown menu.
My audio is distorted to others
If your audio is coming through unclear to others or sounds like a robot, there are few techniques to solve this:
Open the Settings tab in your space and select a new option under the Microphone dropdown.

If you are using headphones or earphones, disconnect and reconnect them from your device.

Restart Kumospace by refreshing your browser or leaving the space and re-entering.
If the issue remains, read our article on Optimizing your Kumospace Experience to see if there is a different browser or device that will improve your experience.
Setting up & testing microphones
Here are instructions on how to set up and test microphones.
Speaker-Related Issues
I can't hear anyone
The first thing is to check that your volume is on and up to an audible level. If this does not resolve your issue, check that your computer's audio settings are configured to the correct output device.
The audio is garbled
This can sometimes happen when there are more than three people talking at the same time. Try having some people mute their microphone or split up into smaller groups.
I can hear everyone no matter where they are
If you're on a smartphone or tablet, we recommend switching to a laptop or desktop computer. Kumospace runs best on the Google Chrome web browser. There is a known compatibility issue with Safari. Here is a complete list of supported devices and web browsers. Finally, if someone is using the Broadcast or Present features, you'll hear them no matter where they are in the room. In fact, with Broadcast, participants can present to guests anywhere in the Kumospace event, even other rooms!
My audio appears to be working but nobody can hear me
This may be related to browser extensions preventing you from sending audio correctly. Check to see if you have any browser extensions installed that may be blocking traffic and/or disabling them. To check your Chrome browser extensions:
At the top right of your Chrome browser, click the 3 dots, and then click

Settings.
Then on near the bottom left click

Extensions.
To disable an extension, toggle the switch for that extension to the off position.
You can also try unplugging any peripherals such as speakers, microphones and headsets.
Once you've done that, please reload Kumospace and see if that fixes the problem.