Virtual Event Platform
Enterprise features for virtual event organizers.
Video chat
Reliable, low-latency video conferencing that you can depend on.
Screen share
Present to a small group or thousands of attendees with ease.
Spatial audio
Participants can navigate the virtual venue, speaking with whom they choose.
Hosts & cohosts
Powerful admin settings to effectively manage and run your event.
Chat
Powerful admin settings to effectively manage and run your event.
Security
Protect your event with powerful security features, including SSO.
Need Help Planning a Virtual Event?
Get professional help planning and hosting your event
No matter the activity – from town halls and conferences, to training, workshops, games, competitions, or even custom needs – GoLocal Virtual Events specializes in running fun and engaging virtual events. Allow them to make it memorable and effortless!

As Kumospace's preferred virtual events partner, your team is in excellent hands. Their team of professionals will help you with everything from invitation to facilitation.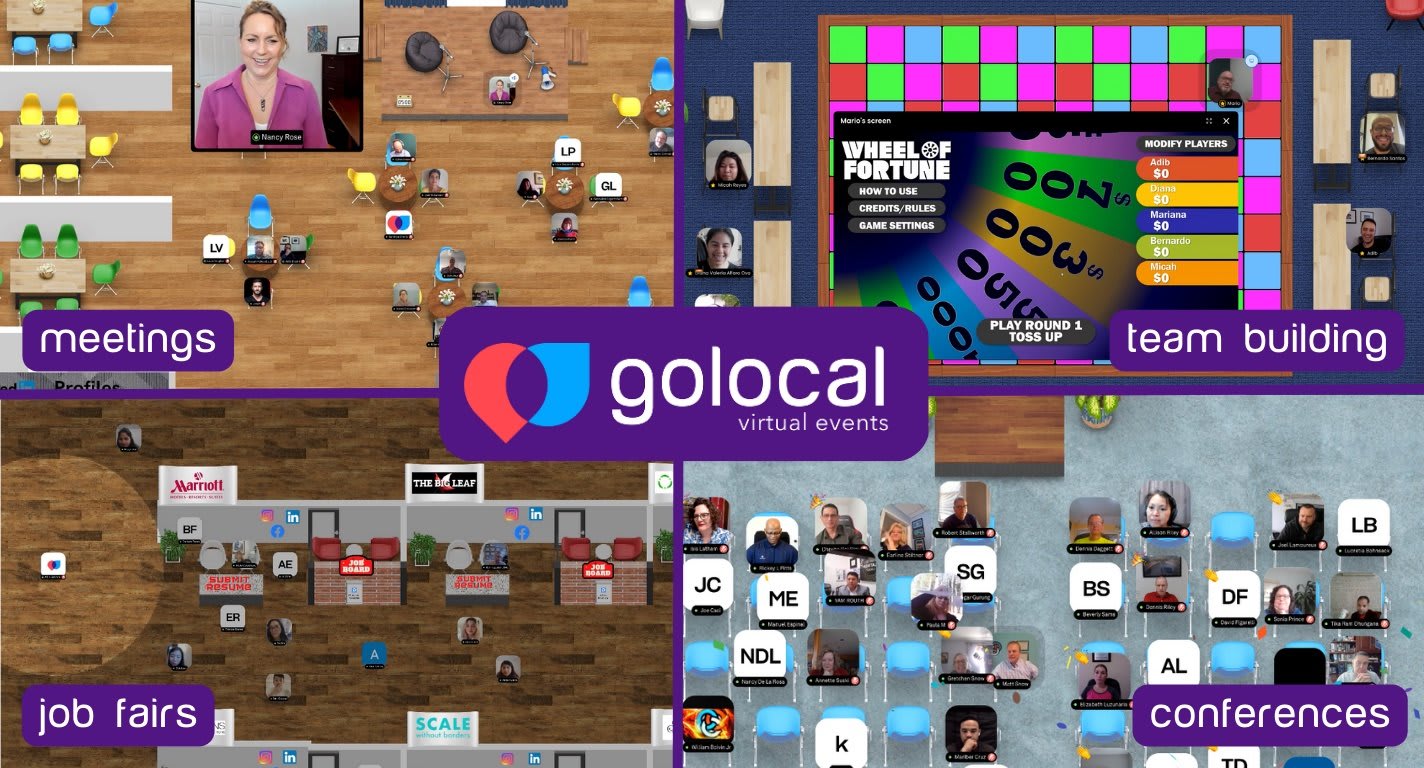 A Virtual Event Platform Used by

























Hosting Virtual Events
Not your average video conferencing software.
Replace boring online video conferencing with an interactive Kumospace where your attendees can virtually network, mingle, and share stories just like in real life. All accessible in the browser and video chat app!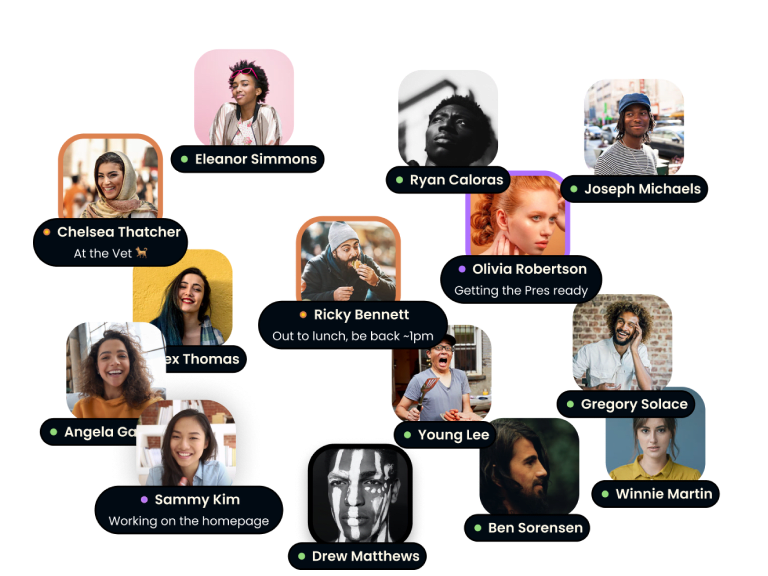 Customizable Virtual Event Software
Create the perfect space for every occasion.
Hold your next happy hour, conference, or sales meeting in a Kumospace tailored for your event. Add your own logos, furniture, music, and YouTube videos. Get inspired by browsing our virtual furniture catalog and template spaces.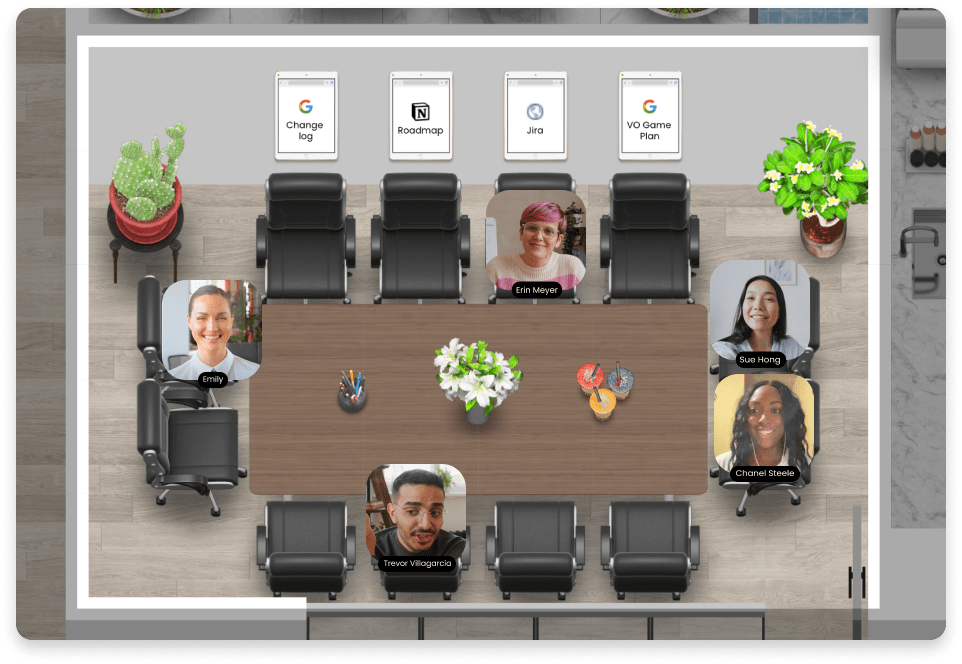 Online Video Conferencing
Powerful tools for professional hosts.
Full-featured functionality makes hosting virtual events a breeze. Easily screen share and broadcast to conduct presentations, organize keynotes, or make announcements to thousands of guests in your space.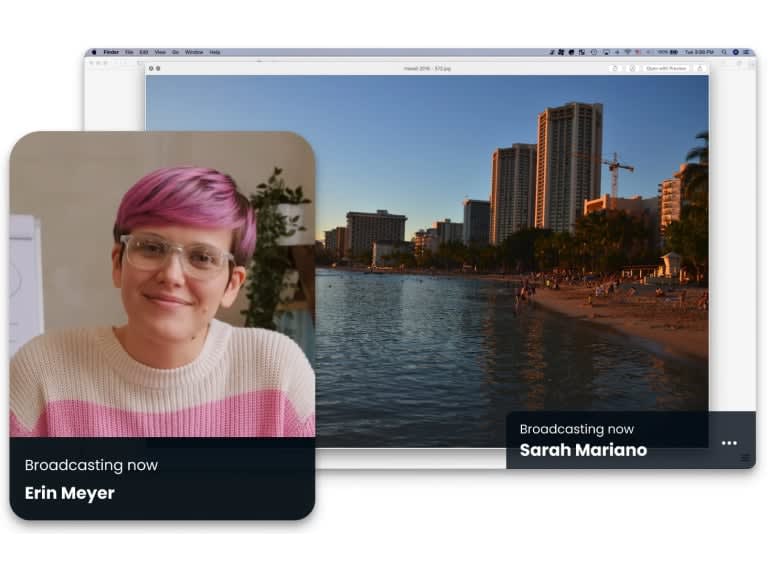 Safe Online Virtual Event
Simple, secure, and highly reliable.
Robust video conferencing software comes equipped with all the enterprise-grade security features you need, including password-protection, guest lists, single sign-on, and more.

Kumospace is fully SOC 2, HIPAA, and GDPR compliant. Read more about our security and data privacy practices.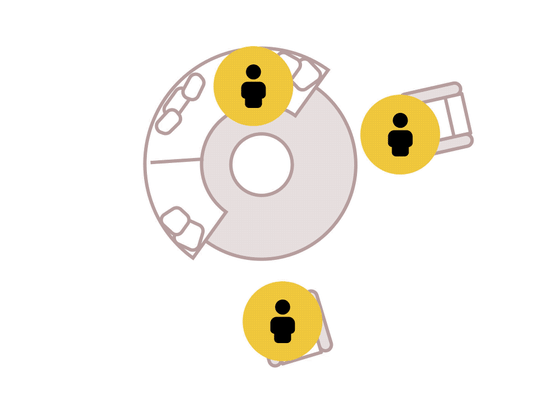 People Love Kumospace's virtual event platform
"Kumospace doesn't need a whole tutorial; it's very easy to use. The ease of setup is definitely a primary reason I would recommend Kumospace to others – and I really appreciate the customer service team's swift responsiveness and creative problem‑solving."
Mahiri Wise, Google
"Kumospace is a breath of fresh air. It absolutely helps us in decreasing our costs."
Esteban Morales, NASA
"We wanted to make connections with as many students as possible… and have it be as close as possible as in-person recruiting events without actually being in-person – and it did feel like that."
Ethan Erickson, Deloitte
"Kumospace has been really a wonderful reprieve from the monotony of being on Slack and Zoom client calls… It really is a lovely place to let people let loose a little bit."
Moire-Selvage, Hatch Design
Conferences
Job Fairs
Online Classes
Happy Hours
Game Night
Tradeshows
Team Building
Networking
Study Groups
Book Releases
Reunions
Corporate Retreats
Movie Night
Product Launches
Virtual Offsites
Speed Dating
Book Group
New virtual furniture drops every week.
Transform the way your team works.