Looking to plan a virtual offsite for your remote team? Here's what you need to know, including tips and ideas to help you get the most out of your sessions.
Hosting a Virtual Offsite That Ignites Team-Building
Use the power of a virtual offsite meeting to bring your team members together in an exciting, dynamic environment, no matter where they are located across the globe. Put the emphasis on team building and plan a carefully thought-out and well-produced virtual event that helps you to achieve some predetermined goals. For example, you may want to redefine your company culture and emphasize what a fun place this is to work. You may want to make sure people are more aligned when it comes to company strategies or simply focus on building strong relationships between teammates.
What is a Virtual Offsite?
A virtual offsite event is where you bring team members together in a virtual space rather than a physical location such as your office. Team building is usually the primary objective, but these events should always be fun and give your teammates an excellent opportunity to get to know each other. Clearly, the event can be built around a key topic and business-related activity, but it can also feature many cool activities (see some ideas below). You've got plenty of freedom, as you can hold an offsite virtually anywhere and for a small group or large gathering.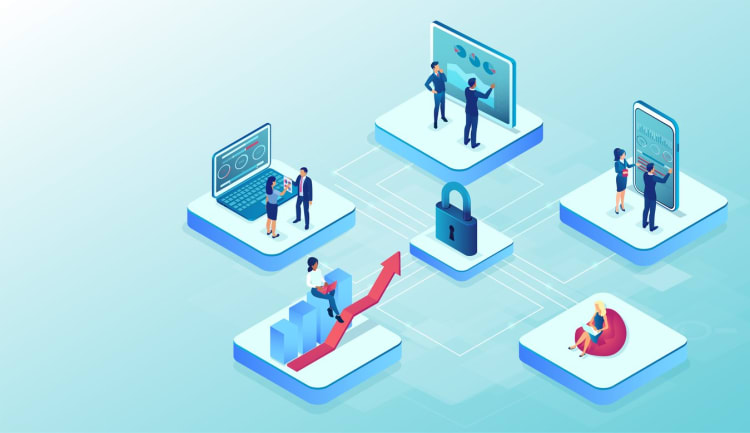 How to Host a Virtual Offsite
Start by choosing an excellent platform like Kumospace, but before you decide on any date or time, define your goals, set your agenda, and plan your strategies.
Goal-Setting, Planning, and Setting an Engaging Agenda
Planning a virtual meeting like this may take some time, especially if you have teams from different time zones, so the sooner you can define your goals and objectives, the better. While some of these events may be inherently casual, that doesn't mean you can take a similar approach to its organization. Instead, make sure that you define your goals clearly and have a way of checking to see that you accomplish these objectives.
Once you have your objectives, you can schedule the events accordingly. Gather feedback from your attendees, which can help you to structure the event and set an engaging agenda.
Break the big event down into individual sessions, and you may find it useful to assign a team leader to each session. Bring in other virtual team members to assist in areas that align with their specialties.
Remember, "all work and no play" is not the objective. People will be far more likely to engage, and you'll be more likely to achieve your goals if you ensure that they are having fun as part of the broader event.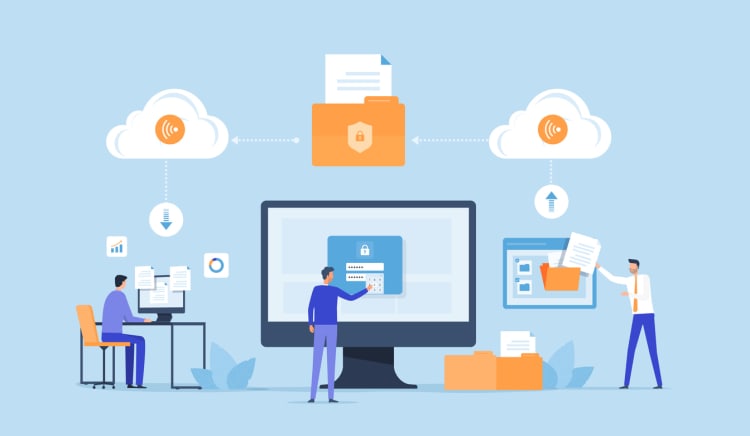 Logistics and Tech
Ideally, you should have someone who is technologically savvy when it comes to video conferencing and also someone who is a great master of ceremonies. You'll need somebody who is outgoing and can generate some energy to liven up the virtual room. Further, you will need someone great at timekeeping so certain activities do not drag on longer than they should.
When you use a platform, like Kumospace, you can take advantage of certain tech features like the applause button, which cues the sound of clapping, or the interactive gong, which signals a transition between activities.
Offsite Follow-Up and Follow Through
Once the dust has settled, you'll want feedback so you can improve. Send your employees a survey and gather this feedback.
If you are using an offsite to build a more cohesive remote team, use your learnings to help build in that direction. If some ideas worked better than others, put more emphasis on those for the future and ditch the underperforming concept. At least this was the opportunity for you to test those ideas in real time.
Hopefully, your virtual offsite will help to build a happier workplace and a more productive environment or be an icebreaker. You will create talking points, and if all goes well, your people will look forward to the next one.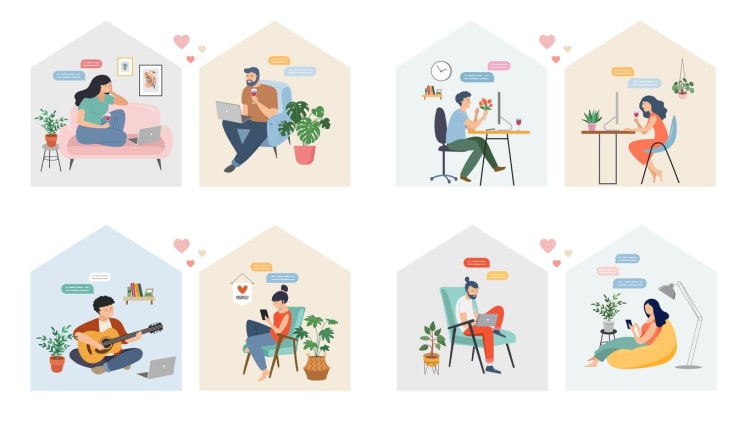 Fun and Productive Virtual Offsite Ideas
Virtual Dinner Party
With a virtual dinner party, you can stage a great team-building activity that combines fun, a social setting and collaboration. Survey your members to see when they're available and ask them to pick a theme. Depending on the theme, they may be able to show up in a suitable costume. Get the participants to choose the meal, so they can gather ingredients and prepare the food on camera.
Virtual Exercise and Fitness Session
A virtual fitness session is a great remote team-building idea as you focus on mental and physical well-being. Decide on the set of exercises, and you can tailor your class to your participants' fitness levels. Perhaps you can start with something like yoga and assign someone to lead each session. You may also want to bring in a professional coach and can stage an event like this in a cool location, such as a park or rooftop gym.
Virtual Entertainment
Here, you can take advantage of Individual skills, hobbies or talents and create a showcase so that others can learn. You can also bring in artists from outside and should have plenty of ideas to pick from — for example, cooking classes, painting sessions, cocktail making, and magic performances. As people learn and share new experiences, this should become a great foundation for team building.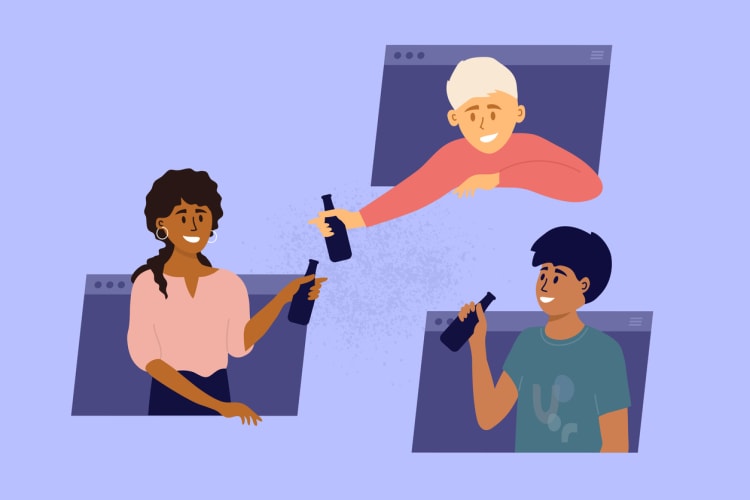 Brewery Tour Online
Look for craft breweries that offer online brewery tours as part of their marketing package. Some of these will include a session that can be hosted on your virtual platform, which will also give participants an insight into the production process. Some breweries may include a service where they deliver some of their craft beers to you for distribution to your participants. Expect some fun team-building games along the way.
Winery Tour Online
Forward-thinking wineries may also offer an online tour, where you can explore the vineyard, talk with winemakers and more. Again, you can arrange delivery of a certain wine ahead of time for sampling by the individuals.
Virtual City Tour
This is a way for individual participants to showcase their home cities. Begin by choosing a fun city with plenty of sites to explore. Get the hometown member to prepare and add a video of this city, which they can then show to other team members by sharing their screen. There will be great opportunities for conversation as the proud resident shows everyone around and people learn more about the new place.

Virtual Lunch to Show off the Pets
This type of virtual offsite focuses on people's love for their pets. Combine this with a virtual lunch and get a list of each team member with their respective pet. You can also develop some games and activities that may help engage attendees and hold these in breakout rooms.
Tour a Museum
A virtual museum tour is another great team-building activity where people can see great works of art, outstanding exhibits, and unique collections, all without leaving the comfort of their homes. You can bring in a professional tour guide to host this for you or ask one of your participants to screen share while they follow a self-guided virtual tour. Don't forget to spur conversation so that attendees can chat about some of the more interesting items on the exhibit.
Unconferences
This is a cool idea where you can ask your people to brainstorm ideas for conversation before voting on the best ones and holding a session for each. Break one virtual offsite into several shorter sessions so that you can discuss several ideas in one day. Anything goes, but it's a great opportunity for people to brainstorm, find out what other people are interested in, and generally connect.
Virtual Offsite FAQs
A virtual offsite is an event or activity that allows you to gather your employees together online in a non-work area. These events have become very popular in the post-pandemic era, and they can be used for team-building exercises or to discuss company issues in an offsite and potentially more relaxed atmosphere.
Staging a virtual offsite meeting takes a deal of planning, and you should notify your team well ahead of the event. Once you've decided on a date and time, you then need to pick a suitable virtual platform, like Kumospace. Once you've set this, you can email all your team members the link. This will include the date, time and direct sign-on, and you should also set reminders the day before the meeting.
Set up the same kind of rules as you might at an in-person event when it comes to collaboration, taking your turn and speaking in rounds. You also need to ensure that people mute themselves when they're not speaking or set this up as a default. Otherwise, you'll get a lot of background noise. Ideally, the participants should only interact with the device they're using as a participant, so they do not get distracted elsewhere.
You may have to work hard to build up some dynamism, as you can't always expect the same level of interaction as you would in an in-person environment. So, you may have to focus on the connections by discussing topics that may spur conversations. Also, avoid spending too much time on a topic, and schedule longer breaks between sessions than you might at an in-person meet. Otherwise, your participants may suffer from online fatigue.