Redefining virtual team interaction with online meetings
Online meetings:
collaboration made simple
Boost your team's productivity with our intuitive online meeting software.
Transforming remote team engagement
Your gateway to seamless online meetings.
Step into a new era of remote collaboration with online meetings in Kumospace. Designed to empower remote and hybrid teams, our solution offers a seamless platform for sharing ideas, strategizing, and driving productivity. Experience real-time interaction, high-quality video conferencing, and a suite of features that make online meetings a breeze.
Host unlimited online meetings for free with Kumospace
Unleash productivity with key features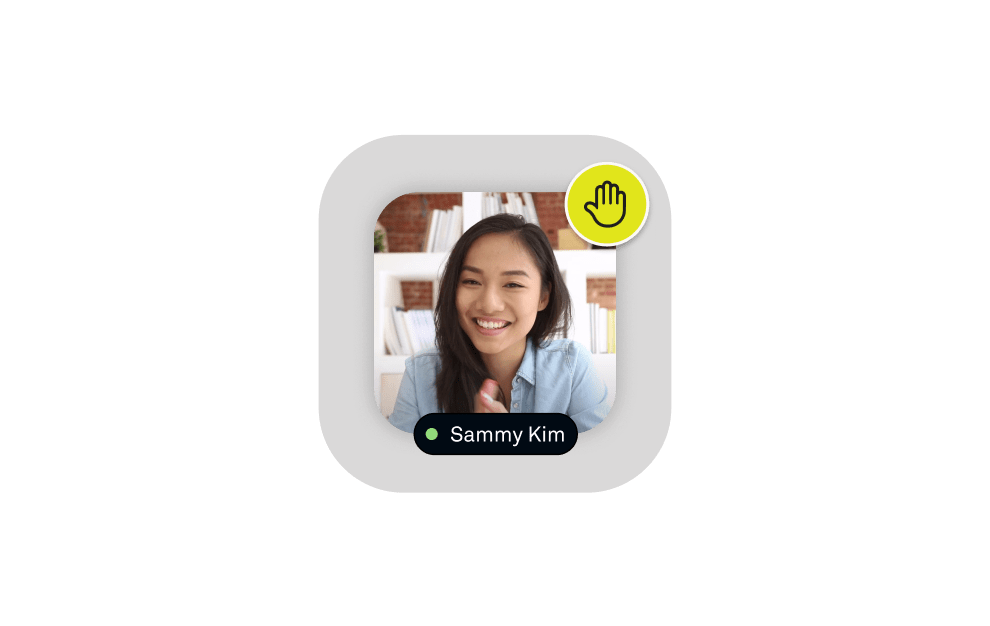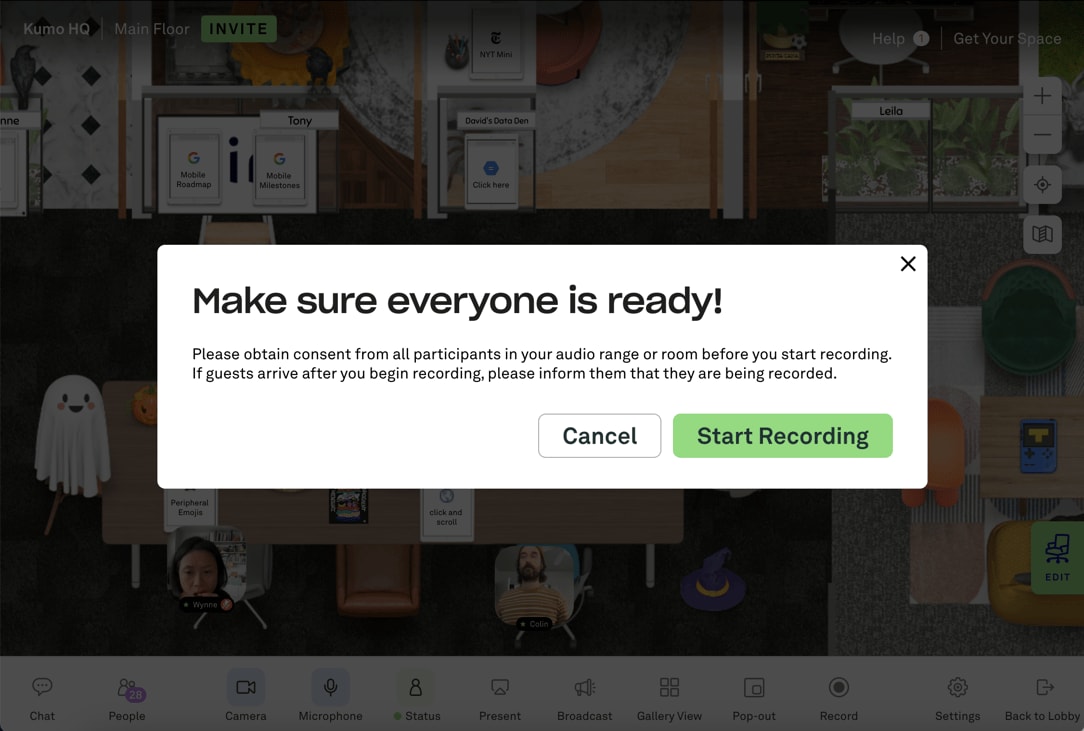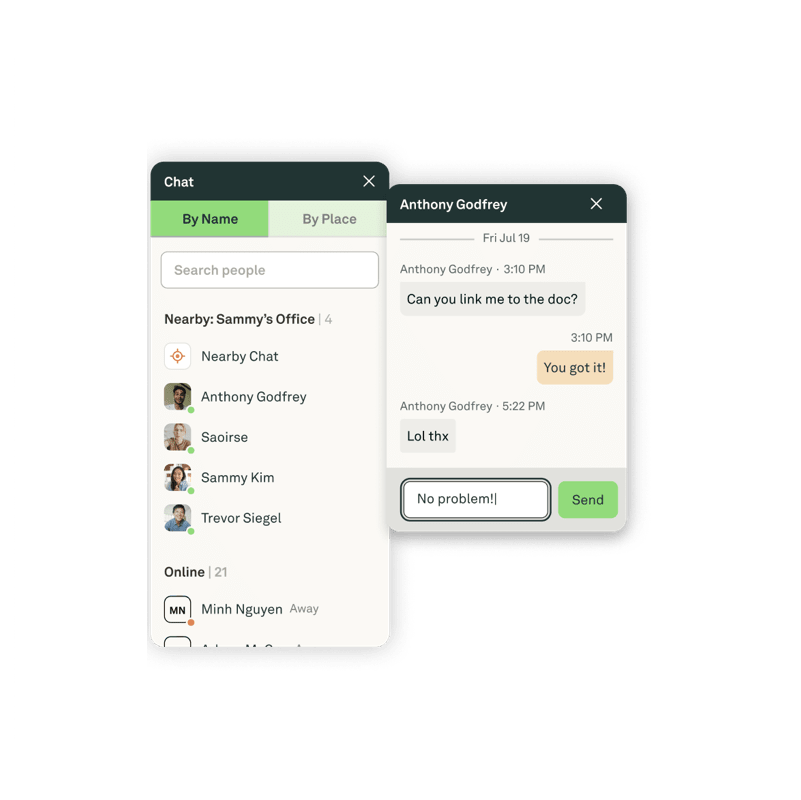 Use the 'Pop Out' feature for flexible video windows. Customize your meeting view to suit your needs.
Express your eagerness to contribute using the 'Raise Hand' feature. Promote orderly and respectful communication.
Utilize our recording feature. Capture every detail of your meeting for later reference or review.
Engage in private conversations during meetings. Maintain the personal touch in your professional interactions.
Seamlessly integrate your calendar. Schedule and manage your online meetings directly through Kumospace.
Renowned online meeting platform
Kumospace is the top-rated virtual workplace tool on G2! Foster better collaboration and connectivity within your remote or hybrid team today.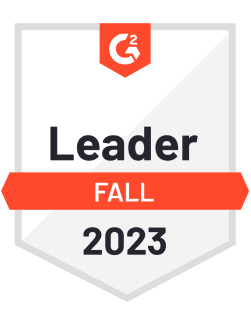 Experience seamless collaboration with enhanced features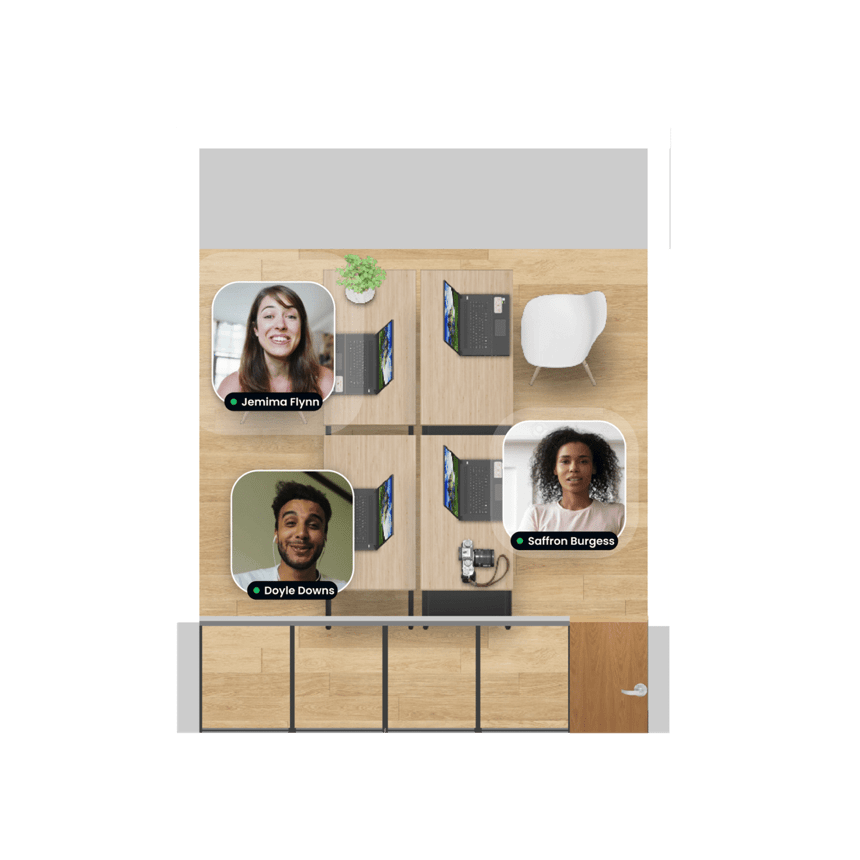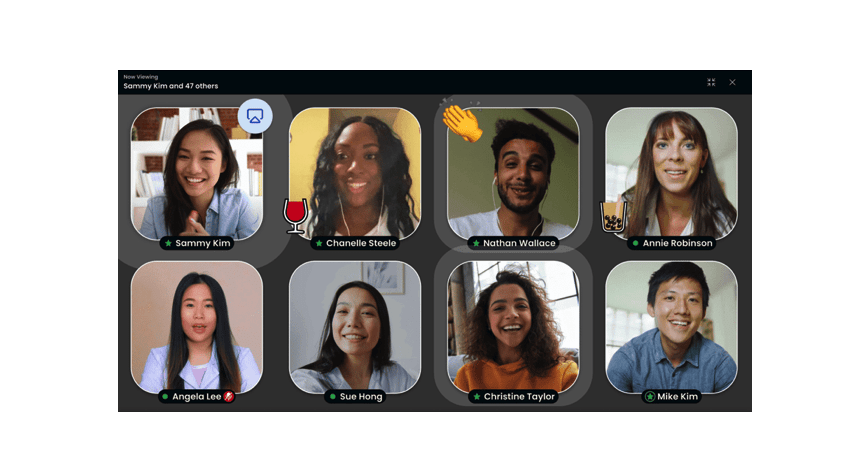 Online meeting software that works across multiple platforms
Participate in virtual meetings from any location
Kumospace offers a full suite of desktop and mobile apps for Mac, Windows, Linux, iOS, and Android. Say goodbye to missing meetings regardless of where you are physically.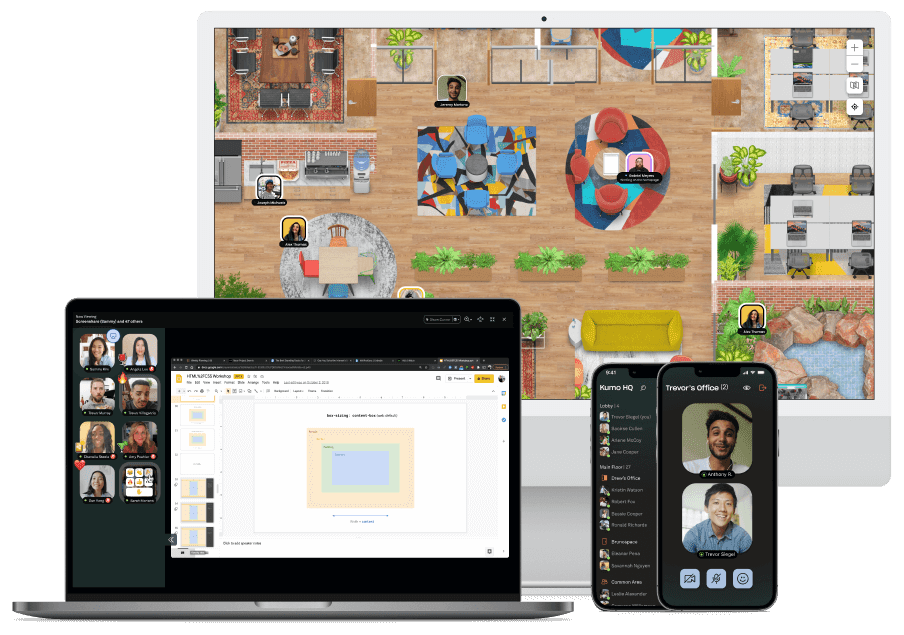 Safeguarding your online meetings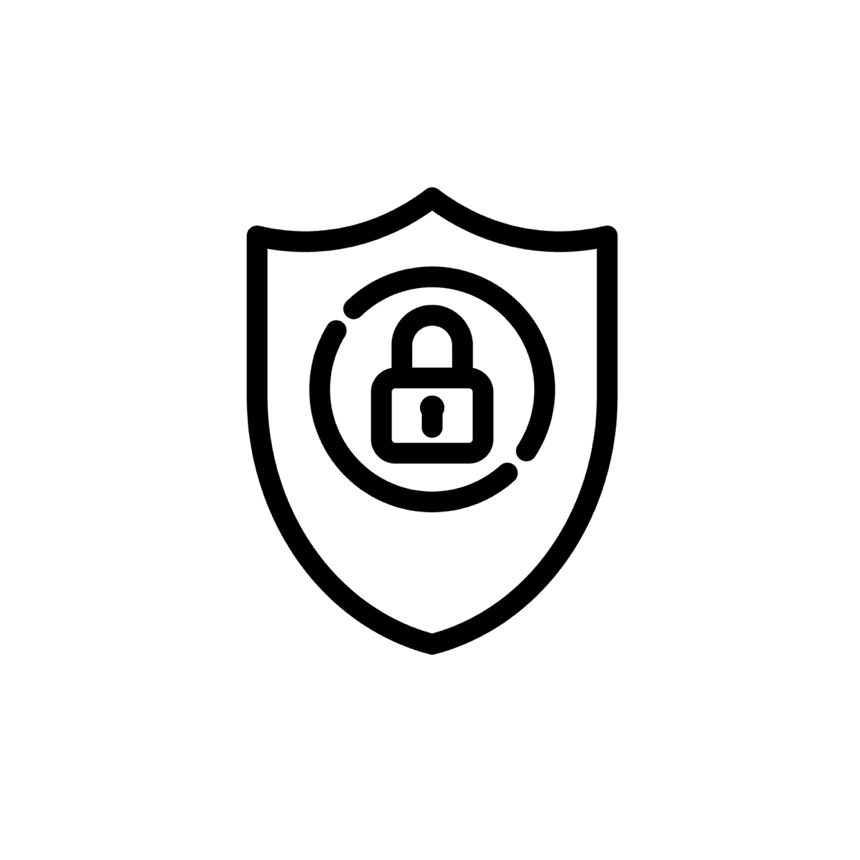 Secure conferencing
Enjoy secure video meetings with our encrypted webRTC tech, prioritizing top user data protection.
Unified login
Maintain team unity with a secure, compliant, single login system, perfect for remote and hybrid teams.
IT control
With a focus on compliance, manage team roles for a more secure, compliant video environment.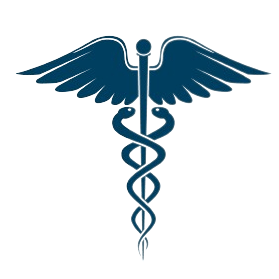 HIPAA
Conduct video conferences aligned with stringent HIPAA standards, ensuring safety and compliance.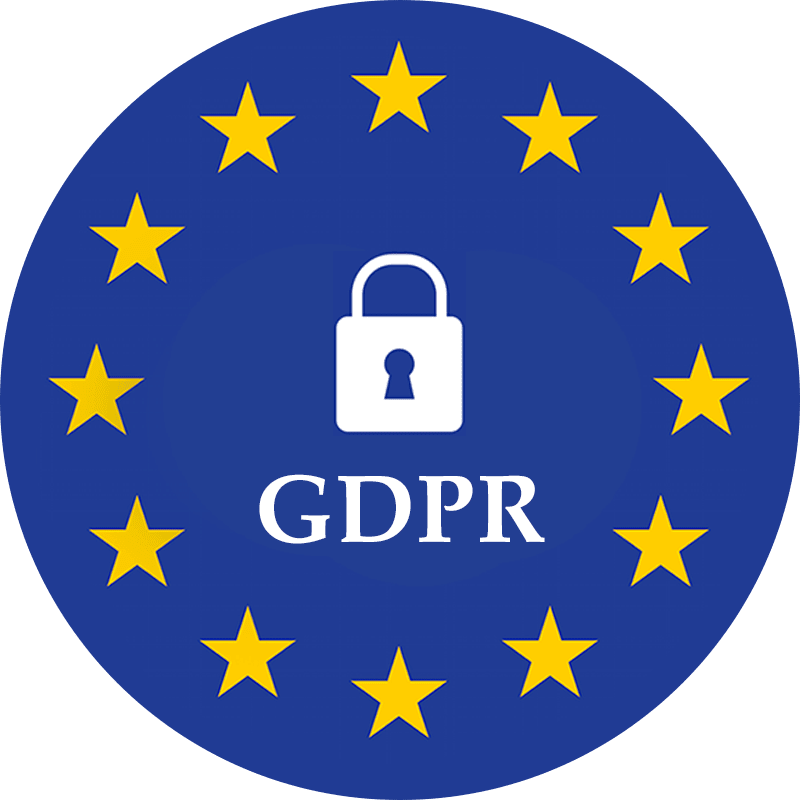 GDPR compliant
Kumospace respects European privacy laws, ensuring seamless and compliant digital interactions.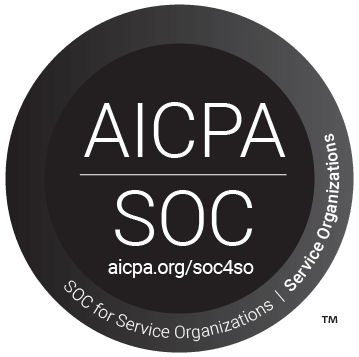 SOC 2 certified
By being SOC 2 audited, Kumospace underscores its commitment to top-tier security protocols.
Kumospace is loved by users
"I worked with the Kumospace team to create a virtual floor that mimicked one of our floors that we have in our office. What people really liked was the ability to go through the room and climb in and out of conversations as we would in a physical space."
Manpreet Jandu-Gil, KPMG
"Kumospace doesn't need a whole tutorial; it's very easy to use. The ease of setup is definitely a primary reason I would recommend Kumospace to others — and I really appreciate the customer service team's swift responsiveness and creative problem solving."
Mahiri Wise, Google
"It felt almost like being face to face. One thing that I really appreciated with Kumospace, is that every time I log in there's more functionality and more options for things."
Jeff Nason, Canada Life
"With Kumospace, we finally have a home base for our fully remote global team! It's been amazing to have a place we can go to every day that enhances our company culture and helps bring the team together."
Stephen Racano, Geologie
Discover the array of productivity tools offered by Kumospace
Frequently asked questions
Online meetings software is a digital solution that allows users to conduct meetings via the internet. Kumospace's platform includes features such as video conferencing, screen sharing, and real-time collaboration.
Online meetings allow teams to collaborate regardless of their geographical location. They can enhance communication, save travel time and costs, and improve productivity.
The best online meeting software is one that caters to your team's specific needs. Kumospace offers a robust, user-friendly platform with a suite of collaborative features.
Setting up online meetings with Kumospace is simple. After creating an account, you can schedule a meeting, invite participants, and start collaborating in real-time. Our software also integrates with popular calendars for seamless scheduling.
Yes, Kumospace supports large online meetings, making it an ideal choice for enterprises and large teams. Our platform ensures smooth video conferencing, screen sharing, and collaboration, regardless of the size of your meeting.
Transform your team collaboration with online meetings in Kumospace today!