Answers to common video issues.
Video is an important part of making Kumospace the world's most immersive video chat platform. Let's solve the issue with your video and get you back to having fun ASAP!
First, please remember that Kumospace works best with Google's Chrome browser. Click here to download it.
Video issues
My video doesn't work
This may be because camera and microphone permissions have been turned off in Google Chrome. If this is the case, you will see a yellow banner at the bottom of your Kumospace. Click on Update your permissions and a window will pop up where you will be prompted to give Google Chrome access to your camera and microphone.
How do I manually grant Kumospace access to my camera?
You can also manually change the settings.
At the top right of your Chrome browser, click the 3 dots, then click

Settings.
Under "Privacy and security," click

Site settings.
Click

Camera.
Review your blocked and allowed sites.
To allow a site that you already blocked:

Under "Blocked," select

https://www.kumospace.com

and change the Camera permission to "Allow."
My camera still doesn't work after giving permission.
First, close out any other applications or browser tabs that might be using your camera. Then check to ensure that your video is switched on in your Kumospace. Click Camera in the navigation bar at the bottom of your screen.

If this doesn't fix your issue, click on the Settings button, and ensure that the correct video input is selected.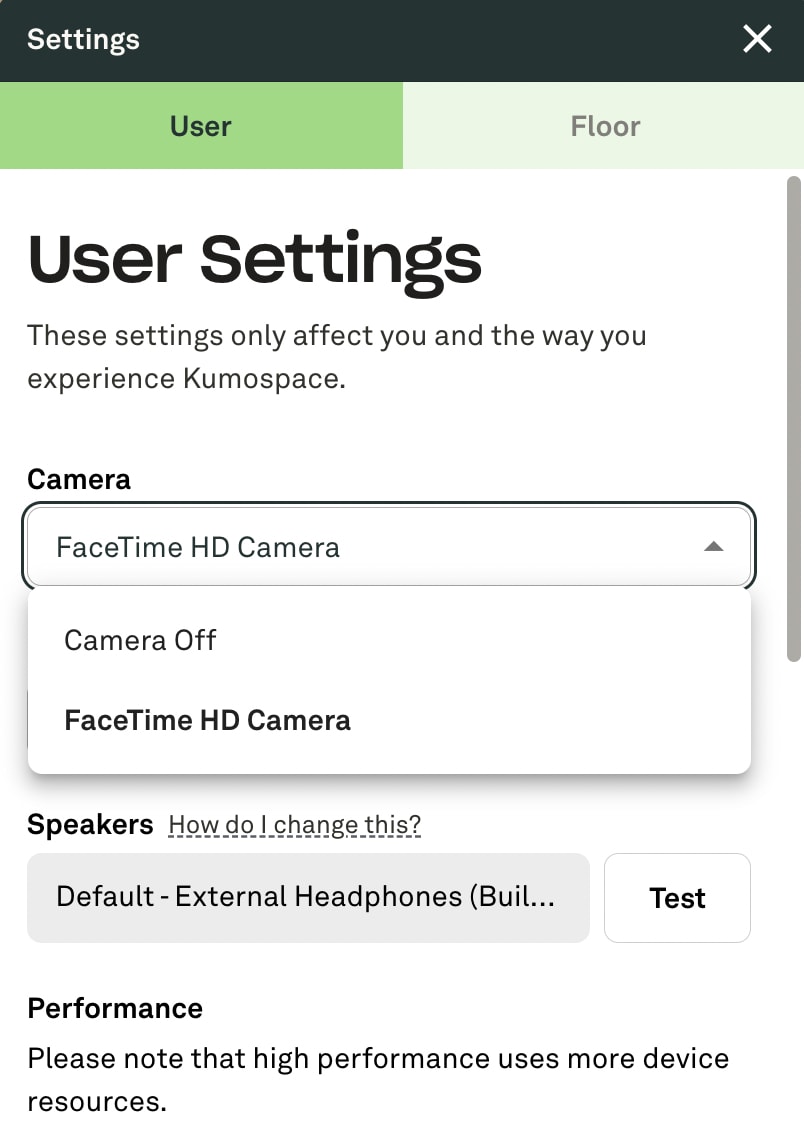 Remember to reload the page and make sure you've granted Kumospace access to your device's camera so that the relevant camera will appear in the dropdown menu.
Setting up & testing video
Here are instructions on how to set up and test cameras.
I can see myself, but nobody can see me
This may be related to browser extensions preventing you from sending video correctly. Check to see if you have any browser extensions installed that may be blocking traffic and/or disabling them. To check your Chrome browser extensions:
At the top right of your Chrome browser, click the 3 dots, then click

Settings.
Then on near the bottom left click

Extensions.
To disable an extension, toggle the switch for that extension to the off position.
Once you've done that, please reload Kumospace and see if that fixes the problem.