It's 3:00 p.m. on a Tuesday. You're on a Zoom call. Your boss is talking about something that easily could have been sent out in an email, and that's when you notice it. All your co-workers have epic Zoom backgrounds — backgrounds that you know aren't on Zoom's default list.
Forget the sales stats and project details you've been listening to for the last ten minutes — it's time to ask the really important questions. How can you score an awesome virtual background, too?
It may not be the key to a successful meeting, but a good Zoom virtual background is still something that many strive for. Ready to learn how to get one for yourself?
Changing Your Virtual Background on Zoom
If you've been wondering how to change the background on Zoom (but you haven't gotten around to Googling it until now), don't stress about your lack of cool any longer.
We've got you covered with a quick and easy guide to teach you how to swap out backgrounds like a pro — so that you actually look like a pro during your next virtual meeting. Or maybe you're ready to leave your virtual workspace behind and get together with your friends for a virtual happy hour or group game night.
No matter the virtual event, choosing an appropriate space and background is important.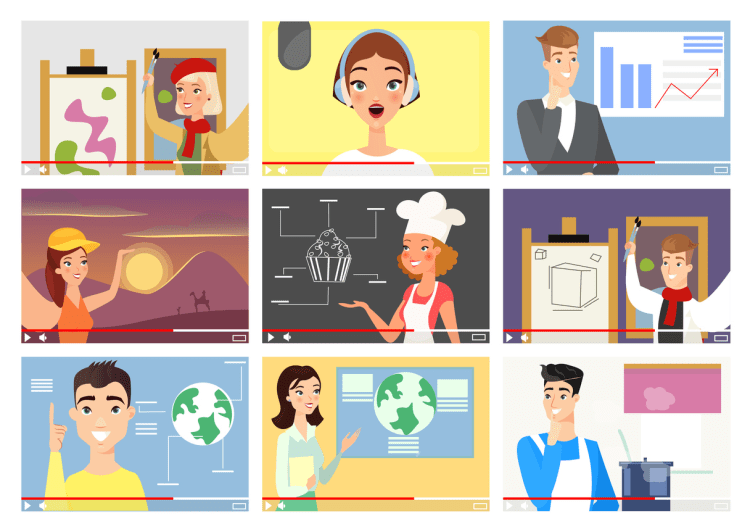 What Is a Virtual Background?
An appropriate virtual background is one of the great do's of video conferencing.
According to Zoom, a virtual background is a way for you to use an image or video as a background during your next Zoom meeting. This can allow you more privacy or help you exude a greater sense of professionalism, as clean, businesslike backgrounds are often less distracting during meetings. Alternatively, Zoom backgrounds are also a great way to hide a messy room or to show off the gorgeous scenes from your last family vacation.
What Do You Need for a Virtual Background?
Before you can use a virtual background, you'll need a few things.
A computer that meets the Virtual Background system requirements.

An account with Virtual Backgrounds enabled for use. (You can ensure it is enabled by going to "Account Settings", selecting the "Meeting" tab, and enabling the "Virtual Background" feature).
You may also wish to use a green screen (or any light, solid-colored surface behind you) if you want your virtual background to display to the best effect. Finally, if you wish to use one of your images or videos as a virtual background, it must be in PNG, JPG/JPEG format, or MP4/MOV video format.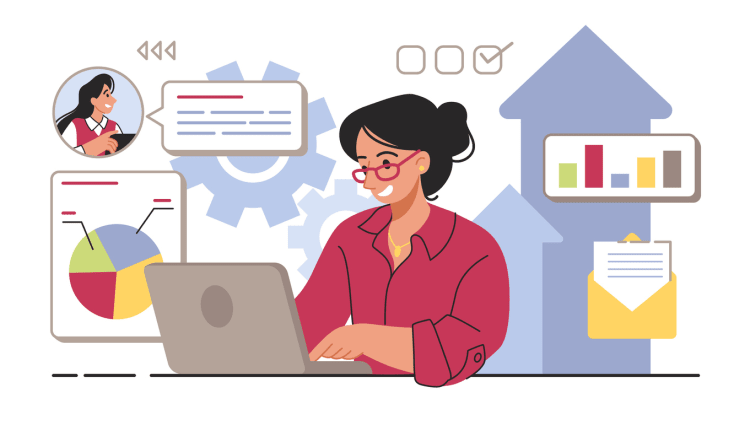 How to Change Your Zoom Background
Now for the moment you've been waiting for! Here's how to change your virtual background in four easy steps.
Step 1: Sign into your Zoom account.
Step 2: Click on "Settings" (located under your profile picture).
Step 3: Select "Backgrounds and Filters". If you have a green screen or are using a solid-colored background, choose that option.
Step 4: Choose a Zoom image or click the "+" icon to add your own image/video or choose the green screen option if you already have that setup.
The lawyer cat: A cautionary tale
Of course, with the power of virtual backgrounds comes great responsibility. Learning how to change the background on Zoom must be followed closely by learning how to remove your background. Fail to do so, and you may end up just like one of the internet's most famous attorneys.
(Hint: If you find yourself in a zoom meeting where fun virtual backgrounds are a no-go, simply select the Virtual Backgrounds tab again and choose "None" to turn your background off.)
No Zoom? No Problem
We know we just spend a lot of time going over how to change the background on Zoom — but what if you didn't have to worry about choosing the perfect background (or being turned into a giant talking cat?) Life would be a bit easier, right?
Well, you're in luck! Zoom may be one of the most well-known online video conferencing platforms, but that doesn't mean it's the best one.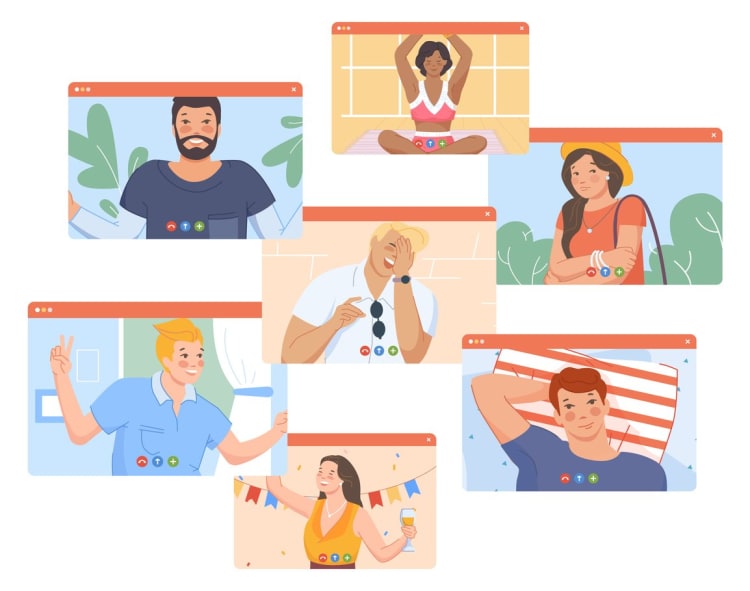 Why companies are ditching Zoom altogether
Zoom and many other virtual meeting tools skyrocketed in popularity throughout the pandemic. The convenience of remote meetings just couldn't be beaten, and in some cases, the online spaces were essential to keep business up and running and connecting co-workers.
However, sometimes traditional video chat platforms don't lend themselves well to remote teams, and they come with a whole host of problems, including:
Excessive meetings. Too many meetings can increase worker overtime and take a toll on your team. Many remote workers feel like there's not enough time in the day to get tasks done, especially when you add a stack of Zoom meetings to the mix.

Difficulty bonding. Creating connections with your team is imperative for any company. However, many remote and hybrid teams miss out on this important team bonding because employees don't meet face-to-face, and Zoom team bonding activities are limited.

Too much eye contact. In normal meetings, it's okay to let your eyes wander away from the speaker now and again, but in Zoom meetings, eye contact is a sign of engagement. That means you're looking at everyone all the time, really close up. This can be uncomfortable as it doesn't mimic our traditional communication methods.

Decreased mobility. During phone calls and in-person chats, you can move, stretch and walk around — not so with video platforms. In these, you have to stay within your camera's field of vision and stay still, or you risk distracting your team.
Together, these issues often led to the terrifying experience known as Zoom fatigue or a condition characterized by the desire to never, ever use Zoom again.
Fortunately, there are solutions out there.
"The Zoom fatigue that emerged during the pandemic was in part because people expected the virtual landscape to be short-lived, but it dragged on. Now that virtual interaction is a long-term expectation, it no longer needs to feel like settling for a lesser option."
Bill Mann (CEO of Styra, Inc in Forbes Article)
Virtual offices: The better Zoom background
As our working habits keep evolving, new video chat platforms are joining the game to meet needs that Zoom just can't fill. These virtual workspaces (or virtual office platforms) are revolutionary tools that change the way hybrid and remote teams collaborate.
These days companies are branching out and leaving their Zoom backgrounds and meeting spaces behind. There are plenty of alternative options that may be more suitable for your business needs and goals. The best part? Some virtual office setups (like Kumospace!) are easier and more intuitive to use.
But what exactly is a virtual office?
These spaces are online platforms that mimic an in-person office. A virtual office makes it easy for remote and hybrid team members to chat with co-workers, pop over to a neighbor's space to ask a quick question, and even offer online tools that allow team members to collaborate from around the globe.
Virtual work platforms are a superior way to foster connections between team members, inspire collaboration, and create a sense of community among personnel.
Want to learn more about virtual offices? Check out this handy guide to all things remote and hybrid work.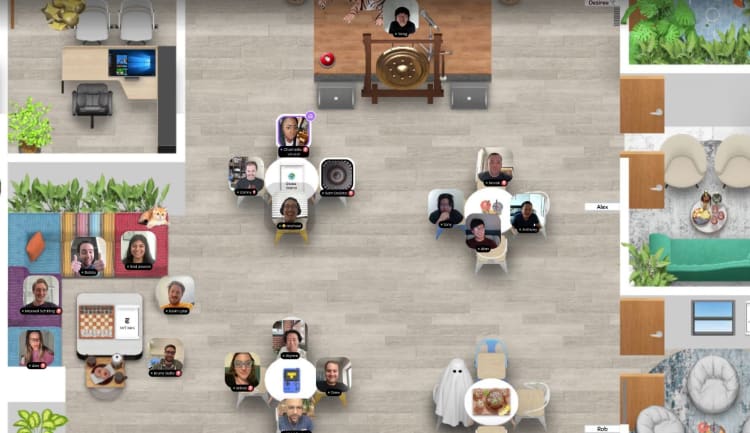 Using Zoom is old-school (Here's what the cool kids are doing these days)
If Zoom isn't your cup of tea, don't worry — you're not alone. These days, many teams are dropping traditional video conferencing in favor of fun, collaborative virtual office platforms like Kumospace. And using a new platform like Kumospace doesn't mean that you have to settle for less (plus, you can even add custom images in your Kumospace if you really want to make your space shine)!
San Francisco-based design company, hatch, started using our space and noticed the stark difference, saying, "Kumospace has been really a wonderful reprieve from the monotony of being on Slack and Zoom client calls… It really is a lovely place for people to let loose".
Innovative virtual video platforms like Kumospace offer new and unique ways for your team to collaborate and grow together. If you're interested in ditching the traditional office and going virtual, come see the difference that a new space can make. Schedule a demo with our team today.
Virtual Background FAQs
There could be several reasons why your virtual background isn't working on Zoom. For example, you may not have the virtual background feature enabled, or it may have been disabled by the Zoom administrator.
If you're using a custom video for your virtual background, make sure it is less than 30 seconds long. Longer videos may be too large to upload and can be distracting during meetings.
There are plenty of other virtual office spaces floating around online, including Kumospace, an innovative and easy-to-use platform that can host anything from PTA meetings to office parties.
You may be able to use a zoom background without a green screen, but that depends on your device. Applying virtual backgrounds without a green screen will increase the system requirements, which may not be feasible for some devices.
Ensure that you meet all the system requirements, are using a light, solid-colored background, and have optimal lighting in your space. This will give your virtual background a cleaner, crisper appearance.