The wildly creative comedian Dan Galea drops his tips for how to customize your virtual space in Kumospace to thrill guests and performers alike.
Dan Galea calls Toronto Hollywood North. He should know. The actor and comedian has been performing in Canada for over a decade, and he's the founder of the bespoke production company DG Special Productions. When he's not performing or producing, he's teaching comedy classes or setting up unusual interactive events in Kumospace, an immersive virtual event platform (which happens to be the host of this blog 😉).
Recently, we chatted with Dan about how to set up a standout virtual experience in Kumospace. This week, we're turning to the jack-of-all-trades creative to ask him about how he created a stunning custom virtual stage in Kumospace, complete with spotlights, red curtains, and a bar that serves drinks.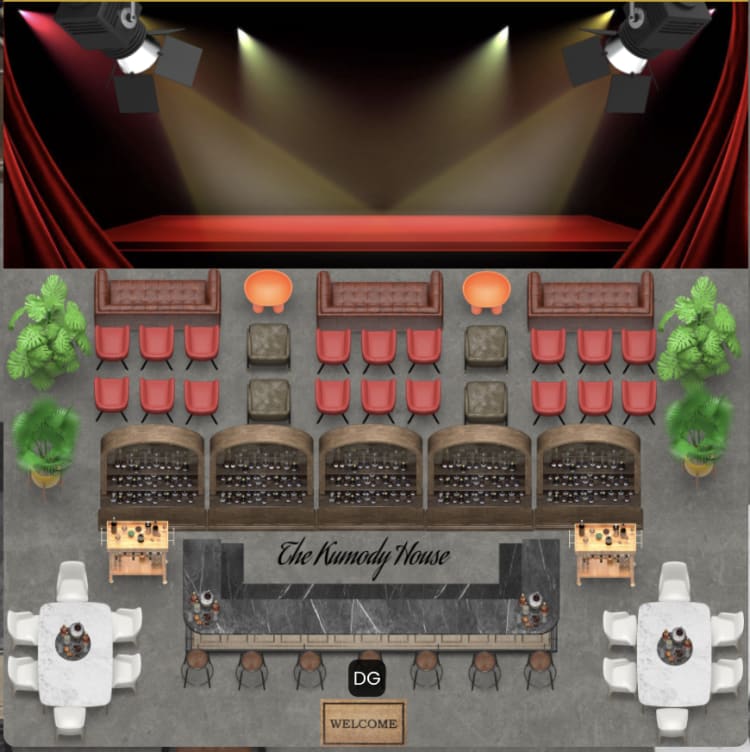 Ahead Dan shares why he chooses Kumospace over Zoom for his stand-up shows, how he has added logos and images to make his virtual stage fully customized, and tips for creating your own one-of-a-kind space.
Don't miss Dan's tips for how to host a memorable virtual performance here.
Creating Your Own Online Stage: An Insider's Guide
How did you find Kumospace originally?
I was doing Zoom stand-up shows and I hated it, and I was looking for an alternative. Kumospace is much better because on Zoom only one person can speak at a time whereas Kumospace's spatial audio allows for more back-and-forth conversations.
Plus, in Zoom, if you want to separate people you need breakout rooms and then that quickly gets confusing. Also you couldn't hear laughs. The best thing to do on Zoom for a live performance is to have everyone mute themselves, and then do your stand up. But you end up doing stand-up to emptiness. Or if people started letting people put their mics on but then that's just chaos ... It doesn't compare to Kumospace because Kumospace feels more real.
Your custom stage you build in Kumospace looks just like some of our favorite venues, how did you set it up?
So the first thing I did was I Googled images of stages, and I looked at what the options were. I found a stage I really liked, which was not big enough. It didn't fit the space so I resized it, which was easy. I just adjusted the size in Preview — which is free for anyone with a Mac — to make it fit the screen. The key thing to know is that Kumospaces are 3200 by 3200 pixels. So you can use that as your sizing template, and then figure out everything else afterwards.
After I found the image I wanted I made the picture as big as I needed, and I started sprinkling furniture and other items from the EDIT tab to make it look good.
The lights look so life-like, how did you get those to be part of your virtual stage?
The lights are separate from the stage image, the lights are a PNG. If you don't know what a PNG is it's an image that can go over another image, and everything around it is invisible so it appears like a cutout image, which you can move around I've built a number of other custom spaces in Kumospace, and I often use PNGs… I put the spotlight PNG on the stage so it looks like there is a spotlight on the stage — and it really worked out.
Can you tell me about how you placed the furniture?
I tried to space the furniture so that even if you were in the second row, you could still see the stage without using Kumospace's Broadcast mode — which is the feature that allows you to talk to everyone on the floor at the same time no matter where they are. I don't usually use Broadcast mode, but I might if it's a packed house. It's a great tool.

You've set up a great bar. I love the Kumody logo. How did you set that up?
There's this website called placeit.net, and it's a paid website that I subscribe to and it allows you to design professional looking posters, logos, and even videos for products — and it kind of erases the need for a graphic designer because there's thousands of templates you can use. Although, of course, it's always great if you have the chance to work with a designer directly.
But I use placeit.net to make logos and will sometimes even customize it more in Photoshop. For this Kumody house image I just made a logo, erased the background I made to make it into a PNG, and resized it. So it is a few steps. The last step is to make the image a URL so I can upload it to Kumospace's Custom Image app. To do that I upload it to Imgur, and then I'm able to copy the image address.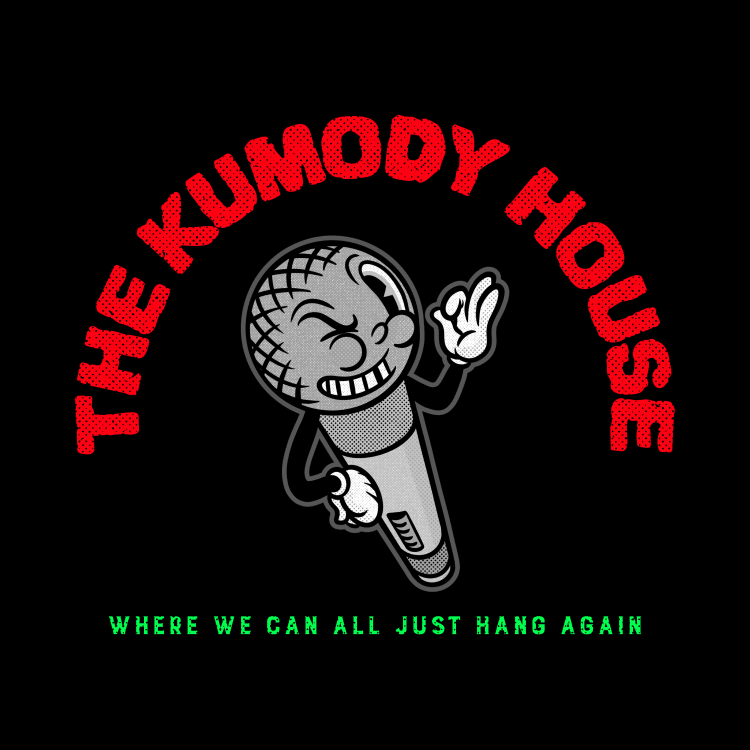 Tell me more about Imgur.
I have to highly recommend Imgur, a platform where you can host and upload images, because Google photos can sometimes be inconsistent and the image you upload might disappear. In Imgur this doesn't happen.
It's also great for Kumspace because to add a custom image to your space you need a URL for that image, and it's easy to create one in Imgur.
I also like that all the images you upload in Imgur are collected in a library so you can use them again later. I like to create a Kumsopace folder in Imgur and include all my Kumospace assets in there. Then I can constantly go back in Imgur, and use that rad table or L-shaped couch that I found, and upload it to customize my Kumospace.
Any other extra steps people should know about when they go to create their own virtual stage in Kumospace?
Again, sometimes you have to resize images. Like I mentioned, if you have a Mac, the program that opens your images automatically is called Preview, and it's free.
Many people may not realize that everything you need to do to make a custom floor with custom images is available in Preview, which you don't have to buy. It has an adjust size button and if you know the floor is 3200 pixels by 3200 pixels then you can use that as your base for customizing your space and go from there. You can also crop images in Preview, so it's good to know there's tons of useful stuff in Preview that you can do to make images work better.
Any other advice for custom images?
Searching for PNGs on Google is key to adding cool images. I will type in furniture top view, PNG, and then there's a ton of websites with free png downloads.
Where can we see your virtual stage, and other spaces you've created in Kumospace?
I keep my Kumospace open! Although, Kumopace recently launched a feature where you can actually lock your spaces and make them only accessible for guests with a password.
My spaces don't need a password though, anyone can take a look at my Kumospace at kumospace.com/meetingswithdan. It's always fun when new visitors drop by.
Have you built your own virtual performance space in Kumospace? Do you have any tips we missed? Or do you need help setting up your own event? Book a demo (where you might actually see Dan as he moonlights on our customer service team) or say hey, at hello@kumospace.com.