What is a Virtual Office and Is It Right For Your Business?
As more companies go remote, alternative forms of video conferencing tools are being created to help remote and hybrid teams thrive together no matter where they are geographically. A new game changing product on the market is a virtual office. You must be thinking: what is a virtual office space, what are the advantages of a virtual office and how does a virtual office work? Don't worry, we're here to help you better understand this new virtual space and see if it's right for your business.
What is a Virtual Office Space?
The term virtual office or virtual workspace is becoming more and more common nowadays. Both terms essentially mean the same thing: a technology software that allows remote, hybrid or distributed teams to foster collaboration, connection and company culture through a virtual platform. Virtual offices bridge the gap between working remotely and the inclusiveness of being in a physical office.
You must be wondering how a virtual office is different from a video conferencing tool, such as Zoom, Skype or Google Meet. What those three video conferencing softwares have in common is that they all provide the basic and essential function of communicating online for work, which is being able to speak with a colleague through video. Although they provide the basic tool, employees need more to stay engaged and not feel a sense of "Zoom fatigue".
To understand a virtual office in simple terms, imagine being in a physical office where you can walk over to a colleague if you have a question, bump into your teammates on the way to a meeting, take a break in the common area, knock on doors when you're walking into somebody's office, have brainstorm sessions on a whiteboard or even decorate your desk. Now imagine that entire office structure on your desktop. If you still can't picture it, here's a reference picture below.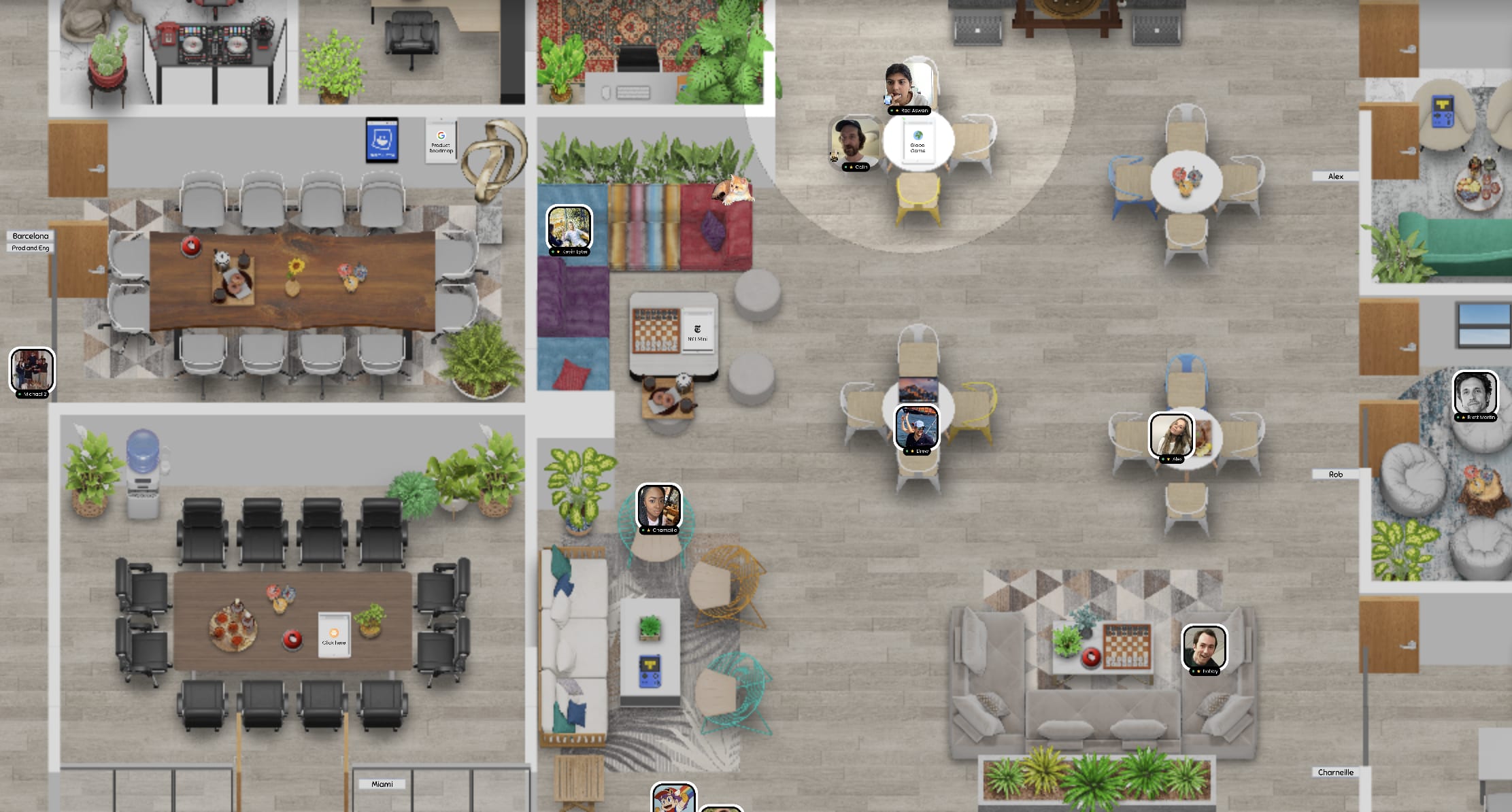 Basically a virtual workspace is software that allows your employees to engage in ways that feel like a physical office rather than feeling like their lives are run by virtual meeting after virtual meeting. Collaboration, team building, and general socializing happen serendipitously rather than in rigid and formal meetings.
Remote, hybrid or distributed business can benefit a great deal by using a virtual workspace. Let's break down the pros and cons of being in a virtual office.
Advantages and Disadvantages of a Virtual Workspace
Advantages of a Virtual Office
There are numerous advantages to virtual workspaces, but let's just stick to the top 3.
Combining Asynchronous and Synchronous Communication in one Platform


Asynchronous communication

is not the best method of communication to work with remote or hybrid teams, but if you combine it with synchronous communication, teams will be able to have fast, efficient and effective communication. Virtual workspaces give a combination of those two ways to communicate. Coworkers can work on a doc at the same time and screen share to collaborate or they can leave the links up in their office for the whole team to contribute.
Building Company Culture (Even Virtually)


Team culture

is extremely important even when you're virtual. Having a platform where you can have a virtual common area to just hang out allows team members to get to know each other outside of work. Coworkers can have company lunches, play board games or just have a quick chat like they would in real life.
Less Meetings, More Time To Get Stuff Done
One of the main reasons companies struggle with going remote or staying remote is because of

too many meetings

being added onto the calendar. The reason for meetings being added on is due to the lack of communication throughout the day. If a coworker has a quick question or a project they're stuck on, another meeting gets added to the schedule. With a virtual office, team members can reduce the number of meetings they have in a day. Just like a real office, you can walk over to a colleagues office to ask a quick question or have an impromptu brainstorm to solve a problem. This reduces the number of meetings being added onto the calendar and allows coworkers to be more productive with the tasks at hand.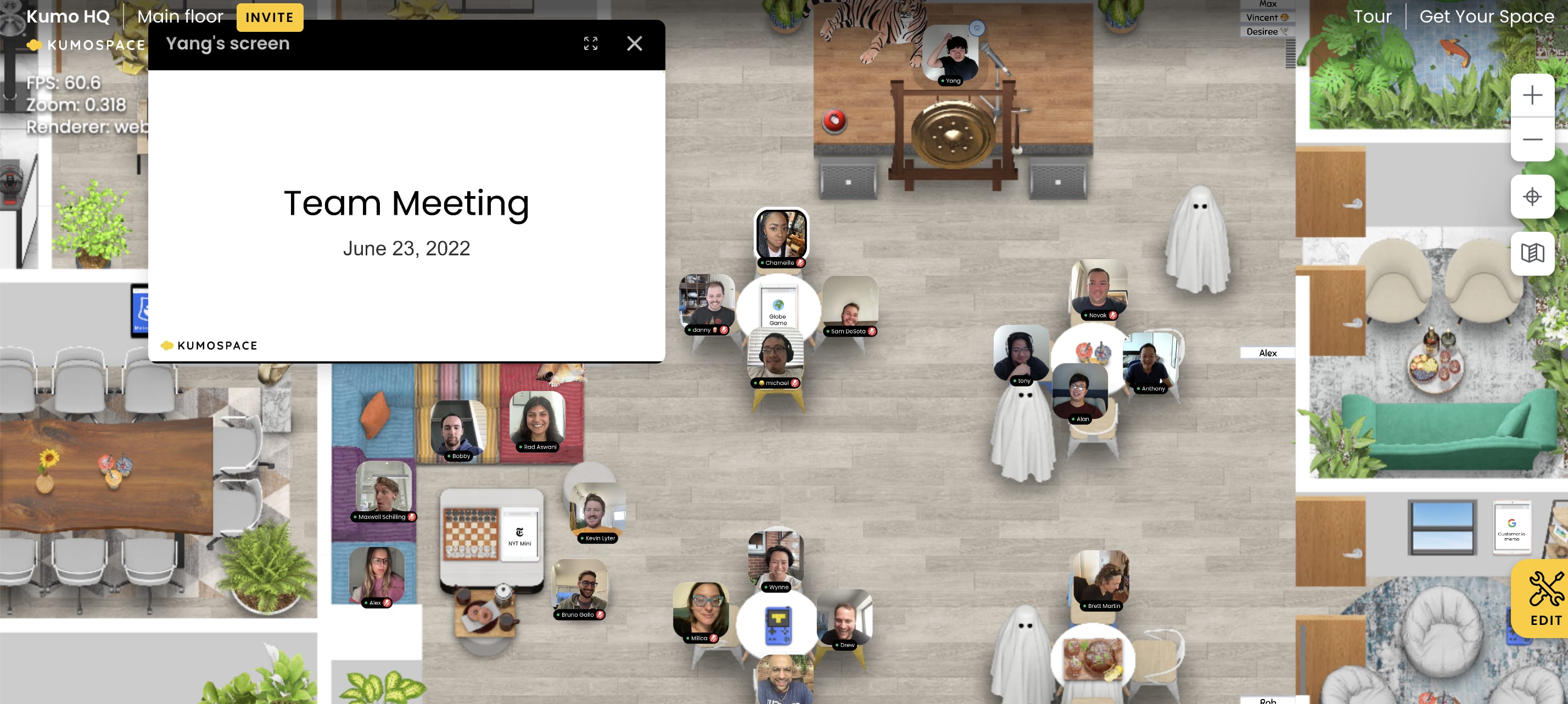 Challenges of Switching to a Virtual Office
Although the disadvantages of a virtual office are hard to come by, there are a couple that companies sometimes face.
Getting The Team on Board
Change may be scary for some and that goes for a new virtual office as well. Some employees may think that they should only be at the office if they have a meeting, but that defeats the purpose of having a virtual office. The more regular the team members are, the more efficient the work will flow. Virtual offices allow team members to experience the small moments that go into everyday work life. Some ways to help overcome this challenge is by encouraging your employees to log on as they work. That way if a coworker has a question, instead of scheduling a meeting they can walk over to their virtual office and have a quick chat.
Setting Up the Office
Having a company switch over to a virtual office is very exciting, but may take some time to get used to. Colleagues are able to use the tools and design their virtual office space catered to their personalities. With everything in life, switching to a virtual office is a learning curve, but once you know the ropes it's all smooth sailing.
What Type of Businesses are Right for Virtual Workspaces
How do you know if your business is right for a virtual office? Many companies that are remote, hybrid or distributed may be ready to take the leap into the virtual office world. See if you fit into one of the following categories:
Remote businesses
If your team is 100% virtual or remote-first, a virtual office allows you to keep connected throughout the day with your teammates. Team members that are used to being remote will have the best of both worlds: being anywhere they want geographically and connecting with their coworkers.
Hybrid businesses
Since many companies require 1-4 days in the office, it's important to stay connected with coworkers that may not be in the office on that day. If you need to talk to your colleague, it takes less than a minute to find them in the virtual office space. Looking for them in a physical office will waste 5-10 minutes of your day, maybe even longer if you find out that they're working from home. By having a virtual office, you're able to check the status of your colleague and check in with them before heading over to speak. And if they are working remotely you'll be able to talk to them in real time without having to schedule a meeting.
Distributed businesses
A distributed business is a company with multiple offices in different locations. A great example of a distributed company would be Google. According to the

New York Times, "Google has offices in 170 cities and 60 countries around the world." Teams that are located in several countries can communicate with one another through virtual offices or to host team events in the virtual space. The spacial audio feature in Kumospace's virtual office allows you to hear colleagues that are close to you - the closer you are to other teammates, the louder you can hear them. This feature is perfect for distributed team members who want to split up in groups while checking in on their colleagues in a group nearby.
How Does a Virtual Office Work
Setting up your virtual office is easier than it looks. Here's how we recommend starting your virtual office journey:
Head to

Kumospace.com

and click the 'Get Your Space' button in the upper right hand corner.
Sign up with your email address, Google or Facebook.
Click the 'Create a Space' button and enter your Space name, URL and What you're using the space for.
Click into the created space and a Welcome template will appear. You have the option to change the template if you click on 'Settings' in the upper right hand corner of the floor.
There is a tab for Offices with two template options (Private Offices or Team Pods) for you to choose from.
Once that's done, all you have to do is click into your new space and enjoy your brand new virtual office.
If you want to customize your office, there is a yellow edit tab on the bottom right of your screen. Here you'll be able to pick out your furniture, add in interactive activities and switch the structure of your walls and doors.
Got questions? No worries, we are here to help. Just schedule a demo with a member of the team.
Once you're up and running, you'll be able to start bringing your team together to build a positive company culture. The great part about having a virtual office is that you never have to worry about finding the URL for a meeting. All your meetings, events and hang outs happen on one link. If you need help to kick start your team building, here's an article on hosting a virtual offsite.
Is a Virtual Office Right for Your Business?
Here are some questions to think about when deciding on a virtual office.
How many team members can fit in a virtual office?
Virtual office spaces come in all sizes. You can have 10 people or 1,000 that can be customized to fit your team's needs. Free virtual offices are for up to 30 people.
Can I add a custom image in my space?
Yes! Many teams use their company logo throughout their office. Check out how to add custom images

here

.
How can I make sure my team has the best experience?
To optimize your virtual office experience on Kumospace, check out

this article

.

For more commonly asked questions, check out the help center.