Everything You Need to Know About Virtual Offices
Setting up a virtual office is a great way to get all the benefits of a physical office without the expensive overhead costs. Here you'll learn why businesses are opting for virtual offices, how to set up a virtual office, tips on how to manage remote teams successfully, and how to build company culture while being remote, hybrid, or distributed.
Why are Businesses Opting for Virtual Offices?
You may be questioning how and why businesses are moving to operate in a virtual office rather than a physical one. Many businesses have realized that employees are just as efficient and usually more efficient when they are able to control their schedule. Allowing team members to manage their time while getting their job done leaves employees feeling valued and in a better mental health state. Team members no longer have to compromise on their work and lifestyle.
Although this is extremely beneficial for the employees, it is equally as beneficial for the company. Businesses are able to hire top talent from all over the world and not restrict their pool to nearby locations. They are also able to cut costs significantly by decreasing their office size or not having a physical office location altogether.
The transition to being remote or hybrid does come with change, which can be concerning for some businesses that are set in their ways. This transition can be easy if businesses use the correct software and tools to let their teams succeed. A virtual office setup can help speed up the shift, which comes in two parts: a virtual workspace software and a virtual office mailing address.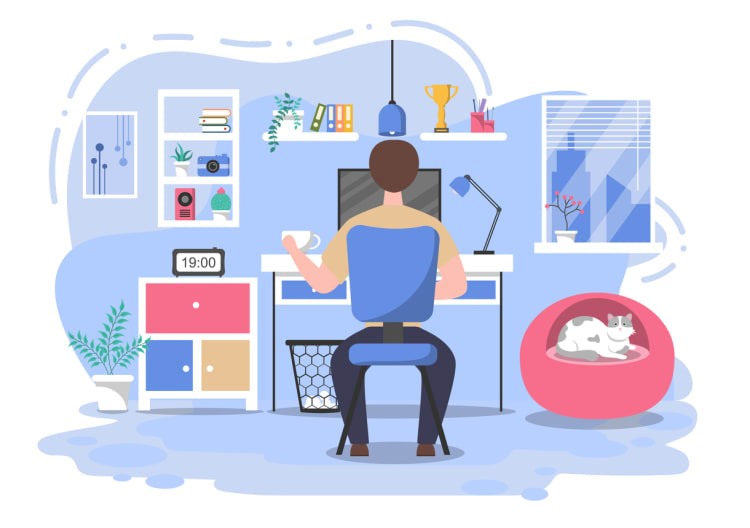 4 Simple Steps to Set Up a Virtual Office
Having a solid virtual office setup is crucial for any business that is fully remote, hybrid, or distributed. You may be wondering how to start a virtual office and what are the steps needed to aim for success. Setting a business strategy, recruiting the right people, securing a mailing address, and securing the right software is a great place to start.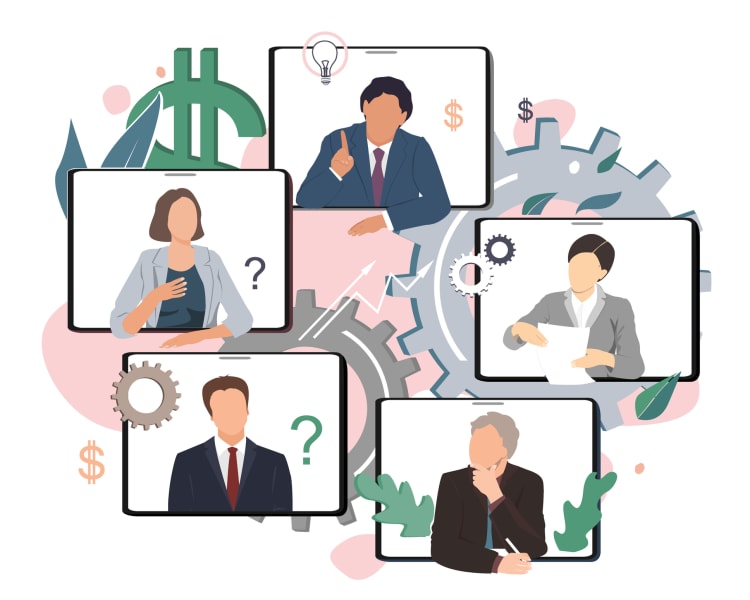 Step 1: Setting a Business Strategy
It's important to make sure that your team as a whole is aligned with your company's mission and goals, especially when you're remote, hybrid, or distributed. Coming up with a business strategy that acknowledges your long-term and short-term goals is essential. This should be done by thinking of the business as a whole and then breaking it down into individual departments. Setting clear expectations for your teams will go a long way. Here are some questions to think about while creating your business strategy plan:
What is your business mission statement?
What problem does your business solve?
Who are your competitors, and how will you differentiate your business?
What are the different departments, and who will be in each (org chart)?
What are the department goals (30 days, 60 days, 90 days, and long-term)?
What are your financial projections, and will your business require funding in the future?
Step 2: Recruiting the Right People
Normally, when your company has a physical location, you're limited by recruiting candidates that are in the area. This is not the best case scenario because that means your business will prioritize location over talent. When working remotely or hybrid, the company can expand its search nationwide or even worldwide. This allows you to find the right person to fit your team, no matter where they are located. A great example of recruiting the right people virtually is NASA's virtual recruitment event. There were over 500 candidates that showed up for a chance to work for NASA. You're probably wondering, how would you be able to narrow it down with over 500 people? Indeed does a great job of adding a criteria list when looking for a remote employee:
Proactive communication
Collaboration
Ability to work independently
Self-motivation
Reliability
Organization
Time management
Tech-savvy
Strong work ethic
This list is a great starting point for what to look for. Businesses should add in their criteria as well and see if the skill sets of the candidate align with what the company needs. It's also important to consider if the potential employee will collaborate well with other members of the existing team.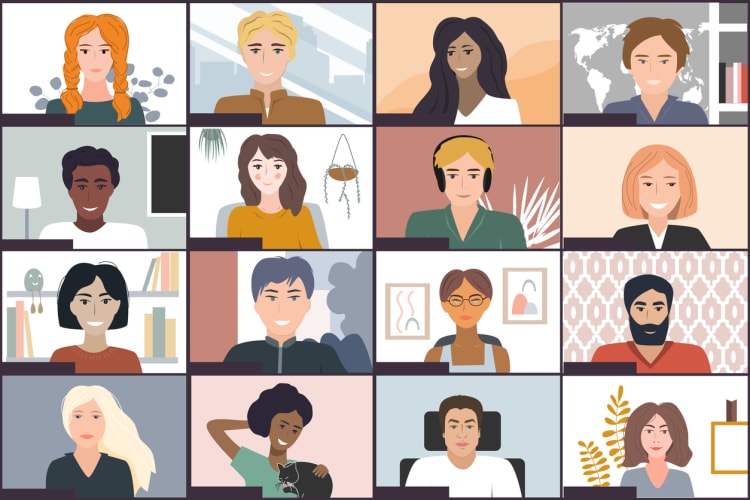 Step 3: Securing a Mailing Address
A virtual office mailing address is essential to opening up a business and is a valuable component of setting up your virtual office. Although the mailing address is in a physical location, your business will be able to track and monitor everything online. This includes opening mail or tracking packages no matter where you are geographical. Normally a professional staff member in a mail center or office building monitors your mail for you.
Pro tip: Try and find a virtual office mailing address located near where you live in case you ever need to pick up the mail that you've received.
Step 4: Securing the Right Software
Making sure your remote, hybrid, or distributed teams have the tools to succeed is a vital part of the four steps. Securing the right software is critical, especially while working remotely. Virtual office software allows teams to get the micro-interactions that they would normally get while being in a physical office environment. Companies that use a virtual office are able to iterate faster, break down silos, be "in the know," and create a sense of belonging.
Iterate faster. Normally, companies without a virtual workspace tend to have too many meetings. Now, with a virtual office, teams are able to have face-to-face time with one another whenever a quick question comes up. All you have to do is walk over to your colleague in your virtual office. It's as simple as that. This allows teams, especially new hires, to get the answers they need in a quick and efficient way. Team members no longer have to wait to hear back while using asynchronous communication tools.
Break down silos. For those of you who do not know what this means, it essentially breaks down the separation between departments to ensure clear and transparent communication. Normally remote teams only get face time with their department, but with a virtual office, you're able to bump into a team member from a different department for a quick chat or impromptu brainstorm. Virtual workspaces enhance collaboration amongst teams, including cross-departmental collaboration.
Be "in the know". This allows your team members (senior, junior, or entry-level) to communicate directly with upper management. Employees are able to know what's going on and have complete transparency with any questions about the business. Teams also get a better picture of what their colleagues in different departments are up to.
Create a sense of belonging. By having informal interactions, team members are able to build deeper connections that enable trust in the workplace. The virtual office environment lets team members from different departments get to know one another as well. This makes employees not feel isolated while working remotely. In fact, it does the complete opposite by creating a sense of belonging.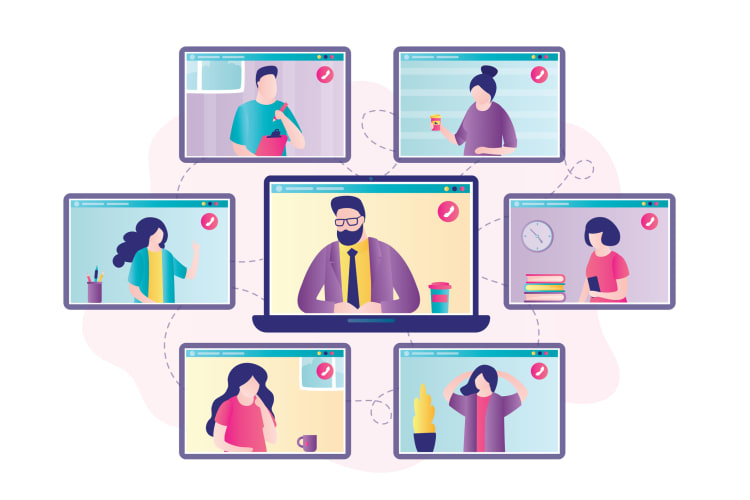 Other Considerations for Remote Working
After you've set up your virtual office, it's important to analyze your next steps when it comes to working remotely. This includes managing teams effectively and creating a positive company culture in your virtual environment.
How to Manage Remote Teams Effectively
Managing remote teams can be new for some employees who have only worked in a physical office environment. There may be some challenges, but trust is a key component of working remotely. The manager should be hands-off and let the employee own their tasks. This does not mean leaving the employee stranded if they have questions, but rather letting them do their due diligence and have easy access to management in case questions arise.
A virtual office environment will allow team members to have the best of both worlds: working independently when necessary and also having access to collaborating with colleagues and upper management.
Departmental goals are also important when managing a remote team. Planning the next 30-60-90 days out lets team members see the bigger picture and overall direction that their department will be going on. This will show them that their day-to-day tasks are helping the business reach its goal.
Tips for Creating Culture with a Virtual Office
Company culture will impact your remote team's performance, which is why having a positive culture is vital. Team members should feel a sense of belonging and look forward to working. Here are tips on building strong company culture in your remote virtual office.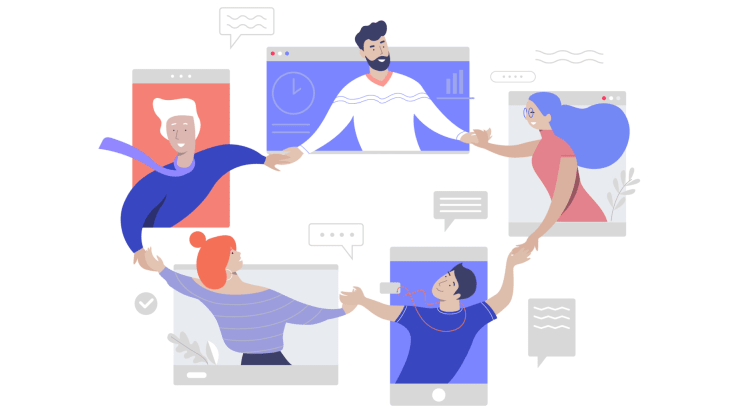 Frequently Asked Questions About Setting Up a Virtual Office
For remote, hybrid, or distributed teams, a virtual workspace is a great idea. Virtual offices help bring back the strong communication aspect that is missing from video conferencing software. Virtual offices are also great if you're transitioning from a physical office to being remote.
The cost of a virtual office space depends on the software you decide to use. Kumospace offers its virtual office FREE for up to 30 team members.
Virtual workspace software is very easy to use and set up. Employees are able to have their own office, walk and talk to coworkers in their spacial audio bubble, have brainstorm sessions in conference rooms, and so much more. All the interactions you would get in a physical office, but virtually.