The rise of hybrid and remote work has paved way for virtual offices that have been gaining traction in the marketplace in the last few years. From tech startups to more established enterprises alike setting up a digital space for their workforce to interact on, that goes beyond email, Slack, and Zoom is imperative for success in the long term. In this article, we discuss what virtual offices are, their benefits to any company, how to set them up around your operational needs, customization tools available to fit your unique goals, and the design elements to keep front of mind in order to get your teams excited.
What is a virtual office?
A virtual office or a virtual workspace was created to mirror the best possible in-office experience for teams who predominantly work remotely. These individuals have access to internal communication tools, compiling their work virtually switching between a multitude of digital platforms, with their colleagues often dispersed between different timezones making feeling connected as a team a challenge. A virtual office provides a structure that allows for spontaneous interactions and collaborations that would not take place otherwise.
Why set up a virtual office?
Although the remote workforce has grown in popularity in the post-2020 era, some of the key pillars continue to reign supreme when we look into successful team management both online and even IRL. Of chief importance is the establishment of connection and community.
Employees now more than ever seek a deeper meaning to their work that transcends financial gain alone. Virtual offices ease team management, harness operational efficiency, and keep teams' motivation high. According to a recent study published in Psychological Science, people tended to stay longer in their jobs if they had a feeling of being linked to the community and their co-workers.
One way to enable community building in a virtual environment is by gamifying your employee work experience and bringing your teams onto a single virtual workspace, or a virtual office.
Creating an environment of togetherness and belonging builds a culture of camaraderie where an employee's outlook shifts from me to we guaranteeing an increase in job satisfaction and decreasing turnover.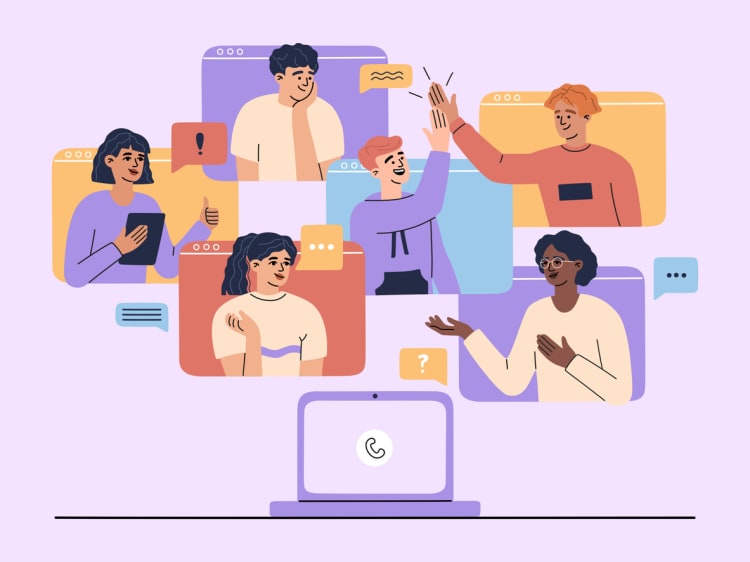 How to set up a virtual office
When setting up a virtual office, it's important to remember that the goal is to alleviate some of the pain points experienced by hybrid or fully remote teams while infusing fun back into work and collaboration. Think about what new features you are looking to integrate, replacing some of the older tools that no longer *spark joy* for you or your teams. Choose a platform that adds value, creates novelty, and gathers excitement when engaging with it. Kumospace was created with the above in mind, delivering a single solution to a multitude of digital tools all in one place. Schedule a demo.
How to design a virtual office
Unlike traditional office spaces that feature amenities like storage, closets, empty hallways, restrooms, etc, we optimized our floor plans to convey the best of the real-life office layouts in a virtual format. When designing Kumospace, we focused on ease of movement between rooms and prioritized having better visibility of the whole team for quick access. There is more room for design elements and flexibility for each coworker to showcase their personality. We created a space more conducive to creativity, which in turn boosts productivity. We like where we work.
We tested a variety of different virtual office layouts, extensively and the end result is what we call the "Kumo Office" layout; it can be broken down into 4 main areas: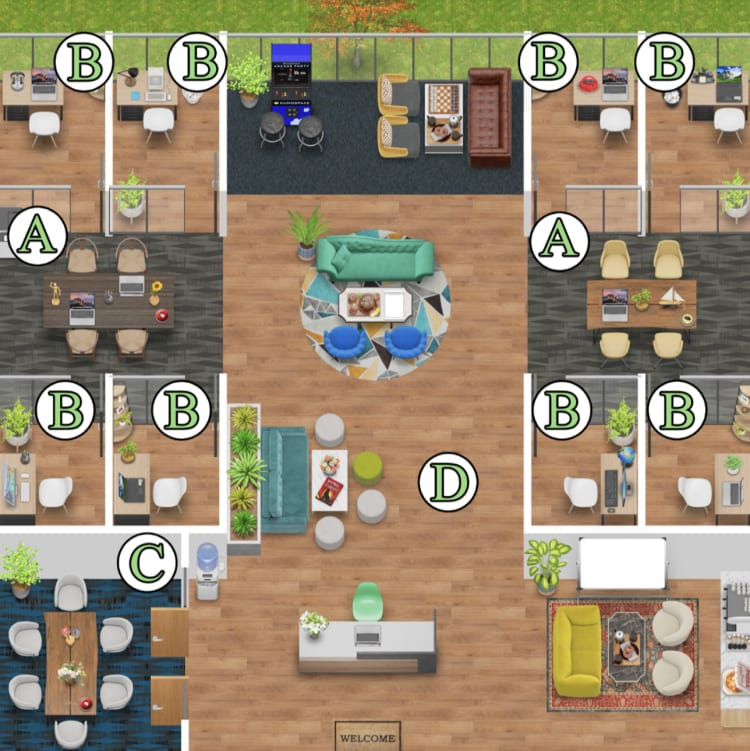 A. Team collaboration area: Open area used by teams to work, collaborate and chat
B. Focus area: Private area for focused individual work time
C. Conference rooms: Large private rooms for meetings
D. Common area: Open area used by anyone to work and chat
Here is a snapshot of a typical workday inside the Kumospace virtual office (the percentages will vary per team and individual):
50% Work in your team's collaboration area, discuss daily tasks, talk over lunch, and get to know each other
50% Work in your assigned focus area when you need to do individual work
The team collaboration area is the most important out of the four areas. This area is where a sense of togetherness and belonging is built and is the foundation of a successful remote workforce. Getting to know each other may seem like a trivial thing, but it is a necessary element to retain talent. You want to keep the talent that you have cultivated. The more vested people are in the team through personally knowing one another, the more likely they are to stay. If you are distant from your team it is easier for you to move on to another company.
Goals of Your Virtual Office
When designing your virtual office space, it is imperative to recognize the importance and benefits of a shared space. Here are some key elements worth highlighting:
Driving collaboration and productivity by removing interactive barriers and silos, allowing teams to communicate more freely
Reducing the number of low-value, formal meetings by increasing impromptu burst communication
Improving employee retention by building a sense of community and belonging
Building up your teams morale through visibility, trust, and recognition
Contributing to the company culture through virtual events featuring fun activities for team bonding
Facilitating a fun work environment that leads to increased engagement and operational efficiency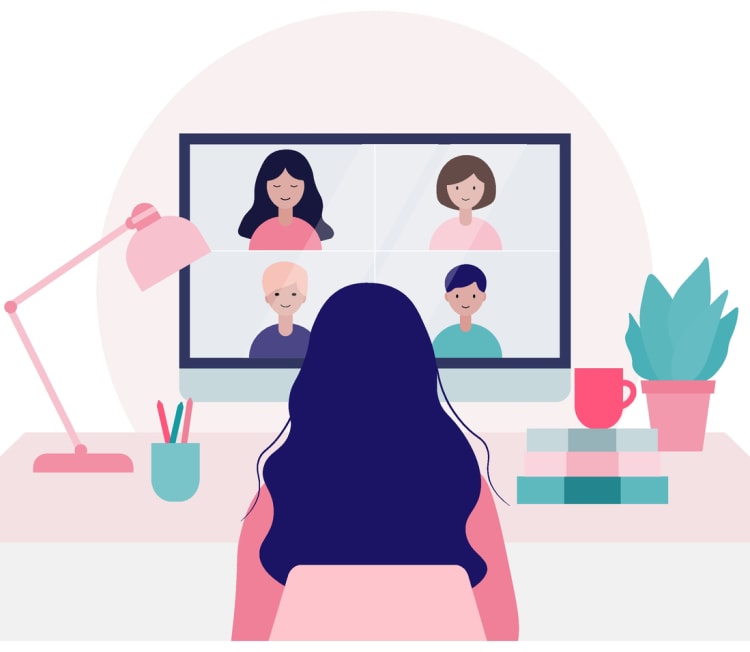 Need Help Designing a Space?
Here at Kumospace, we have helped thousands of companies design office spaces to cater to their team structures and unique collaborative needs. Our platform can customize everything from floor plan and layout, design elements, and atmosphere, to third-party platform integration.
How can I customize my virtual office?
Here are some ways to customize your Kumpospace:
The ultimate goal of setting up a virtual office is to reap the benefits of a physical one while maintaining the perks of remote work. There is no denying that when teams get together, a different kind of magic occurs in areas of collaboration, camaraderie, performance, and overall output. Given our shift in the way companies do business today and moving forward, the workforce is bound to be dispersed, at least to some degree. In the case of hybrid teams and/or fully remote ones, these individuals too need a place to co-exist and interact without silos of emails, video calls, and chats. Investing in a virtual office guarantees to help you create a sense of community within your remote teams, translating to positive company culture, heightened team morale, and ultimately better performance and output.
FAQs on Designing Virtual Workspaces
A virtual office is a workspace where remote teams have access to various business functions on a digital platform giving them better visibility into their colleagues, thereby increasing efforts of collaboration, culture, community, and productivity.
Not only is designing a virtual office in Kumospace easy, but it is also extremely fun! We have made sure that building an office on our platform is accessible to all levels of tech adapters and navigating the space is intuitive and interactive. Whether you want to create a theme, throw a party, or transform your office into a tropical paradise, Kumospace has all the features to turn your most creative vision into a reality.
Some of the main advantages of virtual office space include:
Increased team visibility leads to better collaboration
Burst interactions lead to heightened productivity
Fosters company culture in remote teams, which is often hard to cultivate digitally
Builds team morale through a sense of identity, togetherness, and belonging
Provides access to a variety of communication tools, all in one place
Helps facilitate organic conversations
Aids in retain talent long term