With more workers choosing to work remote or hybrid, companies have to take a more creative approach when it comes to social events. After all, you can't just expect everyone to meet for drinks and dinner after work at a local spot when your team may be spread out across many locations.
We can all agree that sitting on a video call and seeing each other's faces during a party is something we want to leave in the past. But there are great ways a company can throw a virtual social event that is fun and engaging for everyone involved.
What is a Virtual Event?
A virtual event can mean many things, but essentially it allows individuals to join in on the activity from remote locations using the web. It's about being together in a digital space that still feels close. Even though you're not together in a physical location the event provides a virtual venue where people can come together and replicate the feeling of meeting face-to-face.
Virtual events have become more popular since the COVID-19 pandemic as the way we work and live has changed dramatically. While in the beginning many were sheltering at home, post-pandemic many still expect to have a hybrid workweek, making virtual events more important in our new normal.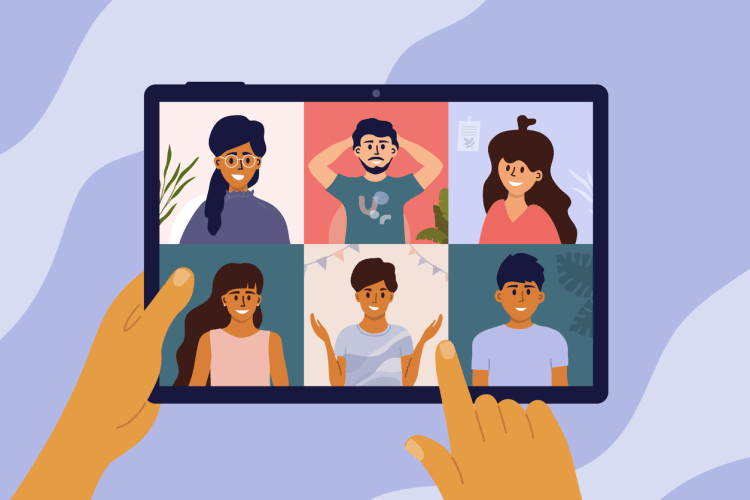 Why Throw a Virtual Event for Your Team?
The best reason for you to consider a virtual event is it's open and inclusive for all of your guests. It removes barriers like distance, lack of childcare, and limited access to transportation. It also makes group events more comfortable for those who may have social anxiety and not enjoy being in big crowded gatherings.
In the corporate world, as more companies move towards a hybrid model a virtual event means anyone who wants to attend can, from anywhere.
In social settings, it means including those who may have mobility issues or live too far to attend for just an evening.
How to Host a Virtual Event for Teams and Coworkers
The most important part about hosting a virtual event is ensuring that you use the right software to bring your virtual event to life. Many businesses already struggle with Zoom fatigue, which is why using a more interactive platform that brings people together will be a better option. Kumospace is a virtual office and event platform that has spacial audio, which allows participants to navigate the virtual space while only speaking with the people nearby. Businesses are also able to add their custom logos and build out a space that matches their branding.
Like any party building up some buzz about the event is going to attract the biggest audience. Once you have the right software, a date and a theme, start promoting it through various communication channels. For a corporation, there are usually internal messaging boards where events can be posted. Let people know how to connect to the event and make it easy for those who may not be technically savvy. If you still need more help, check out the 13 Virtual Event Best Practices for Hosting Online Events.
For some workers, a virtual event may still be a new idea. In many cases, big corporate parties were canceled over the last two years so many may expect events to be in person. Companies should make sure the message gets out early that the event is virtual. Promote it by showing that, unlike in-person events, the time commitment is less and there's no travel time. This may draw a bigger crowd and encourage more people to attend.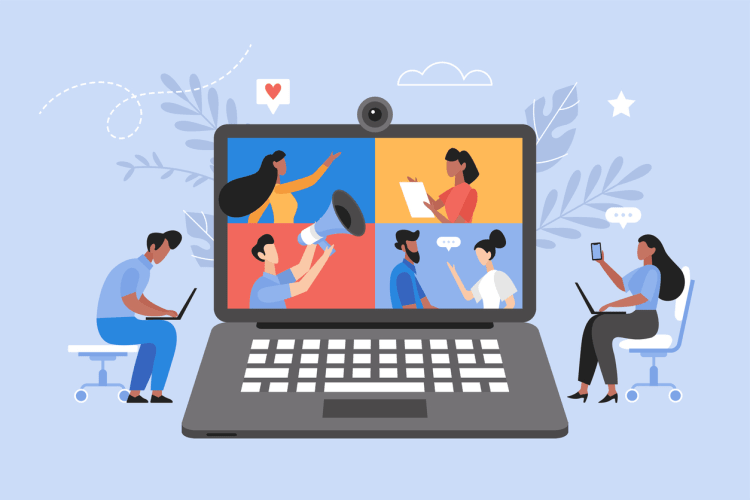 11 Fun Virtual Event Ideas for Remote Teams
Virtual events are here to stay for remote and distributed teams. Here's a list of 11 fun virtual event ideas to help you pick your next virtual event.
Virtual Dinner Party
Food always brings people together. With so many delivery apps the option to send a meal to several different locations is easy. Share a list of options of meals available for the evening. Take into consideration people's dietary needs. Get guests to pick the meal they would like to have for their virtual dinner party. Have the meal sent the night of and have your team log on to eat together. If appropriate you can include beer and wine as well. As it is with dinner parties the conversation often flows naturally, but the person hosting the virtual dinner party should be ready to have some conversation starters like they would if you were in their own home. This works well in social gathers or with companies that have a smaller staff.
Cooking Class
Keeping with the food theme. Doing a virtual cooking class is a fun virtual event idea. Hire a chef to lead the event. Have ingredients either sent to your guests or send a shopping list ahead of time so they can gather the ingredients. As a gesture, a company could send a gift card to cover the cost of the groceries to their workers. Just like it would be in an in-person cooking workshop, guests can log in and follow along as the chef teaches them to make a meal. After its completion guests can enjoy the food while still being online.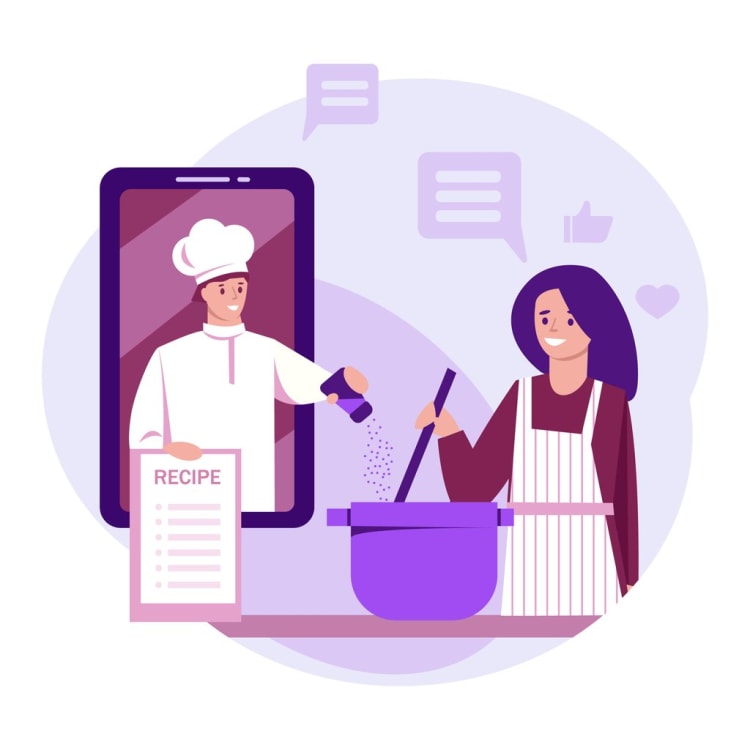 Virtual Scavenger Hunt
Around the holidays especially, companies often hold events for their workers and their families. Having a scavenger hunt is a great virtual event idea for companies. Have a list of things most people can find in their homes. Make it more competitive by awarding prizes to those who can complete the hunt the fastest. This gets your virtual guests out of their seats and not staring at a screen. After the hunt is over allow for some time for the group to chat, if you have a large party put them in break-out rooms to talk.
Group Yoga Class
After the pandemic, many companies are trying to find ways to provide more wellness options to their workforce. This can include ways to be more active. A great way to be mindful and get some physical activity is yoga. Yoga requires little to no equipment and can be done in any loose-fitting clothes. For a corporate virtual event, the guest list can be as big as you need it to be. The instructor will most likely be on a full screen while the class is going on. This also allows workers to participate without feeling self-conscious about how they look during yoga. As many times the postures and positions can be hard to execute.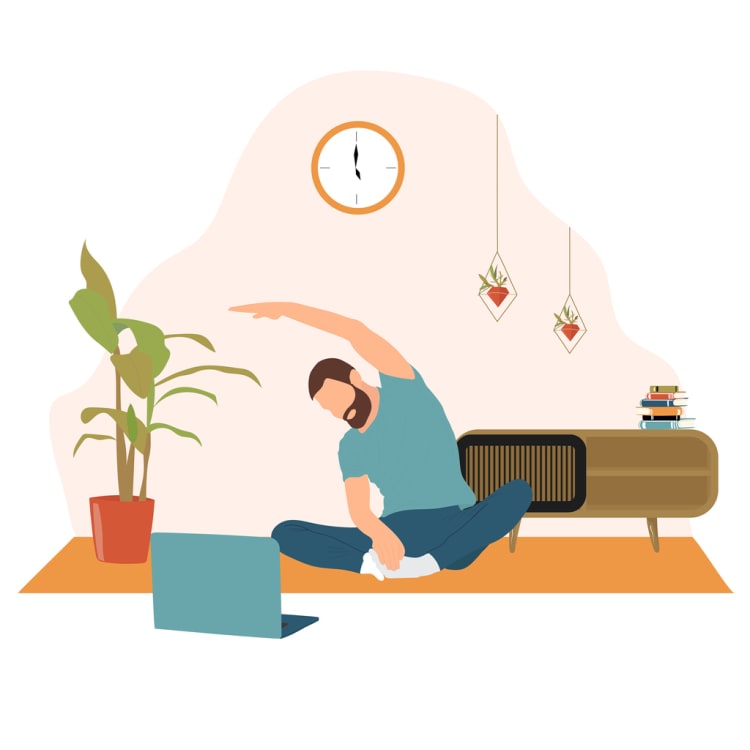 Virtual Concert
There is nothing better than hearing a live band, whether it be online or in person. By holding a virtual concert the pressure to bring a band to your local area is eliminated. You can hire any band anywhere in the world, cutting down on the cost of having to fly a band and their equipment into town. Encourage guests to participate in their virtual event on a bigger screen like their smart TV. This way they can sit (or stand or dance) and watch the concert in much more comfort.
Speed Networking
If the goal of your event is to get your workforce to know each other, hold a speed networking event. It's easy to create break-out rooms where one on one conversations can happen between colleagues. Make this interaction short, hence speed, so guests get a chance to talk to as many people at the virtual networking party as possible.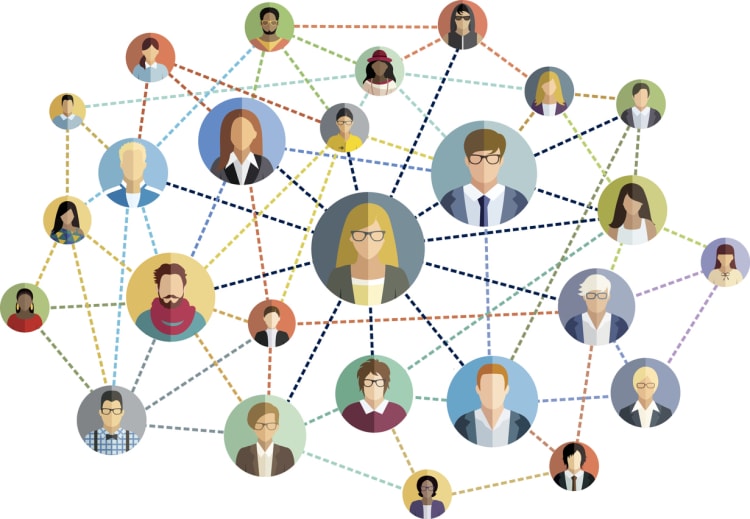 Bring Your Pet to Work Day
As we work from home colleagues have had a chance to see what our home life looks. This includes hearing and seeing our fur babies. Why not take some time for those workers with pets to show them off to their colleagues? This event can be held over lunch or for a short period of time. Make the virtual bring your pet to work day, interactive by getting pet owners a chance to talk about how it has been for their pets as they work more from home. What have been the biggest perks of being around their pets all day? Everyone loves to talk about their animals.
Happy Hour
Fun virtual events can be a regular occurrence too. Just like the once-a-week in-person happy hour, a virtual cocktail hour can be just as fun. Have one day a week, usually, this is a Friday, where colleagues log off an hour early so they can enjoy a quick drink with their colleagues. As this is ongoing, workers won't feel the pressure to attend every time, but have comfort in knowing this social touchpoint is available regularly.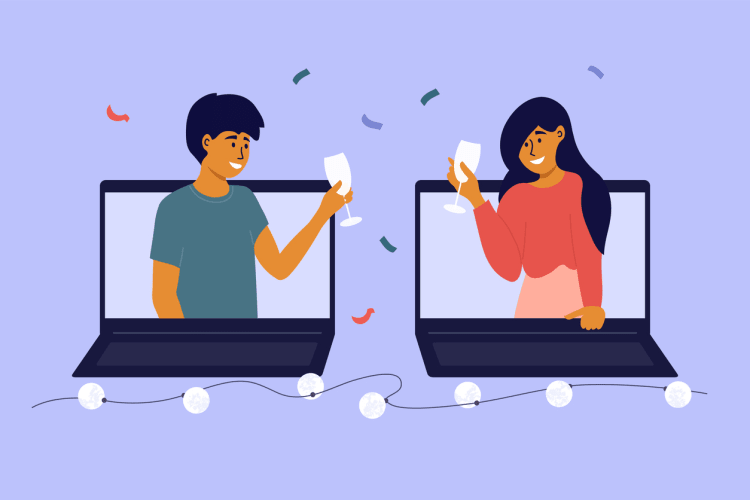 Coffee Breaks
Virtual coffee breaks are a great way to meet up with colleagues one on one. It can be done any day of the week and as early as anyone wants to drink coffee. It's an easy way to make what would be a boring video call a little more interesting.
Virtual Birthday Parties for Coworkers
If one of your colleagues has a milestone birthday coming up. Organize a virtual birthday party for them. If you're sending a gift have it arrive ahead of time so they can open the present in front of all their guests.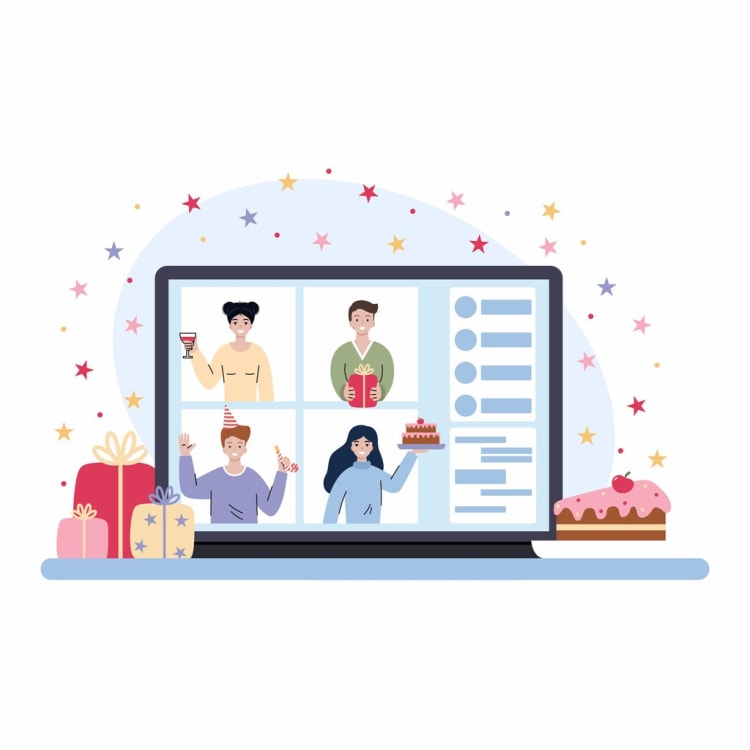 Gift exchange
This may take a little more coordination, but having a gift exchange can happen virtually. Draw names using a secret gift exchange software. Like elfster.com. Give guests several weeks to get their gift to their destination. Wrap in generic paper. At the party everyone can open their gifts while guests watch virtually.
The list of events that can be held virtually is endless. Really any in-person event can be done virtually with a little out-of-the-box thinking. Here are some additional virtual party ideas.
As we get back to our new normal and work in more hybrid and remote locations, companies do not have to sacrifice on fun events. Virtual events can be just as great as in-person parties and can open up the guest list to a host of workers who would not be able to attend otherwise.
FAQs for Virtual Events
Making sure you have the correct software to host your virtual event will play a huge role in how participants will interact in the space. Look for a platform that allows more than one conversation to go on at the same time, like Kumospace. That way participants will stay occupied and mingle with their coworkers rather than attending an event with little to no interaction.
The most common virtual socials for coworkers are virtual happy hours. Although virtual happy hours are easy to conduct, we suggest finding the best virtual social catered to your team. Take an internal poll to see what your coworkers are interested in and then use the list above to pick an event suitable for all.
The best virtual events for businesses vary based on what kind of business you run. Some fun choices include virtual coffee breaks, virtual escape the room, virtual murder mystery party, and more.