A survey by Gallup found that 45% of employees work remotely at least part-time, and a total of 25% are full-time virtual workers. The remote work trend sped up during the COVID-19 pandemic, forcing offices to find ways for people to connect and work productively without being in the same location.
While communication and collaboration tools were already in place before COVID, some of the subtler challenges, like building office culture and rapport between employees still needed addressing.
As virtual work evolves, companies need to adopt new practices, such as the virtual coffee break, to give employees a chance to connect like they would in a face-to-face setting.
What Is a Virtual Coffee Chat?
A virtual coffee break (also known as a virtual coffee chat), is a scheduled event that companies can make part of the workday. It might be an everyday event or something that takes place once per week.
Basically, the goal is to have a few structured minutes when workers can link up with their colleagues. This short meeting can take different forms. In some cases, it could be a group video call where team members participate in a conversation on a pre-defined subject.
The virtual coffee break could also consist of a team-building game or task or an ongoing activity that employees work on together over the course of several virtual coffee chats.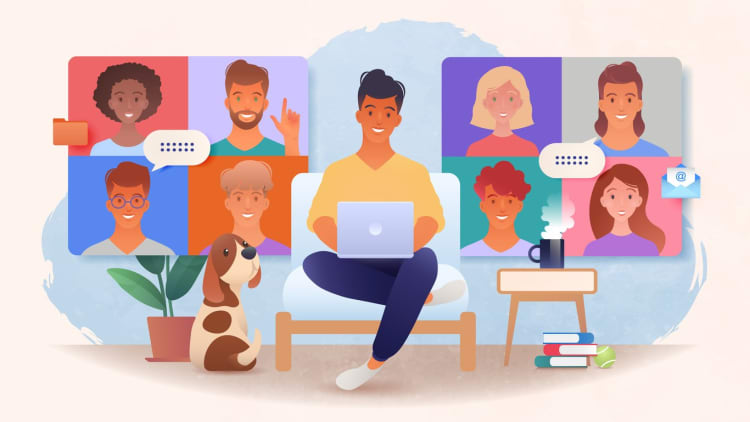 Why Are Virtual Coffee Chats Important?
There are several benefits available to departments or groups that organize virtual coffee chats. There is research that proves that scheduled breaks not only prevent burnout and other problems but can actually boost productivity and help virtual workers build an office culture with their peers even though they are not located in the same physical location.
Here are three benefits you can expect if you add a virtual coffee break to your company's daily work schedule.
Build a sense of community - Virtual team members may be excellent at their jobs, but they often feel like independent workers rather than part of the team. A coffee break can help build a sense of community because it does not involve communications directly related to work tasks.

Improved productivity - Studies have shown that taking a break from work to strengthen social connections can lead to increased productivity. A brief social break can re-energize individuals so that they are ready to work when they return to their desks. They can also help the participant feel more connected to their teammates, leading to increased productivity on group tasks.

Better workplace culture - One of the biggest challenges of virtual workplaces is creating a company culture. Virtual coffee chats provide opportunities for reinforcing values, increasing trust between peers, and helping build a sense of respect between employees and management. It can also increase morale by allowing employees to share common experiences that remote workers have but typically are unable to share with others during the course of the workday.
Despite the casual nature of virtual coffee break meetings, they require planning if you would like to get the desired results. Here is how to set up a virtual coffee break.
How to Set Up a Virtual Coffee Chat?
Despite the purposefully casual nature that managers pursue when organizing a virtual coffee break, there are specific steps to consider when setting up these meetings.
Here are three things to consider when planning your virtual coffee event.
It's important to choose a time slot for the virtual coffee chat and send out notifications ahead of time. Keep in mind that virtual workers often have their own schedules, so you should indicate that the meeting will last 15 to 30 minutes. If the initial meeting is successful, you can consider making it a daily or weekly event.

Choose a suitable medium for the meeting. Obviously, you want something accessible to everyone. Video conferencing offers the best chance to interact in a way that is close to face-to-face conversations.

Decide on a topic or event for the meeting. You may want to have several options available in case employees do not engage with the initial plan. You can start with ice-breaker questions, such as asking each person to offer a tour of their workspace. A short game or quiz may also drive participation if the initial ice-breakers aren't enough.
It may take a couple of virtual coffee events to iron out the details, so do not expect the first one to go perfectly.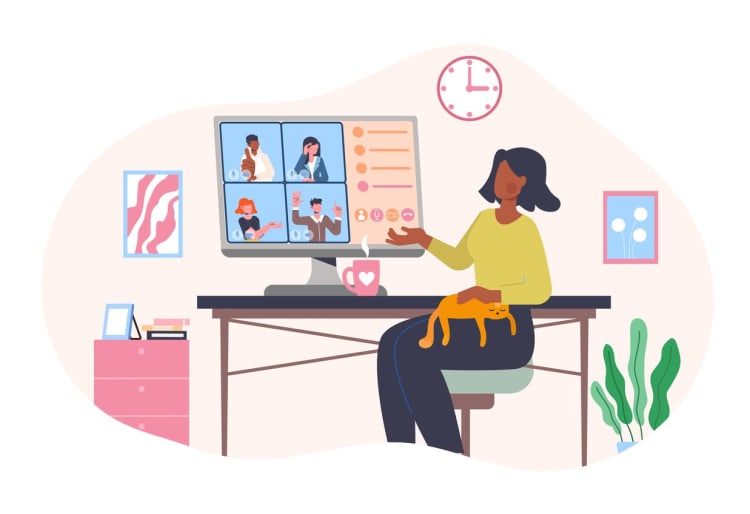 5 Tips and Tricks for Your Next Virtual Coffee Chat
Here are five tips to help you plan a successful virtual coffee break that delivers the benefits you want without wasting your virtual employees' time.
Establish ground rules and expectations
While you want the coffee break interactions to be casual and non-stressful, you should make etiquette rules clear. In addition to respectful conversation, attentiveness, and a lack of distractions, you should also consider mentioning proper lighting and volume for each worker's video conferencing setup.
You should consider that some employees may be unfamiliar with the proper setup, so you will want to offer guidance to ensure everyone has the right arrangement to get the most out of the virtual coffee experience.
Prepare an ice-breaker
Employees may be unsure about the idea of a virtual coffee break. They may be apprehensive about interacting with team members socially on a platform they usually associate with work and unsure of the expectations for the meeting.
A few icebreaker questions can help set a casual tone and get participants to open up. One option is to ask questions about each employee's experience as a virtual worker. This often leads to workers realizing that they have experiences and habits in common with their remote-working peers.
Ask for feedback
You can set aside a few minutes at the end of the virtual coffee chat to ask for feedback for future meetings. Then, you can follow up with email or chat messages to get further input for the next meeting.
In addition to asking about subjects, games, or activities for future coffee breaks, you can ask about the time of day and frequency of the meetings. Employee feedback can help you decide if shorter daily breaks or longer once-per-week meetings bring better benefits.
Consider games or activities instead of conversation
Virtual events can be excellent for team bonding. A 15-minute coffee break won't give you enough time for an involved team-building experience, but a short game or activity can help drive engagement and natural participation.
A quick quiz game, a survey about musical preferences, or a virtual tour of each participant's workspace can bring about the casual, fun team-building environment you are seeking.
Consider a coffee budget
Another option to encourage engagement is to give each participant a budget for coffee, tea, or another type of beverage. In addition to encouraging everyone to take part (everyone likes free things), this can serve as a conversation starter. You can begin by encouraging everyone to share what they bought or brewed for the coffee break.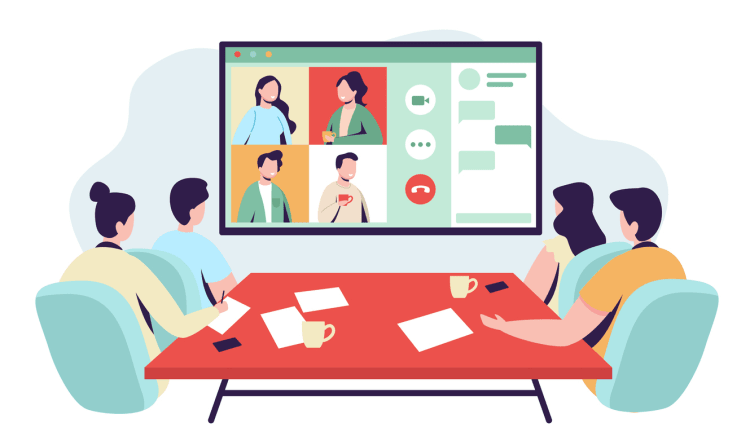 How to Choose Between a Virtual Coffee or Virtual Meeting
A virtual coffee break is a great opportunity to give workers a break and provide a quick jolt of energy for the remainder of the day. They can also serve as opportunities for bonding and building an environment for better teamwork. However, it is not a substitute for longer team-building events and meetings.
Virtual meetings are an opportunity for more in-depth communication. If you need specific input or planning for a work-related project, a meeting is the best option.
Also, if you want a team-building event that requires more time and has a specific goal, such as enhancing communication and teamwork, a longer virtual event is better.
You do not need to choose between virtual coffee break events and longer team-building meetings. Regular coffee breaks can benefit productivity and office culture, while occasional longer meetings and events can provide more in-depth team-building benefits.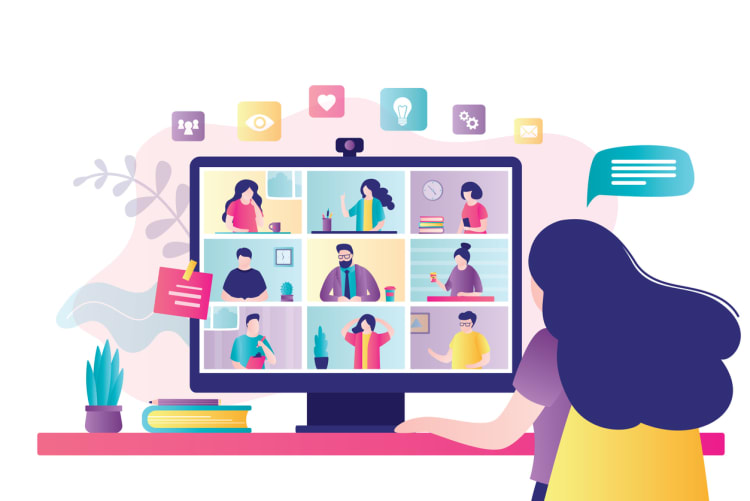 How Kumospace Facilitates Virtual Coffee Breaks
Kumospace offers an immersive virtual office environment. In addition to offering a setting for meetings like a virtual coffee break, it has chat, virtual whiteboard, custom office spaces, and other features that allow workers to build on the connections they make during the virtual coffee break. You can even try grabbing a cup of virtual coffee, tea, or a donut!
Visit Kumospace to learn more about the virtual office environment and how it can help you host events like a virtual coffee break.
FAQs
A virtual coffee chat is a 15-30 minute meeting that gives remote employees a break from their regular workday and allows them to socialize and interact with their peers in a casual setting.
A virtual coffee break can consist of a group conversation on a pre-defined topic, an activity that all workers can participate in, or a short game that can last for about 15 minutes.
In addition to scheduling the meeting and ensuring every worker has the time and video conferencing set up to attend, you need to create multiple options, including ice-breaker questions and activities in case workers are reluctant to engage.