Pre-2019, virtual business meetings were uncommon, reserved mainly for remote companies that had no other ways to communicate. With the pandemic and the rising popularity of Zoom, remote meetings became a nationwide event.
Now that we've become used to the online video conferencing experience and everyone's done experimenting with their Zoom backgrounds, people are ready for the next big thing. And that next big thing is… virtual reality business meetings.
We're here to talk about what virtual reality meetings are, why you should implement them, and how to host the best VR meeting the world wide web has ever seen. Ready to get started? Let's go.
What Is a VR Meeting?
Imagine yourself in an office — but not just any office. This meeting room features panoramic windows looking out over a densely forested mountain, complete with a beautiful lake in the distance. Or it's a top-floor office with stunning views of skyscrapers and contemporary buildings. Or it's a beachside villa. Get the idea?
Virtual reality meetings are, in essence, traditional online meetings taken to the next dimension. They use special headsets to bring a virtual image to three-dimensional life, making you feel as though you're inside the digital simulation with your colleagues, even when you're states or even continents apart. Many VR spaces allow you to interact with the environment — for example, writing on virtual whiteboards, editing documents in real-time, and more.
With a VR meeting, both you and your meeting space can take on any appearance, plus you'll feel a little more at home in your virtual space than you would just staring at 2D faces on a computer screen.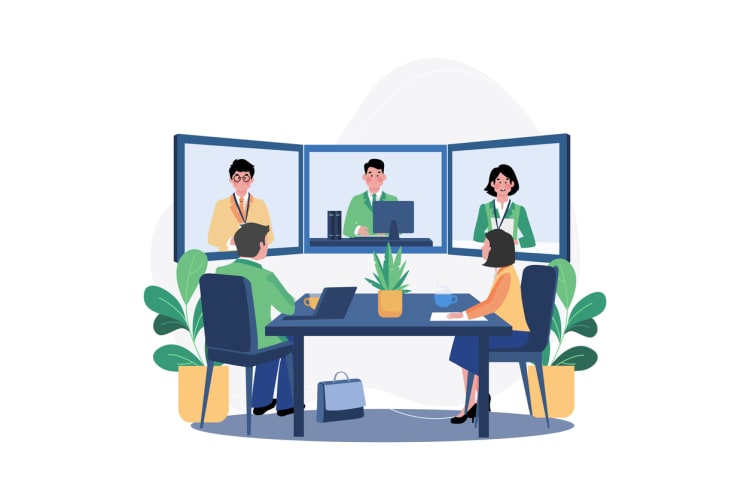 Types of VR Meetings
Virtual reality meetings don't just feature a single design. They have lots of uses. For example, you can use VR to host:
Business meetings and 1-on-1 video conferencing: Virtual business meetings are already popular, but VR business meetings take the cake. Slip on your headset and engage with the other caller for easy and efficient communication and collaboration during a 1:1 meeting. The meeting host will set the time, date, and space before sending out the invite to the other meeting participants.

Conferences: Big event coming up? Virtual reality makes it more interesting. Choose a suitable meeting scene, then kick back in your office chair and relax as everyone's avatar drops in. Once people have arrived, you can conduct the meeting just as you would in the office. Only this time, you're comfortably ensconced in your PJs and don't have to brave the commute to work. Win-win, right?

Collaboration sessions: If you want to improve your team's collaboration on an upcoming project, VR (and video conferencing in general) is a great alternative to email, Slack, and texting. VR collaboration meetings are great for brainstorming, designing, and troubleshooting.

Workspaces: For those unable to enjoy a private office space in their home, a virtual reality workspace may be the answer. These online rooms mimic a traditional office, allowing you to put on a headset (and maybe even some earbuds) and tune out the dog and kids while you get your work done.

Meeting rooms: Find yourself missing your co-workers? Meet up with them in a virtual meeting room! VR lends these spaces a more engaging feel that you won't get with Zoom. Plus, virtual reality opens up a whole new world of fun games you can play with your colleagues.

Tours and onboarding meetings. Hiring new talent? A VR tour, hiring event, or onboarding meeting can save your company some serious time and money. Or maybe you need to show some prospective employees your facility. A VR tour can help. Virtual reality tours are also useful if you need to visualize a non-existing building, machine, or item. You can use the virtual world to draw up your ideas and present them to your clients, team, or sponsors.

How to Host a Virtual Reality Meeting
If you've decided that a virtual reality meeting is right for you, how do you go about setting it up? Hosting a VR meeting may sound daunting, but in reality, it couldn't be simpler. Here's what you'll need:
A large space to move around in

A computer and internet access

A comfortable chair (good posture is a must in virtual meetings!)

A dedicated VR headset

The right VR meeting software
We bet you already have the first three items on that list. So, what about the last two?
VR software
Begin setting up your VR meeting space by choosing the right software or app. And if that sounds a little scary to you, it's probably because there are lots of different options on the market.
Facebook's Horizon Workrooms are a popular VR destination, but they're by no means the only option. Spatial is another great option — and, as a big bonus, allows team members to join in the fun even if they aren't equipped with compatible headsets.
If you're not interested in a ready-made VR space, you can always opt for a custom design that will perfectly fit your company's needs and business model. A bit pricier? Of course — but it's often worth it if you want to be sure you're getting the best out of your VR investment.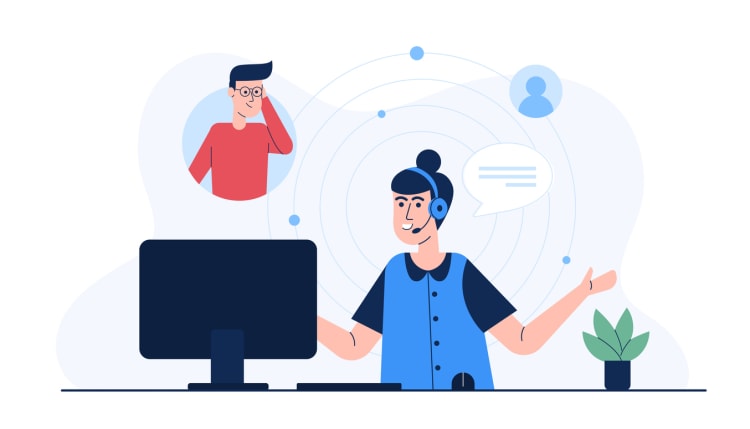 VR headsets
A reliable headset is a must for all of your VR plans. And while these aren't the cheapest tools, you can still get a lot of bang for your buck if you shop smart.
Facebook has recently popularized VR headsets and games, but that doesn't mean it has a monopoly on the market. Many different devices out there will work great for your at-home meeting. Take a look at the Oculus Quest 2, the Samsung HMD Odyssey, or even one of the pricier models if your budget allows it.
And, yes, we know they look a little silly. But the point is no one will be seeing you in your virtual reality meeting. So, as long as you lock your office door behind you, don't stress too much about anyone catching you wearing these big, bulky goggles.
Once you have these two important elements figured out, you're ready to host your first event! Use these tips to ensure it works out as flawlessly as possible.
Hosting a VR event: Our tips to make it work
Test out your VR software or app long before your meeting date. In fact, have a friend or co-worker test it with you!

Have a plan in place and use your time wisely.

Allow team members some time to explore the virtual space before you get started. It will help everyone focus later on.

Let attendees know how much space they'll need to interact properly during the meeting.

Don't forget to send out your invitations!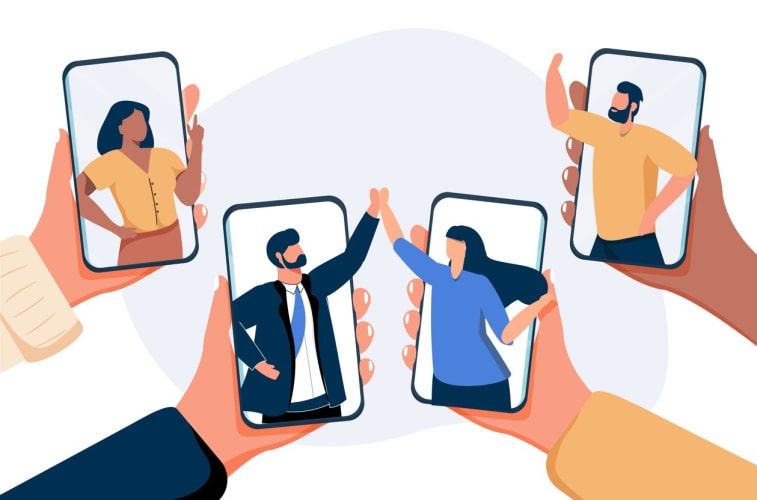 Why VR Meetings Can Benefit Your Business
So, what does virtual reality have to offer that makes it worth investing in? You might be surprised to learn how beneficial this tool can be. Some of the advantages of using VR for your business include:
1. Better camaraderie, stronger teams, and more meaningful relationships.
Remote work can take a toll on employees, especially if you don't make time for team building. Virtual reality can help combat feelings of isolation by mimicking a traditional office environment while also eliminating visual and sometimes even auditory distractions from in-home or shared offices. VR meeting rooms are great for encouraging synchronous communication.
2. Increased engagement in the virtual workspace.
When it comes to traditional video conference meetings, sometimes the only way to engage in your space is by changing your virtual Zoom background during your break.
VR meetings provide a more exciting experience, incorporating movement, depth, and a customizable scene into meetings. This adds action to even a simple one-on-one meeting, which can make it easier for participants to pay attention to what's happening on-screen. Plus, increased engagement means that VR spaces are great for other events, too.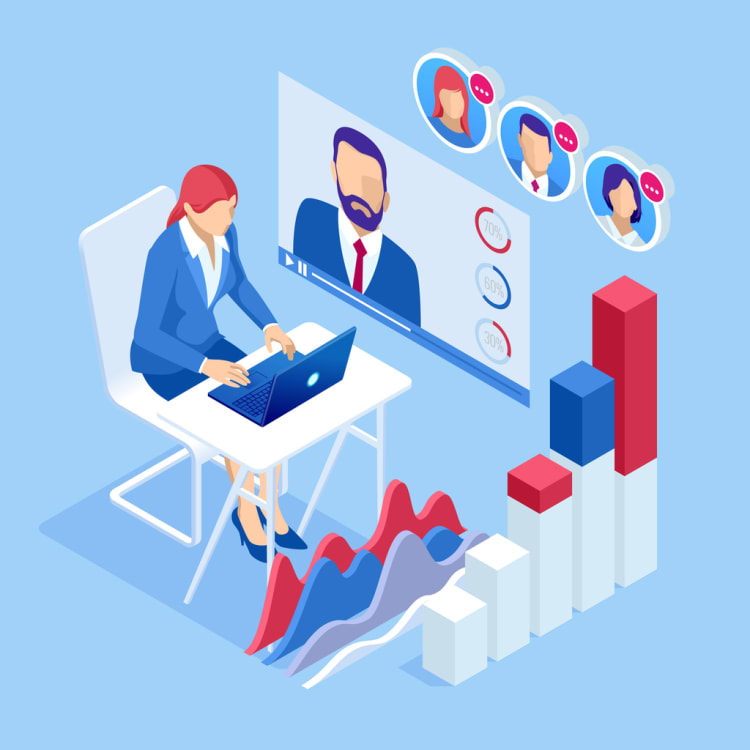 3. A more natural option compared to video conferencing.
Is virtual reality really that natural? No (at least, not yet), but it's more natural than many of our current setups. Opting for a virtual reality meeting instead of a Zoom call means that you can interact with your colleagues more naturally. This can help make online work more fun and stave off the dreaded Zoom fatigue.
4. The opportunity to increase productivity and efficiency.
Many VR platforms and apps come ready with built-in tools that will help you collaborate and create with your co-workers in real-time. Things like virtual whiteboards, shareable post-it notes, and 3D models that you can interact with are designed to make it easier for you to visualize and complete your project.
5. Providing an easier, more sustainable alternative to traditional meetings.
Unlike in-person meetings, VR events can happen anytime, anywhere. Meeting hosts will love this because it cuts back on the venue and other associated costs. Attendees will love this because it all but eliminates costs associated with travel. They're also a great option for hosting events when your budget might not otherwise allow them. Virtual holiday party or team offsite, anyone?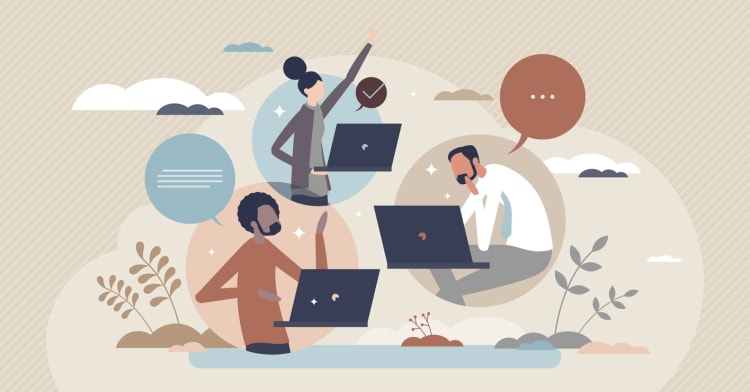 Make Virtual Reality Your Reality
The future of remote work is here, and it's only going to keep getting better. So, don't get left behind! If you haven't tried out a virtual reality platform yet, now is the time to experiment.
Need a virtual office space without the three dimensions? Not ready to commit to the cost of an Oculus headset? Try out Kumospace, where you'll find that a 2D environment can be just as effective and engaging as some of the best virtual reality spaces online. Sign up for your free trial today or reach out to learn more about what our spaces have in store for you.
FAQs
Virtual reality meetings are gatherings that take place in an online, interactive space which meeting attendees join via the help of special headsets and software.
VR has the potential to make remote meetings more productive, interactive, and engaging, taking remote and hybrid work to a whole new level.
VR platforms and apps are all over your phone and computer, but we'd recommend going with one of the top options such as Spatial, Horizon Workrooms, Mozilla Hubs, or FrameVR.