Sometimes life happens, and there's just no way to see your favorite people in person. An online hangout spot is the perfect solution when distance strikes, but you still want to keep in touch with your family and friends.
From clubbing on Zoom to talking books over FaceTime, there's no limit to the different fun things you can do online. Yet sometimes Skype and Google Hangouts just leave you wanting a little something more. If that's the case, there's no reason that you can't add a new and exciting option to your virtual hangout mix!
For anyone looking for new, fun ways to hang out with co-workers, friends, or family online, here are twenty great ideas (and some virtual event hosting tips) to get you started.
Where to Host Your Virtual Hangout
Zoom has long been the go-to for virtual meetings both fun and serious. But if you've got a bit of Zoom fatigue or want a more exciting place for your online hangout, there are plenty of other platform options out there. When shopping for the perfect place to host your online hangout, keep in mind you'll want a way to see and talk to each other — at a minimum. Exciting extras — like fun backgrounds, interactive elements, and virtual games — can make your online get-togethers even more exciting.
Kumospace, for example, combines all the benefits of Zoom and the exciting extras with a fun and colorful space that can be used for just about anything — which is great because we've compiled 20 wild ideas for you to try for your next virtual hangout.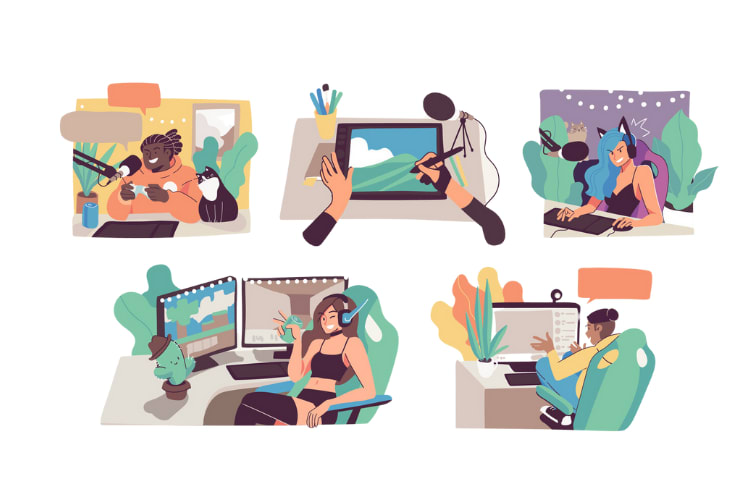 20 Virtual Hangout Ideas Everyone Will Enjoy
1. Virtual game night
Gather your team and break out your trivia games (or just download Jackbox games), try your hand at virtual charades, or bond over an online board game. It's a great way to move beyond regular conversations and still have a fun structure to keep everyone engaged. Taking game night online is easier than ever thanks to platforms like Kumospace, which allow you to quickly meet up with one another, share screens, and communicate in real time.
Our tips:
Choose easy-to-set-up games that everyone can access.
Set clear rules and outline instructions.
Keep score (and maybe even offer prizes!).
2. Online movie night
Pop a bowl of popcorn and pull up your Netflix account because we're staying in tonight. Online movie nights became pretty popular during the pandemic, with services like Netflix Party and Amazon Prime Video making it easy for groups to access awesome flicks. The appeal is still there for those who want to get together for a movie party from their favorite spot on the couch.
Our tips:
Open a chat window so you can all complain about the annoying character together.
Make it a themed night with matching costumes, snacks, drinks, and more.
Ensure everyone has a stable internet connection to keep the evening fun and glitch-free.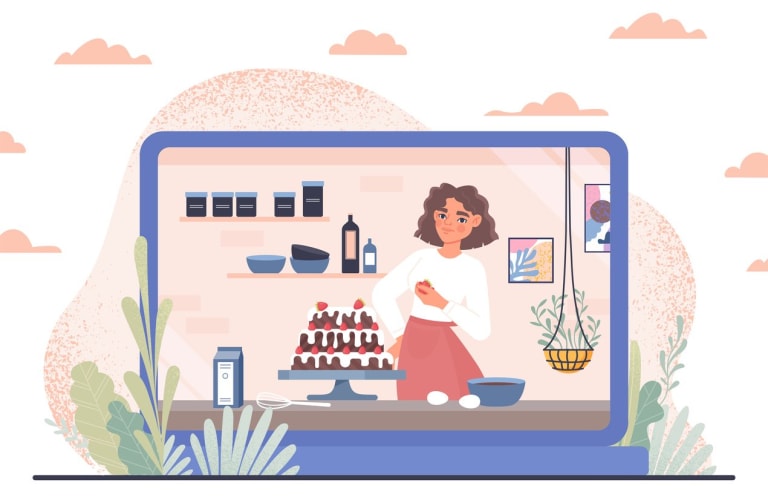 3. Virtual cooking classes
Hang out with your friends online and get a delicious dinner out of it? Sign us up! Whether you've got a hankering for homemade pizza or your group wants to tackle something more exotic (Pierogi? Baklava? Bibimbap?), all you need to do is get out the ingredients, turn on the camera, and get to wok (sorry — work). You can rely on your friends to bring some tried-and-true recipes to the table or sign up for a cooking class or YouTube tutorial for delicious results.
Our tips:
Send out the recipe and an ingredients list a few days before you get together.
Make sure your camera is angled properly during demonstrations (testing your tech is a must for virtual events).
Use any downtime for questions and feedback.
4. Online book club
Love to read? Get a group together, pick out a book, then go crazy! After everyone's finished, connect online to discuss what you read. Start or find a group in Goodreads, or connect face-to-face using Kumospace, Zoom, or another virtual platform.
Our tips:
Set a deadline to finish the book, so everyone's ready to discuss when you meet.
Make sure everyone can access the book (check out Libby, AbeBooks.com, or your local library or bookstore).
Come prepared with a discussion question or two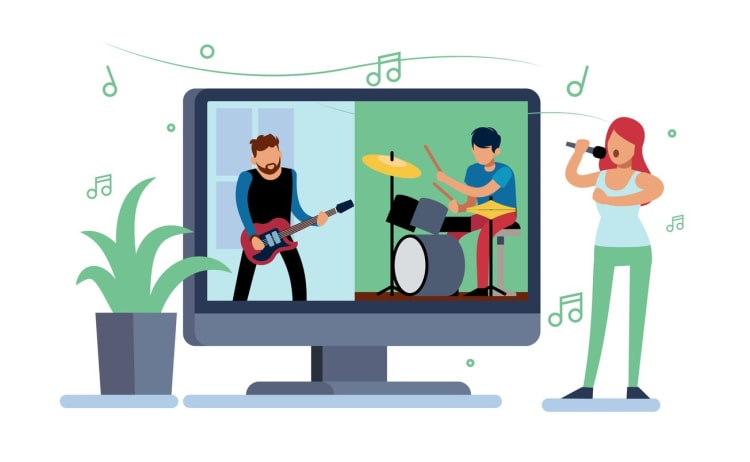 5. Virtual karaoke party
Hey guys! We're halfway there! (Just kidding — 15 more awesome virtual activities to go). Online karaoke parties are a great way to enjoy quality time with your buddies and share a few laughs, especially if you pick the right songs. Show off your skills with a rousing rendition of Queen's Bohemian Rhapsody, unleash your inner ABBA, or break out the Beatles — whatever the tune, get ready for some fun!
Our tips:
Search for the karaoke version of your song online.
Set up your microphone and speaker before the party starts.
Screenshare the lyrics so everyone can join in.
6. Virtual happy hour
You may not be able to join your colleagues for a coffee break or an after-work drink at the local bar, but you sure can grab your favorite cocktail (or mocktail!) and meet them for an online happy hour! A big perk? No need to worry about assigning a designated driver since everyone's already safely at home.
Our tips:
Don't drink? Why not try a dinner party or snack night instead?
Give your happy hour a theme for even more fun!
Try a virtual drinking game like "Never Have I Ever" or "Most Likely To…"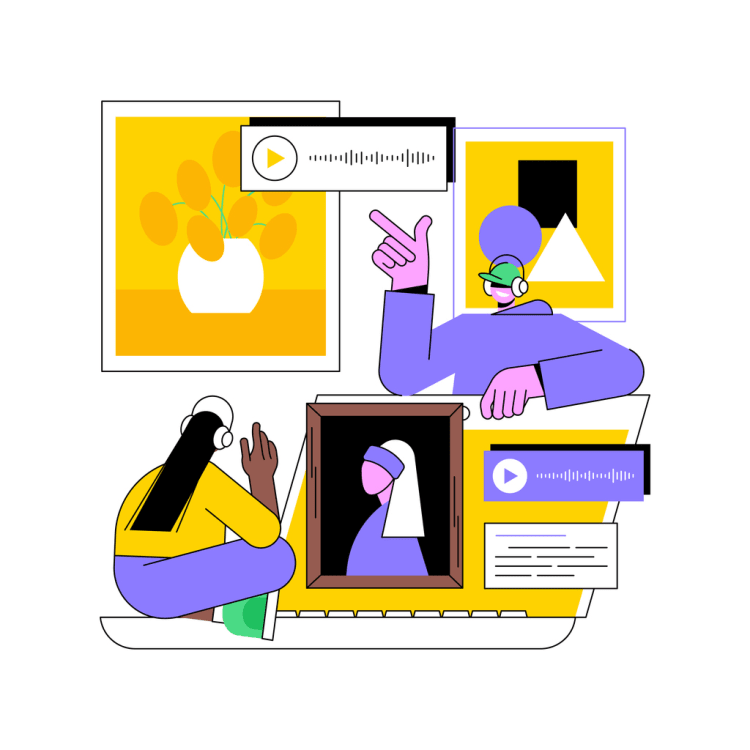 7. Online escape room
What's that behind you?! It's just the wall — because you're in an online escape room, not a real one. But even though you're currently sitting in your home office, there are still riddles and puzzles to solve, haunted mansions to escape, murderers to avoid, and lots of fun to be had. If you're feeling creative, build your own escape or murder mystery room in Kumospace.
Our tips:
A good internet connection is a must — you don't want to glitch right before the virtual building explodes.
Switch up your teams and work with new people. You might be surprised at the skills that everyone brings to the table.
Have some hints ready to go — but offer them sparingly to keep things fun!
8. Virtual museum tour
From the Vatican museums and the Louvre to smaller, local venues, online museum tours boomed during COVID, and they're still going strong these days. Where else do you get to learn cool things, see one-of-a-kind sites, and enhance your already excellent taste in recreational activities? Best of all? Besides the fact that you don't have to pay for parking, it's easy to find an online museum tour that caters to everyone, whether your taste tends towards contemporary art, true crime, or something in between. To begin your virtual museum tour, visit museum websites or the Google Arts and Culture site.
Our tips:
Do a bit of research on your chosen museum so that you can point out all the most notable features.
Open up the group chat to facilitate discussion.
Keep your image and video quality as high as possible — you won't want to miss any details here!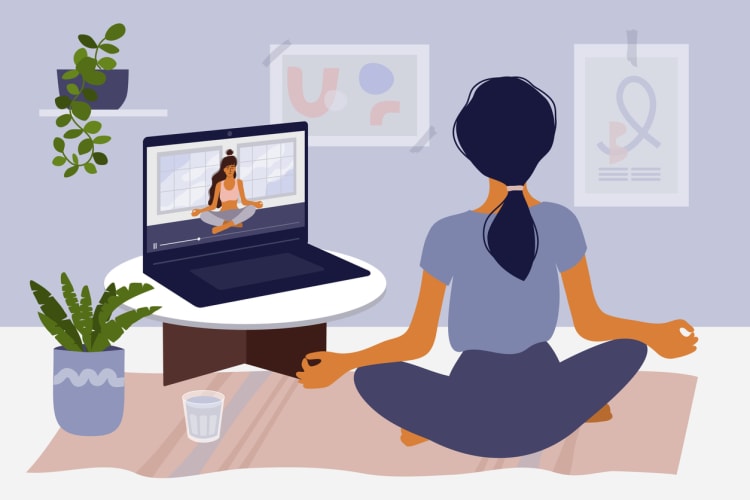 9. Online yoga class
Hunching over a keyboard all the time is killer on the back — so take a yoga break together! If you're lucky, you might have a friend who's already skilled at power yoga or restorative yoga, but you can always jump onto YouTube to find a video to follow. These virtual sessions can be as long or short as you want them to be, making them perfect for the workday and the weekend alike.
Our tips:
Offer options for all skill levels (Hatha and yin yoga are great styles for beginners)
Create a calming environment to practice in. Maybe introduce a houseplant into your space —bonus points if it is a live one.
Build in some meditation time after class.
10. Virtual talent show
It may not be America's Got Talent, but it's the next best thing! Get a group together, turn on your cameras, and let everyone take turns sharing their hidden and not-so-hidden talents. It's always fun to show off, and this activity is a great way to get your 5 minutes of fame (and we do mean 5 minutes — your BFF is great at many things, but even you can watch them lip sync or juggle for too long). From stand-up comedy and rapping to magic tricks and miming, you're guaranteed to be surprised at how incredible your group actually is.
Our tips:
Set up a stage (yep, Kumospace has you covered there!).
Set a time limit. Trust us; you'll need it.
Let your audience (or some judges) vote on the most impressive talents. Offer some prizes!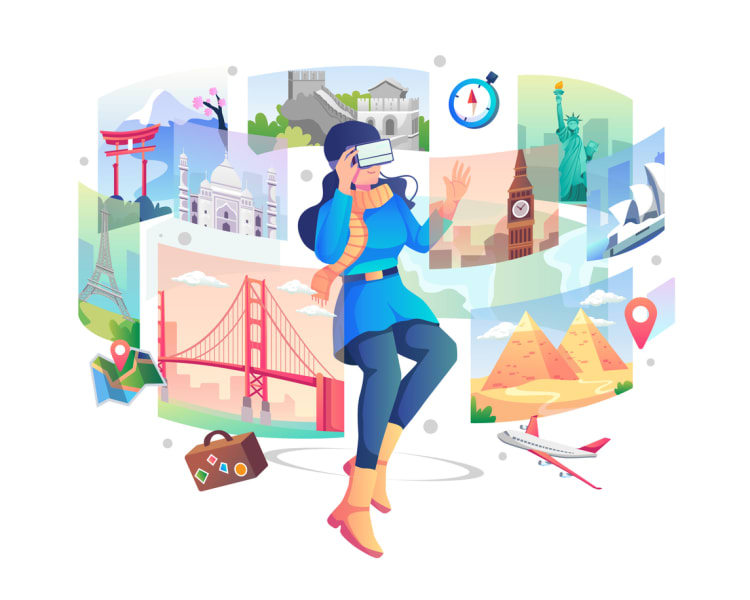 11. Online language exchange
Always wanted to learn a new language? Here's your chance! Whether you want to practice German, English, Spanish, French, Tagalog, etc., you can easily start up a chat room and refine your language skills with other interested learners. If a group member is already a language ace, ask them to lead the group; if you're all beginners, try honing your discussion skills with a language aid like Rosetta Stone, Duolingo, or Lingoda.
Our tips:
Outline a few prompts or provide structured conversation topics or icebreakers.
Encourage feedback and correction, especially from those who already know the language.
Do your homework and keep practicing outside of class.
12. Virtual travel experience
Plane tickets? Expensive. Google and YouTube? Free(ish). When you've caught the travel bug but can't afford the journey, virtual travel is here to help. Whether you're exploring a new museum, walking down Parisian streets via Google Maps, or learning more about a national park, there's plenty to see online. Plus, it's easy to integrate YouTube and other virtual experiences with Kumospace's online platform. The hardest part is choosing what place to explore first.
Our tips:
Use high-quality visuals, so you don't miss anything.
Do a little research before you get some background on your location.
Make the experience more immersive with location-specific music, foods, and drinks.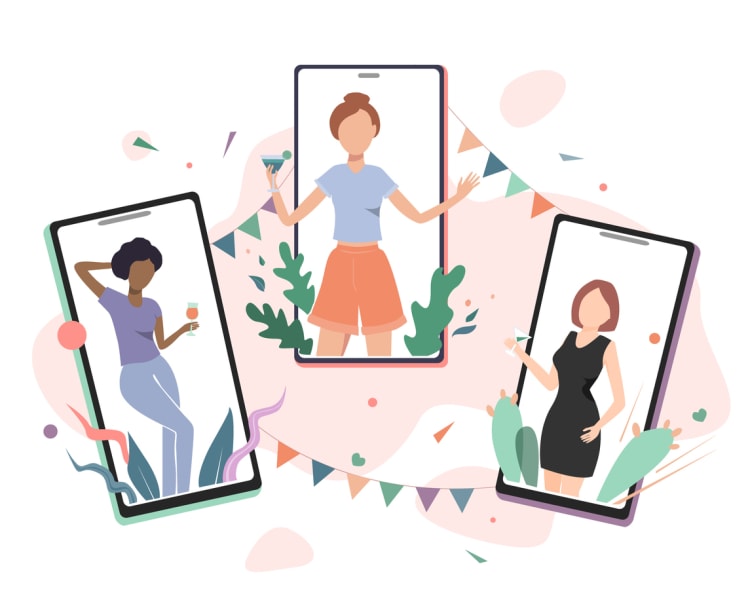 13. Online art class
Are you artsy-fartsy? Time to share your talents online! Get together a group of people and create something together — whether that be a found-items sculpture, a painting, or even a poem. Not only will you have fun, but you'll also get a memorable keepsake out of it! If you or an acquaintance is artistic, try your hand at teaching a class from Kumospace's versatile platform. You can also just spend the night drawing, painting, or sketching and enjoying each other's company, no lessons needed!
Our tips:
Keep instructions simple and go step-by-step.
Encourage creativity! Everyone's creation will look a bit different, and that's great!
Keep conversations open by offering feedback, tips, and critiques.
14. Virtual dance party
A dance party online? Why not? Kumospace offers custom spaces that allow you to add a dance floor so you can get your groove on! Boogie to the 80s, show off your best hip-hop moves, or grab a partner and do the salsa while your friends cheer you on. To set up your party, make sure everyone's got adequate space, a camera, and no fear of judgment (guys, we're all going to look a little silly — that's why we're on Kumospace and not Dancing With The Stars).
Our tips:
Have an energetic playlist primed and ready to go.
Get everyone involved with prizes, drinking games, etc.
Set a theme and dress to impress!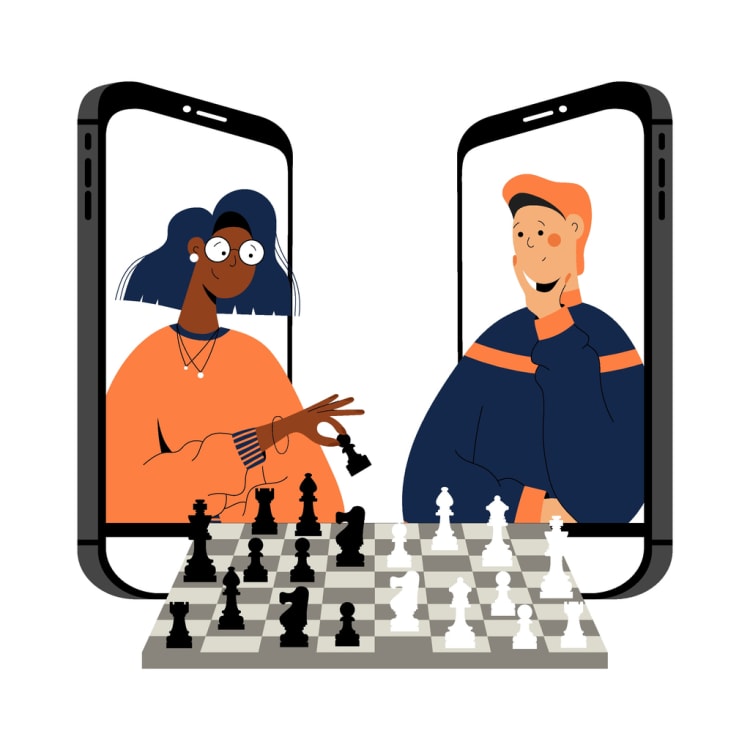 15. Online board game night
Sick of solitaire and Wordle? It's time to pull out the Monopoly board, call your friends, and play board games virtually! Trivia games, Yahtzee, Ticket to Ride, Battleship, tabletop RPGs like D&D… the online game possibilities are endless. Keep in mind that each player might need their own game for options like Settler of Catan or Ticket to Ride so that you can track where the other players are. A little more complicated than your traditional setup? Sure, but you'll get the hang of it! Hop on Kumospace, Tabletopia, and Board Game Arena to start playing online, and you'll wonder why you didn't take game night online sooner.
Our tips:
Don't stop at board games! Try app games or online spies and assassins for something a little different.
Make sure everyone knows the rules.
Some games require specific materials; ensure everyone's got what they need before you start playing.
16. Virtual workout session
Ditch the gym membership that you use twice a year and set up a Kumospace account instead! Not only is Kumospace great for virtual meetings and events, but you can also work up a sweat with your besties via an online workout session! Go easy with some group yoga, or take it to the max with a High-Fit workout. Best of all? Exercising in a group will keep you motivated and add an element of fun to your exercise routine.
Our tips:
Cater to every level by providing modifications for the workouts.
Make your routine clear and easy to follow.
Encourage your fellow workout friends! Cheer each other on and offer tips and advice.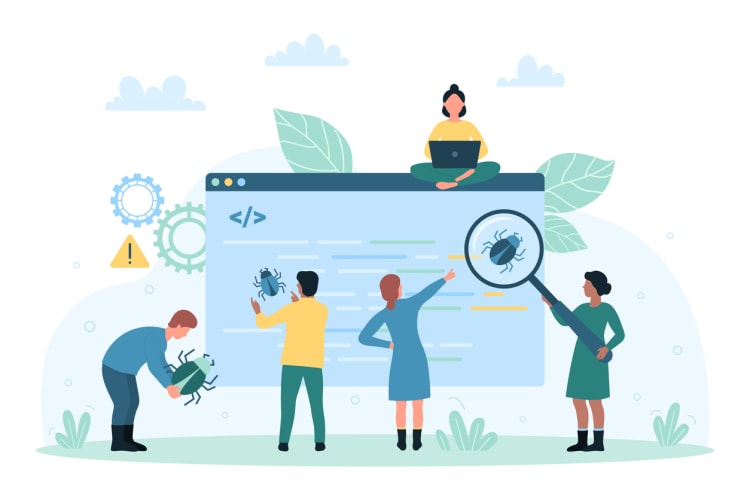 17. Online science experiment
Unleash your inner mad scientists together by making slime, creating a baking soda volcano, or even trying something a little more daring (no explosions, though, please!). Whether you're all doing the same experiment together or you opt to have people demonstrate a few different ones throughout the night, this option is a guaranteed crowd-pleaser. Be sure to spend a little time afterward discussing your experiment so you can all sound suitably knowledgeable when your co-workers ask what you did over the weekend.
Our tips:
Set up safety guidelines and establish rules.
Encourage questions and discussions.
Send out a list of items and materials participants will need for the experiment before you meet.
18. Virtual book swap
It's like a secret Santa, but for books! Gather your bibliophile friends and have everyone make a wishlist of a few books or genres they'd like to read. Now exchange the lists. Nab a book from your shelf (or head to your local bookstore if you can't bear to part with any of your paper and ink friends) and pick up a match for your wishlist buddy, then deliver their new read. It can't get more exciting than this!
Our tips:
Don't limit yourself to just fiction! Swap nonfiction books, cookbooks, articles, or whatever else interests you.
Get together again and discuss your books!
Make sure everyone gets a book to keep things fair.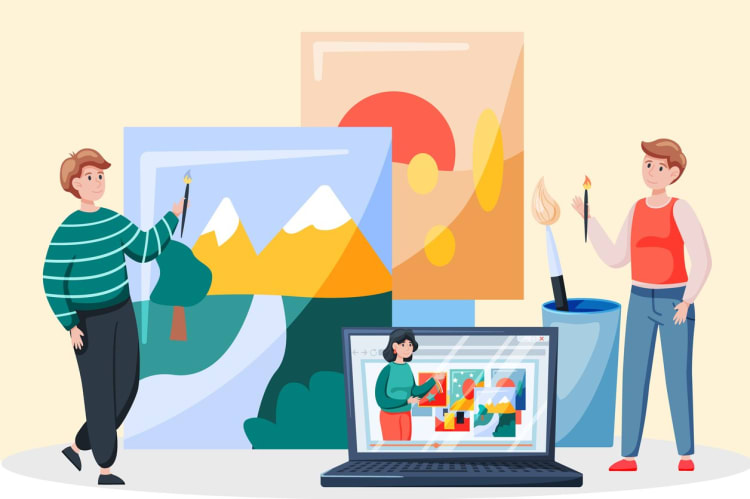 19. Online craft class
Feeling creative? Channel that! Grab your group and do some knitting, jewelry making, candle dipping, or anything else DIY. Whether you teach each other a new skill or want someone to talk to while you cross-stitch, crafting together can be super exciting with the right people. Plus, this activity pairs well with other options on our must-do virtual activity list, like watching a movie, enjoying a drink, or swapping playlists and having a virtual concert.
Our tips:
Make sure everyone's got the materials they need before class starts.
Offer advice and encouragement and celebrate creativity.
Use step-by-step instructions and go slow.
20. Virtual musical night
Want to know one of our Favorite Things? Showtunes! If performing on Broadway is the dream you dreamed, now's your time to shine! Get a group together, choose your favorite musical (you can't go wrong with Mamma Mia or The Greatest Showman), and assign everyone a role. Now belt it out like there's no tomorrow! Your neighbors may question what's happening, but we're guessing you'll be too busy having the time of your life to care.
Our tips:
Choose a show that everyone knows.
Play the musical on everyone's screen so you can watch it while you sing.
Make sure your microphone and audio are working before you start.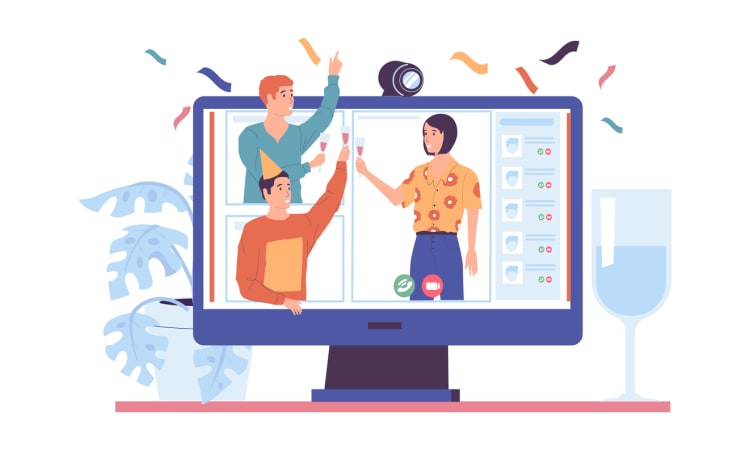 Take The Good Times Online
Spending quality time with friends, family, and loved ones is difficult when you're miles apart. Luckily, technology is here to the rescue yet again. Video conferencing apps like Kumospace make it easier to feel connected, even when you can't enjoy each other's company in person. And with these virtual hangout ideas, you can ensure that every online party is memorable, exciting, and fun!
Now that you've got plenty of ideas for your next virtual hangout, there's one last thing that you need. A fabulous online virtual meeting room where you can get together! Hope on to Kumospace to set up your space today and let the fun begin!
FAQs
Why do Zoom when you can have so much more? If you need a place to hang out with your friends or family online, choose a platform that offers more than just video conferencing capabilities... someplace like Kumospace, for example.
Savvy business professionals are always on the lookout for great online spaces. Kumospace is the perfect platform for both work and fun, making it ideal for anyone looking for a great virtual hangout spot before, during, or after the workday and for virtual events of all sizes.
The sharp ones look for the most promising virtual spaces to act as their online hangout spot. Platforms that are easy to use, versatile, and provide stellar communication opportunities are a prime place to be if you're a fun-loving entrepreneur looking to hang out with people online.
Yes, if you have the right platform! Zoom may be everyone's go-to, but there are lots of other options out there, including event-hosting platforms like Kumospace! On Kumospace, you can plan dozens of different online hangouts, from date nights to holiday parties and so much more.