Are you tired of spending money on plane tickets and hotels just to attend an event? Say goodbye to the hassle of travel and hello to the convenience of virtual events! In this article, we'll show you how you can attend events from the comfort of your own home and learn about the latest trends and technologies in your industry without ever leaving your couch. Plus, we'll show you how easy it is to host your own virtual event and reach a global audience. Get ready to discover the world of virtual events and join the revolution of online events!
What Are Virtual Events?
A virtual event is a digital event that brings people together at the same time. Such events usually take place live over video on a video conferencing platform. Many types of virtual events make an attempt to match the structure of in-person conferences, meetings, or networking events. Still, new forms of virtual events are focused on developing their unique structure, making the most of features such as:
Live text chat
Q&A sections
Allowing participants to share the same platform as the leader, panelists, or moderator during an event
So, what is a virtual event? Find out more about these events and their benefits, as well as best practices on how to host a successful virtual event.
Chances are that you have already attended a webinar online, joined a meeting through a video conferencing application, or some other virtual event. All these digital events are examples of virtual events. Virtual events are the types of events where you experience the event and its content online instead of an in-person experience.
There are many benefits of virtual events, with the most important being that they do away with the limitations, logistics, and challenges of in-person events.
Virtual events allow people from all over the world to attend events, engage with each other, and develop relationships.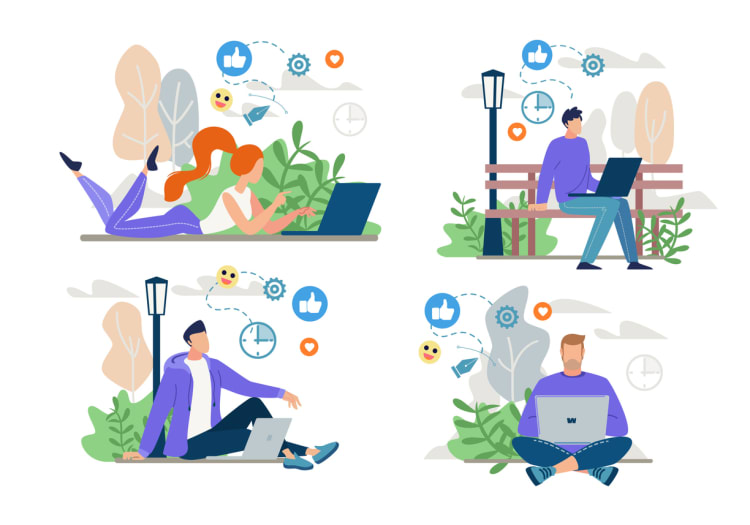 Benefits of Virtual Events
Virtual events can be used in different scenarios and industries in various ways. Some of the most noticeable benefits are as follows:
Bigger Reach/Unlimited Space
Whatever event type you may have, you want to reach a larger audience. Virtual events make it easier to reach more people without any limitations of:
Space
Travel costs & limitations
Schedule restrictions
Everyone, including those limited by their physical disabilities, can attend virtual events. People from all over the world can attend an event from the comfort of their homes, office, or anywhere else as long as they have a device with internet connectivity.
Flexible
Virtual events provide flexibility, as they can be customized according to your business needs. Any event that can be hosted in-person can almost always be hosted virtually. All you have to do is to ensure you are using the right tools and applications.
Cost Effective
Renting a venue for your event can be cost intensive. Then, you have to add the cost of accommodation for the participants, food and drink, insurance, travel, and other additional costs. When you host a virtual event, you will not have to bear such costs. You will rather be spending only on the platform, key participants, and promotion. All this makes virtual events so much more cost-effective.
Reliable
Modern platforms make virtual events reliable and bring many more benefits. As long as there is stable internet connectivity, there are no chances of disruption to the event. Besides, it is easier to keep track of the activities and attendees and any other virtual event KPIs important for your business. Advanced virtual event platforms provide you with all the features required to keep track of:
Number of participants or attendees
Their activities & sessions
Overall engagement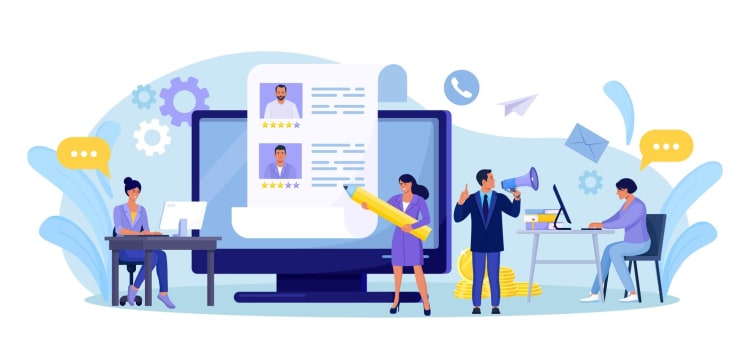 Types Of Virtual Events
There are different types of virtual events. It is important to know about the common types if you want to find a better understanding of what a virtual event is.
1. Virtual Holiday Parties
Virtual holiday parties are online celebrations. They involve remote participants. An example includes remote teams celebrating Christmas virtually. The parties usually involve a range of holiday-themed activities and games, including happy hours and gift exchanges.
2. Virtual Conferences
The demand for virtual conferences has increased significantly in the past decade. These types of virtual events stand out for their exceptional results. Conferences are focused on bringing together industry specialists and peers, who share ideas, hold discussions, and get the audience involved and engaged.
Virtual conferences continue to become more popular among event organizers. On top of other reasons, the availability of powerful tools such as Kumospace has contributed to the wider popularity and demand for virtual conferences.
3. Virtual Career Fairs
Virtual career fairs enable employers to connect with job seekers. These virtual events are changing the way potential employees and employers interact. You can use a wide range of interactive features to extend your reach while enjoying a high level of engagement. Some of these features include:
Webinars
Live chat
Webcasts
Chat rooms
4. Virtual Retreats/Offsites
Virtual retreats are typically company gatherings taking place on online platforms. Some of their key components include:
Company updates
Workshop sessions
Fun initiatives
It is important to keep in mind best practices for how to host a fun virtual event. The fun activities can include online games, virtual tasting events, and the like. These virtual events help build stronger relationships, improve remote team morale, virtual communication skills, and promote collaboration.
Virtual retreats and offsites have worked as excellent tools for businesses and teams to connect and reflect on past performances and develop stronger team spirits and morale.
5. Virtual Tradeshows
Virtual tradeshows are highly effective at reaching a wider audience and branding. Tradeshows and trade fairs have become important to many marketing campaigns. Virtual tradeshows allow multiple businesses and brands in the industry to get together and talk about their latest products and offerings and to connect with their target audience.
Some of the key features of such virtual events include:
Invite businesses
Invite industry experts
Create exhibition booths
Display products or services
Host keynote sessions
Connect with the right audience
6. Virtual Seminars
Virtual seminars are live and instructor-based experiences. The participants receive an email along with the link and registration information to connect. Participants can log on from their devices a few minutes before the seminar starts and join the event.
7. Virtual Webinars
Webinars are among the most commonly used virtual events. A webinar stands for web seminar and involves a topic being discussed by an instructor or host and attendees in small groups. They usually take place in the form of video meetings and in real time.
The interaction is mostly based on the participants submitting questions at the end of a webinar, poll response, and chatting. Additionally, webinar leaders can add presentations, web pages, and various forms of multimedia content to boost engagement amongst participants. You can come across a webinar on your area of interest almost every day. You can be invited to join a webinar through email links, on social media, and through banners alongside articles. In addition to virtual webinars, there are also many webinars that are presented on-demand or live.
Speaking of live vs. virtual events, it is worth noting that 'live' usually refers to in-person. Live events require that all the attendees be present at the venue.
Webinars are ideally suited for single-track streaming of educational content. They allow interaction between the host and the participants. They can be used for a wide range of reasons, including:
Tutorials
Product presentations
Panel discussions
Lectures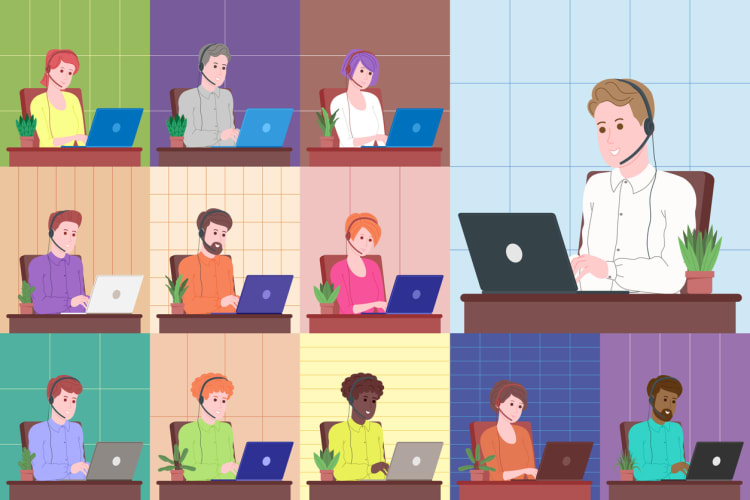 8. Virtual Summits
Virtual summits are slightly different from virtual conferences. They usually have a single moderator or host who guides conversation between:
Guest speakers
Interviewees
Keynote speakers
Panelists
Summits revolve around a single message and have a call to action (CTA). They can be organized on virtual platforms with fewer features than those required for virtual conferences.
An ideal virtual summit can focus more on the video production aspect of it. This includes pre-recorded and live-stream aspects. They can help in keeping your audience engaged even after the event.
9. Virtual Open Days
Virtual open days act as the online alternative to conventional open houses in colleges and universities. Choosing an educational institute to attend is a major life decision for students. Virtual open days provide students with the flexibility and freedom required to learn more about the institutions they want to enroll in. These virtual events enable students to make more informed decisions.
10. Online Training
Online training is suited for virtual classrooms, corporate microlearning, just-in-time learning, and employee onboarding, among others. It covers a wide range of areas, including:
Certificate training
Conventional education
One-off workshops
The objective of virtual training is always learning. An important requirement here is that the instructor presents information with clarity. Students should be able to interact easily with the instructor and collaborate with each other. The instructor should also be able to assess their students' understanding.
The right virtual training platform can enable content or screen sharing. There should be easy access to resources, including instructional videos, content libraries, and exercises.
FAQs on Virtual Events
A successful virtual event can mean different things to different people. It can mean positioning your product or service the right way, providing your audience the opportunity to connect or network, or making your audience feel welcome. A virtual event will require the right digital platform or video conferencing tool that is intuitive, easy to use, and can be used with almost all types of internet-connected devices.
The main features of an ideal virtual event platform include automation, customization, live streaming, event management features, choice of virtual spaces, integrated social media, and communication and engagement tools, among others.
An average virtual event session should last between 20 to 30 minutes. If it involves a panel discussion, you can extend it up to 60 minutes. If it is a single-day virtual event, it should be limited to 3 to 4 hours, depending on the itinerary.