Virtual and in-person events have similar objectives and only differ in terms of the way they operate, one in-person and the other online. The goals are the same: delivering a message, generating leads and revenue, building brand loyalty, and driving sales. There are many benefits of hosting a virtual event. Be strategic with your virtual event planning to get the most out of your event. This guide will provide the steps and insights required to plan a successful virtual event.
Why Plan a Virtual Event?
Knowing the benefits of hosting an online event is essential before planning one. Here are three key reasons why more people are going virtual:
Accessibility: You can broaden the range of people you invite to your event since location is no longer a concern. The virtual event is accessible from anywhere as long as the internet is available.
Flexibility: Virtual events allow you to host events in any situation that may limit people from meeting in person. Some limitations include travel bans, extreme weather conditions, or other unforeseen reasons that may come up.
Affordability: Planning a virtual event often leads to cutting costs. Since there is no physical location, more attendees can join with a lower overhead cost.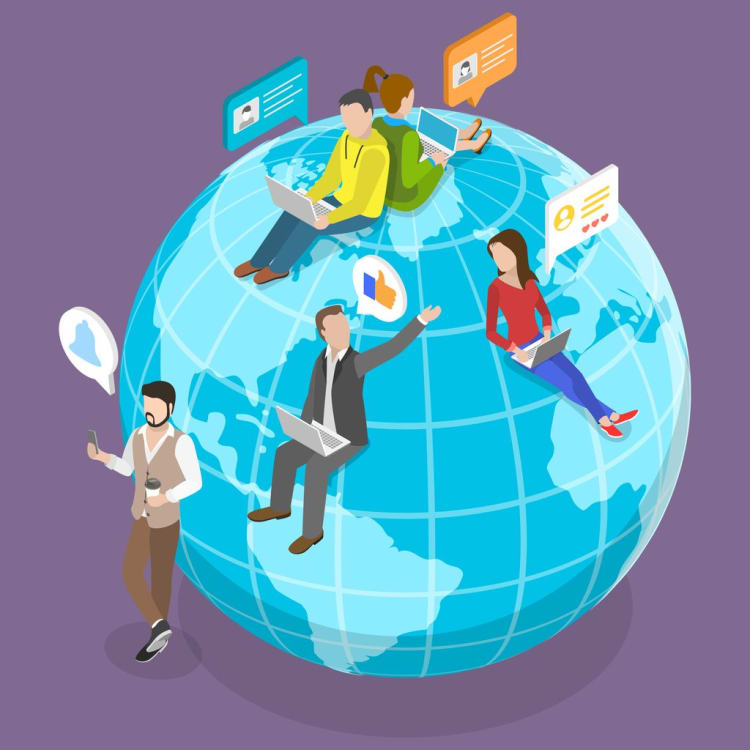 What is a Virtual Event?
A virtual event is an online event that people can attend from anywhere in the world, as long as they have internet connection. Virtual events are also referred to as online events. Small or large groups can utilize virtual events based on their niche. Many businesses and companies host virtual events for their employees to boost employee morale. There are numerous reasons to host a virtual event and multiple forms in which these events can occur.
Virtual events can take place in different forms, including:
Live streams
Conferences
Virtual meetings
Networking events
Online trade shows
Virtual Vs. In-Person Event Planning
In-person events are the old-school way to host events. Most in-person events try to give a virtual touch to keep up with this day and age. In-person events create environments for socializing and networking with other attendees, which virtual events have now been able to master as well.
Virtual events allow you to add as many attendees as you want and help take your event to the global platform. It eliminates the differences created by the need to travel and different time zones. You can grow your audience while keeping the costs low. Virtual event planning translates into both cost and time savings.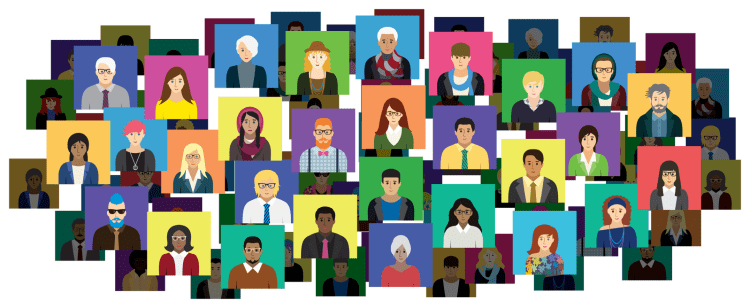 Common Types of Virtual Events
Before you learn about the different steps of virtual event planning, you must know the different types of events you can plan virtually.
The different types of virtual events include:
Webinars: Webinars are online events hosted and then broadcast to a select group of people via the internet. They can last from as little as 10 minutes to as long as 80 minutes. They allow attendees from any part of the world to join and listen to any number of speakers.


Virtual Conferences: Similar to in-person conferences, these are also created around a live agenda that involves sessions, keynotes, and breakouts. Virtual conferences are great for businesses to attend and meet people from all over the world who have the same interests as they do.


Hybrid Events: A hybrid event is a physical event that also has a virtual component to it. The physical and virtual components can be integrated in several ways, but the most common is to have the physical event live-streamed so that people who can't attend in person can still watch and engage.


Product Launches: A product launch is an event where a new product or service is unveiled to the public. Product launches can be done either in person or online, but more and more companies are choosing to do them online so that they can reach a larger audience.


Virtual Trade Shows: Trade shows are events where companies in a particular industry come together to showcase their products and services. Virtual trade shows are becoming increasingly popular as they allow companies to reach a wider audience and save on costs.


Virtual Seminars: A seminar is an educational event where experts in a particular field give talks and lead discussions on a particular topic. Virtual seminars are a great way to learn about new topics and to connect with experts from all over the world.


Virtual Exhibitions: An exhibition is a display of products or services that is typically done in a physical space. Virtual exhibitions are a great way to reach a wider audience and to save on costs.
Now that you know the different virtual events offered, it's time to plan the event.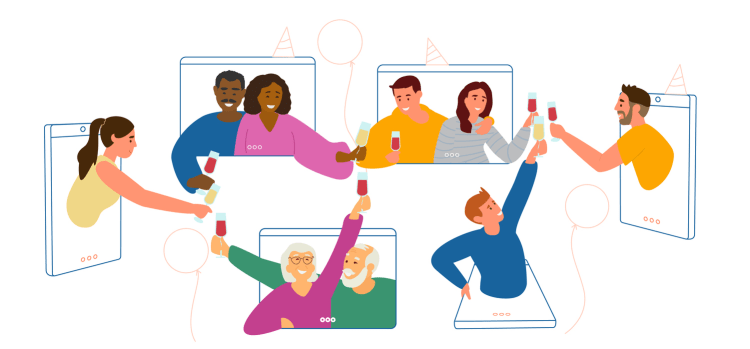 8 Tips on How to Successfully Plan a Virtual Event
Organizing and learning how to plan a successful virtual event requires a careful process. The following tips should help you address all the critical requirements for planning your event virtually.
1. Identify Your Audience
The first step to planning a virtual event is to know your audience and what they need. Find the answers to the following questions:
Who is your target market? What areas of your company are they interested in?
What promotions or offers will catch their eyes the most?
How active are they on social media, and which social platforms do they use the most?
Use surveys or create discussion forums to learn about your audience.
2. Define Your Goals
When planning a virtual event, there should be objectives and goals behind it. It is essential to be clear about your goals to ensure that you achieve them from the event. Here are some tips on how to track the success metrics and KPIs of your virtual event.
Some of the common goals include, but are not limited to:
Driving sales or revenues
Building brand awareness
Building brand community
When you have goals, it also becomes easier to select relevant KPIs to measure the event's return on investment (ROI).
3. Event Type
Previously, we mentioned different types of virtual events that can take place. When planning your virtual event, pick the event that resonates most with your goals. It may be a seminar with an individual taking the stage, a workshop, or a tradeshow. You may also hire professional services to design a custom storyboard or theme.
4. Select a Virtual Software to Host Your Event
There are many virtual software platforms on the market. Once you have defined your goals and objectives, it will be easier to select the platform that fits your needs. Some of the factors that you should consider when making your decision include:
Ease of use
Features and functionality
Budget
Customer service and support
Make sure you replace boring online video conferencing like Zoom and Skype to go with a fresh new interactive platform. Kumospace is an excellent example of a modern virtual event software. Your attendees can virtually network and mingle with the spacial audio feature just like they would in real life. It is also accessible in the browser and video chat app.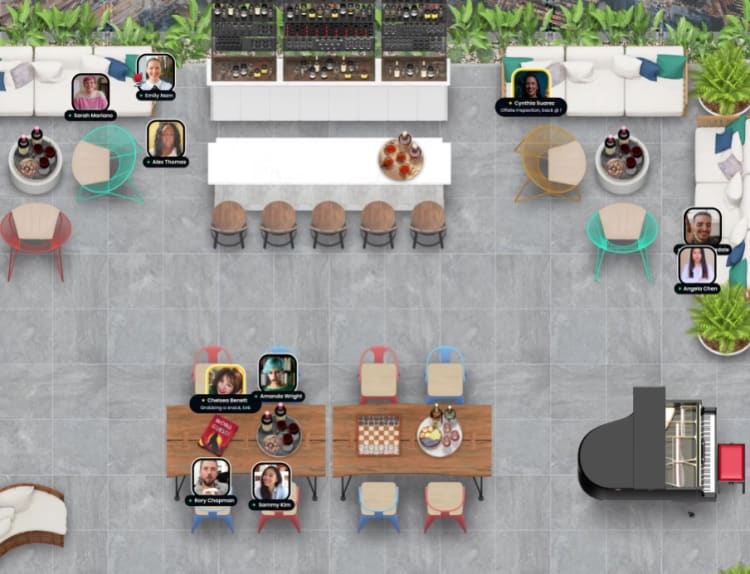 5. Create an Event Agenda
After the software is chosen and the goals are set, it is time to start planning the event. The next step is to create an event schedule. The agenda will help you determine the flow of the event, what topics will be covered, and how long each segment will be. You should also include when you'll be sending out the event invites and what you'll need complete prior to the virtual event starting.
6. Promote Your Event
Now that the event is planned, it is time to start promoting it to your target audience. This is where your marketing team will come in handy. There are many ways to promote your virtual event, including:
Creating a landing page
Creating a social media campaign
Creating an email marketing campaign
Creating blog posts or articles
7. Event Day
On the day of the event, there are a few things that you should do to ensure that everything goes smoothly.
Test the virtual software

and all the features beforehand.
Have a backup plan in case there are technical difficulties.
Make sure that all the speakers and panelists are prepared.
Have someone available to answer any questions that attendees may have.
8. Post-Event Analysis
After the event is over, it is important to do a post-event analysis. This will help you determine what went well and what can be improved for future events. You should also collect feedback from attendees to get their thoughts on the event.
By following these tips, you should be able to successfully plan and execute a virtual event.
FAQs About Virtual Event Planning
When going about planning a virtual event, a wide range of questions may come to your mind. Some of the most important and common questions that people have are as follows:
There are many ways to plan a virtual event. Some tips include:
Choose the right platform: There are many different online platforms that can be used for virtual events, such as Kumospace. Choose the platform that best fits your needs and the needs of your attendees.
Promote your event: Be sure to promote your event through social media, email, and other channels. This will help ensure that people are aware of your event and can choose to attend.
Make it interactive: Make sure to include interactive elements in your event, such as polls, Q&As, and breakout rooms. This will help keep people engaged and make your event more enjoyable for everyone.
There are many ways to host a fun virtual event. Plan an activity or game that can be played online or over video chat. Make it interactive by incorporating polls, quizzes, or other forms of audience participation.
A virtual event planner is a professional who helps to plan and execute virtual events. This can include anything from online conferences and webinars to virtual trade shows and product launches. Virtual event planners work with clients to understand their needs and objectives, and then help to create a customized event plan that will make the most use of the virtual format. They also work with vendors to secure the necessary technology and services, and handle all of the logistics involved in putting on a successful virtual event.