Good old snail mail is all but dead, and the quintessential method of communicating with your colleagues via post-it notes doesn't work quite as well when you're all remote — but email? Now that's oneasynchronous communication solution that's still going strong.
Whether you're reaching out to potential employees or shooting a quick message over to Pam in HR, email is the workhorse that gets the job done. Quick, convenient, trustworthy, and…personalized? It can be. If you want to skip the generic Hotmail or Gmail account and take your email to the next level, a unique business email address is just the thing.
Ready to learn how to create a business email? Let's get started.
What is a business email address and why do you need one?
A business email is simply an email address that features your organization's unique domain name. Say you're a professional dog groomer — a great business email example would be yourname@itspawsible.com rather than yourname@gmail.com. Or maybe you're a professional knitter who wants a dedicated email for curious customers. In that case, doesn't questions@knithappens.com look better than questions56511268@yahoo.com?
A professional business email address has a lot to offer beyond appearance. Some of the benefits include:
A more professional look that will appeal to customers.
Increased trustworthiness (that will also appeal to customers).
An email address that's shorter and more memorable.
An easier way to provide timely and accurate responses to customers (your customer management team will thank you!).
The ability to promote your brand every time you send out an email.
A chance to bypass frustrating spam filters.
Greater control over the emails that you send and receive.
A more efficient email setup will help boost your productivity and limit distractions while working.
Plus, using a dedicated work email makes it easier for you and your employees to separate business and personal matters, which is great for workplace wellness. Best of all? Creating your business email is about as easy as it gets.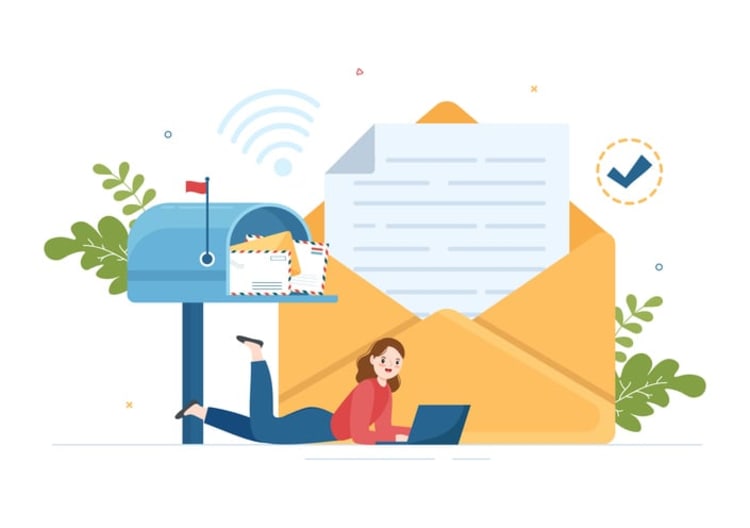 How to create a business email in 4 easy steps
Step 1: Choose a domain name
Whether you're a remote-first company or have a more traditional setup, before you can create your business email, you'll need a domain name and a website. A domain is your dedicated online location, and once you own one, you can use it for everything from your business email to your website. There are a few best practices associated with creating a domain name:
Use a name that's related to your business so that customers can identify you easily.
Choose the right Top-Level Domain (TLD) to boost credibility. Popular options include .com, .net, and .org.
Pick a name that's easy to type and share.
Avoid using dashes and numbers in your domain name. Keep your domain as short and simple as possible.
Brainstorm, brainstorm, brainstorm! Seriously, you can never brainstorm too much.
Registering a domain can get pricy, but luckily there are a few discounted options available that bundle your domain name with other products, like email hosting, web hosting, and more. Check out sites like Squarespace, Weebly, and Bluehost for more info.
Step 2: Set up email hosting
Next, you'll need to choose a server to host your business email. Are there free email hosting services? Yes. Is paid email hosting often a better option in terms of security, customer service, and flexibility? Also yes.
There are plenty of affordable email hosting options out there (most of them much cheaper than a Zoom plan), including:
Bluehost
Zoho Mail
Namecheap
Green Geeks
And more
Many email hosting options offer additional perks, like unlimited websites, SSL certificates, free domain names for 1+ years, and more. Shop around before picking your hosting service, and you're guaranteed to find a great deal.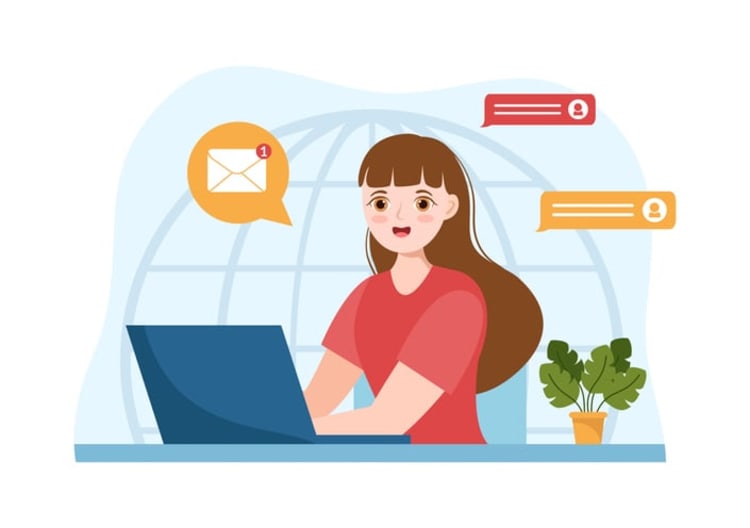 Step 3: Create your business email account
You've picked your server, now it's time to create your business email. Let's say you've chosen Bluehost as your email hosting service (great choice!). Once you sign up for a plan, here's what your next steps would look like.
Login to your account.
Navigate to "Email", then choose "Manage".
Select the "Create" button.
Choose your username and password. (Tip: Make sure to choose a strong password to protect your account).
Select "Save".
Simple as that! Your first business email account is live!
As your business grows and you begin using business emails across your company, you'll likely want to create an organizational system. Some email platforms offer automation to make organization easier, or you can choose to sort emails manually. You can also create a business email for different people or departments in your organization to help keep things neat, make project management easier, and enhance security.
Step 4: Sync your business email
Once your business email is active, you'll want to connect any previous emails that you've used so that your messages are forwarded to your new inbox. You can do this by listing your new business email as an email alias or adding the new email as an alternate email to your existing accounts.
To link your business email to Gmail, follow these steps:
Log in to Gmail
Click "Account" in the top right-hand corner
Select the "Personal info" tab and scroll down to the "Contact info" section and select "Email"
Scroll down to the "Alternate emails" section and choose the "Add alternate email" selection
To link your business email to Outlook, follow these steps:
Log in to Outlook
Select "File" and then "Add Account"
Fill out your email address in the space provided. (Some versions of Outlook may also ask for your name and password as well)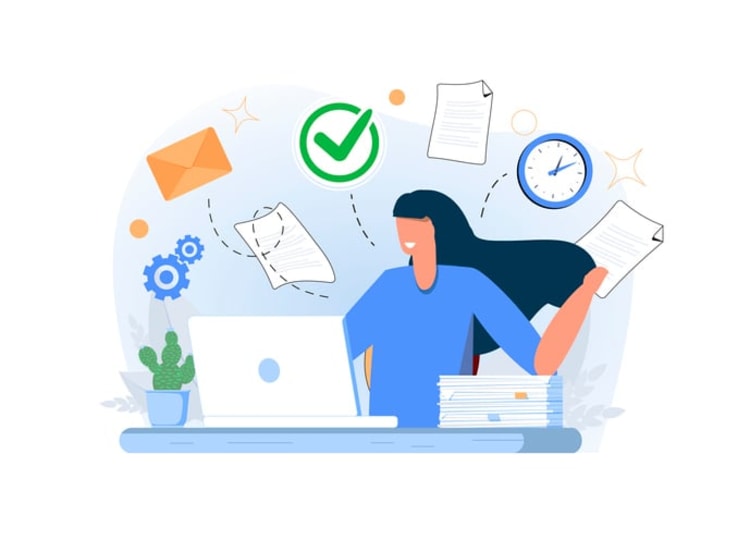 Business email etiquette and best practices
Now that you're kitted out with a snazzy professional email, you'll want to remember to keep things professional. Just like work-from-home etiquette and office etiquette, business email etiquette is an important skill to develop. Avoid awkward emails by following these simple etiquette tips.
The basics
This is Email 101 — the stuff that everyone should know.
First off, make sure that you're always using the proper email format (or at least a format that reflects your business' culture and style). Include a brief subject line, a greeting, legible content in the body of the email, and a sign-off. If you're addressing the client by name, double and triple-check that you've spelled it right! Finally, proofread, proofread, proofread (like brainstorming, you can never proofread enough).
The body
Is it okay to use emojis and exclamation points in your business emails? Of course, it is — if that's the kind of email that your client expects from you. Emails from a hip and happening tattoo artist are probably going to look a lot different than emails sent by a prominent mortgage lender. No matter who you are, though, keep the email as short, simple, and positively worded as possible.
A few extra tips for success:
Never leave your subject line blank. Take a few words (up to ten) and describe the body of your email.
Start your email with a professional greeting like "Good morning", "Hello [Name]", or even "Greetings".
Organize the body of your email so that it makes sense to your reader.
If you're attaching information, inform your recipient and make sure that the attachments are correct. Whenever possible, compress the info or put it directly into the body of the email.
Sign off with a professional email signature that includes your name, job title, and your company information.
The rest of the Email details
Timing your email is important — after all, no one wants an urgent message to pop up in their inbox right before the weekend. Be considerate and send emails during the work week. Respond to important emails promptly (a shared business email address can help with this).
If you plan on taking a lengthy break from the office or you're traveling and working remotely and on a different schedule than your clients, consider setting up an automated out-of-office message so that anyone sending you an email knows to expect your response at a later date. After all, while email makes it easy to be available 24/7, it can also encourage toxic productivity if you're not careful.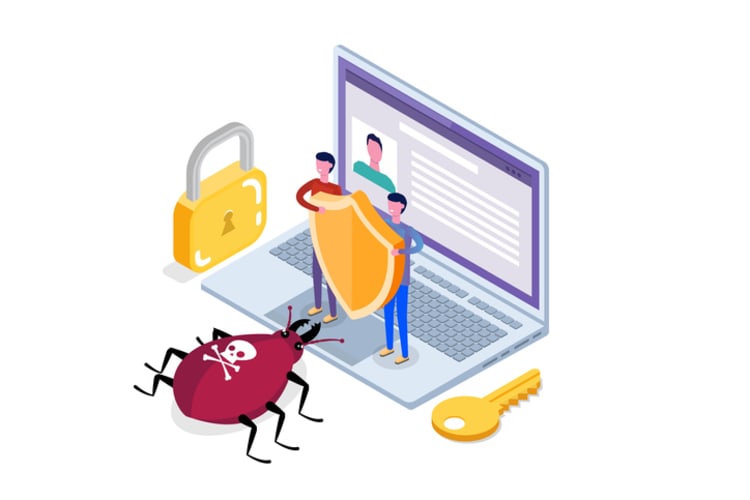 Business email security and privacy
Business email may contain private or sensitive information — which means security is paramount. While no email is infallible, there are several things you can do to protect your account and your information from those who would abuse it. Here are five of the most effective practices for email security.
Consider creating an email policy to ensure email users know what they can and cannot do with access to your business email. Your policy may outline whether or not the business email can be used for personal matters, what types of files can be sent over the email, who can access the email, and where, etc.
Learn about common security threats. You and your employees should know how to identify and respond to cyberattacks like spam, phishing, and malicious attachments.
Configure your email to work with trusted spam filters to help prevent some of the problems before they reach your inbox.
Choose strong passwords — but not complex ones (those are the kind that we write down on sticky notes and lose). Instead, opt for passphrases, which consist of a string of meaningful words that are easy to remember, but difficult for scammers to guess.
Use an email service that encrypts the email content to prevent unauthorized sources from reading it.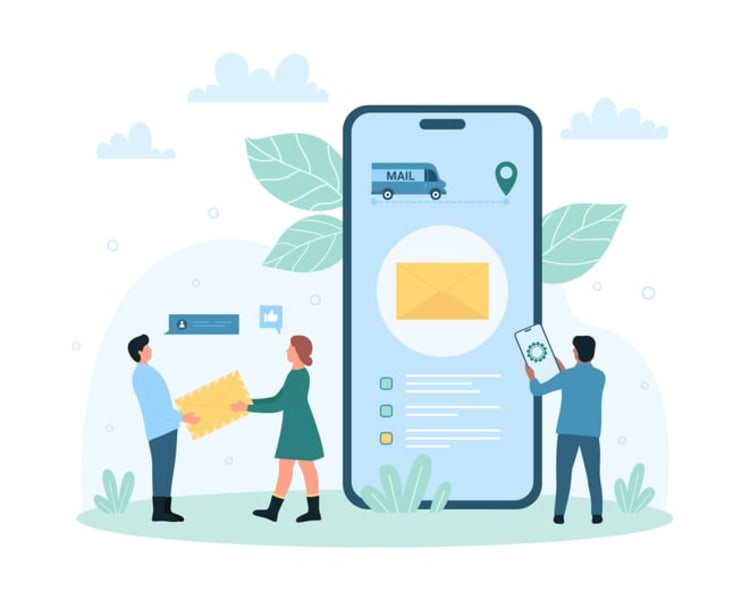 The professional look your business needs
With a bit of time and a dedicated domain name, you, too, can have your very own business email. Remember to choose the right site, keep your email professional, and make security a priority. Do those things and your business email will return benefits tenfold and show your clients that you're dedicated to running an exceptional business.
Have any questions about business emails? Want to learn more about digital transformation tools, virtual workspaces, hosting fun online events (holiday party or company happy hour, anyone?), and other cool things that will enhance your work experience? Kumospace is the place to go! Browse our blog for your next read or reach out to our team today to chat.
FAQs
Once you have a domain name, creating a unique business email is as simple as choosing an email hosting site and creating a unique account name.
Business emails give communications a professional look — plus, they also help build trust, are useful in email marketing campaigns, assist in branding efforts, offer greater flexibility than traditional emails, and so much more.
To make your business email look as professional as possible, follow these tips:
Omit numbers and symbols whenever possible.
Keep your email address short and simple (and, therefore, memorable).
Separate words with a period to help readability.
Make it relevant (for example, use your name or initials).