Need to host your event online? Start by skipping Zoom, and set up a game plan with this handy guide.
Virtual events have become a staple in our lives—for both business and connecting with family and friends. Although it's not the same as IRL, hosting large virtual events offers opportunities that are impossible in the real world. Online events allow you to make the guest list as big as you want, attendees can join from all over the world, and a dress code is no longer a factor—unless you want to have a crazy hat party.
Many large events have gone virtual the past year. The restart of the 2019-20 NBA season, SXSW, and last year's New Yorker Festival, are some of many big-scale events that recently made the move to online event platforms. The upside for these large virtual happenings? Economical pricing, bigger crowds, and increasing event access to many who otherwise wouldn't have been able to attend.
Our video conferencing platform Kumospace is built to feel like a party instead of a stuffy grid; Kumospace simulates the real world and has features like music and drinks to help break the ice with new people. Plus, you can screen share anything from documents to videos.
Are you, or your company, thinking about hosting a large virtual event? Here's some strategies for getting started, engaging your attendees, making it super fun, and skipping the blocky Zoom format. Or do you just want to experiment? Give Kumospace, a fun alternative to Zoom, a spin.
Create a game plan to get the most out of your large virtual event
The best events, especially large ones, are thoughtfully produced. The earlier you can start planning the better, and it helps to have a strategy (just telling everyone to bring their own beer doesn't cut it. Trust us, we've tried). Here's some tips to consider:
What vibe do you want for your event?
What are some icebreakers you can have on hand to spark conversations?
How many people do you hope to come?
Will there be speakers? Comedy? Music? Multiple rooms?
Ultimately, keep in mind the experience you want to deliver and how you can keep your attendees engaged.
Internet connection and lighting matters
If you are the host of the event, make sure you have access to reliable high-speed internet and flattering lighting (i.e. have your light in front of you instead of being backlit). There's nothing worse than missing out on your own event because your internet is acting up, which leads us to the next tip...
Make a guide for attendees
Your guide can offer tech pointers, a chat how-to, encourage people to turn on their cameras, explain how to join keynotes or other happenings, and offer tips for how to move between floors. (Here's our own guide we use for Kumospace. Feel free to nab it for your next event).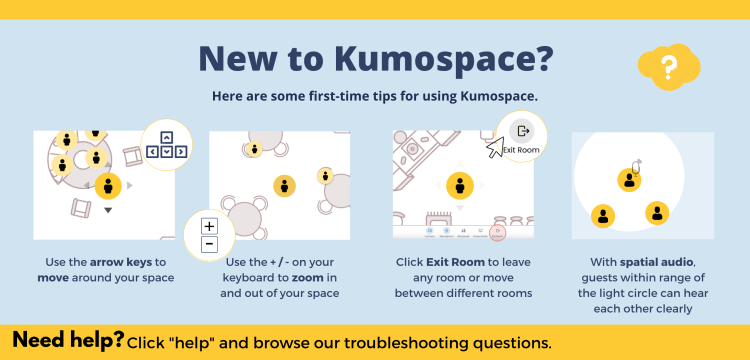 Engage the crowd
Large virtual events are super easy for attendees to join, and to leave. The key to hosting a successful large virtual event is to keep the crowd engaged. You can have separate virtual spaces that spark conversation or interactive games.
Looking for some conversation icebreakers? Here's some of our favorites:
What was the worst haircut you ever had?
Tell me about your worst date...
What did you eat for breakfast?
If a UFO came down to Earth and invited you inside would you go?
What were you like in middle school?
What's a food you hate?
What was your favorite birthday celebration?
Did you have a name for your car? What is it?
What's your sign?
Or the only one you'll ever need: tell me about yourself.
Remember to keep the conversations natural— instead of rehearsed—and allow for breakout chats or networking so people can have meaningful conversations. (Or snarky ones — we don't judge).
Interaction is key
Wired Magazine journalist Gretchen McCulloch recently planned her own virtual birthday bash, and had an important takeaway: "What makes a party feel like a party, I've concluded, is that there are multiple conversational options that you can move between. Sometimes the whole group might come together into a single conversational thread, such as when singing "Happy Birthday" or proposing a toast, but a party never stays there—if it does, it's a performance, or a meeting. Crucially, people also need to have the autonomy to move fluidly between these smaller conversations."
She opted for a virtual platform like Kumospace. In case you've yet to try it, Kumospace is almost like attending a real party; it allows you to move around in a virtual space where you can talk to someone at the pool, then you can head to a different conversation with someone else at the bar, or go to a different floor to (maybe) avoid your ex.
Make some noise
Use sound to transition between activities. We once went to an event where one of the hosts played an actual gong to transition topics, and it felt like a game show in the best possible way.
Kumospace also has virtual jukeboxes, pianos, and other spaces where attendees can listen to music. We recently hosted a Cinco de Mayo party on Kumospace — and everyone who entered, including some of our most sardonic pals, couldn't help but smile at the floor's mariachi music.
Keep an eye on your clock
The sweet spot for a virtual event is generally under 90 minutes as people can literally leave with the click of the button. Keep your large virtual event on the shorter side. In an article for Forbes, contributor Adrian Dearnell writes that Microsoft recently hosted it's largest annual event, the Build developer conference, virtually and changed up the format to do so. "They trimmed the overall length of the keynotes, making them sharper and more focused for the digital format… some content was live to maintain that personal, off-the-cuff quality," Dearnell writes. "Microsoft also created a virtual "press room" for journalists to gather, while an online lounge was set up for attendees to connect."
Dynamic and shorter events go a long way when it comes to hosting your conference or soiree online.
End your event on a high note
A final cheers with fellow attendees, a last interactive game, or an announcement of a future event—are all some ideas to have your bash end with a bang. We love using the Kumospace Broadcast feature (see below) for a send-off toast because it allows the host, and co-hosts, to talk to people both across the floor and in other floors. (It's also much classier than bringing your own megaphone to a party).

Any ideas for producing a large virtual event that we missed? Need ideas, tips, or inspiration for hosting your own virtual event? Drop us a line via hello@kumospace.com or book a demo. We're here for you!