The workforce has increasingly become remote, hybrid, and distributed. This has further increased the importance of keeping your employees engaged, no matter where they are geographically. Organizing virtual hangouts using creative and engaging hangout ideas is an effective way to achieve this. At the same time, it is important to plan these events properly to make them more inspiring and effective.
If you are seeking some great virtual hangout ideas to boost your team's morale, help them enjoy their time, and make a positive impact, this guide is for you.
What is a Virtual Hangout?
Virtual hangouts allow anyone to engage in an online video conference meeting with as many people as they like. It allows you to engage in all the conversations in real-time, similar to being in person.
Virtual hangouts originally evolved as a method for family members to spend special occasions together. Gradually, virtual hangout ideas allowed company employees to participate in chats, exercises, and fun activities that strengthened their bonds when they were in the office remotely.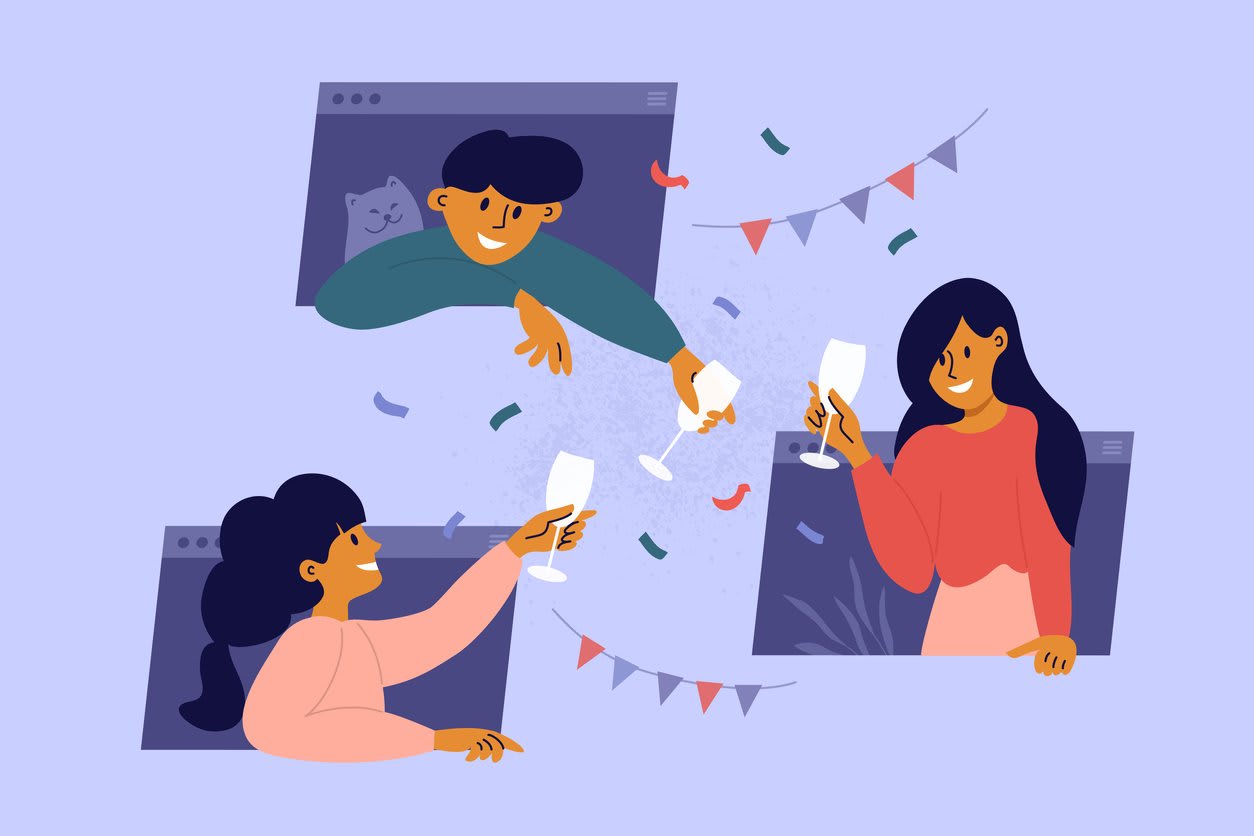 24 Virtual Hangout Ideas for Different Event Categories
There are many reasons to invest your time and effort in virtual hangouts. This includes:
Helping with virtual

team building
Boosting the morale of your team
Promoting workforce collaboration
Improving productivity
Boosting creativity and innovation
Encouraging versatility
Helping develop diverse relationships
There are different types of virtual party activities ideas under different categories. Explore 24 ideas for your virtual hangouts with your team members.
Virtual Game ideas
1. Virtual Murder Mystery Game: Play a murder mystery game to make your next virtual hangout more engaging. Appoint one or more mystery entertainment experts who can curate the game.
2. Virtual Scavenger Hunt: Decide who will be the leader. The game involves the leader determining the items that the participants will have to find. All the players will have a fixed time to find each item and each one gets rewarded points based on how quickly they can find it.
3. Play a Virtual Board Game: Virtual board games can be the perfect virtual hangout ideas to engage your team members. Examples include games such as Monopoly, Scrabble, and Risk. There are many multiplayer board games to choose from.
4. Virtual Pictionary: This game has visual aspects that make it just perfect for video conferencing screens. Ask every participant to use their own whiteboard. There are also app-based digital whiteboard options that can be used during the game.
5. Virtual Charades: You can use an online random word generator to make it easier to create topics. Send out the topics privately to each player when their turn comes up.
6. Virtual Bingo: It is easy to get bingo cards online. You may also print your own cards. These hangout ideas don't require you to use bingo balls or a cage. You can be creative with the selection of the bingo prizes.
7. Virtual Trivia Night: You can use online generators to create as many trivia questions and answers. Appoint someone in the team who has a lot of knowledge and divide your team into groups. Share a screen and start playing.
8. Truth or Dare: Almost everyone knows how to play Truth or Dare. You can also include it in your virtual hangout ideas. Get everyone on video chat and start asking difficult questions.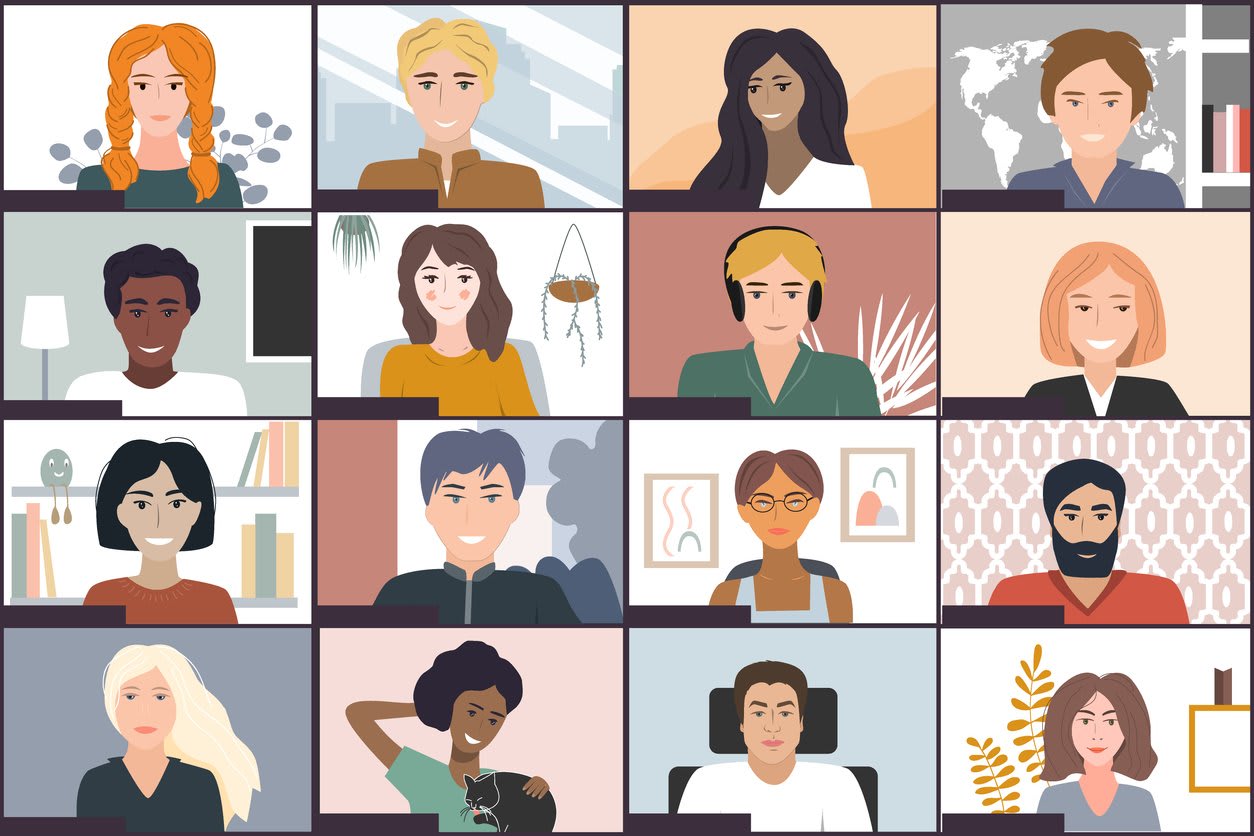 Virtual Party Ideas
You can also turn your virtual hangouts with your team members into parties. Some of the popular virtual party activities ideas are as follows:
9. Virtual Cocktail Hour: Ask your team members to dress in party attire and invite them all to a virtual cocktail party.
Send out invitations through email or online
Create a playlist that everyone will like
You may also host a virtual mixology workshop
Select relevant background images for the video conferencing platform
10. Costume Party: Host a virtual costume party by choosing one of the following themes:
Famous people
Superheroes
Iconic characters from movies
Make sure to present prizes for those who are best dressed.
11. Seasonal Celebrations: If it is a seasonal holiday, use its theme to create virtual party activities ideas. Some common examples of these holidays include Christmas, St. Valentine's Day, and St. Patrick's Day.
12. Virtual Dance Party: Dance is an integral part of every party. This includes virtual parties as well. Ask the right team member to play as the DJ or ask everyone to contribute to the playlist.
13. Virtual Theme Party: Themed parties are also great virtual hangout ideas. You can discuss with your team to determine the perfect theme. Some examples include:
90s theme
Gatsby-inspired soiree
Space theme
14. Virtual Decade Party: Pick the decade that you and your team tend to love or feel more connected to and create a virtual party themed on one of its aspects. Whichever decade you choose, you can follow the dress code or playlist from that era.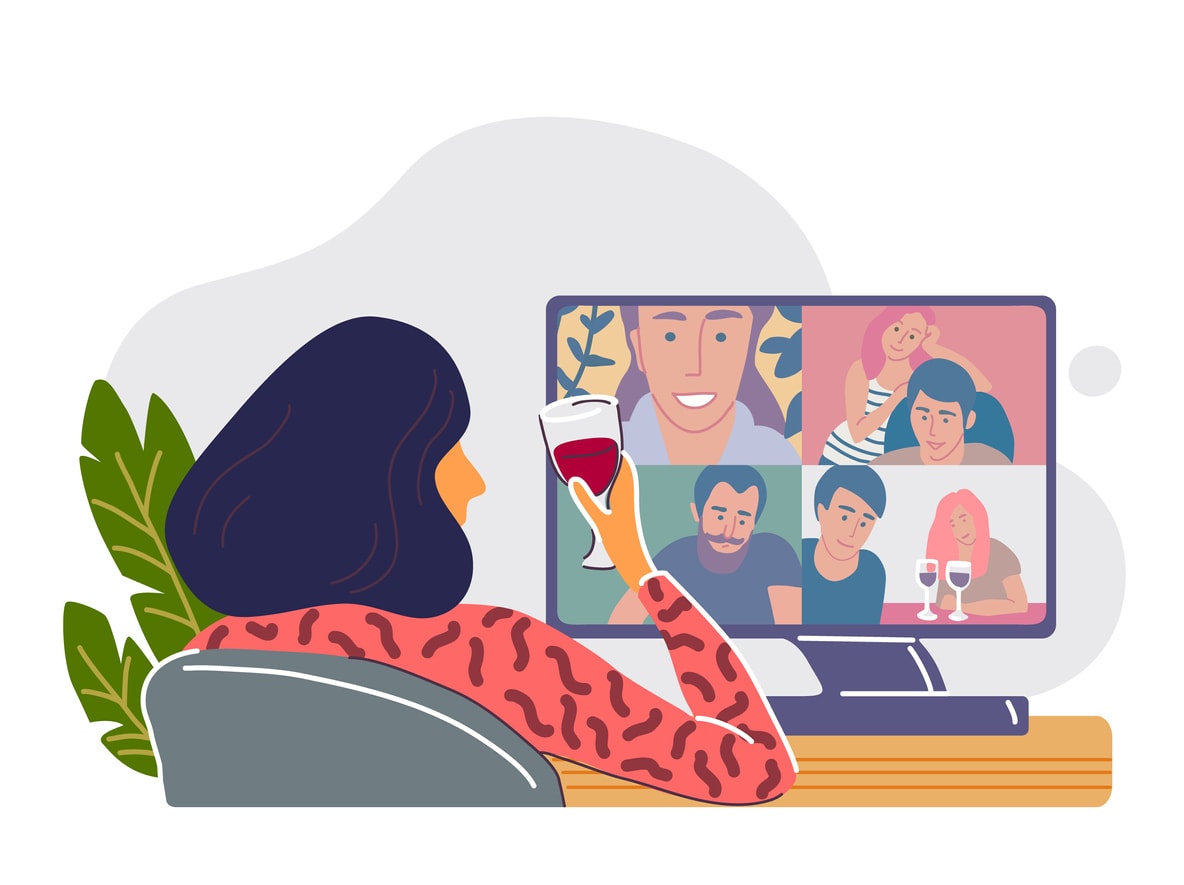 Other Virtual Hangout Ideas
There are even more virtual hangout ideas you can consider enjoying during your fun hangouts. This includes:
15. Virtual Book Club: You can all choose to read the same book or make a choice after a meeting. You can also have the participants read different books and share their understanding of them. If you are looking for the best hangout ideas for team-building efforts, this is one among them.
16. Vacation Slideshow: Virtual hangouts can also be the perfect opportunity for sharing your vacation pictures with your team members. Ask everyone to get together their favorite pictures from a past vacation. Take turns showing the photos and enjoy the fun moments.
17. Virtual Movie Night: You can also enjoy an inspiring or fun movie night with your teammates. There is no need to visit a movie theater or meet up at a point. Fix a time and stream a movie or series that aligns with everyone's interest.
18. Virtual Astrology Session: Astrology fascinates almost everyone. A virtual astrology session can be one of the hangout ideas that get everyone involved.
Have everyone learn about planetary cycles and patterns
Read out everyone's respective monthly horoscopes
You may also hire an astrologer's service for expert readings
19. Virtual Wine Tasting: You can also hold virtual wine-tasting events. This idea can especially be a success if there are wine enthusiasts on your team. Get a few bottles of wine and compare tasting notes over virtual video sessions. Wine enthusiasts know how thrilling a virtual event this can be.
20. Virtual Yoga Session: You can plan a few yoga moves and practice them during a virtual hangout. It can help everyone start their journey to a healthy lifestyle.
21. Virtual Arts & Crafts: You can select a single art and crafts project for everyone to do together or have everyone select their own favorite crafts. Make sure the video chat keeps rolling while everyone is creating their stuff. There should be a date by which everyone should complete and present the final product.
22. Closet Exchange: Closet exchange can also be one of the most thrilling virtual hangout ideas. Get everyone to go through their closet and select items they don't want to use anymore. These items can then be shared during screen time so that everyone can select an item they like. The items can then be mailed out to one another.
23. Virtual Fashion Show: Ask each teammate to select 3 outfits and showcase your unique style to each other. You can also combine your hangout ideas of the closet exchange and virtual fashion show, allowing everyone to display their unwanted closet items.
24. Virtual Painting with Bob Ross: No one in your team needs to be great at painting, but a virtual painting event can be both a fun and learning experience. You can choose from hundreds of Bob Ross episodes and practice an enthralling painting session.
These are some of the most popular virtual hangout ideas you can plan with your remote team. When planning any virtual hangout, make sure to keep the purpose of the event in mind. You shouldn't expect your team members to sit around with a drink in their hands. Building connections requires something more than that. It is important to consider your end goal when planning each virtual hangout session.
Some of these objectives include:
Helping teammates destress
Strengthen connections between team members
Improve employee collaboration
Identify issues and challenges within your company's culture
Encourage workers to know each other
If you want to make a virtual hangout engaging, fun, and exciting, you should understand the importance of these events. Keep this point in mind when exploring the different virtual hangout ideas shared above. It is important to get your team members involved when planning your virtual hangout.