Crave the community of a traditional workspace — but without the commute and the close quarters? If so, virtual office coworking spaces are going to be right up your alley. With many of the same perks provided by in-person offices, virtual coworking spaces bring together the best of remote and traditional work.
Coworking Space vs. Virtual Offices
So, what's the difference between a coworking space and a virtual workspace? We'll define each one below and take a closer look at the pros and cons so that you can better determine which option is right for you.
What are coworking spaces?
Traditional coworking spaces are physical places where professionals gather to work and network. These spaces have been gaining popularity in the past decades, partly because they provide a great alternative to in-home offices, which can be isolating. And while many coworking spaces charge a fee for using the premises, some also offer cool perks like free coffee, fitness centers, wellness classes, socialization and networking opportunities, and more.
The pros:
Cheaper than leasing offices or paying rent on a whole building.
Many offer flexible pricing or various packages to fit your budget and needs.
Can increase your concentration, creativity, and focus.
Provide a professional space to meet with clients and team members.
Facilitates conversation and socialization.
Often offer flexible hours so you can fit work into your schedule.
The cons:
Most of the time, true privacy and upscale perks come with a hefty price tag.
Shared spaces have their own distractions, sounds, and interruptions, making it difficult to focus on the job at hand.
No ability to customize or personalize your space.
Sharing with other workers can make it challenging to claim great spots.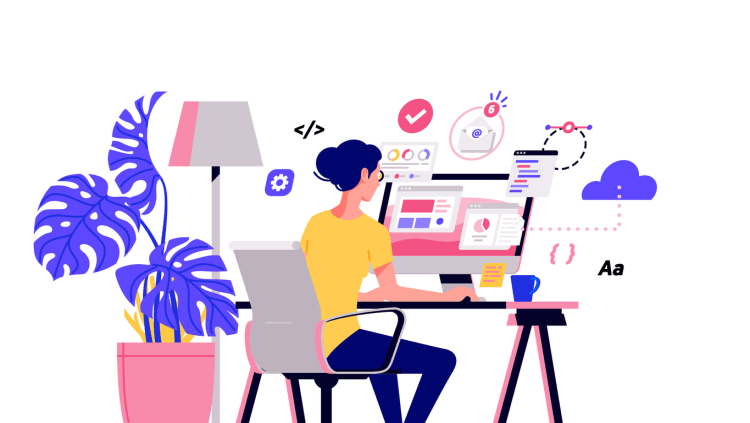 What is a virtual office?
Virtual offices are online services that provide companies with a variety of business tools, meeting spaces, collaboration opportunities, and more — all online. Remote workers can use virtual offices to maintain a team environment without having to meet at a physical location.
The pros:
No need for a commute to get to work.
Most virtual offices are incredibly versatile and flexible.
Choosing a virtual HQ gives you access to talent around the world (and makes it easy to work with them, too).
You can take your office anywhere — even on vacation! (Is anyone dreaming of the digital nomad life?)
A long-term solution, especially for growing businesses.
Potential to save a lot of money on everything from rent to office supplies.
The cons:
Limited social contact with fewer opportunities to network.
Must have internet access.
Possibility of technological issues upsetting your workday.
No physical perks (and no physical space, should you need it).
Now combine the two
So, what would happen if you brought coworking into a virtual office? Virtual coworking spaces! It combines almost all the benefits of an in-person workspace (sorry, no free fitness center here) and the joy of working remotely to create an experience many working professionals just can't get enough of.
In your virtual coworking space, you'll log in, find a desk, and maybe even explore the virtual office space or chat with a friend on your coffee break. Along the way, you'll have the opportunity to talk and interact with others sharing your digital office. No need to worry about the physical location of your team — you've got a space to come together and get things done.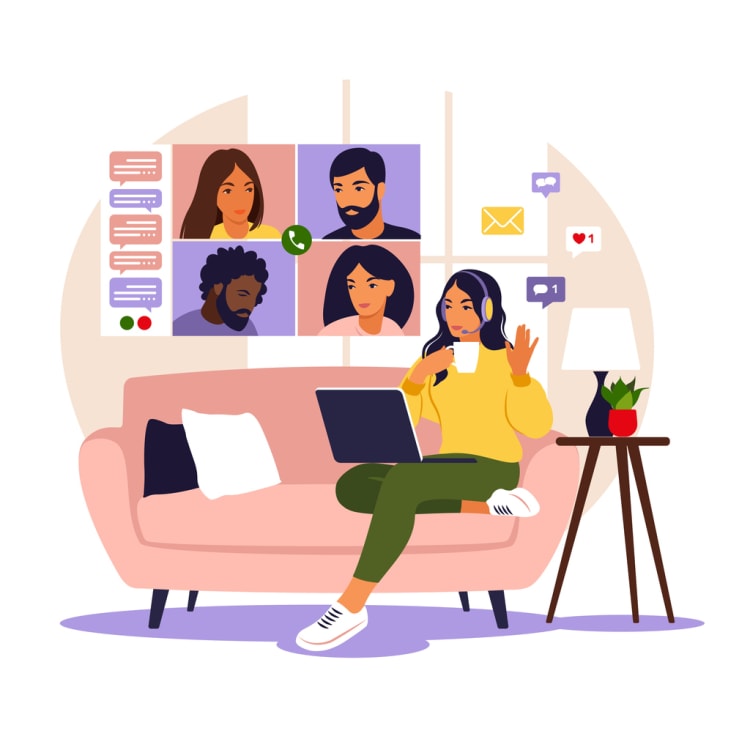 Benefits of Coworking in Virtual Offices
Sounds convenient, right? But wait, there's more! Virtual offices are a treasure trove of benefits for you, your team, and even your whole organization.
Work wherever
No need to gather together in a physical office (and, as a result, no need to commute to that office, pay rent for that office, etc.) because now you can just log in when you want to meet with your team. And you know what that means? You can take your work wherever you need to! Whether it's a home office, a library, or even halfway around the world, your team can stop by the office wherever they're at.
Employees will appreciate the freedom and flexibility that coworking in a virtual office offers. In fact, most employees with hybrid and remote work are so enamored that these models often provide a significant increase in employee productivity, happiness, and retention.
Collaborate easily
Emails and Zoom meetings may work for some things, but there are times when nothing beats good, old-fashioned face-to-face collaboration. And virtual workspaces can make it happen online. Virtual workspaces make it easy to collaborate with team members whenever you're both "in the office." Plus, platforms like Kumospace also offer special features like file sharing to make it easy to work together and exchange real-time information from anywhere.
Increase your efficiency
It's no secret that coworking boosts productivity. Being around knowledgeable individuals makes it easy to consult and collaborate without waiting for emails or meetings to happen. Additionally, coworking can help build stronger workplace relationships, and creating meaningful connections between team members can help boost efficiency.
Network and build connections
Networking remotely may look slightly different, but it's still a great way to interact with other professionals, gain valuable knowledge, and expand your opportunities. Remote networking offers one huge benefit — it removes geographical limits and puts you in touch with people you may not otherwise have had the chance to meet.
Have privacy when you need it
In-person offices can be full of sounds, chatter, and other distractions. Plus, there always seems to be someone in the meeting room right when you need it the most. Say goodbye to these common workplace woes because a virtual workspace neatly combats them. When you're in your virtual space, it's easy to see where everyone is with just a glance, so you don't have to keep vigil outside your superiors' office while you wait your turn to speak to them.
And when it comes to improving focus and concentration at work, going virtual can help that, too. Platforms like Kumospace, for example, have a nifty feature that allows you to hear only what those in your immediate area are saying, thus drastically decreasing unnecessary sounds so that you can focus on your work.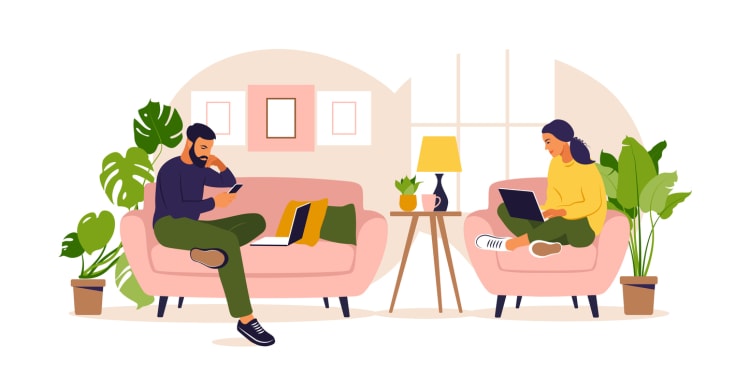 Coworking in Virtual Office Spaces: How To Do It
When it comes to coworking online, the key is to find a great platform. Look for something that offers all the business features you need to work (file sharing, security, communication options), plus a little something extra to make coworking easier and more enjoyable.
Kumospace is a great virtual office example that offers the best of both worlds. With tons of features like screen sharing, user analytics, and chat capabilities to make work easier and communication more effective, Kumospace also offers fun customization options, games, activities, and more. And, unlike traditional coworking spaces, it's easy to get the privacy you need by stepping into your office or even just logging off for a minute.
When you log into your space, you're visible to your co-workers, making it easy to reach out and message or collaborate with team members. Want to step out for a one-on-one meeting? Give your employee or co-worker a nudge or catch up with them over virtual lunch. And when the workday is done, feel free to linger and enjoy a virtual happy hour together or even plan a teambuilding event to boost team morale.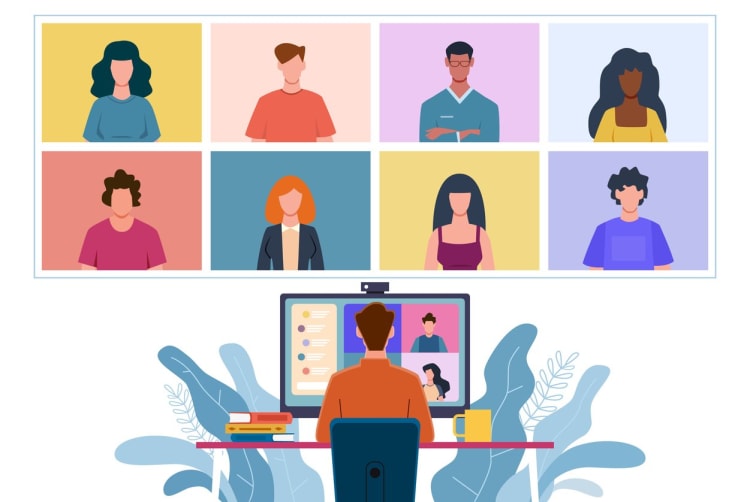 See What the Virtual Coworking Space is All About
Coworking spaces and virtual offices are both great options for remote workers, but put them together? That's when the magic happens.
Why keep virtual offices and coworking spaces separate when you can enjoy the benefits of both? Virtual coworking spaces like Kumospace are revolutionary and are changing how remote, hybrid, and distributed teams work.
Want to check it out for yourself? Register for free on Kumospace today, or check out our pricing plans to find the best fit for your organization. Welcome to the future of remote work.
FAQs
Yes! Virtual coworking spaces do exist, and, wow, are they worth it! These online spaces offer many similar benefits to in-person coworking spaces and traditional offices while sporting the additional benefit of being completely online and, therefore, even more accessible than most physical spaces.
Virtual coworking offices are platforms that allow professionals to collaborate, communicate, and build a community without ever stepping foot in a physical office space.
A virtual coworking space often mimics the look of physical office spaces, with meeting rooms, offices, and even areas to enjoy water cooler moments. Many virtual coworking spaces also sport useful tools like document-sharing features, cloud storage capabilities, and more.
Start by finding the right office space (it should reflect not only your budget but also your goals, needs, and company culture). Once you've picked the platform, here are a few tips to transition your team:
Customize your virtual office to make it welcoming to your team.
Show your team the ropes with a guided tour or even a fun event on the platform.
Make time for both shared and personal work time.
Meet one-on-one to receive feedback about the space.