Maximizing Your Hiring Process: Tips for Interviewing Remote Workers
The way we work has changed so much over the years, from being expected to take over the family business to moving across the country for that perfect position. And now we can work for a company on the other side of the world without stepping out our front doors. As a result, the way we hire employees has changed as well.
And while the COVID-19 pandemic forced many companies to shift to a remote work policy out of necessity, a lot of them are discovering the many benefits that hiring remote employees has to offer. Not only can they reduce many of their overhead costs, but remote workers tend to be more productive, company morale improves and their company has access to a global pool of talent.
Where once a new job could entail multiple face-to-face interviews with everyone from the hiring manager to the CEO, the technology of today means the entire interview process can be handled online. A boon for any business, but especially for any companies that want to hire remote workers.
Now that video calling is accessible to anyone and everyone, the concept of video interviews is something that companies of all shapes and sizes are taking advantage of, whether they're remote businesses or not. If you're interested in learning how to conduct a virtual interview or wondering about typical video interview questions, then this article is for you.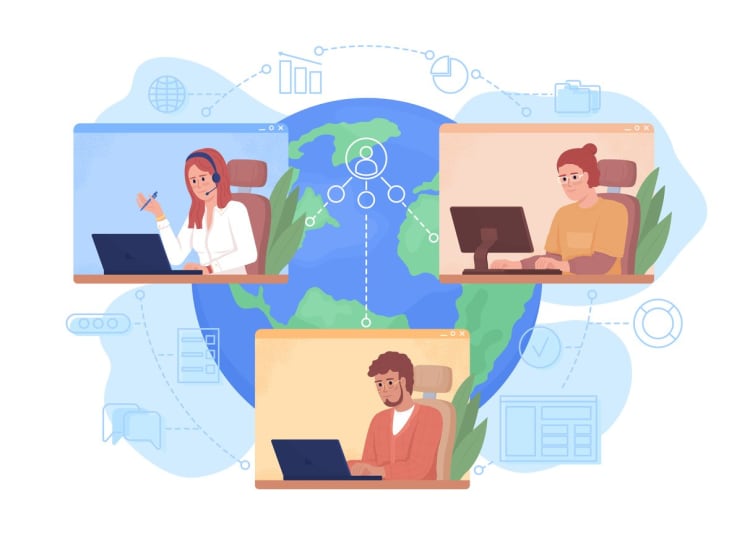 Hiring remote employees in other states
Many companies have discovered how effective a business strategy it is to expand their team across state lines by hiring remote employees. With the explosive growth in the remote tools that employers have access to, it's unsurprising that many businesses are switching to a fully remote or hybrid work model.
What might be surprising, though, is the fact that you have to follow the local and state labor laws of your employee's locations and not those where your company HQ is based. So if your company is based in Washington and you hire a remote employee who lives in New York, you have to abide by New York's laws with regard to their employment.
So before you start hiring remote employees in other states, you need to make sure that you are aware of and compliant with their applicable local laws and ordinances, including but not limited to:
Payday laws and paychecks
Payday laws govern the procedures an employer has to stick to when paying an employee, such as when and how often an employee should be paid, and define what wages are according to said state. Some, but not all, states also include rules on how vacation, sick leave, and even severance packages work.
Minimum wage, overtime and deductions
The minimum wage, overtime and types of deductions that an employer is allowed to take from an employee's paycheck vary from state to state. For example, in Indiana, there are only certain types of deductions that employers may make, and they must have written authorization from their employees to do so. Some states have set a minimum wage that is higher than the federal minimum.
Workers' compensation
Most companies will have a workers' compensation carrier that handles this aspect of their wages, and they will need to inform their carrier of the remote work arrangement as well as what the employees' remote location is. This is because states have different rules regarding workers' compensation, with some states making it elective and others making it mandatory.
Payroll taxes
Every remote business has to review the state tax laws for their remote employees in order to determine what taxes they should withhold. Most of the time, this will involve registering with the tax authority in the remote worker's state and withholding those specific state taxes. You will also need to confirm whether there are any city or town registration requirements in place.
Making sure you're compliant with just one state's labor laws can be a headache. Dealing with the laws of multiple states across the country can easily become a nightmare to decipher and keep up with. You may want to hire local HR companies to manage the payroll of employees in each state or employ a single firm with professionals who are experienced in the employment regulations of multiple states.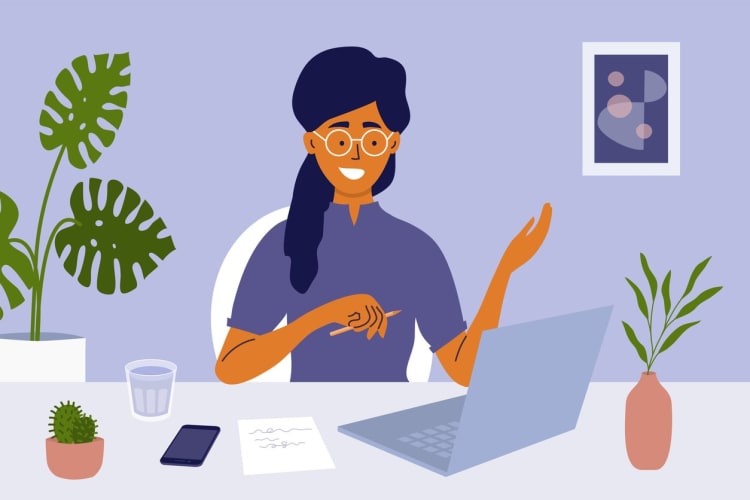 How to conduct a virtual interview
If you've ever conducted interviews to fill an open position, you know how much work actually goes into preparing for them. There's siphoning through dozens of job applications to select your candidates, preparing questions that help you determine which is the best fit for your company, and making sure you're ready with answers for any questions they may have.
While preparing for a video interview might seem easy, the truth is that there are a number of things you need to remember when you start the interview process.
Make sure you have the right setup
These days most phones and laptops have everything you need to get started with video chatting with your friends and family. But you want to put your best professional foot forward when interviewing remote candidates, so you may need to upgrade your equipment rather than using those built-in tools.
Whether using the camera built into your laptop, desktop computer or mobile device or an external webcam, you should opt for one with a minimum 1080p resolution to deliver the crispest picture and best optics.
Some quick go-to tips about getting your "interview room" up and running are:
Most videoconferencing tools don't use a lot of GPU or CPU, so the amount of RAM your device has available isn't a huge factor. However, more RAM will deliver a smoother experience, especially if you plan to run multiple tools and programs during the interview.
No matter how impressive your camera or mic is, if you've got poor internet connection, the quality of your videoconference will suffer. Spend the money on a higher bandwidth internet connection and save yourself the headache of video or audio lag and constant crashing.
Once upon a time, Skype was the only video-calling software available to the everyday user. These days, you have access to a multitude of video chat platforms, including virtual offices and the video calling capabilities of almost every instant messaging platform in use today. Find which one works best for you, and always be prepared with a backup plan.
Cyber security may not seem like something you need to worry about during a video interview. Still, you should always keep it in mind whenever you're working with any devices or connecting to any workplace network. Start with a VPN to keep your initial connection secure, double-check the default settings of your videoconferencing tools of choice, and don't turn on screen sharing by accident.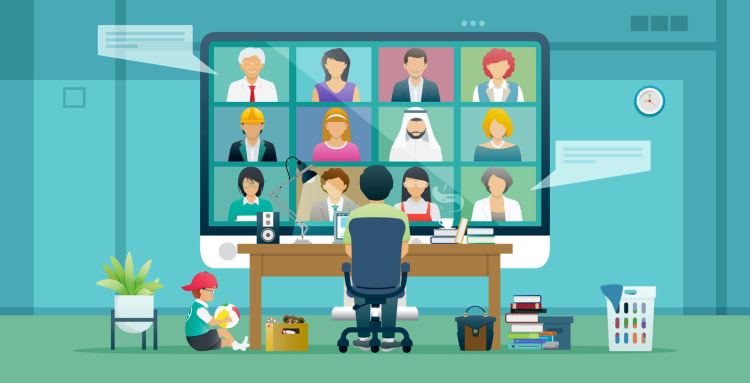 Nonverbal communication in virtual interviews
Any article about how to do well in a job interview will stress the importance of nonverbal communication, such as a firm handshake when you introduce yourself, not fidgeting while you speak, dressing appropriately, and more. The problem is that many of these don't translate well to the virtual interview space.
Assuming you or the candidate don't stand up during the interview, neither of you would know whether the other was wearing comfortable track pants, jeans or snazzy suit pants. Shaking hands is obviously impossible, so the only tip that still applies is how important it is to maintain eye contact.
In fact, maintaining eye contact with the person on the other end of the video call, or rather the lens of the webcam is even more important in a virtual interview than a face-to-face one. This is because both parties will have nothing but each other's faces to focus on, and the other person will notice if your attention drifts off-screen for any reason, even for a brief glance at your phone.
You should also pay attention to your posture during the video interview and try to keep your body position as relaxed and open as possible if your camera has a wide-angle lens that shows more than just your face. If the top of your body shows, then dress the part in a button-down, suit, and tie.
Also, an authentic smile and genuine laughter are easily conveyed in a virtual interview. Be careful not to make excessively long pauses or resort to fake laughter, no matter how nervous you are. Just be your calm, confident, and poised self!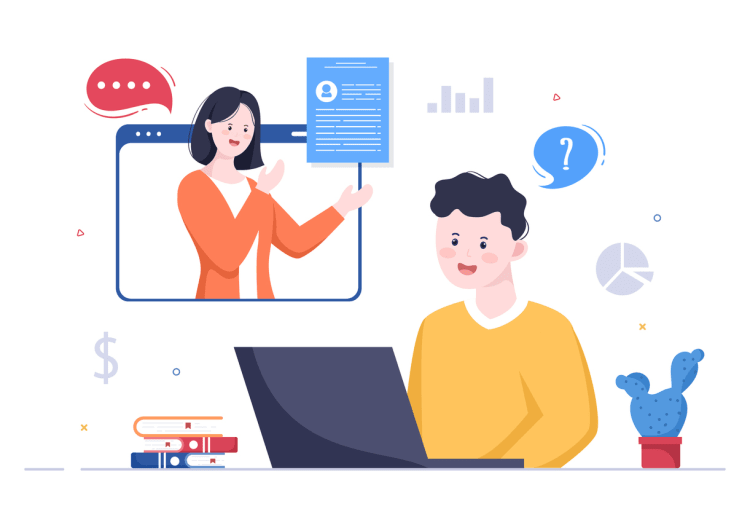 Ideas for video interview questions
Whether face-to-face or via videoconference, asking the right questions during an interview is vital to making sure you are hiring the best candidate for your team. Not only do you want to ensure that they have the right skills and experience for the position you need to fill, but you also want to be sure that they will fit with your work culture.
Some examples of effective questions for hiring remote workers include:
Have you ever worked remotely, and if so, what remote working tools do you have experience with?
Why do you want to work remotely?
What are the biggest challenges you think you'll encounter with remote work, and do you have any plans to deal with them?
Have you ever worked with a distributed team, i.e., a team that is spread across several time zones? What did you think of the experience?
Do you prefer a fully remote workspace, a hybrid model, or a traditional physical office space?
Where would you rate yourself in terms of tech skills? Do you learn new software quickly, and how good are you at troubleshooting tech problems?
How do you stay focused on your tasks when you aren't working in a traditional office and are given multiple tasks at once?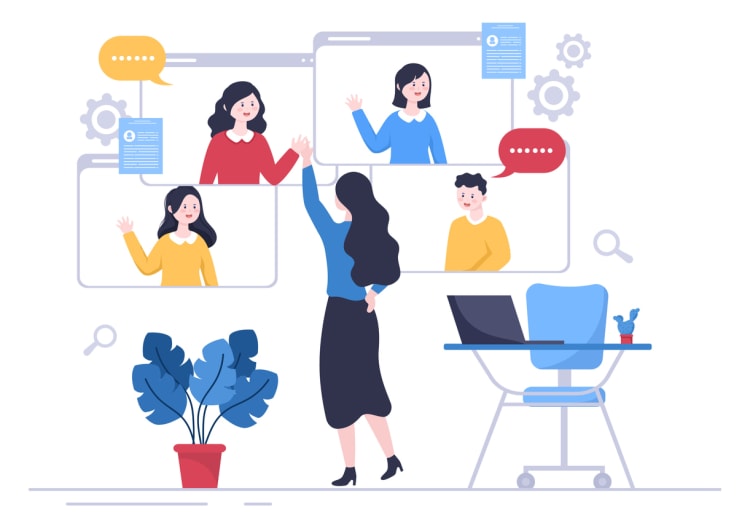 Get started with hiring remote workers now
It can be intimidating to hire your first remote employees, especially if they are in a whole other country and not just a different state. Of course, there are challenges you will face with managing a remote team if you've never done it before. Not just from an everyday perspective but from a legal perspective as well.
But with the right tools at your fingertips and a little bit of research under your belt, getting started is easy and manageable. And once you've started to enjoy the many benefits that come with a remote business, you'll wonder what took you so long to get here in the first place!
FAQs on Hiring Remote Employees
Hiring remote employees in another state is totally doable once you've done the proper research. You'll want to have an HR person or outside firm handle the various legalities, like payroll tax and minimum wage, that differ by state. Once you have the details ironed out, you'll benefit from a much larger talent pool.
A virtual interview is quite simple to conduct and eliminates the commute cost and additional resources needed for in-person interviews. For the most successful virtual interview, make sure you have adequate technology and strong Wi-Fi. Also, keep in mind what your facial expressions and body language convey.
The following are multi-part questions that assess a potential hire's adaptability, experience, and overall outlook on remote work.
Why do you want to work remotely? If challenges associated with remote work arise, how will you solve them? What skills do you think are required to be a successful remote worker?
Have you ever worked with a distributed team, i.e., a team that is spread across several time zones? What did you think of the experience?
How do you handle having multiple tasks at once and stay focused when you aren't working in a traditional office?