Managing a hybrid team? Heading a remote gig? If so, then you know that working remotely can be even more difficult than making the commute every day.
If you want to run a remote company — the right way — the key is to ensure that your team stays connected — and not just through video calls. Using a virtual office collaboration tool such as Kumospace can help you find a platform where your team can connect, whether that be for an important meeting or a fun companywide game night.
But while picking the perfect online video platform is important, it's not the only step you can take to become a better manager. Here are seven tips you can implement that will truly help you earn the "World's Best Boss" mug that's sitting on your desk right now.
Running a Hybrid or Remote Company: What You Should Know
Remote work is a popular look for companies right now. After all, a remote team doesn't just save your organization money and help you recruit top talent from around the globe. It can also make your team work more efficiently.
If you're doing things right, that is.
Here are our seven tips to help you become the best manager of a remote or hybrid company.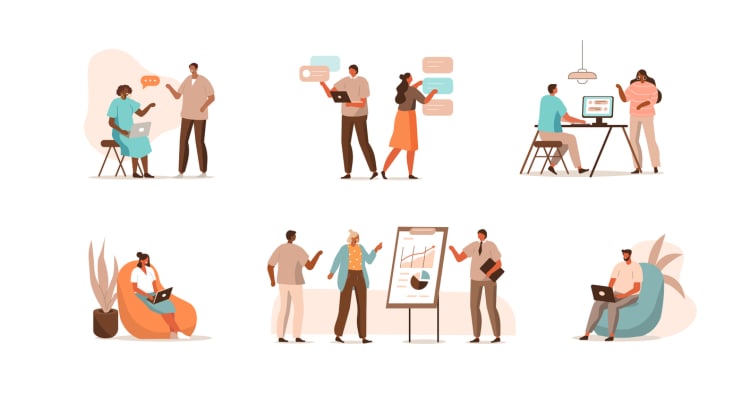 Manager's Guide to Running a Remote Company
Step 1: Workplace basics — plans, policies, and rules
Whether your business is fully remote or not, it's important to provide your team with any collaboration tools they need for their jobs. One of the best ways to do this is to create a detailed onboarding plan that includes the following:
Team Communication Strategies

Software and Tools

Benefits Policies

Company Rules
Let's take a closer look at each of these components.
Team Communication Strategies — How will you and your remote employees communicate with each other? There are plenty of options to choose from, including:
Email (Gmail, Microsoft, etc.)

Messaging (Slack, Microsoft Teams, G-Chat)

Virtual offices (Kumospace)
Maybe you'll figure out your own communication methods. Regardless of what you use, make sure that your communication channels offer clear lines to all your team members. In-office teams have the luxury of seeing each other face-to-face throughout the week — your hybrid or remote employees won't have the same unless you find an effective communication channel and reach out to one another often.
Software and Tools — There are many resources for companies, but it's important to tailor software and tools to each department. For example, your marketing department may need video editing tools like Final Cut Pro, iMovie, or Adobe Premiere. Your sales team likely won't need those tools. Instead, they'll probably want something like the Sales Navigator upgrades on LinkedIn. And your project managers would probably benefit from tools like Microsoft Project, Asana, or Trello.
Give your employees access to high-quality collaboration tools that will help them do their jobs efficiently, and your entire company will benefit as a result.
Benefits Policies — Work-life integration is of utmost importance, and a great benefits package will do a lot to help you attract quality talent for your team. You may want to include benefits such as:
Insurance

Retirements plans

Work-from-home stipends

Wellness stipends

Paid time off

Sick leave

Maternal and paternal leave

Flexible work schedules
Talk to your team or step into their shoes to learn more about what types of benefits they value and which ones will foster personal and work-related success.
Company Rules — Every company needs rules to ensure employees understand what you expect from them. For example, what timeframe does your company operate on? If you have several remote teams operating globally, you'll need to choose whether to implement flexible working hours or a more set schedule.
It's important to create a document that contains legal guidelines and security compliances that apply to your employees. You should also inform your team about confidential information that should be kept within the company.
Once you've established your plans, policies, and rules, growing your business and attracting talent will be much easier.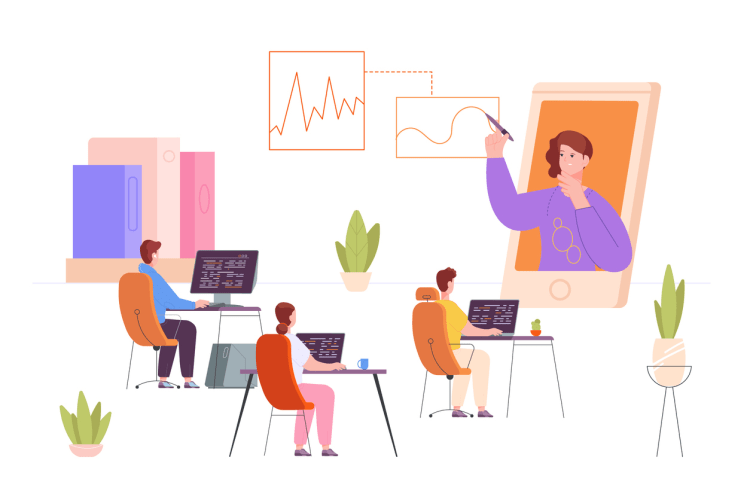 Step 2: Have a goal-setter, go-getter mentality
Next, it's time to create a company mission statement that formally acknowledges your goals. Write down your vision for the group and state your goals and how you can achieve them. Share this with your team, and you'll all be able to envision your end goal and work together to achieve it.
Your remote team will benefit from having clear directions and guidelines, and a company-wide mission statement will allow each department to set specialized goals that align with your overall vision. Need some help articulating your team's goals? You can always host a virtual company offsite!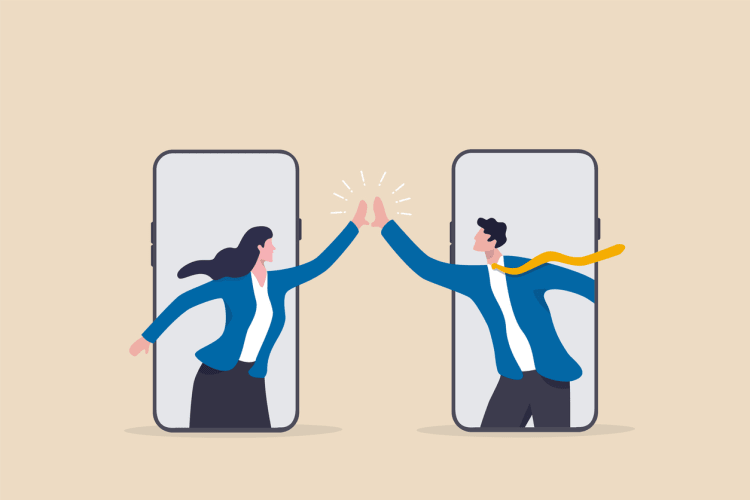 Step 3: Hiring and inspiring remote workers
Hiring the right candidates is critical to your business's success, and when you're a remote business, candidate hire often occurs virtually. While this may make the onboarding process look a bit different from traditional hiring practices, it also means that your candidate pool is massive.
Instead of focusing your search on nearby locales, you can search the world to find the perfect person for your team.
To begin, list the required roles and skills associated with the job to help you narrow down the right candidate. Indeed recommends the following for remote candidates:
Proactive communicator

Able to work independently

Proficient with computers

Collaborative

Reliable

Organized
Once you've found the best person for the job, it's important to inspire them and create a person-to-person connection. Let them know that they're not alone, even though they're working remotely. One way to do this is to create a remote workplace community that helps everyone feel valued and cared for. Let your employees know that you advocate for their work-life balance, and you'll see their appreciation return in the form of hard work and diligence.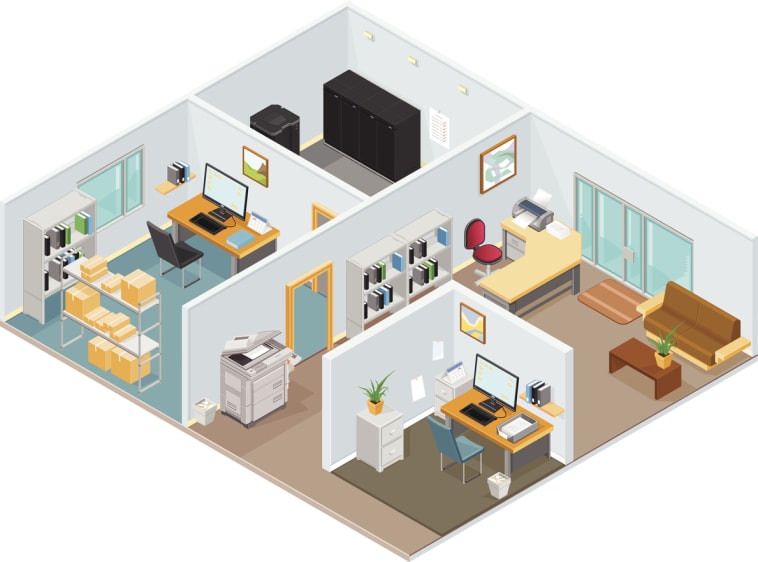 Step 4: Use a virtual office platform to communicate and collaborate
Many remote companies struggle with the virtual aspect of their jobs. Online team meetings can be tiring — especially back-to-back meetings — and being online all day does tend to make people zone out. While working virtually may have been briefly — very briefly — exciting, these days, it just isn't engaging enough.
Innovative virtual offices, like Kumospace, give teams a taste of real-life online. Teammates can walk around and explore the virtual space, stop and chat with co-workers on the way to their office, host meetings in the company conference room, and more — just like in a real office!
The audio range settings are perfect for remote, hybrid, and distributed teams. You can choose to use spatial audio (which only allows users to hear other teammates standing nearby) or full audio (which allows all users to hear the speakers no matter where they are in the Kumospace).
Best of all, the virtual workspaces are easily accessible. There's no need for multiple links — instead, you can host all your team meetings in the same place and with the same URL.
This means that the virtual office platform isn't just ideal for team meetings and remote work; it's also a great place to foster collaboration and connection between your team members. Host a virtual happy hour or a company-wide game night. Decorate your office. Have a virtual lunch date with your work friends. Using a virtual office and event platform, like Kumospace, allows you to do all of this and more.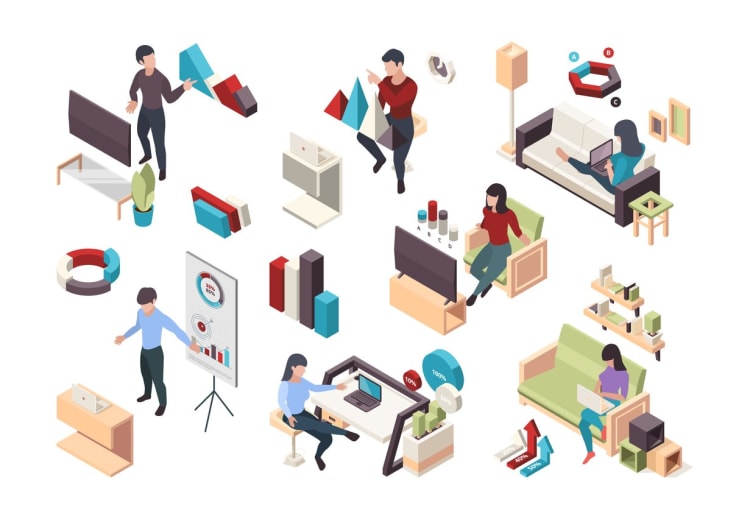 Step 5: Start your company culture from the top
Effective communication and collaboration begin with you. When leaders work to establish a strong company culture, it often results in a trickle-down effect. That means that if leaders consistently show up to their virtual workplaces, teams are more likely to follow their lead.
You can set a great example and provide a safe and engaging workplace by being present in your virtual office and spending time with all your employees. Even if you're not working in a formal remote meeting session, help teams communicate by opening up informal spaces for collaboration to occur. Many employees get overwhelmed by too many scheduled meetings anyway, so keeping some interactions unscheduled is always a plus.
When you use Kumospace, it's easy to meet up with another remote teammate — all you have to do is walk over to their virtual office! This makes it possible for you to create a company culture that makes it easier for your team to collaborate, learn, and grow even though you're working remotely.
Step 6: It's the small things that matter, even virtually
Remote employees often don't get to meet face-to-face, which makes it easy to forget that lots of life takes place offscreen.
Be sure to check in and see how your team members are doing. Ask if they need anything to thrive in their home office. Establish a variety of ways for employees to connect. Be supportive of your team and watch how they give back to the company.
Step 7: Go far and go together
Last but not least, once you've established a great team, work together to reach your company goals. Yes — it's really that simple.
Remote Team FAQs
Some of the best morale boosters for remote workers are also some of the simplest. At Kumospace, you can experience everything from virtual water cooler conversations to company-wide game nights, as well as easily accessible meeting spaces where you can gather your group to collaborate, plan, and achieve.
Remote work may help increase productivity, offer workers more flexibility, normalize the work-life balance, and save you (and your team) time and money.
Zoom fatigue can be a real problem, but it's not the only issue facing remote workers. Working online can also be more isolating, make it more difficult to collaborate and communicate, and may be more inefficient in a distracting environment. That's why it's important to choose the right virtual workspace for your team.
At the minimum, you should have access to a video conferencing platform like Kumospace for video calls, written communications channels (i.e. Discord), a document collaboration tool such as Google Suite, and tools to help track and manage important projects (i.e. Trello).