How Virtual Offices Are Shaping The Future Of Remote Working
As we look into the future of remote work, the phrase "virtual office space" is becoming more common. If you're in a hybrid or remote company and still haven't heard of the term virtual office, get ready to have your mind blown in the best way possible.
The Remote Working Boom
The Covid-19 pandemic started over two years ago. As the disease spread, the world decided to stop all non-essential face to face work. This was the start of working remotely full time. During these two years, companies realized that working remotely is more beneficial than they expected. Employees are able to have a work life balance and still be efficient with their jobs. Even now, when there are no mandates of staying at home, employees are choosing to stay remote.
According to data scientists at Ladder, remote work is here to stay. "Remote opportunities leapt from under 4% of all high paying jobs before the pandemic to about 9% at the end of 2020, and to more than 15% today", said the article. They've predicted that all professional jobs in North America will be 25% remote by the end of 2023.
With this shift in the workplace, employers are trying to find effective ways to stay in touch with their employees, no matter where they are in the world. Although there are video conferencing softwares such as Zoom, Google Meet or Skype, many employers do not find this as a long term solution. Companies need a fun and exciting way to keep employees engaged, rather than allowing teams to feel Zoom fatigue.

A new product that made its way into the virtual world is called a virtual office (or virtual workspace). It's an interactive software product that fills in the gap between working remotely and feeling like you're still part of a physical office.
What is a Virtual Office (Virtual Workspace)
In a physical office, employees are able to walk over to each other's offices to ask a quick question, have brainstorming sessions and get to know their coworkers outside of work. Many remote employees feel a disconnect working from home, when the basics of a physical office doesn't exist.
A virtual office is a technology software that is new to the virtual space and solves the challenges facing hybrid, remote and distributed teams. The term virtual office and virtual workspace is interchangeable, referring to the same tech product. It fosters a virtual work environment where teams are able to build connections with their coworkers, collaborate on projects, and enhance company culture. A virtual workspace allows teams to thrive together no matter where they are in the world by bringing back the normalcy of being in a physical office… virtually.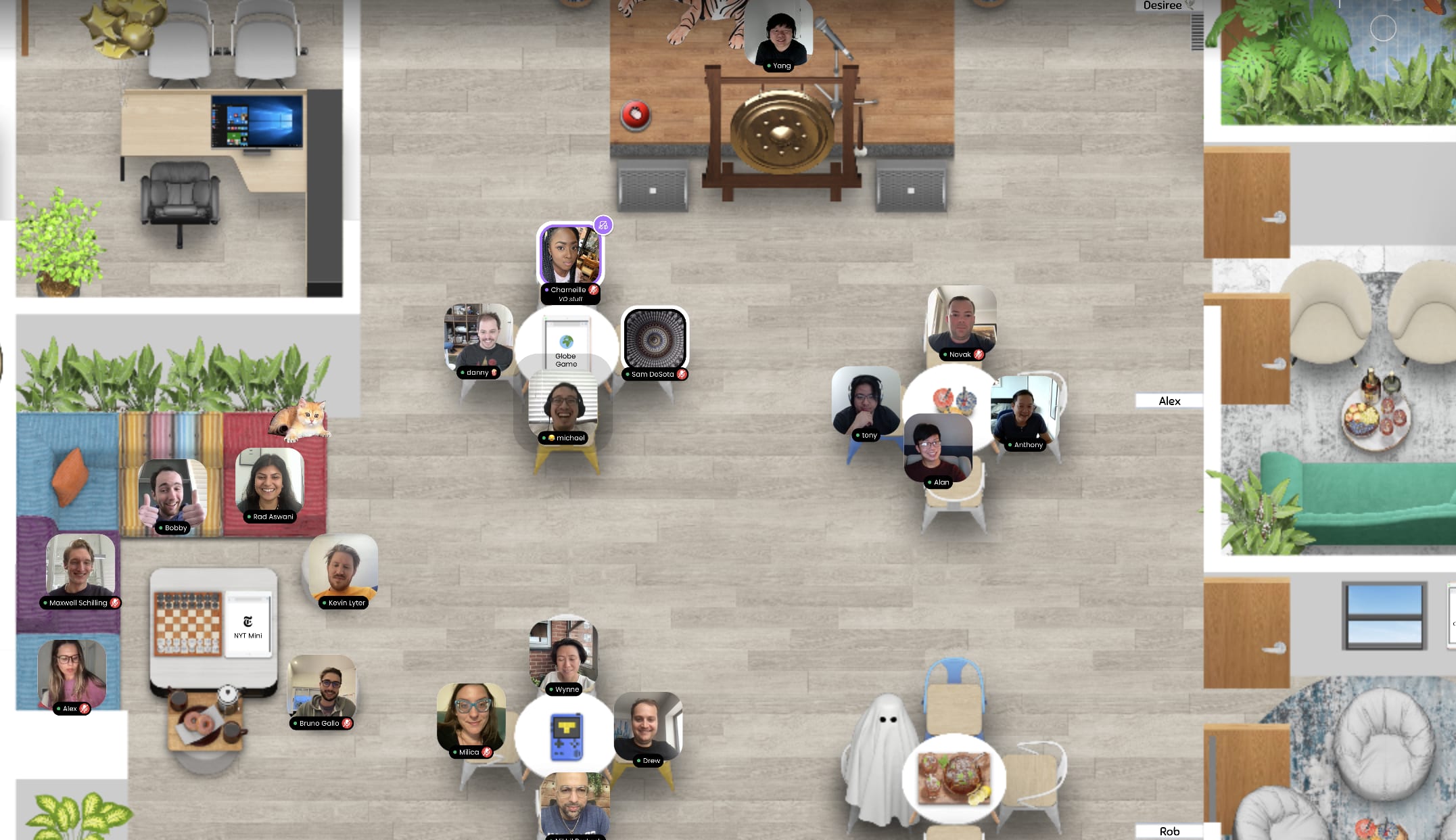 Why Switch to a Virtual Office
Virtual workspaces enhance the day to day life of remote, hybrid and distributed teams. Without virtual offices, many companies struggled with feeling Zoom fatigue, onboarding new employees and building connections while working at home.
Remote workers know how boring it can be to sit in back to back meetings with no time to get your actual tasks done. For many, Zoom fatigue is a real problem, to the point where employees turn their camera's off and multitask on other projects rather than focusing on the topic at hand. This is mainly caused by an unnatural work environment. Humans prefer not to have their faces blown up big on a screen with the need to be camera ready all the time. Once the camera's are shut it's hard to pick up the non-verbal cues, like body language, which makes our brain work overtime to keep up with the conversation.
On the other hand, employees that work in a physical office environment also face day to day struggles. Employees spend hours driving to and from work. With gas prices skyrocketing, a worker's time and money goes into sitting in a car for the majority of the spare time they do have.
Lack of time and money is not where the struggles stop. Individuals are exhausted by the time they get home and struggle with maintaining a work life balance. And to top it all off, some employees have to think twice before requesting time off at all, which causes mental health issues and anxiety.
With a virtual office space, employees receive all the benefits of being in a physical office without the disadvantages of working remotely.
Key Components of Virtual Offices
Virtual workspaces are the perfect fix to all the struggles mentioned above. They bridge the gap between being virtual and in a physical office. A great example of a virtual office space is Kumospace. This interactive platform allows employees to have their own cubicle or office virtually. The videos of employees' faces are not blown up on the screen and rather small squares that are able to walk around in the office space, just as you would in real life. Team mates are able to run into one another on the way to a meeting or in the common area and build real connections. Back to back meetings are no longer needed when you can walk over to your co-workers space and ask a quick question just like you would in real life.
And the best part is, you have the ability to live anywhere in the world and not be tethered to a high cost location. For many people, moving away from larger cities is effectively a pay raise.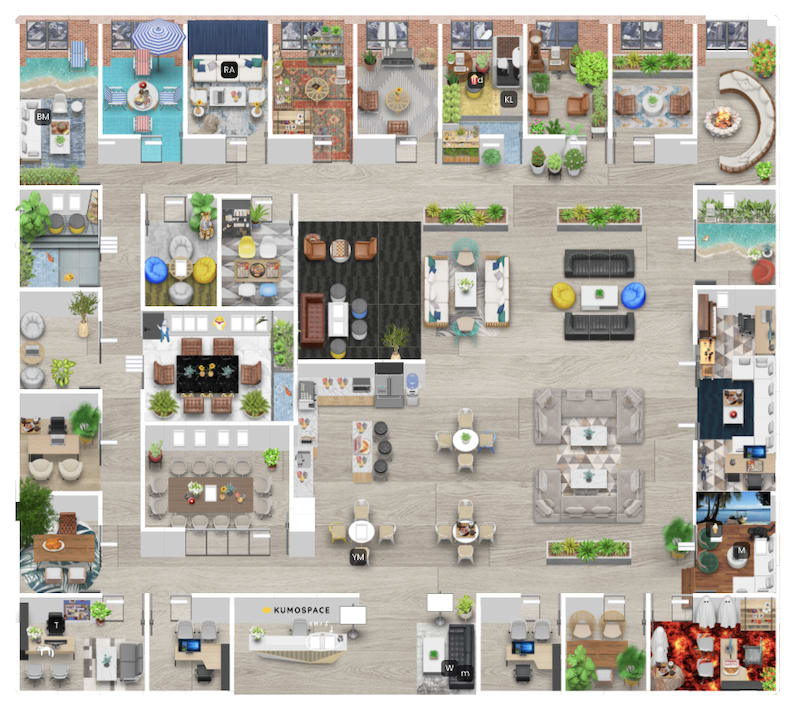 The Benefits of Virtual Offices
While asynchronous tools are useful, having a space where all your employees can communicate in real time is even more beneficial. A virtual office space is the best of both worlds and provides a win-win solution for people everywhere. Companies no longer need to spend money on a physical office location and employees are thrilled to have the flexibility of working at home.
Virtual office benefits are the best kind: simple, easy and efficient. They provide a solution to the struggles faced in remote teams and physical office spaces.
How to Set Up a Virtual Office
Another great virtual office benefit is that it's very easy to set up. Here are some steps to help you set yours up today:
Head to

Kumospace.com

and click the 'Get Your Space' button in the upper right hand corner.
Sign up with your email address, Google or Facebook.
Click the 'Create a Space' button and enter your Space name, URL and What you're using the space for.
Click into the created space and a Welcome template will appear. You have the option to change the template if you click on 'Settings' in the upper right hand corner of the floor.
There is a tab for Offices with two template options (Private Offices or Team Pods) for you to choose from.
Once that's done, all you have to do is click into your new space and enjoy your brand new virtual office.
Pro Tip: to customize your space, check out

this help article.
And there you have it, six easy steps to create your own virtual office space today.