In the past, only big employers could afford video conferencing. Smaller companies lacked the money to deploy expensive equipment and employ technical specialists, so they relied on alternative communication channels like audio conferencing.
However, video conferencing is now more accessible and much more economical. (And occasionally free!) This is primarily due to the continuous growth of Voice over Internet Protocol, or VoIP. Today, video conferencing technology is a potent communication tool, and employees can carry video conferencing equipment in their pockets. Regardless of your organization's size, you can find the best video conferencing devices for your needs.
The Best Video Conferencing Equipment For Businesses 2022
Video conferencing has become necessary for organizations of all shapes and sizes, from managing distant teams to concluding overseas business agreements. Successful companies and organizations will thus need to give their clients and workers a viable solution for high-quality videoconference options, the height of remote or hybrid work, and communications.
No longer are companies required to engage in poor relationships with employees or clients. With noise-canceling audio and HD video streaming, the best video conferencing equipment can revolutionize your business operations by providing a personal touch to your virtual meetings.
Why Is Office Video Conferencing Equipment Important?
Professional video conferencing equipment is no exception to the rule that technology in the office is no longer a luxury but a requirement. These technology products are adopted in meeting rooms, boardrooms, and other conference locations, adding to the versatility of employees and teams. Conference room video conferencing equipment is getting increasingly complex and diverse. Due to COVID-19 restrictions, these systems have become more critical than ever for organizations to keep their employees connected and interact with coworkers, clients, suppliers, and visitors.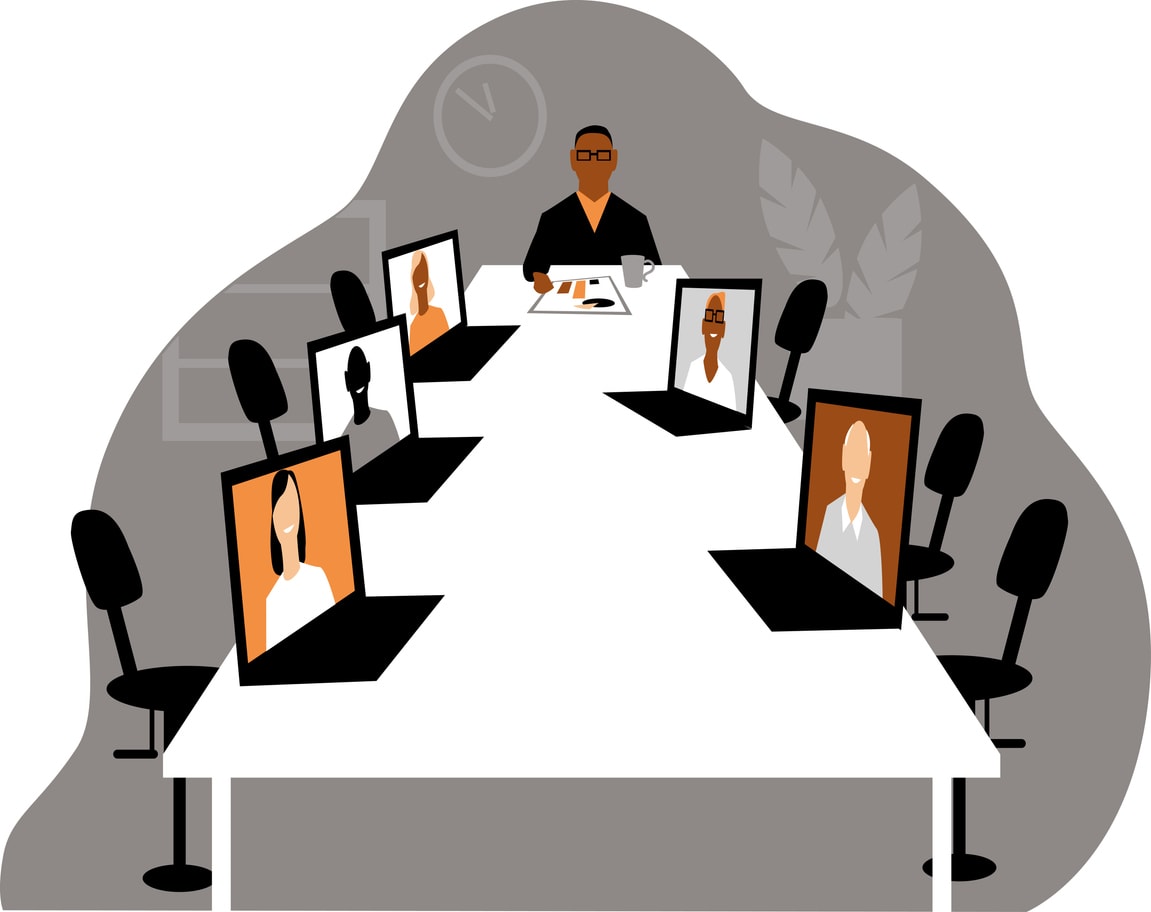 As the pandemic raged worldwide, several businesses were obliged to close their offices and transition to remote employment abruptly. Those who had previously introduced video conferencing flourished, while others battled to catch up and create seamless work processes. For office tasks, the near future remains unpredictable, making it more necessary than ever to possess video conferencing audio equipment capabilities. In addition to enabling remote work, there are other important reasons your organization needs a video conferencing system. Here are the three most notable ones:
1. Seamless Business Communication and Working
Company operations can be affected by various causes, ranging from adverse weather to something as intricate as a worldwide pandemic. Video conferencing helps you to prevent business interruptions of any kind with the least amount of hassle and upgrades. Business continuity is achieved through the use of video conferencing. Even if your CFO is trapped across the nation due to snowfall, your area manager is at home, and the remainder of your team in the local office, work can continue as usual. This technology has genuinely altered the way modern-day companies do business.
Video conferencing enables you to adjust swiftly to any situation, and once it's integrated into your company processes, you'll be able to operate without interruption. Integrating these collaborative office video conferencing equipment into your everyday operations will make your workforce more productive and your company "disaster-proof."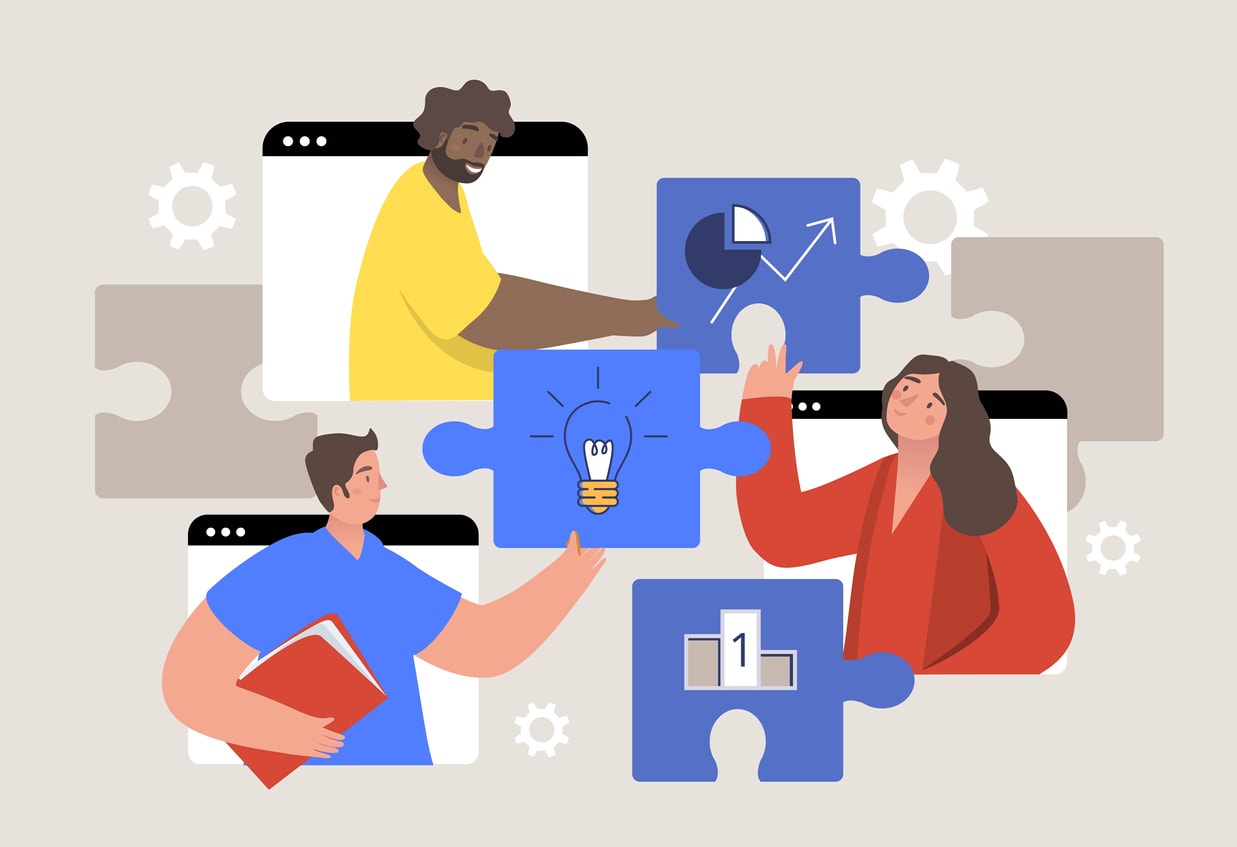 2. Connect Across The Map On A Larger Scale
Video conferencing enables large-scale commercial connections. You can meet with staff in several locations simultaneously and clients in multiple states, countries, or both. Video conferencing rooms can accommodate hundreds of attendees, allowing you to address several departments of your company.
In addition, you can benefit from recording meetings, which can improve the quality of your day-to-day work by allowing clients and staff to view the meetings to reference the information after the call. It's also great for employees that may have missed the meeting.
Expanding your virtual communication can save time and operate your business more efficiently and cost-effectively. You can meet with your whole organization virtually at one time without the hassle of having to find a space to fit all your employees into one room. Virtual conferencing also boosts team morale and peer involvement under scenarios where employees may feel more alienated and disengaged.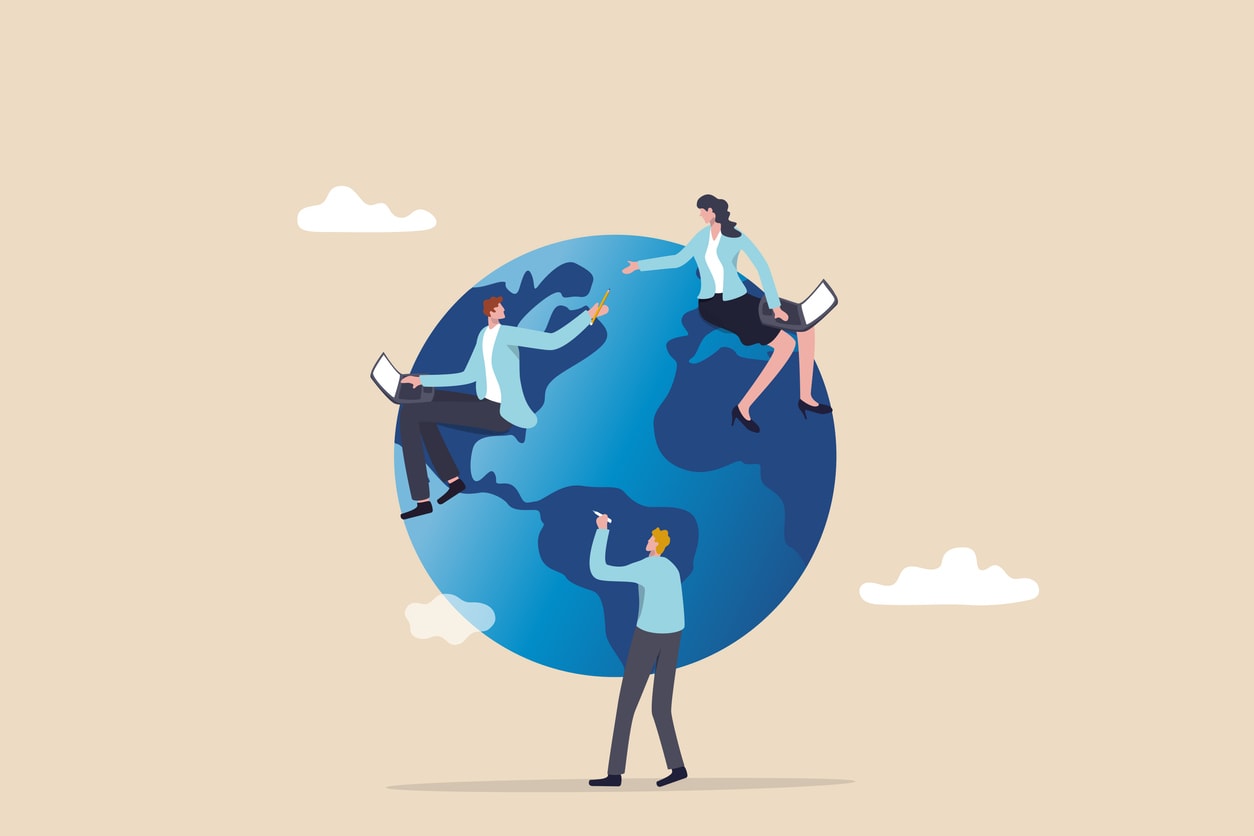 3. Enhance Office-Wide Communications
Video conferencing provides a quick and safe method for your business to interact with its many divisions. As video becomes increasingly important in the workplace, you must emphasize its use for inter-office interactions. Video conferencing provides mobility, flexibility, and enhanced communication overall. You may have remote and on-site employees, be a virtual team or maintain various offices. Regardless of your corporate structure, video conferencing allows you to bring your complete team together via virtual offices, like Kumospace.
Different Types Of Video Conferencing Equipment
Here are a few of the most popular video conferencing equipment:
Display devices- Laptop, desktop monitor, and television display
Cameras and microphones: webcams and built-in microphones, USB microphones, and basic webcams
Speakers- Computer speakers, an external speaker, and a VoIP conferencing phone
Internet Connectivity- WiFi and Ethernet
Video Conferencing Software: tools and applications for video conferencing
Hot desks
Audio gear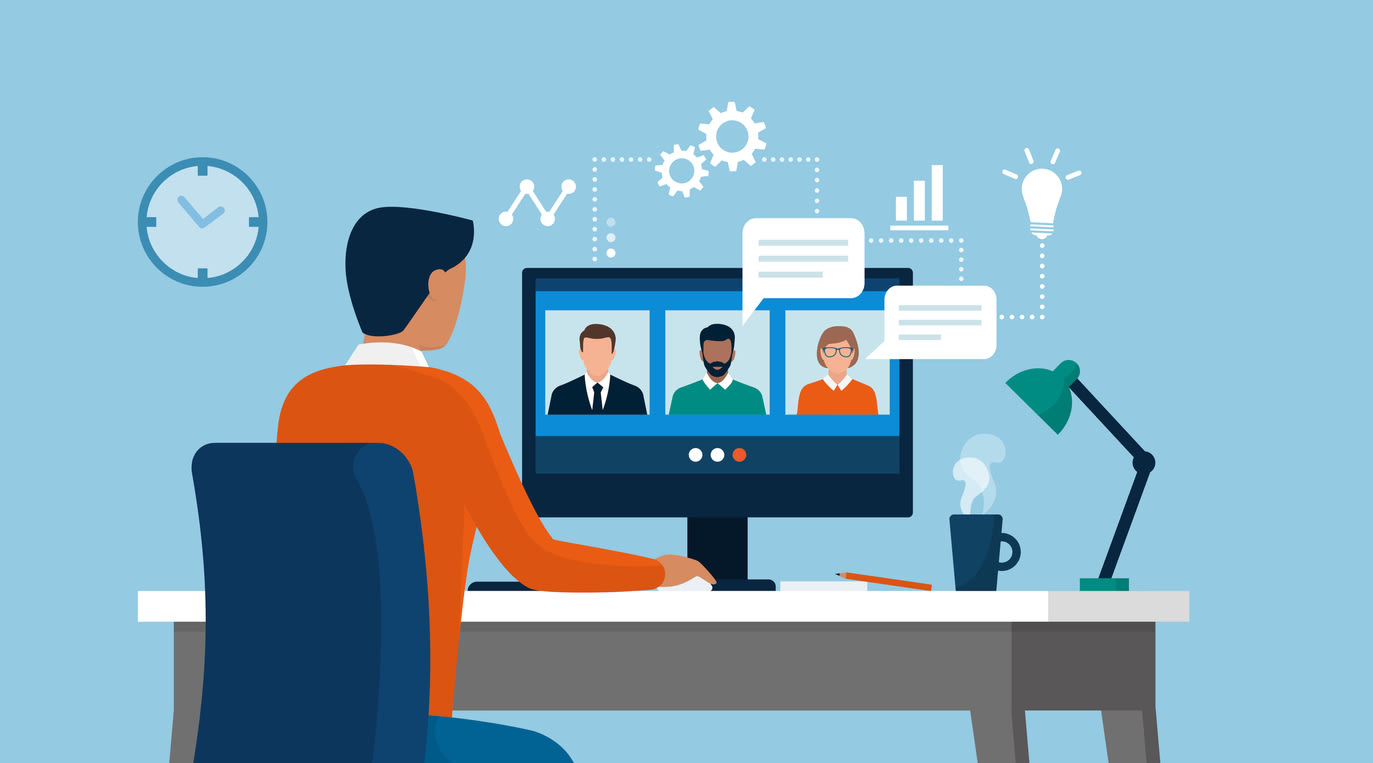 What's The Best Video Conferencing Hardware For Remote Teams?
With the new wave of not going back to the office, more businesses have started being fully remote. To help your team thrive, having great video conferencing tools is essential to assure cross-departmental collaboration and to make sure the whole team is on the same page. Listed below are some of the top cameras, general hardware, and audio devices that employees may utilize for video conferencing when working from home:
Logitech HD Webcam C615
Logitech C920S HD Webcam
Razer Kiyo Webcam
Blue Yeti USB microphone
Google Jamboard
Jabra Speak 510 Wireless Bluetooth Speaker
Zoom LiveTrak L-8 Podcast Digital Mixer and Recorder
ATR2500-USB mic
ATR2100-USB mic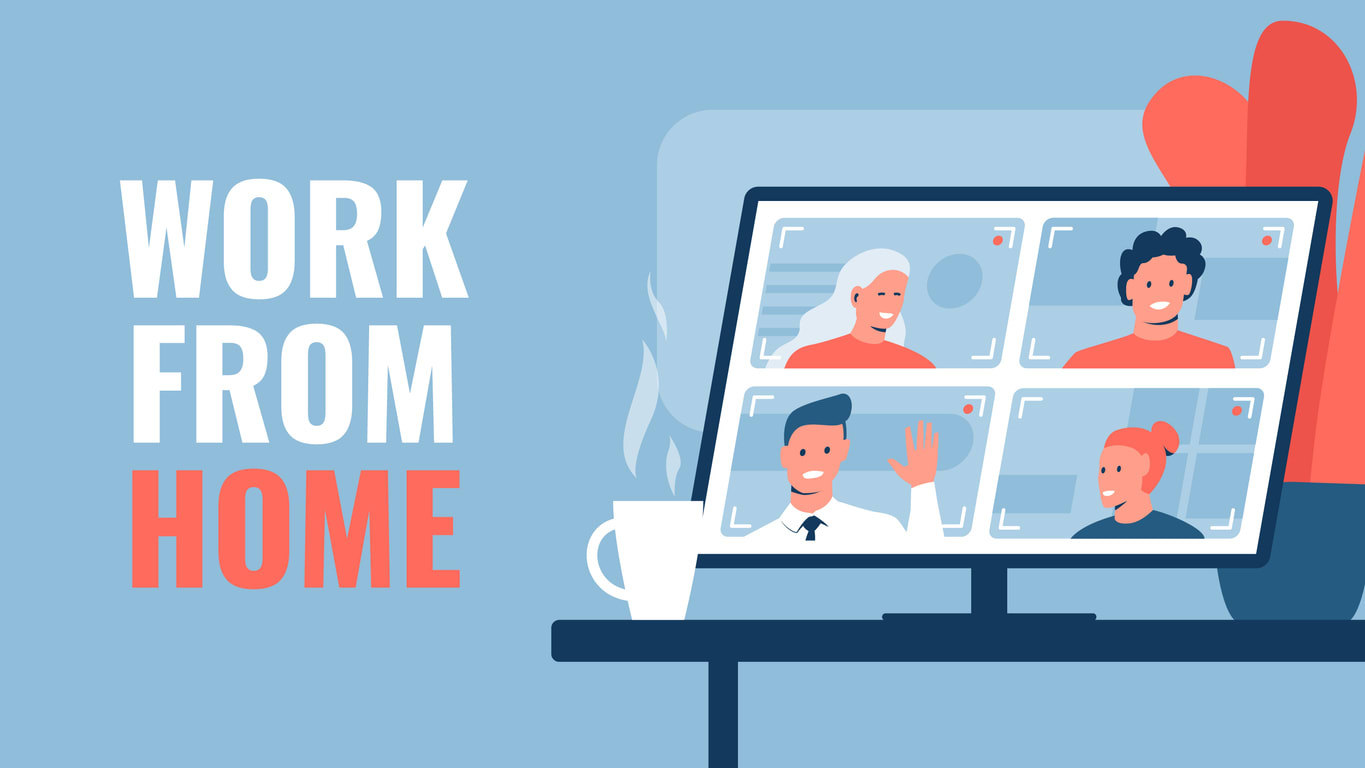 What's The Best Video Conferencing Hardware For Hybrid Teams?
When video chatting with a customer, it is usually not a good idea to rely on the built-in cameras on your laptop. Depending on your choices and the expectations of your clientele or prospects, you will want at least HD video and perhaps even 4K quality.
For those functioning in hybrid workplaces, video conferencing room cameras should be mountable with a fair amount of versatility. Consider changeable perspectives, broad viewing angles, and remote controllers when purchasing modern conference cameras. Also, ensure the appropriate cabling and dongles for a conference room. You would not want to mount and establish everything, to learn you're missing the HDMI cable.)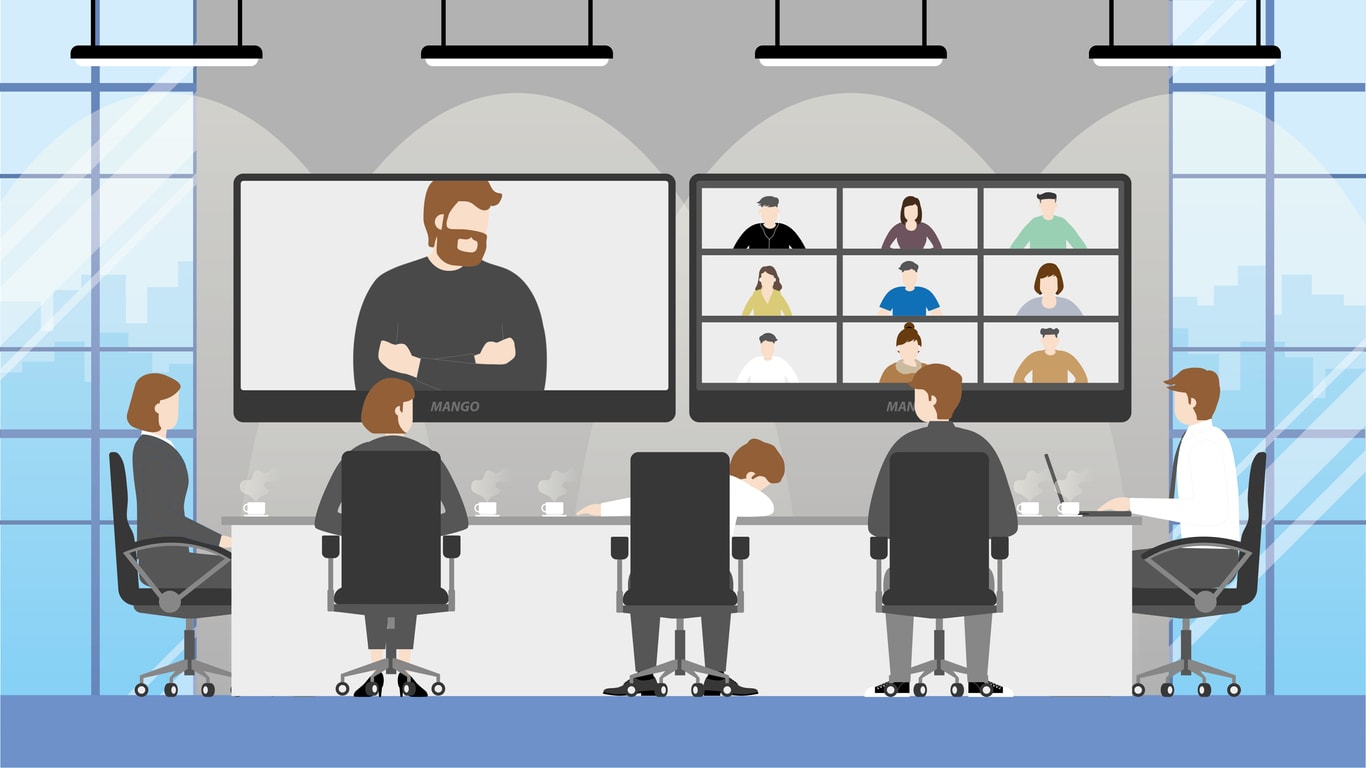 Best Brands And Hardware For Video Conferencing
When choosing video conferencing equipment, there is no universal size, so you can decide what works best for you and your business's needs. Each business must assess the advantages and disadvantages of various brands and product models before determining what will work best for them. Here are a few to help you get an understanding of what to look for:
1. The Studio X30 and X50 by Poly (previously Polycom)
Poly, formerly known as Polycom, is among the world's leading manufacturers of video conferencing technology. In addition, the Studio X30 & X50 cameras are ideal for both huddle rooms and bigger conference rooms. Larger conference rooms and enterprises relying extensively on video conferencing or webinars are ideal candidates for high-performance and adaptable architecture.
2. Poly RealPresence Group 700
The Group 700 series is one of Poly's premium product offerings. The RealPresence Group 700 is designed to deliver enterprise-grade audio video and content sharing with maximum flexibility. This includes synchronous 1080p video with its EagleEye camera and sharing of material. Larger conference rooms and enterprises relying extensively on webinars and video conferencing are ideal candidates for high-performance and adaptable architecture like Poly RealPresence Group 700 and similar hardware.
3. Logitech MeetUp Camera
Logitech Meetup is an easy and aesthetically pleasing conference camera suited for smaller places such as huddle rooms. Don't judge it based on its size! A robust system that provides a high-quality audiovisual experience comes in a compact package. Logitech Meetup's tiny structure is ideal for businesses that need to interconnect small teams spread across multiple locations.
4. Panasonic KX-VC300
The KX-VC300 video conferencing system provides superior point-to-point communication, facilitating the scheduling of meetings from one Panasonic gadget to another. The KX0-VC300 provides two-way stereo communication and an MCU that supports up to four links and offers an intuitive UI and configurable settings. Businesses seeking safe point-to-point video conferencing may find this Panasonic KX-VC300 conference device an excellent option. It is simple to set up and operate. However, it is a basic device without sophisticated functions and settings.
5. AVer VC520 Pro2
AVer is a prominent manufacturer of video conferencing technology. From USB cameras to full-fledged conference webcams and smart whiteboards, they provide a multitude of bundles for corporations and larger businesses: Pro2 is an enterprise-grade videoconferencing system built for medium- to large-sized conference rooms.
If you work as part of a remote or hybrid team, then you already know how vital video conferencing can be for helping team members stay connected. Apart from investing in the best video conferencing hardware and working from efficient virtual office software, like Kumospace, you also need to know how to set up video conferencing equipment. Conduct some research, and discuss your requirements with tech-savvy team members and other tech professionals to ease the process.