When the global pandemic forced more companies to turn to online workplaces, many people wondered if the trend would last. Unsurprisingly to almost anyone who's worked in both settings, virtual workplaces often beat out the traditional workplace model. It's no contest.
That's not to say that taking work online doesn't come with a learning curve. From Zoom fatigue to online oopsies (we know you've Googled "Zoom fails" before), working remotely can take its toll on employees. Especially when it comes to mental health.
Thankfully, technology is adapting, and with tools like Kumospace, working online is getting a little less lonely and much more awesome.
My Virtual Workspace
Before we dive into why exactly virtual workspaces are getting so big, you're probably thinking, "Wait, how do I get my virtual workplace?". Well, wonderful knowledge-seeker, you've come to the right place to find the answers to that question.
First of all, when we say virtual workspace, we're not talking about Zoom or other video conferencing platforms. Your virtual workspace is essentially going to be an office — but online. That means you'll have a place to sit and work as well as access to the tools that you need for your job (that is, if you choose the right platform).
And there are plenty to choose from — including the always-exciting Kumospace, where all you'll need to enjoy the benefits of a stellar online workspace is your virtual workplace employee login and a decent internet connection.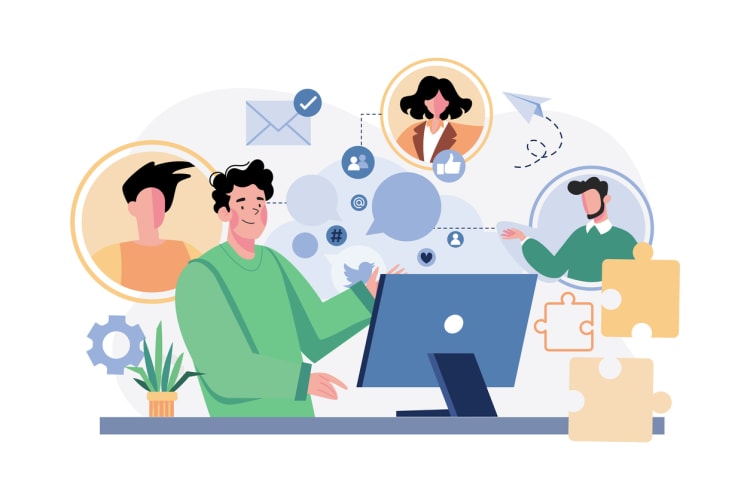 Who Benefits From a Virtual Workspace?
But who exactly stands to gain from working in a virtual workplace? After all, if you're an employee, isn't it easier to struggle through the seemingly endless video conferences and emails until you've hit your quota of hours for the day? If you're a manager, isn't Zoom all you need to effectively lead your team? To those questions, we answer a resounding NO!
Virtual shared workspaces aren't a gimmick or a fad — they're legitimately helpful for all facets of a company. From C-suite execs to small startup teams, working together in a virtual office brings some amazing benefits to the table.
Employees
Collaboration. For both hybrid and remote workers, virtual workplaces provide a common ground to meet and collaborate with teammates. It's almost too easy to start a team-wide brainstorming session, catch up with a colleague over lunch, or share a document with a coworker.
Communication. Virtual workplaces can decrease the need for excessive meetings without harming communication efforts. That's because these spaces provide opportunities for natural, real-time communication without the need for scheduling another Zoom call or sending out another email.
Camaraderie. Perhaps most importantly of all, virtual workspaces introduce a human element into remote work. These spaces mimic the traditional office format, allowing team members to see who's working, meet up in the lunch room on their breaks, or even engage in natural water-cooler conversation during the workday. Some platforms, like Kumospace, take things one step further, providing spaces for fun events like holiday parties, games, and other team-building activities.
No commute. That's right. No need to sit in traffic or fill up your car with paycheck-guzzling gas; when you work remotely, your commute time is non-existent. Not only does this save employees lots of time over the year, but it also means remote workers can choose their work location. Whether you prefer to work at home, in a nearby park, or even across the globe, your virtual workplace can make it possible.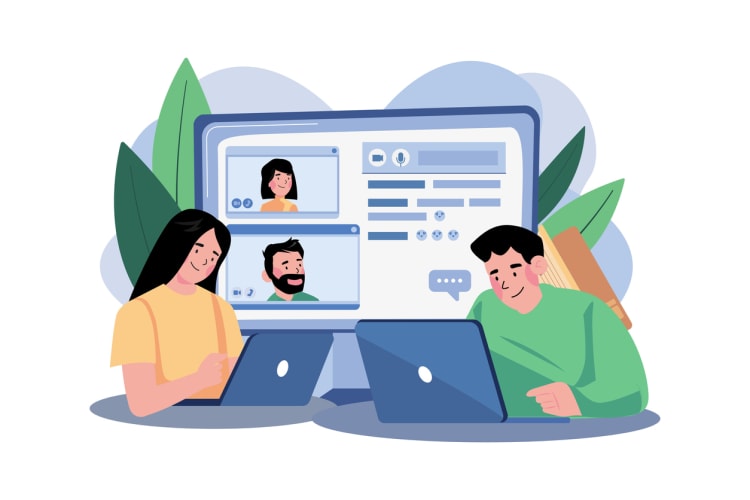 Managers
Visibility. A dedicated virtual workspace makes it easier for managers and team leaders to see who's working on what and when. It's also great for managers who want to check in with their team and provide support as needed without micromanaging.
Efficiency. How do you deliver the guidance and answers your team needs? Excessive Zoom meetings and scheduled phone calls can weary even the most gung-ho remote team, and waiting for a response to your email or Slack message can seriously slow down your project.
A virtual office makes it easy to see who's working and get in touch with them quickly so that you can boost your team's efficiency.
Communication. Being there for your team is important for them and your business. Virtual workspaces make it easier to get in touch with team members — whether that be for a quick chat in the break room or a team-wide meeting — when you need to. Opening up those lines of communication can have a hugely positive effect on collaboration, creativity, time management, and more.
Company culture. When it comes to remote teams, onboarding, upscaling, and managing employees can be difficult. Not to mention there can be a serious lack of connection and camaraderie that happens when you don't see each other in the office every day. Luckily virtual workspaces can fix this by providing a space where your team can create genuine human connections, have fun, and grow together.
Companies
Lower overhead costs. For industries that don't require their employees to be in one central location, virtual office space is a great way to cut back on expenses like rent, utilities, maintenance, and more.
Agility. Virtual workspaces are incredibly agile, allowing companies to easily grow their business. Virtual workspaces are a dynamic and responsive solution for companies seeking to transform their remote or hybrid team into the best they can be.
Accessibility. Accessibility is written into the nature of the online workspace — if you have internet access, you can access your work wherever possible. This can be an invaluable tool for companies and individuals who must be able to easily access information, files, and more. It can save your employees time while providing a safe and secure platform from which to distribute knowledge and data.
Want to learn more about how organizations just like yours are using Kumospace to reach new heights and combat common remote work problems? Check out our customer stories for inspirational and educational stories from real companies that have tried Kumospace and don't ever want to go back.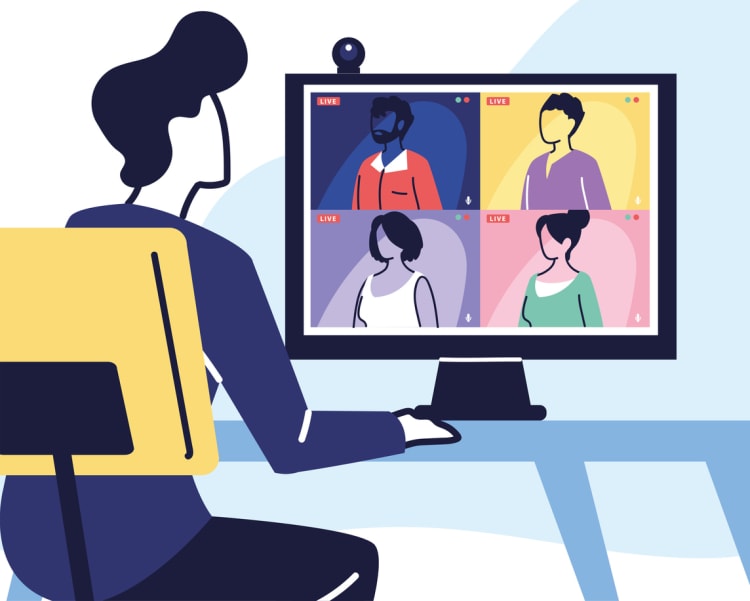 How to Access Your Virtual Workspace
"Okay," you say, "You've convinced me. How do I access my virtual workplace?" We're so glad you asked.
Every virtual workplace is slightly different, though most require registering with them to receive your virtual workplace login. Let's look at Kumospace as an example, where accessing your own online office is as easy as one, two…and that's it.
Register for your Kumospace account. Go to www.kumospace.com come and select "Get Your Space". Register using your email, Google account, or Microsoft account to continue.
Create your profile. Once you've registered your account, create your profile by uploading a profile picture and typing in your name.
Once you've created your profile, you'll have access to all of your spaces. From your profile page, you can also easily upgrade your account, edit your profile, and manage your spaces.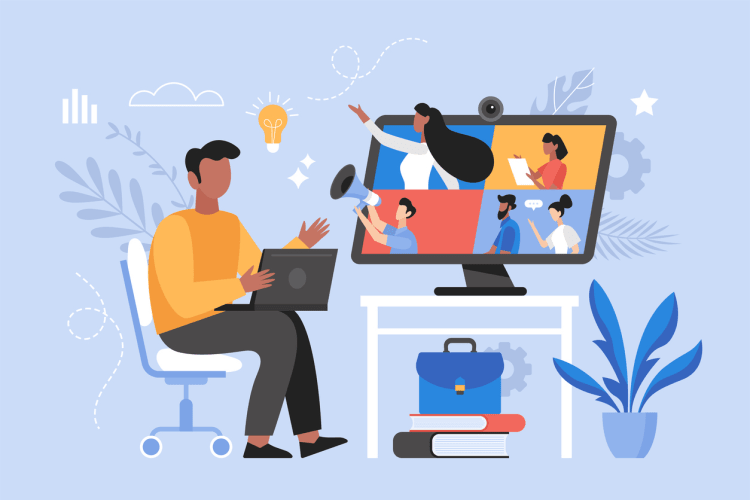 Revolutionize the Way You Work
Whether you're a remote-first company looking for a better way to bring your team together, or a hybrid-team manager that needs more visibility during the workweek, a virtual workplace may be the answer.
Virtual offices are an ideal blend of private spaces and potential meeting spots, giving your team the option to work solo or collaborate as needed. Best of all? Some virtual workspaces like Kumospace offer even more. Here you'll find customizable event solutions perfect for everything from virtual holiday parties to ideas for happy hour.
Ready to be the proud owner of your very own virtual workspace? Jump over to our site for more information about free spaces, paid trails, and more.
FAQs
Virtual offices are amazing, but that doesn't mean they're right for everyone. While cost-effective and convenient, virtual offices can't replace more traditional options if your team needs to be together in person to get the job done.
However, if your team doesn't need to be physically present to collaborate (and you're willing to put in the work to get the most out of your virtual workspace), then an online office might be right for you.
That depends on your workspace. When you use Kumospace, logging into your virtual office is as simple as going to www.kumospace.com and joining a previous space or creating a new one. (Hint: If you want to join someone else's space, you can do this via URL!)
If you want to get the most out of your virtual workspace, you need to invest some time in it. Here are five things you can do to improve your virtual workspace.
Meet one-on-one with your team to get feedback on your space.
Enhance collaboration and camaraderie with team-building events and exercises.
Keep your lines of communication open.
Focus on being productive, not micromanaging.
Encourage a healthy work-life balance.