The video conferencing industry is about to be disrupted — and not because of Zoom's new Immersive View feature.
Spring of 2021 brought us many new and delightful events, such as Meghan and Harry's Oprah Interview, the Bernie Sanders mittens meme, and even a Friends reunion. It also brought us something unexpected and, for some, unasked for.
Zoom's Immersive View launched in the late spring of 2021, offering a new way for Zoom hosts to assemble their group into one cohesive virtual scene. The idea was to create a more immersive space by gathering all the participants into a single scene. Interesting? Yes. Essential? Perhaps not. Polarizing? Of course — let's talk more about this feature below.
Zoom's Immersive View Meeting Feature — The Pros & Cons
Immersive View was Zoom's response to being branded as rigid, unengaging, and a little bit soul-sucking. According to CNET, "The feature, called Immersive View, can place up to 25 participants in one meeting space. Whether it makes you feel more connected to others or not, the sight of groups commingling -- even in virtual form -- is striking."
But does the Zoom Immersive View feature really offer the solution for Zoom fatigue? Can this feature make meetings more pleasant and engaging? To answer that question, we'll have to talk more about what this feature is and how you can use it.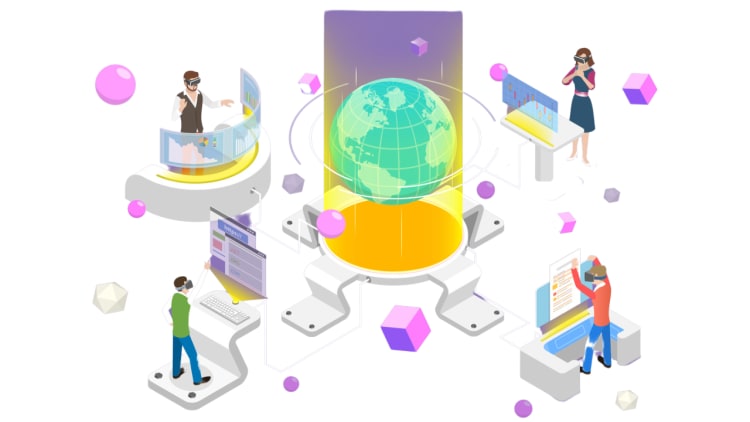 What is Zoom's Immersive View?
According to Zoom, Immersive View allows you to "recreate" the feeling of traditional in-person classes or meetings. It does this by placing video participants (up to 25 of them) into a single virtual scene. So, rather than staring at a screen of gridlocked faces, you're staring at a screen of faces spread out against a single image.
In other words, instead of every participant using a unique virtual background, they're all framed together on the same immersive view scene.
You can use this feature for everything from a webinar (the host and panelists will take center stage, with the audience in the background) to cozy corporate Zoom meetings held around a virtual boardroom table.
How Do You Use Zoom's Immersive View Feature?
Enabling Immersive View in Zoom is easy since this setting is enabled by default on Free and many Pro accounts. If you need to learn how to enable the feature for yourself or a group, check out Zoom Support's instructions here.
Here's how to start Immersive View in Zoom as the host of a meeting:
Click "View" in the top right corner of your screen.

Choose the "Immersive" option.

Select either "Automatically" or "Manually" to determine how Zoom will place all of the meeting participants in your scene.

Pick the scene that you want for the Zoom meeting. Each option offers a different attendee cap for the meeting.

Start the meeting.

Zoom also offers the option of uploading a custom scene to use as your immersive view scene, though this option is limited to manual participant placement. To add a custom scene, choose "Change Immersive View" in the "View" tab, click on the add icon, and upload your image.
Insights on Zoom's Immersive View
Brett Martin, an associate professor at Columbia Business School and the co-founder of Kumospace, has some thoughts about the efficacy of Zoom's Immersive View feature. You might call him an expert in the video conferencing industry — after all, Brett helped build an immersive video conferencing and virtual office platform designed to be an engaging alternative to Zoom!
We've asked Brett to share some of his thoughts on the Immersive View feature.
What are some Zoom Immersive View alternatives?
When looking for a Zoom alternative, there are a few virtual office tool features to focus on. You want software that leverages spatial audio, which will allow multiple conversations to occur simultaneously in the same space — just like they would in real life. This makes it easier for multiple groups to keep their focus, even for longer periods.
Another thing to look out for is immersive virtual environments. Users should be able to explore these and interact with other users and the environment itself. These online spaces can range from simple virtual coffee shops (the perfect place to catch up with your friend) to elaborate virtual escape rooms (the perfect place to catch up with — or abandon — your co-workers during a team-building exercise).
Immersive environments for VR have been in the works for years, of course. The pitfall is that they've always required expensive headsets, making the environments inaccessible to most people. Platforms like Kumospace take away that particular roadblock, enabling you to access an immersive virtual platform right from your browser.
What are the advantages of Zoom's Immersive View?
It may be nice not to have to worry about choosing the right background for your Zoom meeting, but truthfully, there's no advantage to Immersive View. There's nothing immersive about a static picture plastered with a bunch of faces, right? If you want to be better at managing your team, Immersive View in Zoom isn't the magic answer. A nice virtual scene doesn't negate the "Brady Bunch" problem, which occurs when platform users find themselves trapped in a grid of faces with nowhere else to go.
Immersive View just highlights one of Zoom's most notable challenges, which is that it quickly becomes boring for groups. While one person speaks, everyone else just waits, staring at the camera or checking out of the conversation. Zoom's Immersive View feature is a tiny step in the right direction, but the future of remote working lies elsewhere.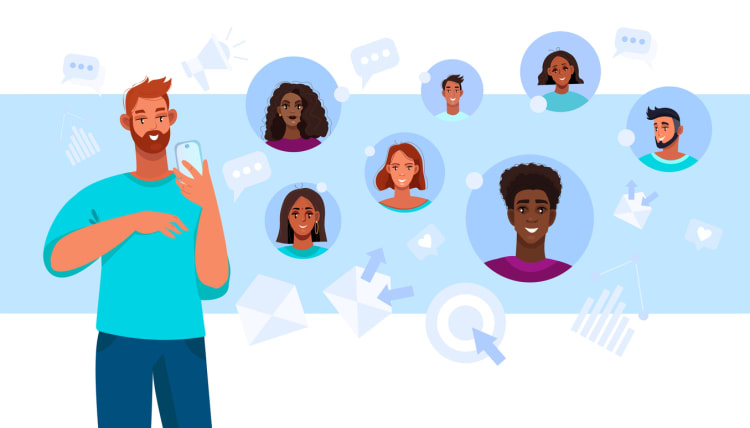 Why is Zoom so boring without immersive qualities?
Unfortunately, Zoom created a product that, at its core, is incredibly rigid and, therefore, can't support all the uses that newer platforms can. This makes it boring, inefficient, and even bad for team morale. To achieve the things that Kumospace is doing, Zoom would have to completely re-design its product.
Customers are sprinting away from Zoom — and luckily, there are plenty of innovation-driven startups standing by with open arms. So, while Zoom is busy re-releasing the same flawed product (albeit with an exciting new face), other companies are actively trying to solve the problem that makes Zoom so boring.
Why won't incumbents like Zoom adapt?
To paraphrase HBS professor Clayton Christensen, Zoom is facing a true Innovator's Dilemma. Here's why.
If Zoom wants to succeed in a future in which video chat is free — one in which customers only pay for innovative virtual goods and experiences — they'll have to stop selling expensive SaaS to their customers. Unfortunately, this is Zoom's core business, and you can bet that changing things would make it more difficult to manage quarterly earnings and Zoom's public stakeholders.
At the same time, if Zoom doesn't make some drastic changes, they're going to go the same way that Kodak did when it made its fated decision to underestimate the market for the digital camera. And — spoiler — that decision didn't end well for Kodak.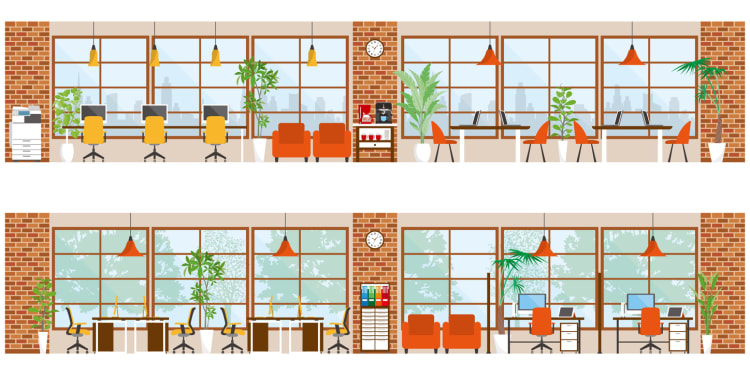 Switch to Virtual Offices.
The video conferencing industry is overdue for disruption, and Zoom's Immersive View feature isn't the answer.
Video chat is a commodity product, and the act of charging for access to it is simply outdated. That's why alternatives, like Kumospace, are free to use. Kumospace provides you with your own virtual reality office space so that you can create an online world that reflects your personality, needs, and goals.
When Kumospace first launched in August 2020, people thought it looked cute. Gamelike. No one took it seriously…until they did. Less than a year later, the monthly usage increased by more than 250 times, with customers using the space for hundreds of thousands of hours of video chat monthly!
These days, Kumospace's online video platform is used by more than 3,000 companies on six continents. Is your company ready to be one of them? Talk to us to learn more about Kumospace, and start your demo today.
Zoom Immersive View FAQs
Zoom's provided scenes can accommodate up to 50+ participants simultaneously, with other options available for larger groups. If you're hosting a large event, you may even opt to skip Zoom altogether.
If your group size exceeds the Immersive View scene, then additional participants will appear above the background in a thumbnail strip. You can also use your custom virtual scene or opt for a different feature, such as Gallery View, if you have a larger meeting. Or why not try a virtual workspace with a little more flexibility?
When automatic placement is selected, Zoom will move meeting participants into the scene as they join the meeting. Choosing a manual will require you to add and remove participants on your own.
Immersive View may not be accessible for all participants, such as those using mobile apps or on a Zoom desktop that doesn't support this feature. If participants can't enable Immersive View, they can still be a part of your Zoom meeting — just not as part of the immersive scene.
Right now, Immersive View only supports local recording. Recordings will only capture the immersive scene. Using Cloud recordings will make recordings appear in either Gallery or Speaker view.
No, Immersive View doesn't require Zoom's Virtual Background feature to be enabled. However, using the Virtual Background feature can make the Immersive View experience more seamless and assist with functionality.