Hosting events in Kumospace is similar to real life — it's best to plan ahead. Here are some tips and best practices to ensure everything runs smoothly at your virtual event.
Before the event
Expected number of guests
Plan ahead for how many people you expect to join your event.
On our free plan, you can host events of up to 30 concurrent participants. If you are planning a larger event, we recommend increasing your Space capacity by signing up for our Professional or Custom plans.
Please refer to our Pricing page for more information about the benefits of going Pro, or book some time to talk with our sales team.
Assign User Roles
If you need help organizing an event in Kumospace, or managing your event, you can assign people to Admin or Floor Manager, which will give them elevated permissions to:
Customize and manage your Floors.
Manage other guests.
Find out more in our help article Assigning Permissions with User Roles.
Kumospace Features
Next, consider the kind of event you're hosting and your guests' experience. Is it a social or work event? Are you streaming with friends or giving a class? Will there be speakers or group performances? like:
Pre-designed templates: Check out our Floor templates, with new templates released with every Kumospace update.
And more: Check out our Solutions page to learn about how other people have used Kumospace.
For ideas on how to make unforgettable events in Kumospace, check out our support section on Customizing Your Kumospace.
Feel free to book a time with our sales team if you need help organizing your event.
Invite your guests
There are a number of ways to invite guests to your Kumospace:
a) While you're in your Space:
Click the Invite button at the top of your screen and the Invite people popup will appear.

Choose whether to invite guests to your Space or to the Floor you're on, by switching between the Share Space and Share Floor tabs.

Invite guests via Facebook, Facebook Messenger, Instagram, Twitter, or Whatsapp, by clicking on their respective icons, or click the Copy URL button to send the invitation link to your guests.
b) You can also invite guests to your space by sending them your unique Kumospace URL directly. Your Kumospace URL looks like this: www.kumospace.com/YourSpaceName.
Invitation resources
Feel free to share the following resources with your invitation, to ensure your guests have a smooth and enjoyable Kumospace experience.
During the event
Manage Guests
Hosts and co-hosts can use the People tab as a useful tool for managing guests. In addition to searching for people, viewing who is in the space, and which room they're in, you can also:
Block and unblock guests.

Mute individual or all guests simultaneously.

Move guests to seats.
Scope out our help article to learn more about Managing Participants.
Manage Floors
Hosts and co-hosts can manage the Floor settings in real-time, during events:
Click the Settings tab, on the right of the bottom control bar.

Switch between the User and Floor tabs at the top of the Settings menu to adjust your:
User settings: These only affect your personal experience in Kumospace, e.g. your Camera and Microphone inputs, and your preferences on Interface and Sound Alerts.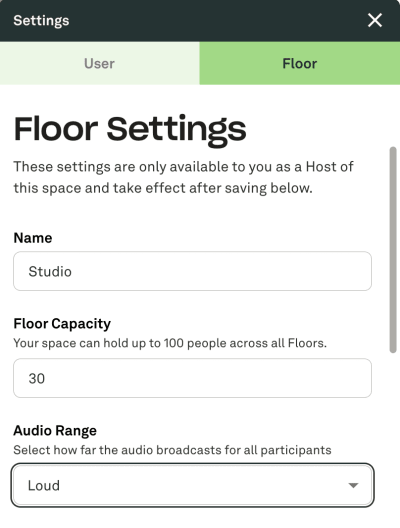 Tick your preferred options to apply.
Floor settings: These are only visible to hosts and co-hosts who can adjust the Spatial Audio Range.
Customize on the fly
Hosts and co-hosts can access the Edit tab, on the bottom right of the screen, to reveal the Customization menu.
Open the Edit tab and you can make changes to your space in real time, during an event - perfect for when you need to add extra chairs. Close the tab to get back to Kumospace.
Kumospace etiquette
Kumospace is built to be social, so be welcoming to all participants. Who knows – you might make some awesome new friends along the way!
Some helpful tips:
Avoid huddling up at the bottom of the screen. Explore the room!
Mingle with the other participants.
Welcome new folks into the conversation.
Feel free to break off into smaller groups.
Say hello and goodbye to your host.
Most importantly,

have fun! 😄