Our YouTube TVs allow you to stream videos and YouTube Lives directly from your Kumospace. Here's a quick guide on setting up a YouTube TV in your Kumospace.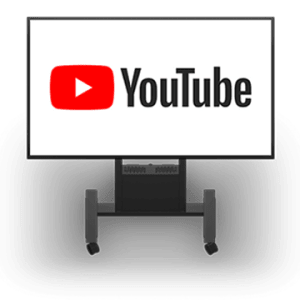 Add a YouTube TV to your Kumospace
To set up a YouTube TV on one of the Floors in your Kumospace:
Open your

Edit

tab in the bottom right corner of your screen.
Click on the

Activities

dropdown where you will see two

YouTube TVs.
Click on your favorite

YouTube TV

to pick it up and drop it into a desired spot on the Floor.
YouTube TV Settings
To add a video to your YouTube TV:
While in edit mode, i.e. while your Edit tab is open, hover your mouse over the YouTube TV, and the Settings button will appear.

Click on it and a pop up will prompt you to add a YouTube URL of your choice.

Copy and paste your chosen YouTube video URL into the provided field and click Save to start watching.
Video Options
Clicking the Settings button on the YouTube TV will allow you to adjust your video options:
Loop: Ticking this box will make your video play over and over.
Autoplay: Selecting this option will make your video play as soon as someone enters the Floor.
Note that currently, this feature is asynchronous, meaning your guests won't necessarily experience the content at exactly the same time.
Audio Range
Clicking the Settings button on the YouTube TV also allows you to set the audio range of your video. Choose one of the following options from the dropdown:
Nearby: If you select this audio range, your guests will be able to hear the YouTube video only if they are in close vicinity of the TV.
Entire Floor: Selecting this audio range will make your video audible to the entire Floor.