Working a remote job offers employees dozens of perks, chiefly the ability to work from any location of choice. That could mean being in close proximity to a sick relative, back in your hometown, or touring thousands of miles across the world. Wherever you choose to travel, we have recommendations for how to work remotely while on the move to make it a successful endeavor.
Does A Remote Job Mean Work From Home?
The term WFH (work from home) was added to many dictionaries following the pandemic. When stay-at-home orders were in place, a remote job typically meant staying put in one single location while working. Now, however, a remote job does not have to mean strictly working from home. Remote workers are free to pursue their wildest wanderlust dreams. Remote work quite literally opens up a world of travel options; it may lead you to the mountains, a bustling city, the beach, a small town, an island, or Antarctica.

There are many ways one can take on an exciting travel opportunity. You may want to travel somewhere new or familiar. You may want to take a solo adventure, gather a group of friends, go with family, or meet a coworker where they live! Trip length will vary from person to person, based on personal preference and what your work schedule allows for. This includes whether your company is fully remote or uses a hybrid model.
Hybrid work
While a remote job gives full flexibility to travel, another popular option exists, hybrid work. It has become increasingly common for jobs to operate following a hybrid model, where employees are generally expected to work from the physical office part of the time and remotely the other times. The specifics of the rigid versus autonomous hybrid schedule will vary by company. Some employers will require hybrid employees to be in the office on specific days of the week, while others will rotate weeks fully in-office or fully remote. And sometimes, it will vary based on the specific project you're tasked with, and the employee can choose. However you slice it, hybrid employees benefit from being able to work from home, a coffee shop, or travel abroad during specific times of the week/year, with some planning ahead involved.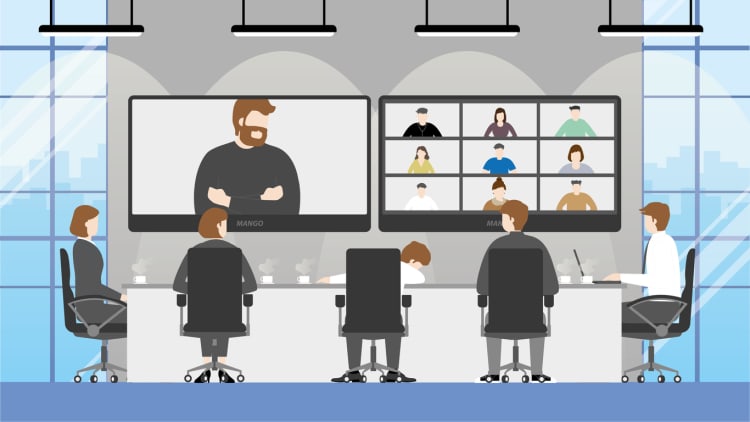 Tools for Remote Workers
A manager of a team comprised of remote workers could find that their employees are spread out across the world. The diversity in culture and thought that accompanies this type of remote team is invaluable. But in order to support such a team's needs, there are a few recommendations to help communication and productivity flow.
Virtual workspace
A virtual workspace, also known as a virtual office, connects coworkers in a way that fosters collaboration and team culture through natural, synchronous communication. Even when employees are physically scattered, a virtual workspace allows for seamlessly building company culture and a sense of community amongst remote coworkers.

Virtual office platforms share many features in common that are designed to facilitate communication and increase productivity. Some virtual office features include spatial audio, office/floor customization, movement, message chats, screen-sharing, video chat, and more. These features are easy to use and contribute to the numerous benefits virtual offices will deliver to your remote team.
The role of asynchronous communication tools
As previously discussed, synchronous communication tools, like virtual offices, are the preferred mode of communication for remote workers. Synchronous tools allow coworkers to mingle and easily share ideas with one another. However, circumstances may arise where it'd be advisable to have asynchronous communication tools available, like email, as a way of communicating.
7 Tips On How To Work Remotely and Travel
Exciting opportunities await those who set out to travel while working remotely, but stepping out of your comfort zone is certainly no small feat. Luckily, we've compiled a list of tips to make it as easy as possible for you to work efficiently while soaking up adventure.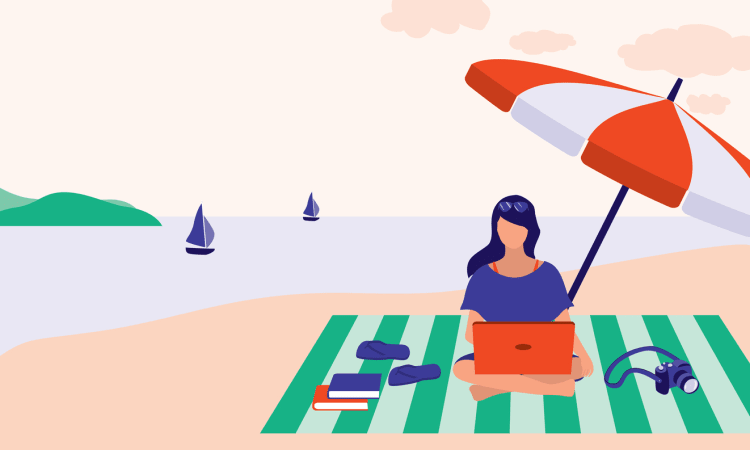 1. Choose an environment that meets your productivity needs
Where you travel matters, and the options are endless. Though, this will look different for each individual. That is why it's important to self-reflect before embarking on your journey and make sure you're planning the right trip for yourself. First, consider if you'll be traveling nationally or internationally. If you're looking to travel in the United States, there are certain states that are best for working remotely.

Once you've selected a location, it's also important to consider where you actually plan on working within that destination. Think about the environment that you need to be able to focus on. Some people prefer the silence that a bedroom offers, some people need to be surrounded by nature, and others thrive off the energy from fellow workers at a coffee shop. Choosing a destination that suits you will help set you up for success while working remotely.

Also, certain companies may be more particular about your video conference background, attire, and lighting. Plan ahead to ensure that you'll be able to set up your workstation in an environment conducive to how you like to work.
2. Pack equipment and technology
While packing your suitcase, set aside time to pack a bag of work equipment. To set yourself up for success, ensure you have everything you need to set up your workstation. We've jotted down some items that you'll likely need to bring:
Computer (and possibly a monitor)
Chargers
Converter/adapter
Webcam

for video conferencing
Headphone set (with built-in mic)
Notebook and pens
Planner
Professional attire, if needed
Any other job-specific items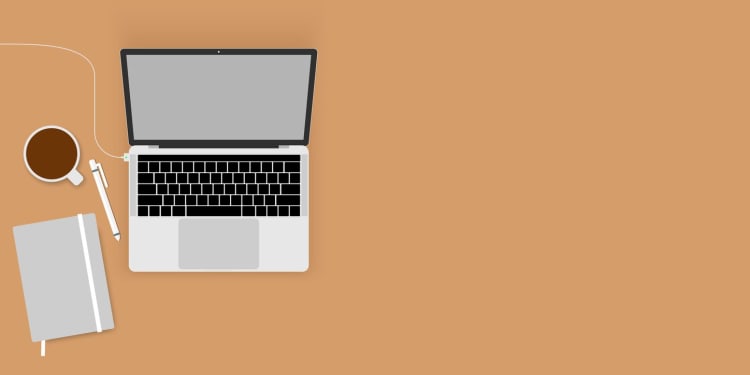 3. Check WiFi speed
While traveling abroad, WiFi availability and speed can fluctuate. Make sure that the WiFi where you'll be traveling is sufficient for your work needs and that you'll have enough bandwidth. You want to avoid landing somewhere only to find out there's no WiFi. So, call your place of stay or a local coffee shop in advance to ask for the necessary information. Once you find WiFi, make sure that you are using a reliable and secure network. If you find out that the WiFi available will not be suitable for whatever reason, don't fret. Speak with your manager to inquire about hotspot usage and alternative solutions.
4. Company security policy
It is extremely important to check your company's security policy on travel to specific locations, even nationally. Tax laws, licensing, and security threats vary by location, and you'll need to make sure your travel plans are in accordance with company rules. Even once you've reread the policies, it's a good idea to double-check with a manager about your plans and ensure that your access to internal and external company sites will remain unaffected.
5. Communicate with the team and manager
As stated above, communication is key. By communicating with both your manager and team in advance of your travel plans, they can best support your needs. Make sure your communication is effective by staying organized and clear. You should tell your team the times you'll be flying (and most likely unreachable), the dates of your travel, and what hours you plan to work. This information should be stated in writing and directed to your manager and team using a synchronous communication tool. It's possible that you encounter a flight delay or a sudden change in plans, and you'll want team members by your side to help out. And they may even have some helpful travel tips for you!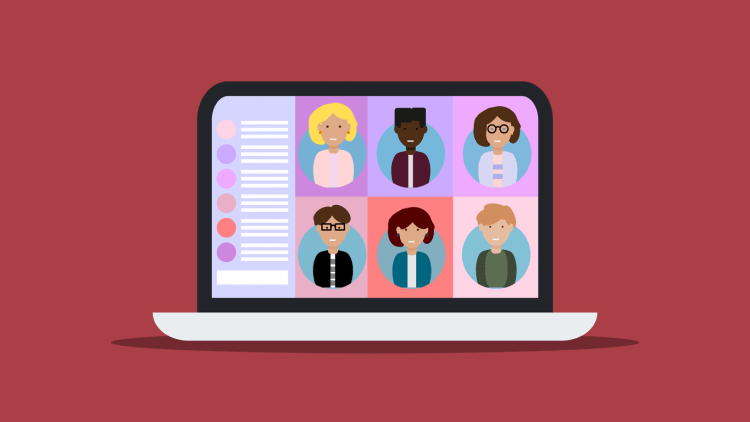 6. Timezone differences
When choosing a travel destination, consider timezone differences. Thankfully jet lag only takes a few days to go away. But your teammates should have a good sense of when you'll likely log on to work in the morning and sign off in the evening. Depending on where you travel and your work schedule flexibility, you may have to wake up a bit earlier or stay up later than you normally would. By communicating with your team, you can figure out a schedule that works well for everyone.
7. Plan workload and travel schedule
Before you set out on your journey, think about your itinerary. Allocate time to both be a tourist and to have uninterrupted blocks of time for work. If you're traveling to multiple locations during one trip, consider whether the time you'll spend on transportation will be work time or better saved for the weekend. With some advanced planning, it's very possible to explore a new place wholeheartedly and also work productively.
Jobs You Can Do Remotely While Traveling
Traveling while working remotely sounds awesome, right? If you're interested in finding out which jobs are likely to be fully remote or remote-first, you're in the right place. We've broken it down by industry and specific roles to examine which jobs you can do remotely while traveling.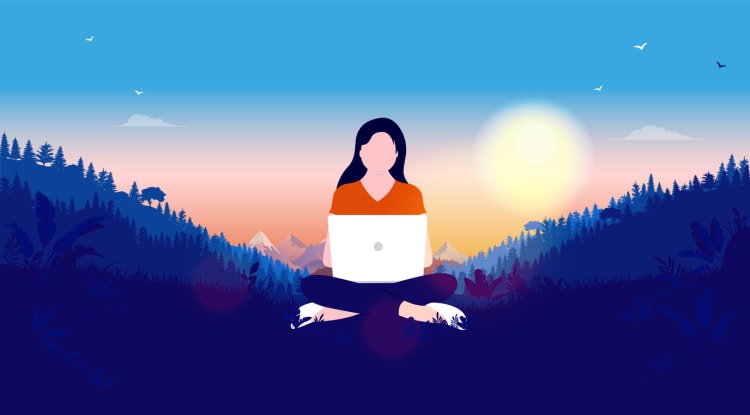 Business jobs
With technology advancements and new work trends, a multitude of business jobs can be done remotely. Whether your background falls more in a quantitative field or you're a strategic thinker, there's likely a remote business job opportunity fitting for you. Some examples include:
Accountant
Consultant
Marketer
Project Manager
Graphic Designer
Entrepreneur
Tech jobs
Nowadays, many tech jobs can be done fully remotely. As long as you have the proper equipment, paired with the necessary skills, you can search for remote tech jobs. Try searching for tech positions in startups for the best chance of finding a remote role! Some remote tech jobs include:
Programmer
SEO Specialist
UX Designer
Systems Administrator
Security Engineer
Creative work
To all the creative souls out there, you're in luck! Take your talent with you anywhere you go as you seek a remote creative career. Many creative workers rely on travel and meeting new people to spark inspiration. Some remote creative roles are:
Artist
Musician
Content creator
Creative consultant
Decorator
Independent work
A huge bonus of working for yourself is being able to set your own schedule, including the destination of work. While some independent work may have specific hubs around the world, it's up to you to determine where and when to travel. For example, an independent filmmaker may write screenplays while traveling abroad and then return to a set to film. There are countless types of independent work, but some include:
Blogger
Tutor
Podcaster
Freelance writer
Historian
Online fitness instructor
With so many options to explore, traveling while working remotely is more doable now than ever before. By going through the tips and tricks here, you should be all set to work remotely and travel the world. Adventure awaits!
FAQs about working remotely while traveling:
Remote work offers many benefits to employees. One main benefit of working remotely is the ability to work from anywhere, whether that be from home or a destination abroad.
Working remotely while traveling is very doable. It is important to have a checklist of the work equipment you'll need and to be aware of various travel considerations like timezone changes and internet connection. Also, continuous communication with your team and manager is crucial. Once you've done these things, you should be all set for your journey!
Many jobs nowadays allow for traveling while working remotely. Industries, where you'll be able to find remote positions, include business, technology, creative roles, and independent work. It is likely that your travel experiences will even help in your career!