Are you looking for the greatest ideas for a virtual holiday party this year so you can make it special for your remote team? You are in the right place.
When done properly, a virtual holiday party can provide just as much fun and camaraderie as an in-person celebration.
Check out the best suggestions we've compiled for a virtual holiday party. In addition, we'll review everything you need to know to ensure your party runs well and has your staff raving for weeks.
Let's begin by defining what these virtual parties actually are.
A Virtual Holiday Party: What Is It?
The business holiday party at the end of the year is fun because you can have a wonderful time with coworkers while enjoying some beverages, playing games, and winning prizes. All of these festivities are also achievable by way of a virtual party. Even better, workers don't even have to leave their homes! There's no need to stress about arranging a designated driver or locating an uber.
Once we break it down for you, you'll see that online holiday parties can be as memorable as an in-person party—possibly even better.
However, compared to a conventional party, there are different moving elements at play. It is crucial to ensure that people are engaged at all times because folks are sitting in a room alone for such virtual events. This entails planning an agenda with contests, gifts, entertaining music, and more. Don't worry; we'll soon simplify everything for you.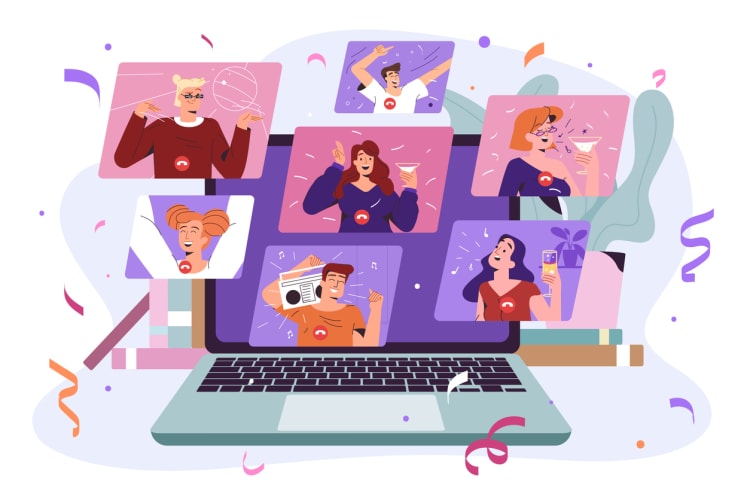 What Makes A Successful Online Holiday Party?
To host your very own virtual holiday party, there are a few things you should double-check before the event. You can rest assured in knowing that you've organized a memorable party by ensuring that all of these boxes are ticked.
The Theme
The theme for your holiday party should be at the center of your planning. Are you going to suggest that people dress up for Halloween? Or wear ugly sweaters for Christmas? As you can undoubtedly guess, your party's theme will typically be determined by the time of year it takes place.
But you can think creatively here. Don't be scared to venture out of the ordinary; this will make your staff happy and eager to tell their friends about your online party!
Your theme may determine the music you play, the activities you organize, the gifts/prizes you give, and the overall schedule of the party, in addition to what guests' attire should be.
The Agenda
The agenda for your virtual party is the most crucial component. Establishing a balance between unstructured socializing time for staff members and organized activities is important.
Most certainly, your remote workers are eager to catch up. Therefore, set out some time for them to casually catch up and talk. But there's a thin line to walk here. You don't want any downtime where your virtual team is merely gathered in and facing a sense of Zoom fatigue.
Icebreakers are a good way to allow all of your remote workers to catch up and even learn new things about one another. You can go around the virtual space and inquire about peoples' holiday plans, enjoyable activities they participated in last year, holiday traditions, etc.
Make sure to plan games in addition to socializing. This is what will maintain interest in your virtual room during your 30-, 60-, or even 90-minute virtual company party. Your games should follow the overall theme. You might even hold competitions for decorating gingerbread houses if it's close to Christmas.
Whatever you decide to do, you'll need to plan the specifics virtually or give each employee the necessary supplies in advance, so they can all take part virtually.
The most challenging yet rewarding aspect of planning your party is coming up with the ideal virtual games, events, or activities for your virtual holiday gathering. Do not worry, though; we will assist you with planning your event through our compilation of online holiday party suggestions.
The Gifts or Party Favors
Everyone enjoys playing games with the prospect of winning a prize. As a result, you must ensure that you have awards planned and vocalized to the staff for the games or activities you have chosen. Another way to incorporate gift-giving into your event is by delivering party favors to every guest before your virtual party takes place.
This can include items like company-branded attire for the virtual party. There are countless options when it comes to branded party favors or swag, such as mugs, journals, bags, and hats.

Ideas For A Remote Workforce's Best Virtual Holiday Parties
This year, any remote business might benefit from these virtual party suggestions. You'll notice that the majority of our suggestions are centered around Christmas because that's when most businesses hold their end-of-year parties, but these ideas can be tailored to suit your company's needs any time of year.
1. Gingerbread House Competition
Cookies and gingerbread houses are the epitome of holiday cheer. And what better way to get the festivities started at your online Christmas party than with a contest to see who can make the best gingerbread house? Beforehand, deliver the gingerbread kits to everyone's homes, leaving enough time for heightened holiday-time shipping delays. When everyone has arrived at your virtual event, and you've broken the ice, set a timer and let the games begin!
This decorating competition concept is excellent because it is really captivating. Everyone will happily work on their masterpiece while chatting with coworkers and listening to upbeat Christmas music on their laptops in the kitchen.
Decide before the game if everyone will vote for winners or if you'll elect designated judges. Once the winners are chosen, they will each get one of the prizes you've offered. After the celebration is over, you may either use the gingerbread house to decorate your home or eat it all right there at the party— no judgment!
2. Scavenger Hunts Online
Anyone can enjoy a good scavenger hunt. Scavenger hunts online are great since you never know what you'll find. This is because attendees will look for stuff in their own houses!
You can give out prizes based on the number of items collected or the uniqueness of the items in your virtual Christmas party, which includes a scavenger hunt. Or, give out rewards for both! Here are some wonderful Christmas-themed products you should consider including on your treasure hunt list:
Holiday pajamas
Christmas-themed ornaments
Ugly sweater for Christmas
Wrapped presents
Holiday cookies
Bell
Scotch tape and/or wrapping paper
Elf on a shelf
Star or tree topper
Lump of coal
Another way to organize a virtual scavenger hunt is by using Kumospace to hide items in rooms and have attendees search around and take screenshots to win prizes.
3. Online Holiday Bingo
Playing online holiday bingo is a fantastic way to spread Christmas cheer and give your loyal staff some tremendous prizes.
There are a ton of unique templates available that you can easily download and use on your own. Alternatively, you could channel your creativity into making a bingo card more tailored to your business and its personnel. In any case, make sure you have enough rewards in case multiple people call bingo simultaneously.
4. Make Your Own Snowflake
One fun remote team-building activity that you can do during the winter season is to have your team members make snowflakes from paper. To start, you can provide each team member with a few sheets of white or blue construction paper, as well as a pair of scissors. You can then give them a brief tutorial on how to fold and cut the paper to create a basic snowflake design. Once they have the hang of it, encourage them to get creative and come up with their own unique snowflake designs.
You can then set up a virtual gallery or even a virtual snowflake parade where team members can share their creations with the rest of the group. This activity not only helps to foster creativity and teamwork, but it also gives team members a chance to relax and have some fun during a busy work day.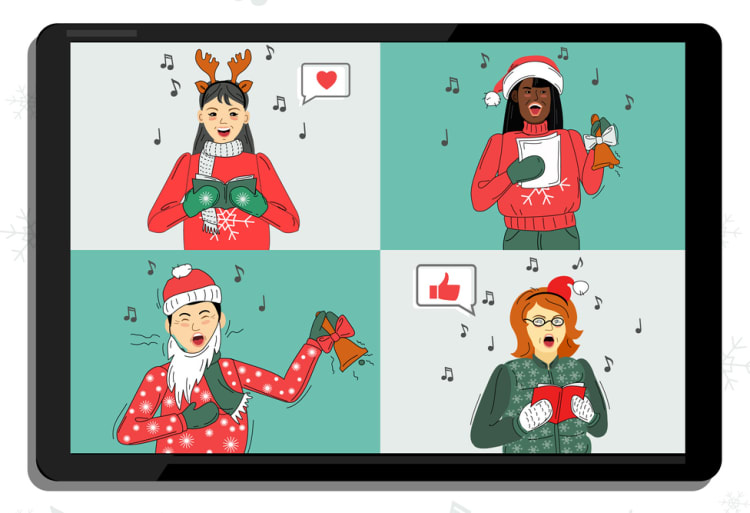 5. Name That Tune
In the traditional party game Name That Tune, players must identify the tune that is playing. You can point this event toward a Christmas soundtrack with a little advance preparation.
To engage in this game:
Use a Christmas playlist from Youtube or make your own for the holidays.
Play a song for between 5 and 10 seconds.
Have players enter the chat by entering "ho ho ho" to guess the music.
A point is awarded to the first person or team to identify the song correctly.
The team with the most points at the end of the game receives rewards or bragging rights.
6. "Never Have I Ever" virtually (Holiday Edition)
If you've ever played the icebreaker game "Never Have I Ever," you are aware of how much fun it can be. Some other versions of the game might need to be kept PG-13 for your company party. However, with a Christmas theme, you may use this as an icebreaker at your own virtual gathering.
7. Virtual Secret Santa (Or White Elephant)
Hosting a virtual Secret Santa is the perfect way to end your online Christmas party. Attendees will need to send their gifts to the recipients in advance so they can open their gifts in front of everyone in the virtual office, which takes a little advance planning.
Here are a few more pointers that can liven up your event and guarantee the success of your virtual Christmas gathering.
8. Santa's Scrumptious Sides
Santa's Scrumptious Sides is a group-building activity for remote teams in which participants work together to create a virtual holiday feast by assigning different dishes to team members and then coming together to share and enjoy the feast over a video call. This activity helps to foster team bonding and communication and can be customized to fit the needs and preferences of the team.
To participate, teams can follow the steps outlined on the GoLocal virtual events website, which include creating a list of dishes, assigning dishes to team members, and holding a virtual holiday feast.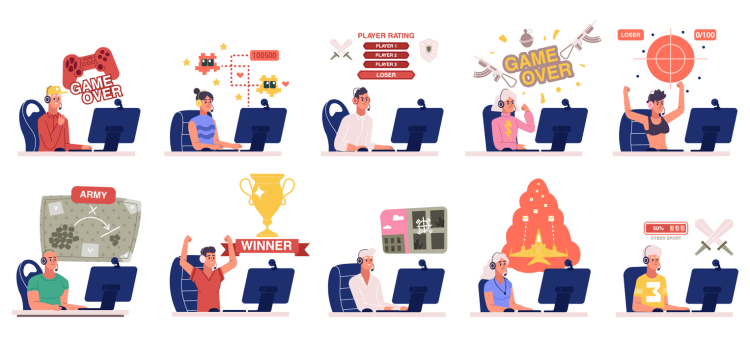 9. Holiday Coworker Feud
Looking for a unique game to play at your upcoming online holiday party? Look no further than Coworker Feud! This entertaining virtual game show activity features a quick lightning round to appeal to the competitive side of your staff. Teams will compete against one another to predict the most common responses to the host's amusing, randomly arranged questions.
This entertaining game uses the format of a traditional game show to celebrate the holidays energetically. Anyone can play it, and it makes a great addition to any virtual holiday party.
10. Tradition or Not?
In the entertaining trivia game Tradition or Not, players must determine whether a given description refers to an actual holiday tradition or a made-up one.
To play, distribute each prompt and ask players to show their hands or indicate in the conversation whether they think it falls under the category of tradition or not.
11. Silent Night Charades
Players take turns acting out prompts based on holiday tales, songs, and customs in this holiday-themed variant of Charades.
To engage in this game:
Form teams with your participants.
One person from each squad is chosen to go first.
Select a nominee, and then use the prompt to send a private message to that person.
No speech or writing is permitted during the player's 60-second performance of the prompt using only their body.
A player's teammates must correctly guess the prompt to get a point.
12. Blizzard: Truth or Dare
Blizzard, Truth or Dare is a multiplayer variation of the popular party game with a Christmas flavor.
Playing Blizzard:
Cameras are turned on at the beginning of a video call for everyone.
One by one, the host reads off the following prompts:
Describe the first-holiday memory you have.
Sing a holiday song.
As Santa Claus, speak for 20 seconds.
Name all of Santa's reindeer.
Answer the question: "What did my true love send to me on the 7th day of Christmas?".
Describe why fruit cake is the best type of cake.
Players have the option to either leave their camera on while being prompted to respond or turn it off to decline. The host selects contestants to perform the challenge with the camera on. Any players who don't complete the challenge are eliminated from the contest and are changed into cheerleaders.
The game can be stopped at any time, although we advise playing at least five or six rounds.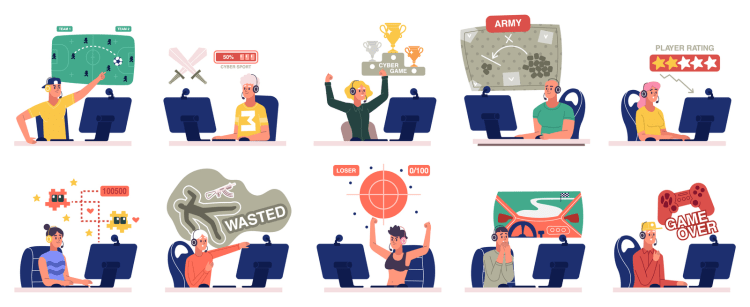 13. Candy Corn or Candy Canes?
Candy Canes or Candy Corn: Which should you keep and which should you destroy forever in this game?
The winner then faces a fresh foe after the decision has been made, whether it was reached unanimously, by majority vote, or in another way. Some examples are Santa Claus, candy canes, gingerbread houses, and more.
Although the game has no clear ending, it can get quite existential. For instance, when Grandma's buttery mashed potatoes are pitted against the future of humanity, the potatoes, of course, tend to prevail time and time again.
14. Undercover Santa Claus
Undercover Santa is a game of trickery, social piety, and seasonal cheer.
To engage in this game, assign the following player roles:
20% of participants as Secret Santa
1 Elf on the Shelf: The host will confirm whether a player who they point to is an Undercover Santa by saying so.
1 Scrooge - Can reject Santa's selection once by muttering "bah humbug" aloud in the middle of the night.
Add two Turtle Doves for parties of ten or more individuals; if one goes down, both fall down.
Other participants are all Carolers.
We advise dividing attendees into several breakout rooms for groups of 15 or more. All participants close their eyes and hum Christmas carols as the presenter recites "'Twas the night before Christmas." The host then sends the following character roles a private message:
One or more undercover Santas must locate a Caroler so they can offer them a gift so amazing that it eliminates them from the contest. The host will either confirm or deny whether Elf on the Shelf correctly identified one player as Undercover Santa.
When the host yells, "ho, ho, ho," all of the participants open their eyes. The presenter then makes known if any players were eliminated that night. The players must agree or cast a vote on who they think the Undercover Santa is. The contestant who receives the most votes is eliminated. When all Undercover Santas have been eliminated, or when there are no longer enough Carolers to eliminate the remaining Santas, the game is done.
This is a fun holiday game for both small and large parties.
15. Giving Back
Be a part of the spirit of the season and spread happiness while having fun. There is no better time to hold a meaningful virtual fundraising event than over the holiday season, so why not combine your celebrations?
Yaymaker and Water Works have teamed up to offer a unique experience that funds water filtration systems in rural Uganda. Your completed creation will be visible on the front of water filtration devices.
16. A Holiday Films Night
This is a movie night with a few potential surprises. Choose one or more movies for the evening, then connect everyone to a tool like Sync-Video or Watch2Gether so they can all watch at once. Make an invitation, pop some popcorn, and start the celebration.
Watch traditional holiday favorites like Frosty the Snowman or Rudolph the Red-Nosed Reindeer on silent for a different spin, and take turns adding your own dialogue. The funnier, the better!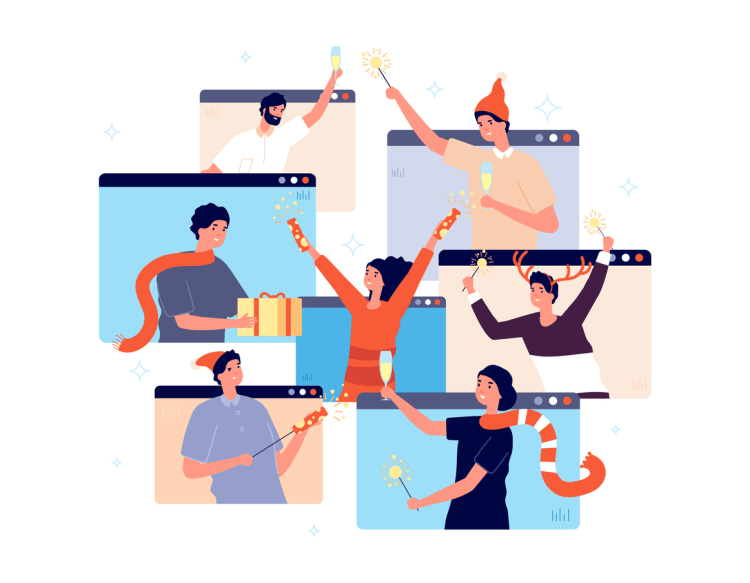 17. Holiday Fashion Show
Set the stage for a fashion show! Get everything ready, including a Spotify playlist! Avant-garde is the theme. Each guest must choose an attire, and the wackier, the better. Include headbands with reindeer ears, ornament earrings, light-up necklaces, and of course, the ugly Christmas sweaters.
It's time to take turns strutting your stuff once you're on the call. Show off your finest Zoolander model mouths and "Vogue" stances as you walk the runway while pretending that it's New York Fashion Week. Don't forget to spin around a bit!
18. Get Cozy with Karaoke
Why not have a karaoke-themed virtual holiday party? Spend the evening singing your heart out! The only requirement is that you get everyone warmed up with festive music.
Using a synchronizing tool, you can access the same karaoke films on YouTube. (This is the best way to handle duets and group songs.)
Pro tip: You should listen to prospective music before the event due to copyright constraints. Before your virtual party, you might even compile a list of safe songs.
Enjoy the evening while you and your coworkers, friends, or family members sing the night away with fun, festive melodies!
19. Santa Kerry and the Funny Grinch
Santa Kerry and the Funny Grinch is a virtual holiday party game for remote teams in which participants work together to help Santa Kerry deliver presents to the Grinch's village before time runs out.
This game helps to foster team bonding and communication and can be customized to fit the needs and preferences of the team. To participate, teams can follow the steps outlined on the GoLocal Virtual Events website, which include setting up the game, dividing into teams, and completing challenges and tasks to earn points. The team with the most points at the end wins.
20. Holiday Hidden Talent Show
This is a holiday hidden talent show, not just any talent show. Everyone will therefore be showcasing unusual or subtle skills that could otherwise go overlooked. Participants will need to dress appropriately and provide odd or practical skills that are related to the season.
Among the options available to participants are lessons on "how to wrap a gift with an unusual shape," "how to carve a roast beast," and "how to hide presents so that no one will discover them, including me." The gathering will be more fun if the talents are more original and hilarious.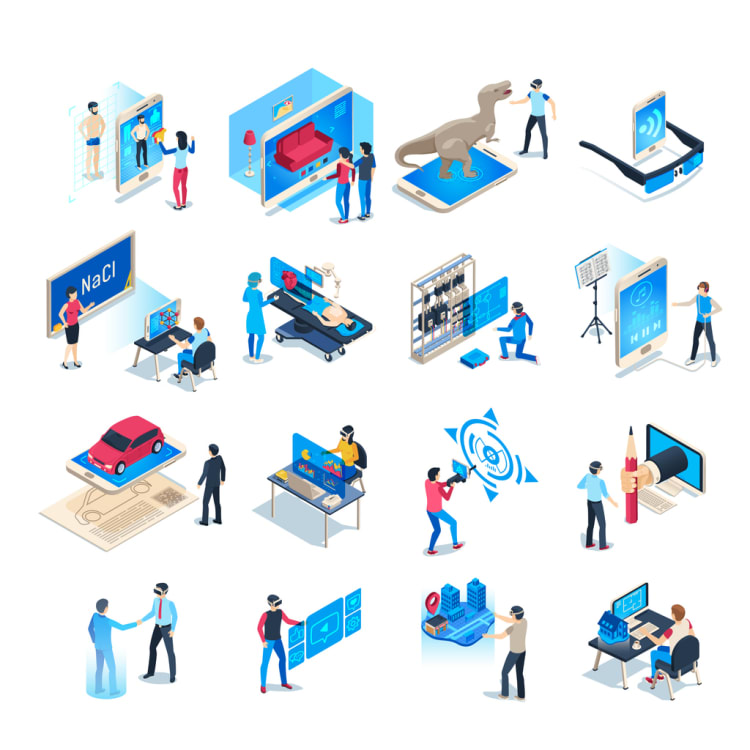 More Ideas to Make Your Virtual Holiday Party a Success
Encourage Costumes
There is a dress code for some of the most entertaining online holiday parties. For instance, the old company dress code may be mocked by encouraging everyone to dress formally on their webcam.
While this can be enjoyable in the appropriate circumstances, other people prefer the other extreme. You can advocate wearing Christmas pajamas, onesies, and other costumes, such as Santa Claus, elves, and so on.
If you truly want a memorable virtual event, you can send out your branded costumes or apparel for everyone to wear before the event. Branded Christmas sweaters, hats, and shirts can certainly fall under this category.
Make A Holiday-Themed Playlist.
A shared playlist with festive music can be made to play in the background of your virtual event while activities are taking place. This could be jazzy gentle music, Christmas music, or anything else. You are the expert on your business and are aware of the people's preferences. If not, request that everyone contribute to the playlist!
Offer Custom Prizes and Gifts
We have reached the crucial stage of making your virtual gathering a success: prizes and gifts. All of the games you play throughout the party provide excellent rewards for the victors. That is not all, though. You should definitely give everyone who participates a basket or bundle of gifts.
This is a fantastic way to express gratitude for everything your employees do, not just for coming to this event. These employees put in a lot of effort to make sure your business operates properly. Swag bags are a great way to express gratitude and help with employee retention.
Choose from apparel, snacks, water bottles, luggage, coffee mugs, blankets, drinks, portable speakers, charging stations, and more. There are no limits. Additionally, you may brand these things with your business's logo, colors, and labels to give them a genuinely unique and customized look for employees to showcase their company pride.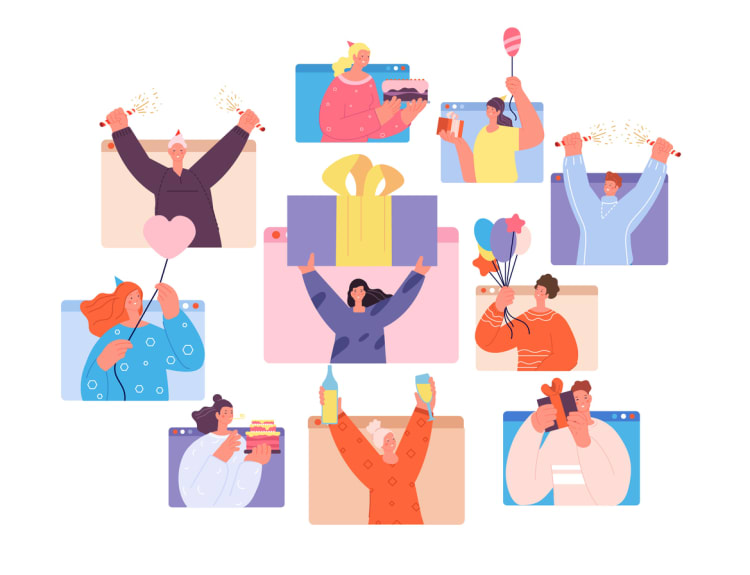 Professional Virtual Events
Golocal Virtual Events also features memorable activities, extraordinary hosts, and interactive conferencing software combined to make hosting a virtual party easier and more entertaining. Some of their events include:
Labyrinth of the Lost: A Holiday Storytelling Adventure
Skits N' Giggles: Holiday Edition: An improv, sketch comedy workshop
Murder at the Ugly Sweater Office Holiday Party: A murder mystery
Brief Checklist on How To Throw a Virtual Holiday Party
These suggestions will help guide you on how to host a virtual event that's sure to run smoothly and be a crowd-pleaser!
Compile a guest list. Your choice of video or conference call technology depends heavily on this. The number of attendees matters just as much for online events as they do for physical ones. What kinds of games you can play depends on how many guests you have.
Decide on your game and theme choices, as well as decorations or video backgrounds.
Select a service for your video chat or conference call, like Kumospace. (Even if your party activities don't call for in-person communication, it's still beneficial to see everyone's face.)
Check out the video chat and conference call features to make sure they align with what you're looking for.
Distribute electronic invitations (via email or social media) and gather RSVPs. Include the event's duration, a succinct synopsis, and an explanation of your activities and topics. Remember to mention the URL for your video chat and any attire, preparation, or items that employees should bring to the event.
Send out mailed gifts or e-gifts and prepare your costume or attire.
If you're hosting your own games, test each one to ensure that you understand how to participate and that the technology you're using is suitable.
On the day of the event, send reminders. Since virtual events don't require travel, it is easy to forget about them. Therefore, sending event reminders a few hours prior to your Christmas party will boost attendance.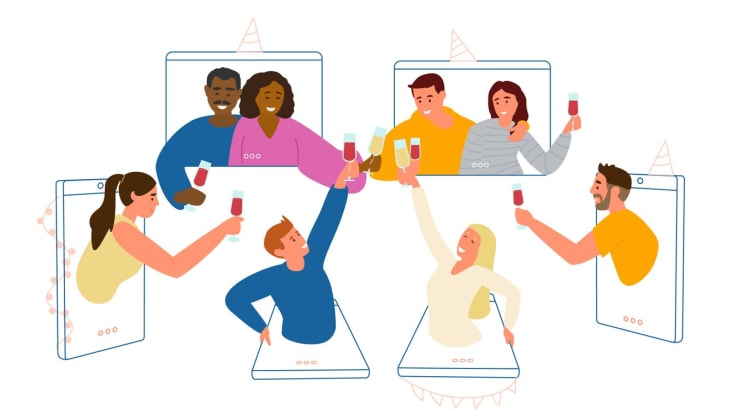 Optimizing Your Virtual Holiday Party
Here are six suggestions for forward planning to keep things from going awry. Everyone will have a more enjoyable time if you follow this practical advice.
1. Select the Right Technology for the Job
First, recognize that hosting a virtual Christmas celebration is different than going to a business meeting. Therefore, it's important to make sure the software you are using to organize your virtual holiday party can accommodate the number of guests you have invited. If you're looking for the right technology, try using Kumospace to host your virtual event.
In addition, give your entire technology stack some time to be tested. Further, at least an hour before the event, make sure everything is in working order. The first crucial thing to check is whether or not your internet connection can support live streaming. You can run a speed test to find out if your internet is fast enough.
You should spend some time before the event engaging with your less tech-savvy staff members to make sure they won't experience any connectivity issues. This is crucial if you intend to utilize a platform other than the one you typically use for regular video meetings. However, technological issues could still occur no matter how well you plan. Therefore, have a tech-savvy person on hand to assist you in avoiding any waiting periods for events to begin, video skips, or audio issues.
2. Keep the Crowd Size Manageable
It won't be a big deal if you own a small business to invite everyone to the event. However, instead of attempting to bring everyone together for a virtual party with hundreds of staff members dispersed across various time zones, consider splitting it up into smaller events or groups.
When celebrating the holidays in person, attendees can mingle and form smaller groups to engage in more private talks while still being a part of the bigger party. But when 200 people are chatting at once online, it is much more challenging to conduct meaningful dialogues.
It won't be much of a party if the majority of your employees are just sitting around staring at the screen with their microphones muted because there are too many people. Instead, limit the number of attendees at each virtual holiday event to lessen awkwardness and promote greater interaction. If you are looking to host a large virtual event, make sure that you've planned accordingly for these scenarios.
3. Select a Host
It could be tempting to let everyone come in and mingle if you work at a small workplace. Nevertheless, even though that might not be a problem, you still need a designated host to keep things moving along.
This person is responsible for ensuring that events begin and end on schedule, starting dialogues to initiate interactions, and even assisting in getting past awkward situations. The event can feel more polished and laid back if there is one point person in charge of making sure everything runs smoothly.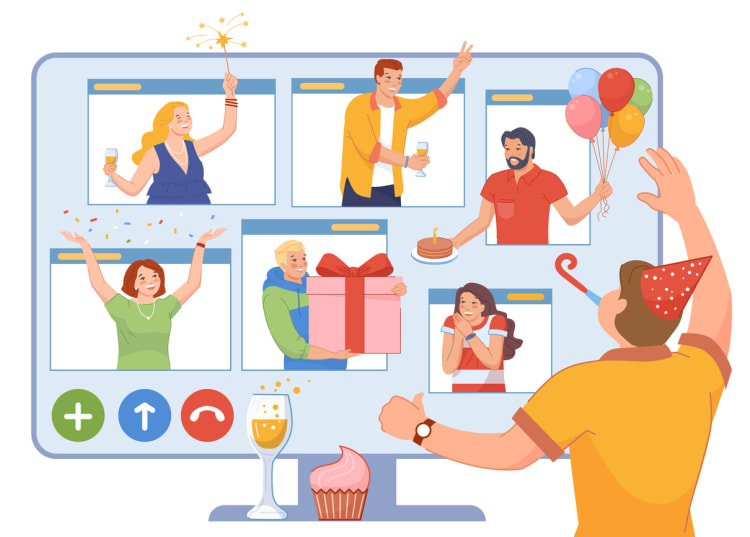 4. Set a Deadline
Who hasn't experienced a meeting that seemed to go on forever? Setting an end time will help you avoid the unpleasantness of having guests look around to see who will be leaving first at virtual Christmas gatherings.
Think about starting up with an entertaining icebreaker. For instance, use a game like Swipe Face to inspire everyone to snap goofy selfies of themselves. The party will become relaxed and fun after playing this game. In addition, it's a terrific way to announce the start of the party rather than leaving everyone wondering what will happen next while they are all glued to their screens.
Additionally, to avoid having to perform the awkward Zoom shuffle at the end of the party, your host should wrap things up and stop the broadcast at the proper time. Your staff will be able to schedule better around the party if you choose a specific end time, ensuring that everyone can stay for the full event.
5. Add Interactive Elements
Your attendees will probably be spending your virtual holiday party with their families since they work from home. Therefore, take advantage of the chance to involve everyone. This is your chance to encourage team interaction with the larger extended "family" and each other.
You may try Virtual Gingerbread House Hunters to get your staff and their families in the holiday spirit. Each member of your team will receive their kit in the mail before the event, and this entertaining and festive event includes a kit packed with all the supplies and equipment needed for fun decorating.
Each family will be given a theme to make their gingerbread masterpiece while at the celebration. A virtual judge will then announce the winner, and everyone will get to enjoy their masterpieces. It's entertaining to have an engaging virtual holiday gathering like this where team members aren't just looking at each other through the screen.
You may also consider the Oh What Fun! Holiday Team Trivia with personalized polls, questions, and categories if your team is all about learning and competing. It's an awesome way to spread holiday cheer and have fun while teaching people interesting facts about other holidays. The Amazing Race Around the World - Festive Edition is an additional choice. In this game show, small teams compete against one another to perform interactive tasks with a travel theme in order to get points and win a reward. Santa is also involved.
You can prevent awkward situations where people are just standing about talking or doing nothing by planning these interesting activities. It's a good idea to keep an activity or two like these in your back pocket, along with some virtual icebreakers, in case a planned activity needs to be scraped or changed on the spot.
6. Consult the Professionals
Finally, think about hiring professionals who understand how to effectively plan and carry out a virtual event if you want to have an interesting virtual holiday party with every detail thought of.
With so many holiday-themed activities available, you may plan an event with a theme that best suits your staff. Experts may act as the host, handle all technological issues, and guarantee that everyone gets the necessary documents and items in advance. If any difficult situations arise, they will be fully prepared to handle them and resume the fun as soon as possible.
FAQs regarding virtual holiday parties.
Virtual parties are joyful online get-togethers that frequently have unifying themes and fun games. They always result in memories and laughter shared with friends and family.
Choose video or conferencing technology, fun games, activities, and a festive theme to unify everything when hosting a virtual holiday party.
A virtual holiday party can be carried out on a virtual events platform and will stand out if it has inventive themes, original ideas, and lots of personal touches.
A virtual holiday party can accommodate about 300 guests if you partner with a top vendor. You can invite as many people to your own holiday party as your video conferencing system will support.
A holiday party might cost roughly anywhere from $400 to $3,000 if you deal with a high-end virtual event provider. However, you can throw your virtual holiday party that meets your company's budget by using video conferencing software, organizing your event around an interesting topic, and planning some simple do-it-yourself games.