Wow your date online with a virtual pool, games, and more.
Struggling with ideas for your first virtual date? Skip Zoom, and wow your online date with a virtual pool, games and music on virtual office and event platforms, like Kumospace.
You can do nearly everything online these days — including dating. To woo a first date (or a second date) online, the key is to get creative, have fun, and stand out with some original date ideas.
In this article, we provide some fun virtual date night ideas. Plus, a relationship expert shares how to have a virtual date that's so good your date won't be able to wait to meet you in person.
What are some ideas for planning your own first date virtually? How can you set yourself up for success? And what are some super fun ideas for virtual dates that don't involve Zoom? We turned to professional dating coach Daliya Karnosky, who is also the host of the relationship/dating advice podcast Not Your Therapist, for answers.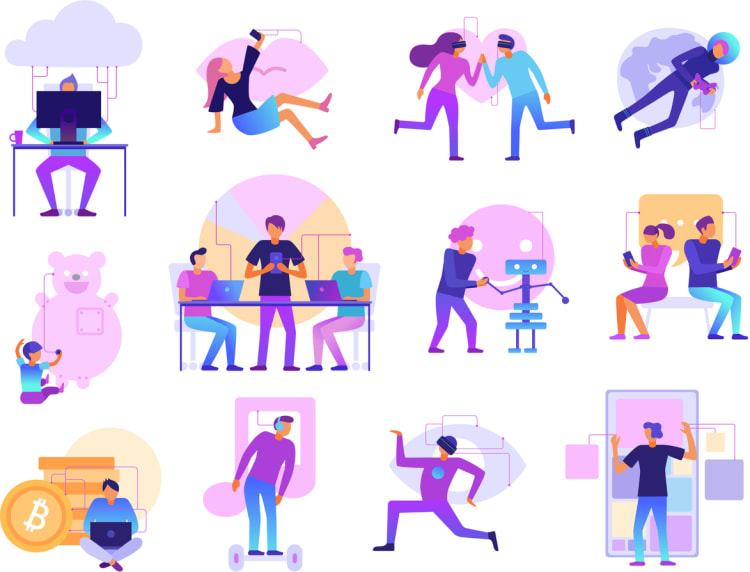 How to Set Yourself Up for Success on Your Virtual Date
Plan ahead + bring a game
Meeting someone for the first time is more often awkward than not, says Daliya. This can especially be the case when it comes to virtual first dates. "I think one of the most important things in this situation is to acknowledge the unnaturalness of it," Daliya says. She recommends having an activity on hand to break the ice right away.
On TikTok, Samantha Wong aka, @samcity_, recently broadcast her virtual date on a new immersive video chat platform called Kumospace (which happens to be the host of this blog 😉.) In Kumospace, they checked out a DJ booth, lounged on pool floaties, and played online tag. (Check out Kumospace for yourself here). In other words, there were activities in the platform already. Daliya says that can be super helpful.
She says you can also decide what kind of beverage you're going to drink together beforehand, make a cocktail (or mocktail) together, or try out Kumospace's virtual wine. Playing a fun and easy game can also help both of you relax, whether it's something like Pictionary, Truth or Dare, or a virtual board game (scope out our own guide to virtual games here).
"Play Two Truths and a Lie, Never Have I Ever, literally any cheesy office icebreaker, just so you both can acknowledge this is a little awkward, but we're in it together, and then it immediately puts you on the same page," Daliya says.
Planning a date night activity isn't limited to your first date, of course. Considering how you spend time with your date, whether it's your fifth date or your 100th, will always amp up the romance — especially if you're in a long-distance relationship or a couple that is quarantining separately.
Keep it short and sweet
In-person first dates can stretch out to two or three hours. But for an online date, it's better to keep the date short. Dayila suggests keeping your virtual date 45 minutes to an hour, and committing to being especially present during that time. (i.e. put down your phone, turn off your TV, and limit any other distractions).
"If it's your first date, you want to take it with a grain of salt. Don't expect it to be perfect, over-the-top-romantic, we talked for four hours... Put a time limit on yourself. Even if you're having a really good time, you want to leave them wanting more," she says.
Another tip? Have somewhere to be or something to do immediately after your virtual date, so you don't let the date linger too long. "That way, you won't feel like you have to linger there all night," she says.
Having a meeting with a friend or family is always a good way to end the date without making it forced. Even if you're having an amazing date, Dayila recommends keeping it short, so you have something to look forward to in the future.
Freshen up and get dressed
Even though you're not meeting up IRL, you still have to brush your teeth and freshen up, so you don't pop into the screen feeling like a greaseball.
"You should get fully dressed. Not like, 'oh I'm wearing a nice top and sweatpants,'" Daliya says. According to the dating expert, looking your best will also make you feel your best — and impress your date.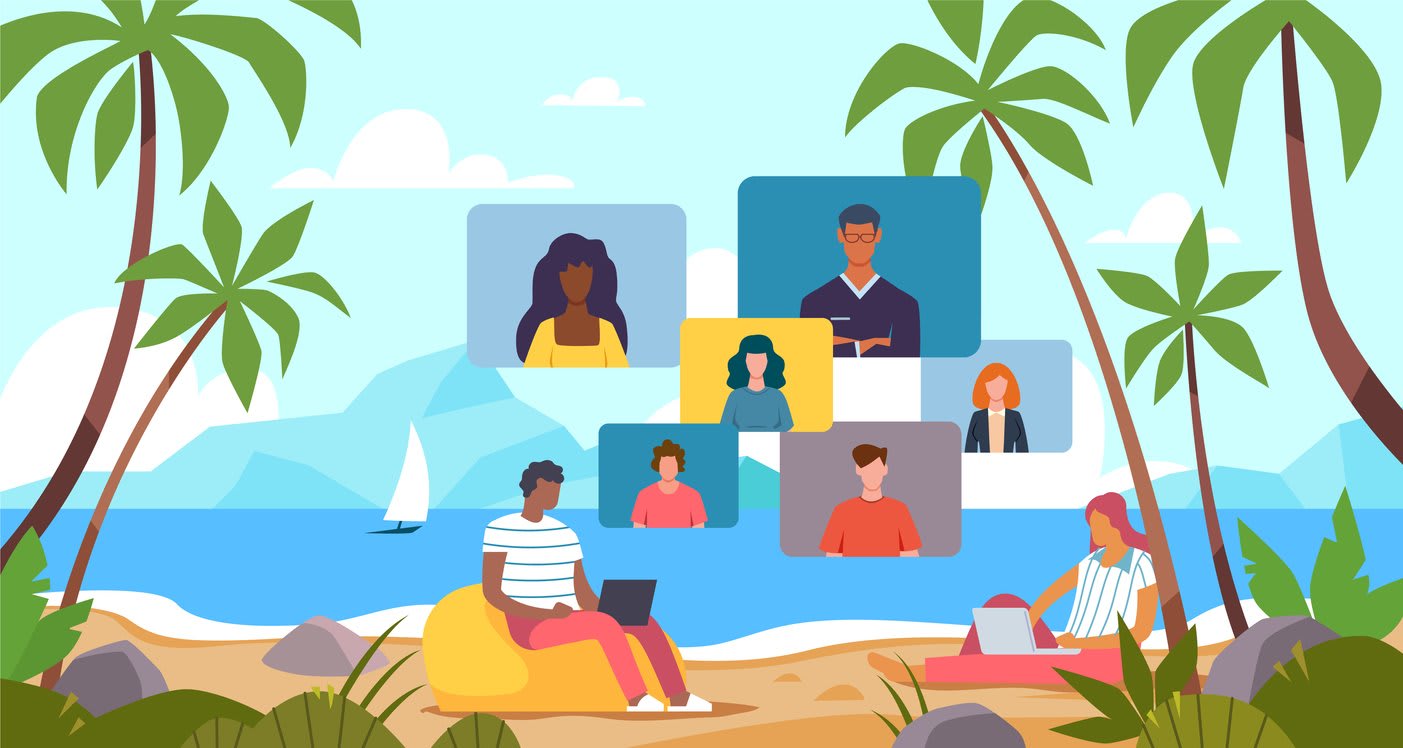 Get in vacation mode
Before your virtual date, unwind; it should never feel like a work meeting. Daliya recommends giving yourself at least an hour buffer before your date to relax. Listen to music, call a friend, go for a walk or have a drink (just make sure it's not five drinks). "Put yourself in a different headspace… I call it vacation mode. Your date shouldn't feel like another work thing you have to do. So, do whatever it takes to put yourself in more of a playful mood," she says.
Try out a 'first date costume'
Stuck on what to wear? Daliya advises her clients and her friends to come up with a "first-date costume," which is an outfit that you feel comfortable and confident in that you can wear for every first date. You can vet it with your friends ahead of time to make sure it's flattering.
"With a first-date costume, you don't have to think about it. You can just throw it on, so you can focus on being comfortable and feeling good," she says.
She adds that rather than get super stressed about setting up the perfect lighting for your virtual date. It helps to sit somewhere in your home where you're comfortable — as long as it's not an unmade bed. "Show a little effort, know that it's only going to be an hour, and have fun with it," says Daliya.
Ready for a first date? Don't forget to compliment your date.
Daliya is a big fan of telling your virtual date what she calls an emotional compliment, which she says is not focused on physical attributes and makes people feel seen. "It's amazing what can happen to another person when you say something nice to them because everyone starts out a date a little bit on edge or a little bit on guard… Everyone's in their head a bit thinking about: how do I look? What am I doing with my hands? Did I just say something weird? If you can take your energy out of your head and onto the other person, it can really help," she says.
Observe what the person is saying, don't force it. Don't give compliments too early; first learn about the person during your date.
What are some examples of emotional observations? Here are a few ideas from Daliya for a first date or a second date.
I like the way your mind works (after they something that stands out for you)

The way you think is so interesting/unique/unusual. How did you get that perspective?

Wow, you're really good at _____. How did you get into it?

You have a great sense of humor (did you take improv classes?)

You're a really good storyteller.
Comment in a positive way on something your date is good at. If they read a lot, mention that (and if you read a lot too, go deep and share what you both are reading). If they ski a lot or do any activity that they are masters of, is a great way to dig in deeper and appreciate. Any time you like to do a similar activity, double down on it. Explore it, and dig deeper with questions. It will help you establish rapport and see if you have connections. We tend to connect on things we have in common. When you are meeting a new person, finding commonalities is very important. So when you find it, explore that further.
"When you compliment someone, say something that you genuinely mean, and it's going to relax them so much," Daliya says. " And once people relax, chemistry can happen."
That's it. Now you are ready for your first or second virtual date!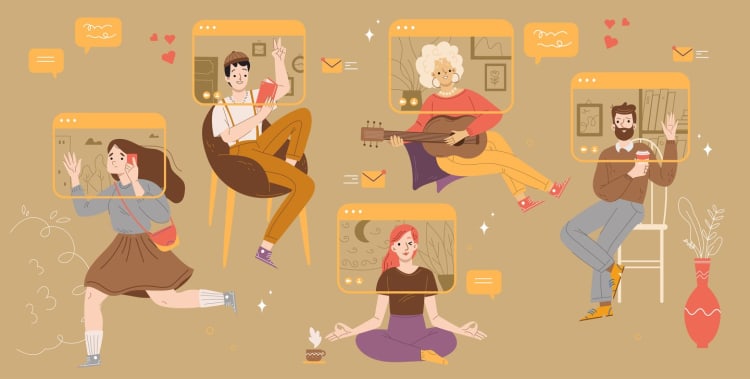 Online Date Night Ideas
Keep it casual with coffee at a bookstore
A coffee shop is a popular first-date choice for a reason. Not only is it a casual venue, but because you're usually meeting for breakfast or lunch, it leaves you open to extending the date if you enjoy each other's company.
A great way to spice up the date and get to know each other is to visit a bookstore, or rather Goodreads, and recommend some titles to each other. Or you could try playing a board game together while you get your caffeine fix.
Have a laugh at a comedy show
Whether you believe in love at first sight or not, it's a fact that sharing a laugh with someone can actually make you fall in love with each other. And the great thing about a virtual comedy bar date is that you can both talk as much as you like without disturbing anyone!
Check your favorite streaming platform to see what comedy shows they have available, or else head over to YouTube and search for any posted there. If you can't find a full set on YouTube, you can always put together a playlist of clips from your favorite comedians and enjoy a variety show instead.
Visit a museum or art gallery
Another daytime date idea, a date at a museum or art gallery, is a perfect choice for people who appreciate art and history. And now that virtual museum and art tours are available, it's a fantastic long-distance date idea. You could also try visiting a venue and live streaming what you're looking at as you walk around, but remember that using a camera may be restricted in some.
Go on a scavenger hunt with a twist
Some date ideas are all about nostalgia, and this is one of them. Whether it was an Easter egg hunt, a birthday party activity or something we did at school, almost everyone has taken part in a scavenger hunt at some point. The great thing is that you can make your own scavenger hunts for each other to complete, or use an app and compete against each other on the same hunt.
Tour the city of your choice
Joining a guided tour of your city is the kind of kitschy first date idea that can be wildly fun and also leave you with some great memories. Thanks to Google Streetview, you can virtually tour literally any city in the world. Sometimes you'll even be able to see inside certain landmark buildings, but otherwise, you can simply walk around. If you want to make it even more interesting, you can roam the streets in search of cool graffiti or try Google's Street Art tour.
The classic dinner and a movie
The classic dinner and a movie date is a classic for a reason because it gives you a chance to get to know each other and also quietly enjoy each other's company. You may have enjoyed a Netflix party with friends or family during the lockdown, but you can adapt it for a date as well. The great thing about this is that you can watch a movie or stream a TV show that you both love.
Make it even more fun by starting with a surprise dinner. This is where you have takeout delivered, but for each other. Just remember to check if your date has any dietary restrictions before you order anything for them.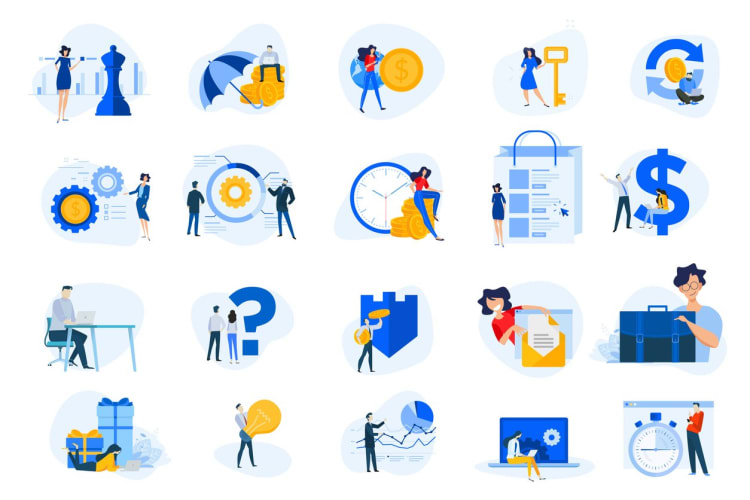 Ideas for a Second Virtual Date
Steal these long-distance (or quarantine couple) ideas for date #2
Daliya knows a couple who were dating while quarantining that threw adorable virtual date nights for one another, including organizing an online scavenger hunt within one another's apartments, cooking together, and a virtual wine tasting. One night they ordered take-out surprises for their date and then had dinner together, and another evening they found an easy no-bake dessert recipe they made together. "This obviously works for long-distance couples too, or your second or third date. It just takes a little planning," Daliya says.
Consider taking one of these long-distance date ideas and adding your own spin for your second virtual date — and don't be surprised things start heating up.
Have a picnic together
Relaxing outdoors with a selection of finger foods and your favorite drinks is a perfect casual date idea. For a virtual picnic, you could both head out to parks near each of you and enjoy a video chat using a smartphone or tablet. Or you could just use your own backyard if you prefer. With regards to food and drink, you can either agree on the choices and pack the same items — or pack your own baskets and compare your selections during your date.
Take a class together
A date that gives you an opportunity to try something you've never done and learn something new is always a great option. Because even if you don't quite click with each other, you may just discover your next passion. Having something to focus on also helps you get past that awkward introduction stage, gives you something to talk about afterwards, and you may even have a memento to treasure forever!
There are so many virtual classes available that you could try just about anything. Learn a language together if you both love traveling, try a cooking class if you're both foodies, or give painting a go if you're both creative souls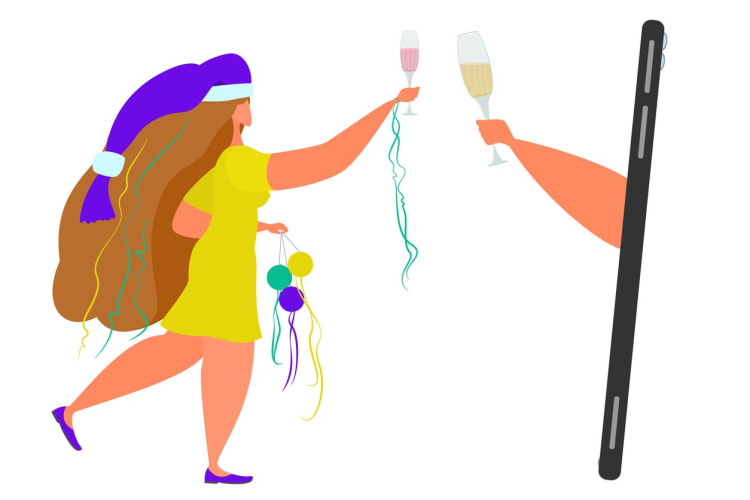 Cheer your favorite team to victory
If you're both into a particular sport, then a date to a sporting event is another fun but casual idea for a long-distance relationship. Just turn on your favorite sports channel and enjoy the game together — be it basketball, baseball, football or foosball!
Take in a band or two
Just about everyone has a band or musician that they absolutely adore, and sharing that excitement is one of the best icebreakers out there. Artists have been recording their concerts since forever ago, so all you have to do is find somewhere that you can stream concert videos. YouTube is an option, but those may be relatively poor image quality.
There are also several musicians who have continued the trend of live streaming their concerts, even though lockdown restrictions have been all but lifted by now.
Escape from reality for a little while
By now, most everyone has heard of escape rooms, and even if puzzles aren't quite your thing, trying to figure out the clues can be a challenging but fun experience. The great thing about escape rooms is that there are many different ways to enjoy them. You could both play your way through a mobile game like 100 Doors or search for a virtual escape room that you can visit together.
Try out the zoo, an aquarium or even a safari
Dates where you're getting to do something rather than having to find something to talk about all the time are always a great option. While a visit to a zoo or aquarium can take up a few hours and so is more of a third or fourth date idea for real-life dates, many of them have set up live streams for their most popular exhibits.
And with a virtual tour, you don't have to worry about sore feet or trying to figure out the map. YouTube also has various live streams available, from a watering hole in a Namibian wildlife reserve to penguins in Australia and polar bears in Canada.
Virtual Date FAQs
Here are answers to common questions about virtual date nights.
A virtual date is a way for a couple to meet up or spend quality time together using an app that offers video calling. Virtual meeting or event apps, like Kumospace, can help facilitate your online meetings to set the ambiance right.
What device will be best for your virtual date all depends on what you plan to do on your date. A mobile phone is perfectly fine if you're planning on a picnic or a watch party, but a laptop or tablet may be better if you'd like to try a virtual escape room.
You plan a virtual date night exactly how you plan a real-life date night. Whether you surprise your date with an activity or decide on one together, it's always best to check what you both enjoy first. Some virtual dates require you each have certain things ready beforehand, and then you just have to agree on a time to "meet".
Virtual dates have a lot of benefits, the first of which is the fact that they allow you to spend quality time with someone, even if you're socially distancing for any reason or in a long-distance relationship. They're a much safer option for blind or first dates because you're not meeting in person, and you don't have to share your home address with a stranger.
You don't have to worry about being stood up in a public place with an online date, and you're free to do anything you like if your date is running late for any reason. There's also less preparation and travel time needed, so there's less pressure with a virtual date. And finally, it's a great way to spend time together even if you're miles apart.