Start your morning off right by stimulating your brain with a Crossword puzzle.
Here's a quick guide to setting up the Crossword puzzle furniture and completing the Crossword in Kumospace.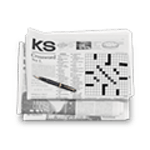 Add the Crossword to your space
To add a Crossword puzzle to your space:
Open the

Edit

menu on the bottom right of your screen, and click the

Activities

dropdown where you will find the

Crossword puzzle.
Click to select the

Crossword

furniture item

, then click on where you'd like to place it in your Kumospace.
Hover over the Crossword puzzle and click the Settings button.
Select the Crossword puzzle you would like to play and click Save.
Close your

Edit

menu and you're ready to play!
Start the Crossword in Kumospace
To begin playing, click on the Crossword furniture item in your Kumospace.
If no puzzle has been selected, you will first be prompted to select a puzzle in order to play.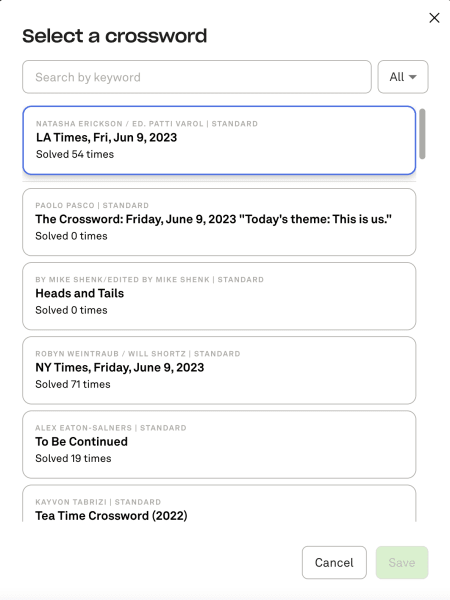 Play with your Team
Don't forget to ask your team to join you! Multiple users can click the same Crossword furniture item to play simultaneously.
Kumospace will also send a notification to all users inside of your Room or audio range that you started playing the Crossword.

Instructions on how to complete the Crossword
Click a cell once to enter an answer, and click that same cell again to switch between horizontal and vertical orientations
Click the clues to move the cursor directly to the cell for that answer
Hold down the

Shift

key to enter multiple characters for rebus answers
Basic Shortcut Keys
Letter / Number
Fill in current cell and advance cursor to next unfilled cell in the same word, if any
. (period)
Toggle pencil mode on/off
Arrow keys
Either move cursor along current orientation or change orientation without moving cursor
Space bar
Flip orientation between down/across
Delete or Backspace
Clear current cell
Alt + S, W, or P
Check Square, Word, or Puzzle
Alt + Shift + S, W, or P
Reveal Square, Word, or Puzzle