Office Owners are users assigned to a specific Room in a Space, granting them the ability to edit and customize this Room.
Other users who are not assigned as Office Owner of a specific Room, will be unable to edit and customize with furniture.
How to Assign an Office Owner
As an Owner or Admin of a Space, you are able to assign Members as Office Owners.
Note that Office Owners are required to be members of the Space. To promote a Guest as a Member, read this article on user roles.
To assign a Member as an Office Owner:
Open the Edit Tab.
On the Edit Menu, select the Rooms tab
Hover over the Room you would like to assign an Office Owner to.
Click the settings button on this Room.
Locate the Restrict this Room to assigned editors section.
Click the drop down box and select a Member from your Space.
Click Save.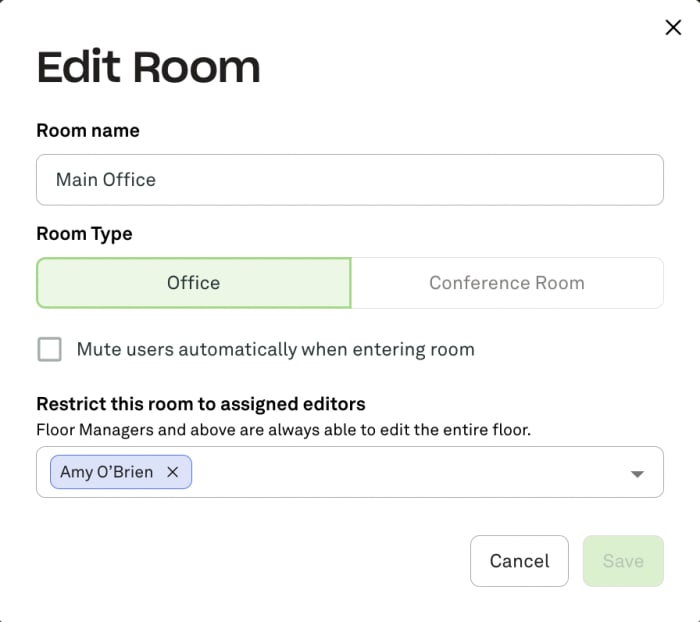 Once the Room is assigned, the selected users will be the only individuals with edit access in that Room.
Unassigned Offices and Rooms
For Rooms that have not been assigned an Office Owner, all Members of the Space have the ability to edit these areas. This includes unassigned Offices, Conference Rooms, or Common Areas.
If you would like to prohibit the ability for Members to edit outside of their assigned office, you can restrict Floor editing. This is a feature available for Owners, Admins, and Floor Managers.
Restrict Floor editing
Enter your Space.
Open the Settings menu.
Select the Floor tab.
Select the check box that states Restrict Floor editing.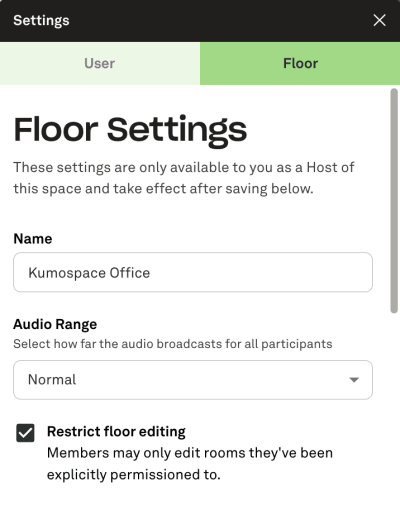 Once this feature is enabled, Members may only edit Rooms they've been explicitly permissioned to.