Five Days of Jam Packed Fun
As our team flew in from all over the world, the excitement was building to meet one another in person for the first time. For context, the Kumo team is fully remote, we're spread across 5 different time zones, and most of us have only spent time together in Kumospace's virtual office.
None of us had imagined what the five days would entail and what a success our first offsite would be. The Kumospace offsite was filled with activities for team bonding, strategy planning, friendly competition, and overall FUN. Just check out our team yacht picture below, who wouldn't have fun on a yacht?
Wednesday, May 4th, 2022
Fifteen team members flew into Miami, Florida. Day 1 of the offsite was primarily used for traveling because some members traveled for over 10 hours! We had teammates fly in from California, New York, Mexico, and Panama, just to name a few.
Team members were able to decide how many days they would fly in for. Some who joined only for a day or two soon regretted not staying for the entire trip.
Let's not even get started on the Airbnb! The 7 bedroom waterfront home was truly the perfect spot for our team to spend time together in person.
The Airbnb had a large projector in the living room and the perfect ocean view backdrop. The outdoor section had a large heated pool, picnic table, swings, and a staircase that led to a balcony to overlook the water.

The team got to relax in this amazing property as we awaited for everyone to arrive. As we hung out by the pool, we talked about how awesome it was to meet everybody off screen. Due to our weekly interactions on Kumospace, meeting everybody in person felt like meeting old friends we already knew for a while. It was nice seeing everyone IRL.
Thursday, May 5th, 2022
On Thursday, we planned a strategy session and team-building activities. Check out our schedule:
9:00 am - Team Breakfast - Coffee Catered by Panther Coffee
10:00 am - Kickoff
11:00 am - Team Building Exercise
12:00 pm - Lunch Catered by Limoncello
1:00 pm - Strategy Session
2:00 pm - More Team Building
4:00 pm - PanIQ Room in the Wynwood District (Escape the Room)
7:00 pm - Dinner at Ola Miami with our Seed VC
We started our day with a team breakfast made by our fabulous product manager, Wynne, also known as our team mom. Coffee was provided by Panther Coffee Mimo. Our digital marketer, Rad, claims it's the best coffee in the world.
Our co-founder Yang, then kicked off the offsite, followed by the first team activity. The exercise was to get into groups of three, and pick two truths and a lie that represented all three members of the group. At the end, all the other groups had to guess what the lie was.
For a midday break, we had lunch catered by Limoncello Miami to get fueled up for our strategy session. During this time, we thought about where we envision Kumospace going in the future, and what steps we needed to take to get there.
Afterwards, we conducted team building exercises. The first exercise consisted of splitting up into two teams and getting in line by birthday without speaking.
The second exercise was to get in a circle with your group back to back and connect hands with other team members. The point was to untangle the circle by communicating and working together. The third activity was to pair up with another member of the team and stare into each other's eyes for two minutes. This sounds easy, but most of our team couldn't keep a straight face.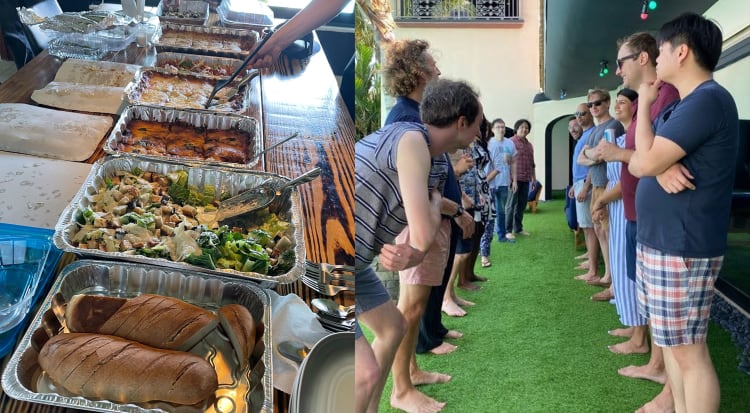 If you didn't think the day was fun enough, our Kumospace team split into three groups for an 'escape the room' at PlanIQ Room in the Wynwood District. The rooms consisted of a Haunted Hospital, The Pirate's Den, and My Spy.
Then, with a short break before dinner, team members split up to explore the city! At night, the team ventured out to OLA Miami for a delicious dinner. Just check out the menu to see for yourself!

To finish off Day 2, our team hit the bars on a Thursday night… and it couldn't be more perfect. Yes, this is in fact a video of our co-founder, Brett, dancing the night away.
Friday, May 6th, 2022
As a new day arrived, the team was excited for what we had in store.
9:00 am - Team Breakfast - Coffee Catered by Panther Coffee
10:00 am - Hackathon
12:00 pm - Lunch Catered by Jimmy Johns
1:00 pm - More Hackathon
5:00 pm - Judging Session and Winner Announcement
7:00 pm - Pizza Night In - Catered by Andiamo Pizza Miami
10:00 pm - Poker Night and Karaoke
On Friday, our team split up into four groups for a Hackathon! And no, it wasn't just for the software engineers, but the entire Kumo team! Everybody had to pitch an idea of how to improve Kumospace.
Groups were self-selected by team members, who chose the pitches they thought would bring the most value. Then the teams had six hours to build out their ideas. Once the time was over, all teams presented their creations to the panel of judges - our co-founders and an investor.
The Grand prize was a $200 Amazon gift card for each team member of the winning team. The runners-up received a $100 Amazon gift card.
This year, the ColorPunks team won. Their idea was to be able to customize the colors of the Kumospace furniture, since we get a lot of user requests for a larger variety of furniture colors. The ColorPunks suggested using a color dropper or a hex code to change certain elements of furniture that will be created in the future.
"The idea is to take a piece of furniture that's mostly the same color (like a green couch or a wooden chair with a green cushion) and change that one color to something else. The hack uses a software library called OpenCV (open computer vision) to find chunks of the image that match the main color (called a mask), convert them to grayscale, then tint them to the desired new color." - Bobby Martin, Software Engineer, Kumospace
For more information on what Bobby does at Kumospace, check out this article.
The runner up was KumoFriends. This group pitched the idea of KumoFriends – either pets or plants that you could nurture with food and water. For every 100th time you take care of your KumoFriend, Kumospace would plant a tree in real life to help the environment, and give back to the Earth.

After a fun day of working hard for the hackathon, our team celebrated their ideas and creativity with a pizza night catered by Andiamo Pizza Miami, followed by some poker and karaoke. Admittedly, most of our team members won't make it to American Idol, but we did sing our hearts out for four hours straight.
Saturday, May 7th, 2022
Now that the work week was complete, there was time for some R&R... on a 75-foot yacht. The day started out calm and cool. After a short sail, things picked up as we anchored the boat to go jet skiing. The team swam in Marine Stadium, and we truly enjoyed the opportunity to create memories for life with our co‑workers.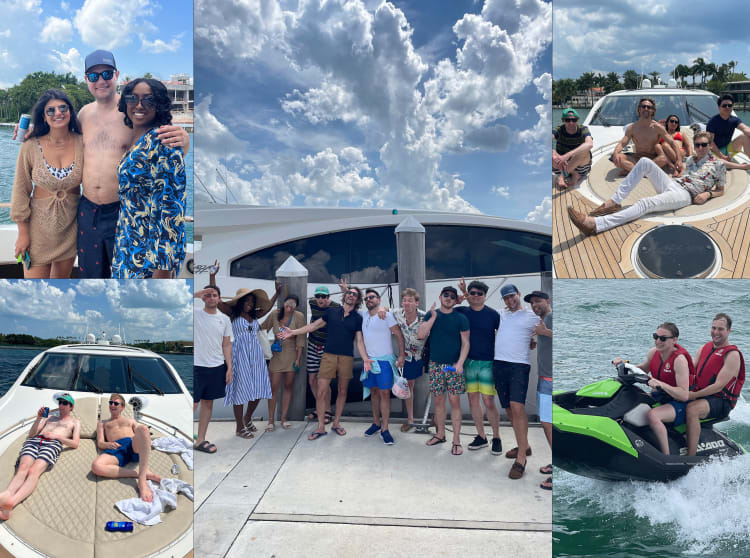 After a fun day in the sun, people split up into different groups for the night. Some attended a music festival, while others had a more relaxing night in, by the pool.
Sunday, May 8th, 2022
It's safe to say that the first in person offsite was a smashing success. On Sunday, May 8th it was time for everybody to say their goodbyes. The Kumospace team ended up as Kumofriends with memories they'd remember for a lifetime.